Is there anything that gets your mouth watering more than sitting down in front of a platter loaded with crispy, saucy chicken wings and a bucket full of ranch dressing or bleu cheese for dipping? Buffalo wings aren't hard to make, but they do take a bit of prep and a lot of clean up. From start to finish, frying chicken wings can be a bit of an ordeal that we don't always have the time or patience for.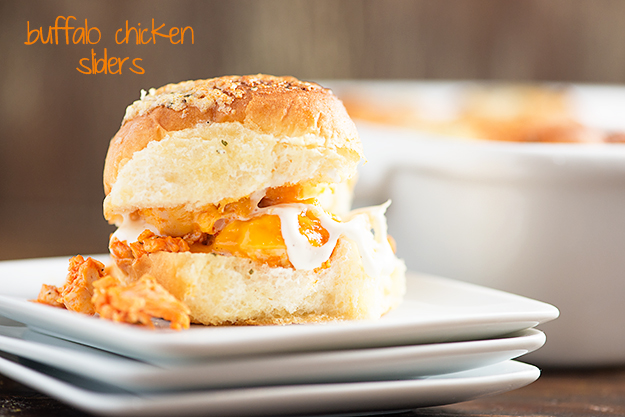 What if buffalo chicken could go wingless?
Oh, but it can! There's no need to stick to those tiny little wings and a deep fryer! Let's move beyond them and get creative in the kitchen with spicy, saucy buffalo chicken goodness. You won't even miss that deep-fried crunch.
You can take just about any chicken and make it buffalo if you want! I've dug up some great buffalo chicken recipes that you're going to love.
Buffalo Chicken Sandwiches? Done.
There are a few ways to go about turning that classic buffalo wing flavor into a sandwich. You can coat a few chicken breasts in some flour and cook them in a hot skillet with a bit of oil, sauce them up and slap them on a bun. That's simple enough, of course, but I like to make things even simpler.
This is where my all-time favorite recipe hack comes into play: the rotisserie chicken! Grab yourself a rotisserie chicken, shred the meat and then heat it on the stove in a mixture of butter and hot sauce. These come together in no time and are so full of that flavor you crave.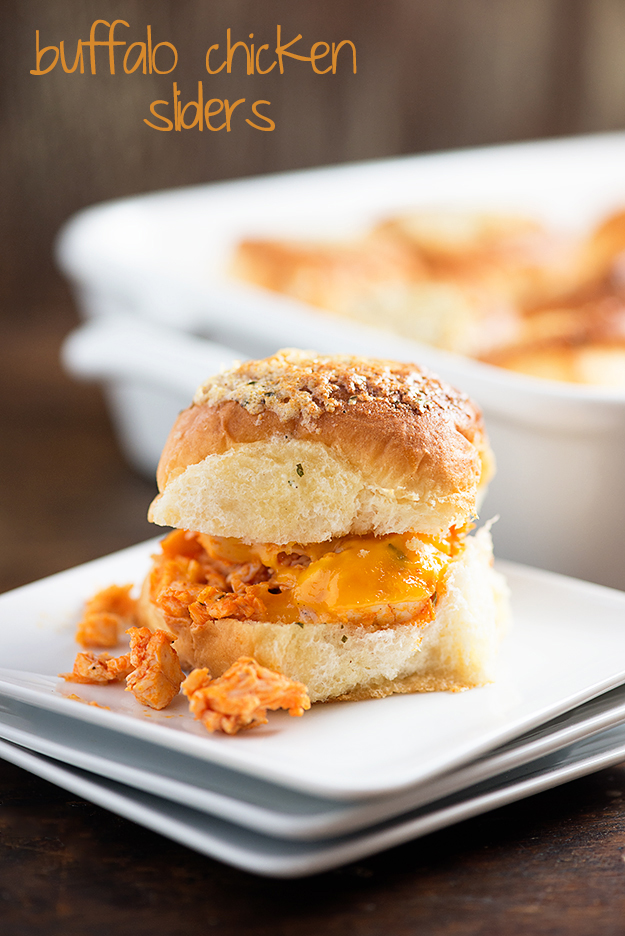 Buffalo chicken sliders recipe
Ingredients:
1/4 cup butter
1/2 cup Frank's Red Hot (more to taste)
2 cups cooked, shredded or chopped chicken
3 tablespoons dry ranch seasoning, divided
6 slices cheddar cheese
12 King's Hawaiian Rolls
Prepared ranch dressing, for serving
Step 1:
Preheat oven to 350 F. In a saucepan, melt 1/4 cup of butter over medium heat. Stir in the Frank's Red Hot to combine. Add the chicken to the pan along with 2 tablespoons of ranch seasoning. Stir to coat chicken.
Step 2:
Use a bread knife to slice the rolls in half to form sandwich buns. Place the bottom half of the rolls in a 9-by-13-inch baking dish. Top each roll with the chicken mixture and a half of a slice of cheddar cheese. Place the top halves of the rolls over the chicken.
Step 3:
Melt the remaining 1/4 cup of butter over low heat. Stir in the remaining of ranch seasoning until well combined. Spoon the mixture evenly over the tops of each roll.
Step 4:
Bake uncovered for 15 minutes or until heated through and rolls are golden brown. Serve with prepared ranch dressing as desired.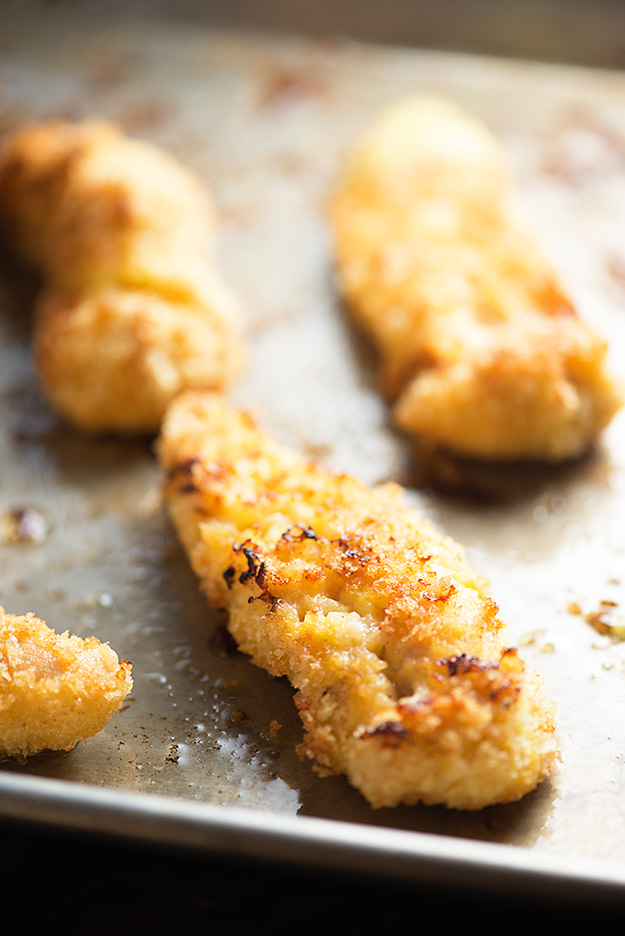 Buffalo Chicken Strips? Sure!
How about some oven-fried chicken strips, coated in a spicy, tangy sauce just before baking? They come out of the oven perfectly crispy and ready to be dipped! You could even cut these into smaller chunks and call them boneless wings!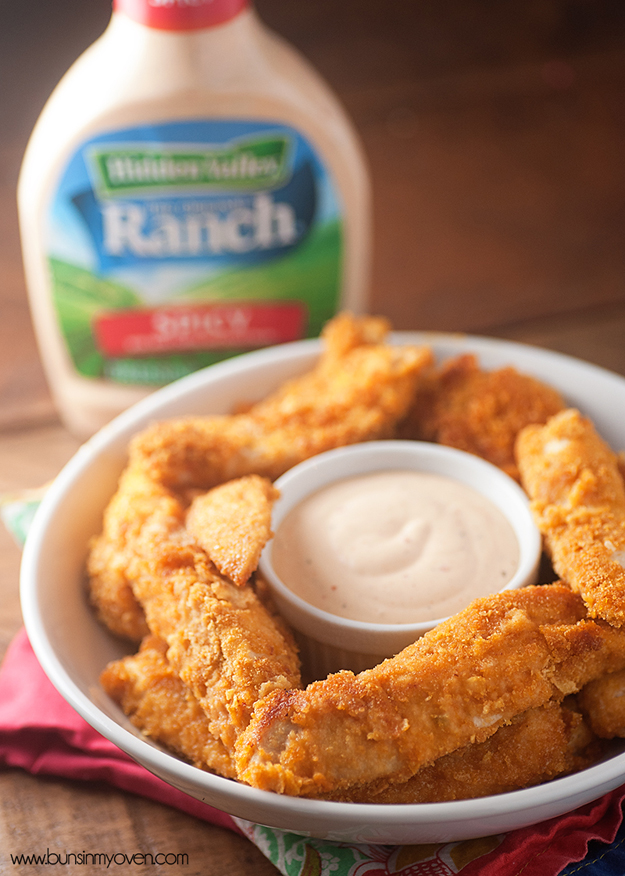 Buffalo chicken strips recipe
Ingredients:
8 tablespoons butter
1 pound chicken breasts, cut into strips
1/2 cup hot sauce
1/2 cup bottled ranch dressing
1 1/2 cups panko breadcrumbs
Step 1:
Preheat oven to 400 F. Place butter on a large, rimmed baking sheet and put into oven to melt. Once melted, remove from oven and set aside
Step 2:
In a shallow dish, stir hot sauce and ranch dressing together. In a separate shallow dish, add panko breadcrumbs. Coat chicken strips in ranch mixture and then panko crumbs. Place chicken in butter on baking sheet.
Step 3:
Bake for 8 minutes, flip chicken over and continue baking for 10 more minutes or until chicken is cooked through. Serve with ranch or bleu cheese for dipping.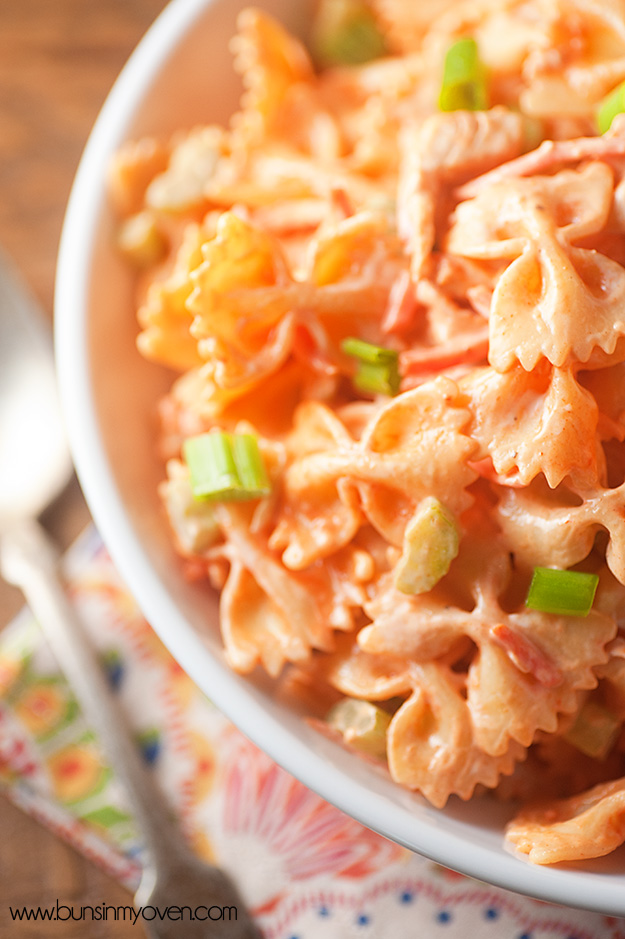 Buffalo Chicken Pasta Salad? Absolutely.
This pasta salad might be spicy, but it's also cool, creamy and refreshing in all the right ways. You'll love serving this at your next summer get-together!
Click over to my blog for the full Buffalo Chicken Pasta Salad recipe!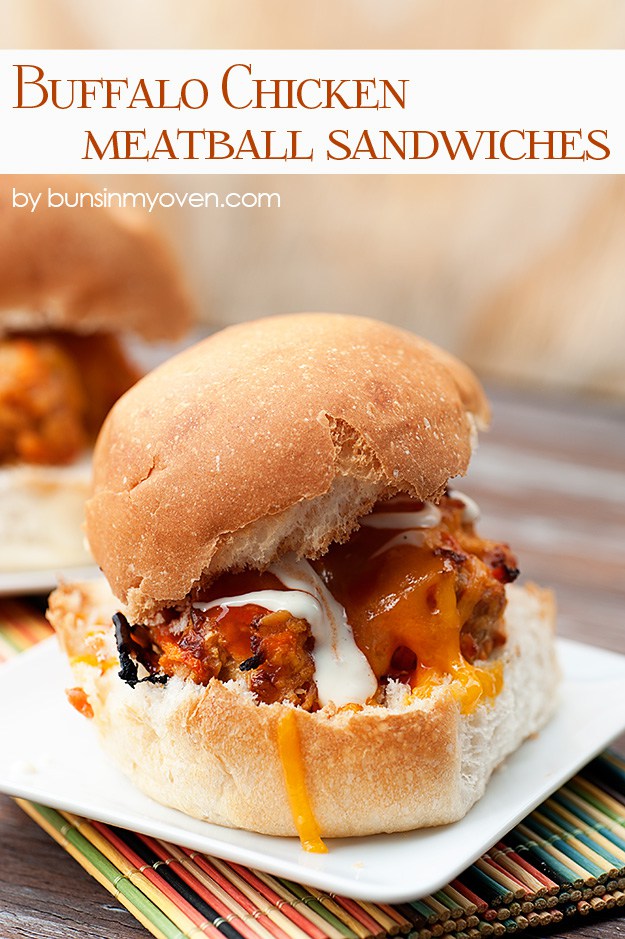 Buffalo Chicken Meatballs? No problem.
Toss 'em on a bun and make it a meal.
These meatballs are baked right in the oven and done in about 15 minutes from start to finish. You can't go wrong with these saucy little sandwiches. 
Hop on over for the full buffalo chicken meatball recipe!