When you combine an omelet, French toast and a blueberry muffin, this blueberry cream cheese brunch casserole is what you get. The outer texture is crispy, but the inside melts in your mouth. With pockets of warm, gooey cream cheese, sweet blueberries, bananas and a crunch of toasted walnuts here and there, this is one brunch casserole recipe you'll want to make over and over again.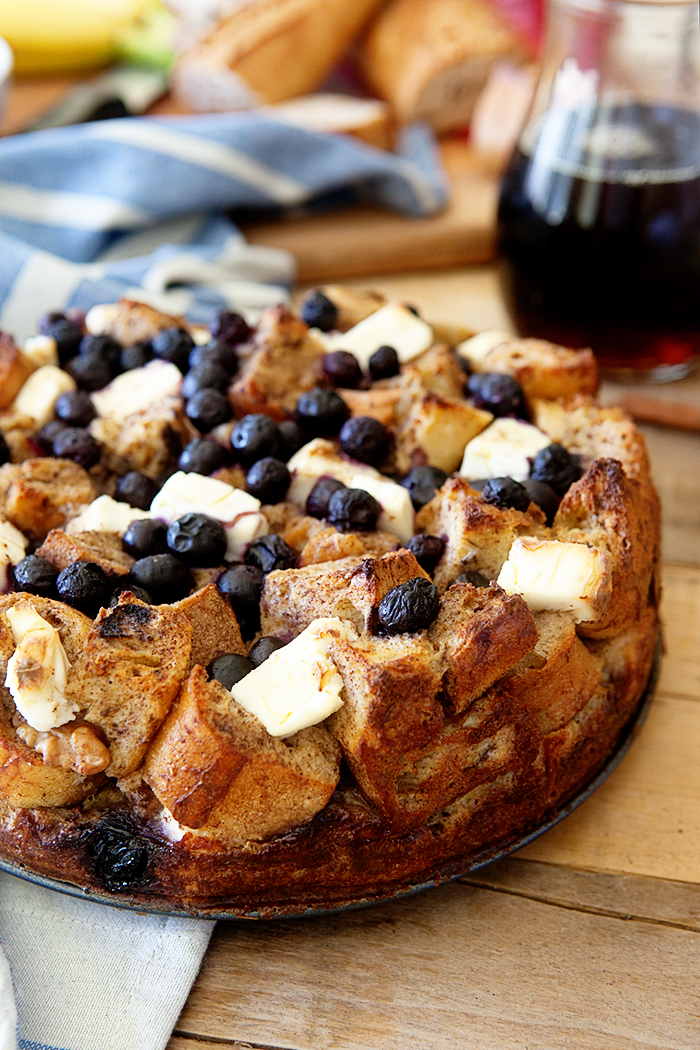 It looks awfully fancy, which is always a bonus when you're serving brunch, but it's really quick to whip up and it makes a perfect addition to a brunch or breakfast menu.
About the recipe
The inspiration for this blueberry cream cheese brunch casserole came from one of my favorite cookbooks, Super Natural Everyday by Heidi Swanson. I refer back to it often in my family kitchen, but one recipe in particular has become a kitchen standard at our house: Heidi's baked oatmeal, with bananas, toasted walnuts and berries, was a hit the first time I served it for breakfast. It's been on our regular breakfast menu ever since.
I love a good breakfast and brunch casserole, and when I set out to develop a sweet brunch casserole, I knew right away that I wanted to follow Heidi's lead with the perfect flavor combination in her baked oatmeal.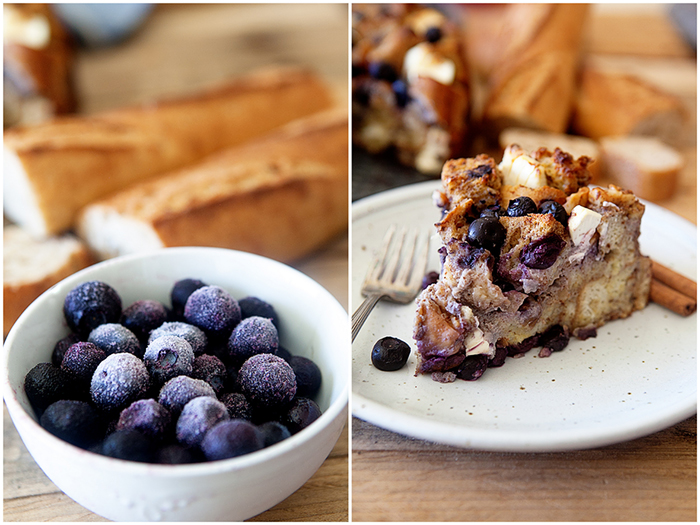 In addition to the berries, bananas and walnuts, I added cream cheese to temper the sweetness. Tossed together with whole grain baguette, some eggs and a good helping of cinnamon and nutmeg, and the result was a delicious success! This is destined to become a breakfast and brunch classic in my kitchen…and maybe yours, too.
Rather than bake it in a standard casserole dish, I decided to improve on the presentation and bake it in a springform pan. With that tiny change, this recipe was instantly elevated to an elegant dish, worthy of any brunch or breakfast gathering. The best part: it tastes as good as it looks!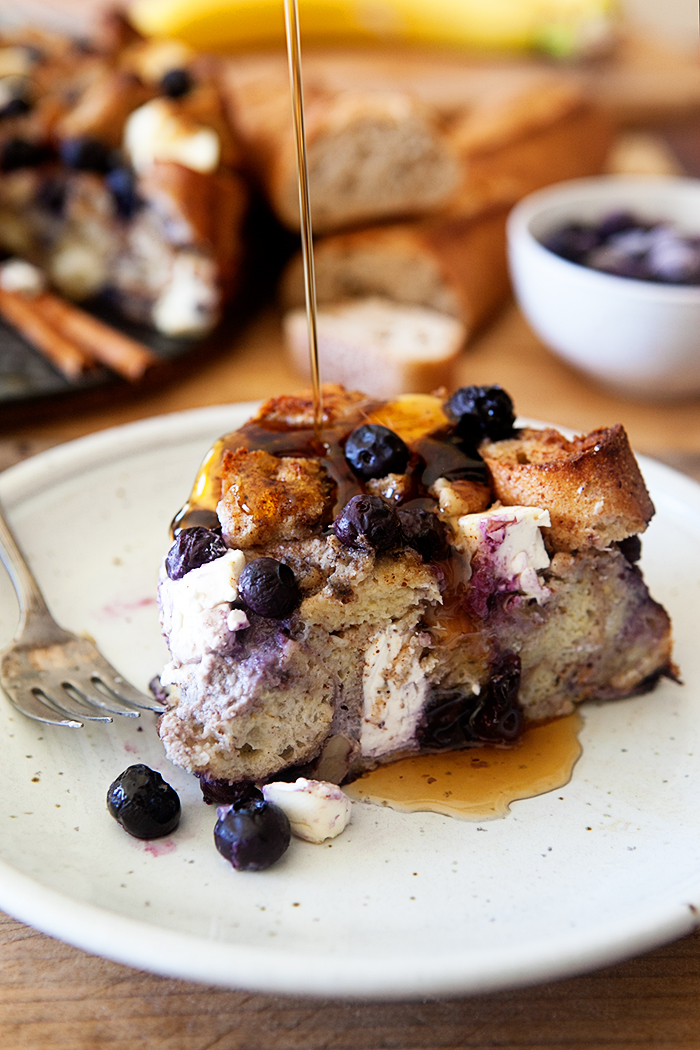 Get ready to fill your plate, top it with maple syrup or a sprinkle of powdered sugar — or maybe both if that's how you roll — and eat up!
Blueberry cream cheese brunch casserole recipe
Ingredients:
7 cups whole grain baguette, cubed (about 1 1/2 inch chunks)
7 eggs
1 1/4 cups milk
1/4 teaspoon salt
1 heaping teaspoon ground cinnamon
Pinch of nutmeg
1 teaspoon vanilla
1 1/2 cups frozen blueberries, divided
1/2 cup toasted walnut pieces
1 large banana, sliced
4 ounces cream cheese, cut into small chunks
Maple syrup and/or powdered sugar for serving
Step 1:
In a small bowl, whisk together the eggs, milk, salt, cinnamon, nutmeg and vanilla.
In a large bowl, combine the egg mixture, walnuts, banana slices and 1 cup of the blueberries. Stir gently to combine, being careful not to mash the banana. Cover with plastic or transfer to a large ziplock bag, then place in the fridge and let sit for approximately 30 minutes, or until egg mixture has been entirely absorbed.
Step 2:
Preheat oven to 375 F. Lightly grease an 8″ springform pan. Pour in the bread mixture. Add the cream cheese chunks, working some of them down into the bread mixture, and leaving some on top. Sprinkle on the remaining blueberries.
Step 3:
Top loosely with foil and bake for 30 minutes. Remove the foil and bake for an additional 15 to 25 minutes, or until golden and set in the middle. Remove from oven and let rest for 5 minutes before removing springform.
Serve with maple syrup or sprinkle of powdered sugar.