New York City is such an inspiring place. The bustle. The buildings. The people. All of that artistic energy makes for great inspiration when translated into cake decorating. Although its nickname may be the Big Apple, this skyscraper-rich city has also inspired some totally sweet cakes.
From downtown to uptown, and even to some of the outer boroughs, too, these cakes are wonderful odes to the city that never sleeps.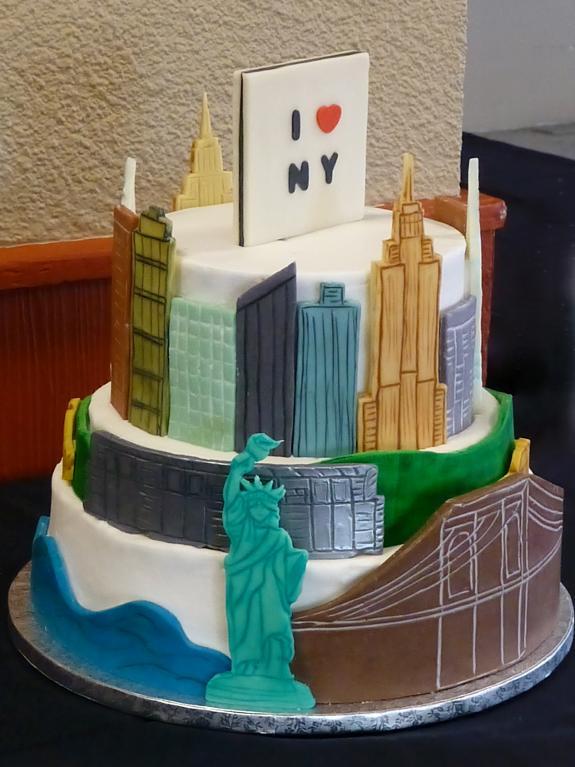 Photo via Bluprint member Amy Howerth
After taking Intro to Modeling Chocolate: Cityscape Cakes, Bluprint member Amy Howerth decided to create a modeling chocolate version of the Big Apple. Modeling chocolate in various colors was hand drawn with stylized outlines and then cut out and adhered to the cake to form a colorful ode to the city.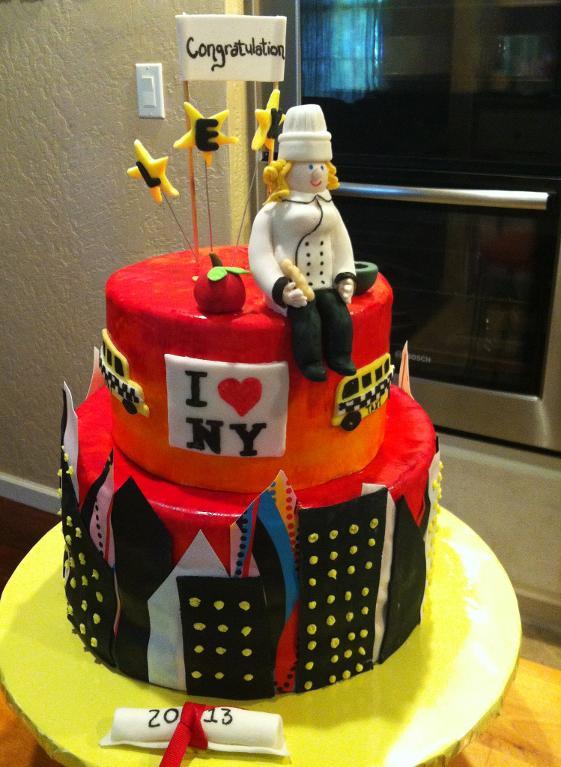 Photo via Bluprint member DreamsinSugar
Chef in New York cake:
Created for a budding chef with big-city aspirations, this cake was certainly a labor of love. The figures, banner and buildings were all made in advance from gum paste and fondant, then everything was assembled on a buttercream base and hand painted for a busy, bustling end result that captures the city's energy.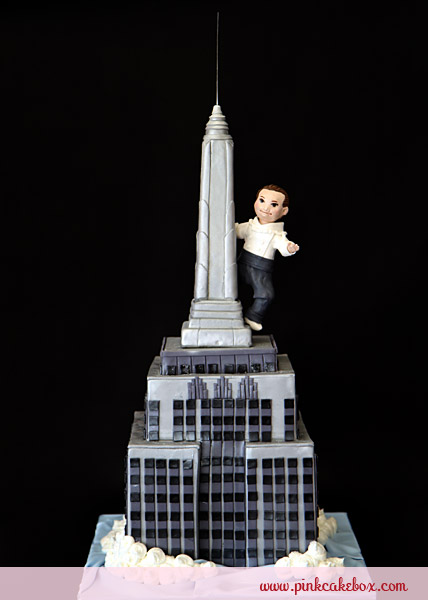 Photo via Pink Cake Box
Empire State Building cake:
Created as a christening cake, this cake is a masterpiece in fondant and gum paste, which come together to form the metal, steel and glass top of the Empire State Building with stunning accuracy. A hand-sculpted figurine of a young man hanging off of the building's spire as if a Lilliputian King Kong adds an element of sweet whimsy to the cake. Learn intricate fondant techniques like the ones used to create this cake in Maria Sousa's class, Advanced Fondant Techniques.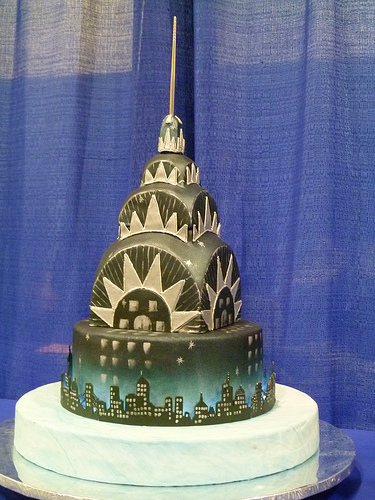 Photo via vicky_geneva; cake made by Brie Darling
Chrysler Building cake:
For a cake that dazzles like a skyscraper twinkling at night, look no further than this lovely cake, which features tiers sculpted to resemble the spire of the Chrysler Building atop a round base that appears to be airbrushed and then lined with an illuminated skyline.

Photo via Pink Cake Box
Love themed cake:
Inspired by the famous "I Heart New York" ad campaign, this cake celebrates all that makes the city great: the transit, the shopping, the food — all formed in fondant and gum paste — and then topped off with an Empire State Building topper flanked with hearts to continue the "love" theme.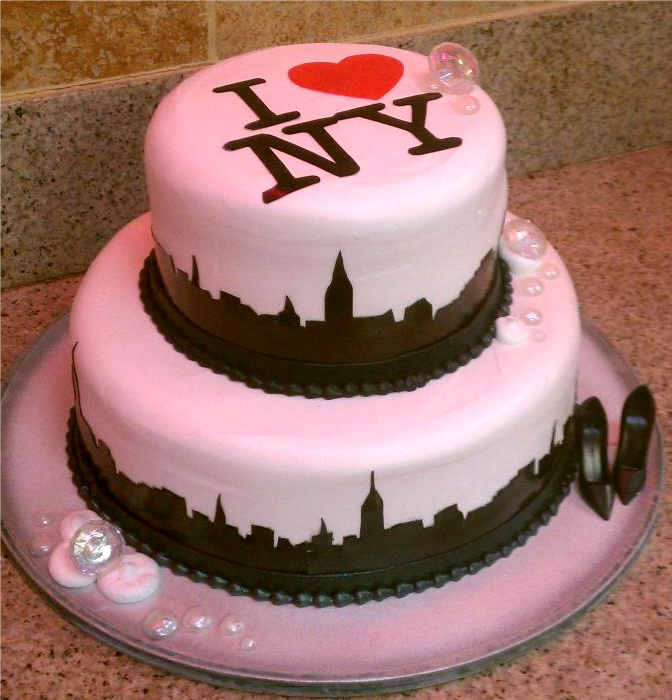 Photo via Mary's Cake Shop
Fashion-inspired cake:
This cake also has a love theme, but the style is more sleek and sophisticated, with a definite leaning toward fashion. The cake is covered with a pink fondant, which is then decorated with a contrasting black skyline along the bottom perimeter of each of the two tiers, each of which are also prettily piped with a beaded border. The iconic "I Heart NY" design is emblazoned on the top of the cake, and gems and high heels garnish the edges.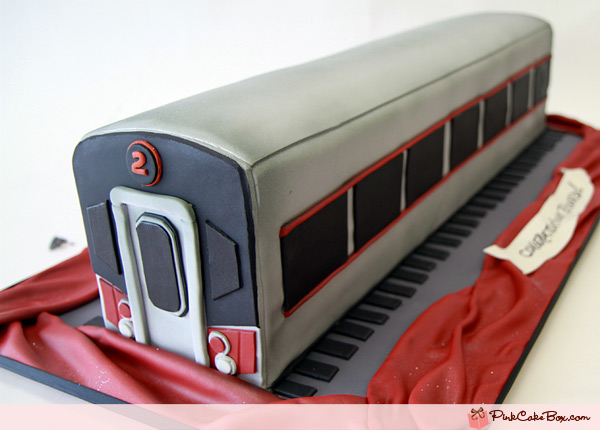 Photo via Pink Cake Box
Subway car cake:
The subway is powered by electricity — but the power behind this confection is all cake and masterful decorating. A cake cut into a long rectangle with a curved top is covered with fondant tinted a light silver, and then topped with red, black and silver detailing. The shapes may be simple, but they come together in a stunning result with this realistic cake.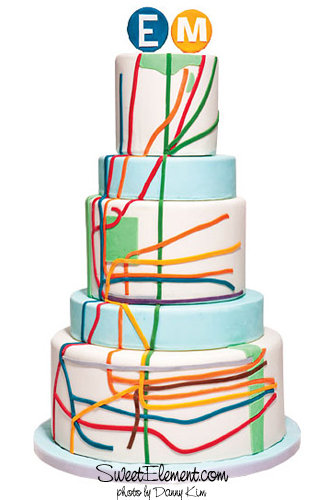 Photo via Sweet Element Cakes
Subway lines wedding cake:
Also inspired by the New York City subway system, this cake takes its inspiration from a subway map. Topping the cake are the bride and groom's initials in the same style as the letters that label subway cars. A clever and sweet example of a creatively-designed wedding cake, this is a great idea for a New York City themed wedding.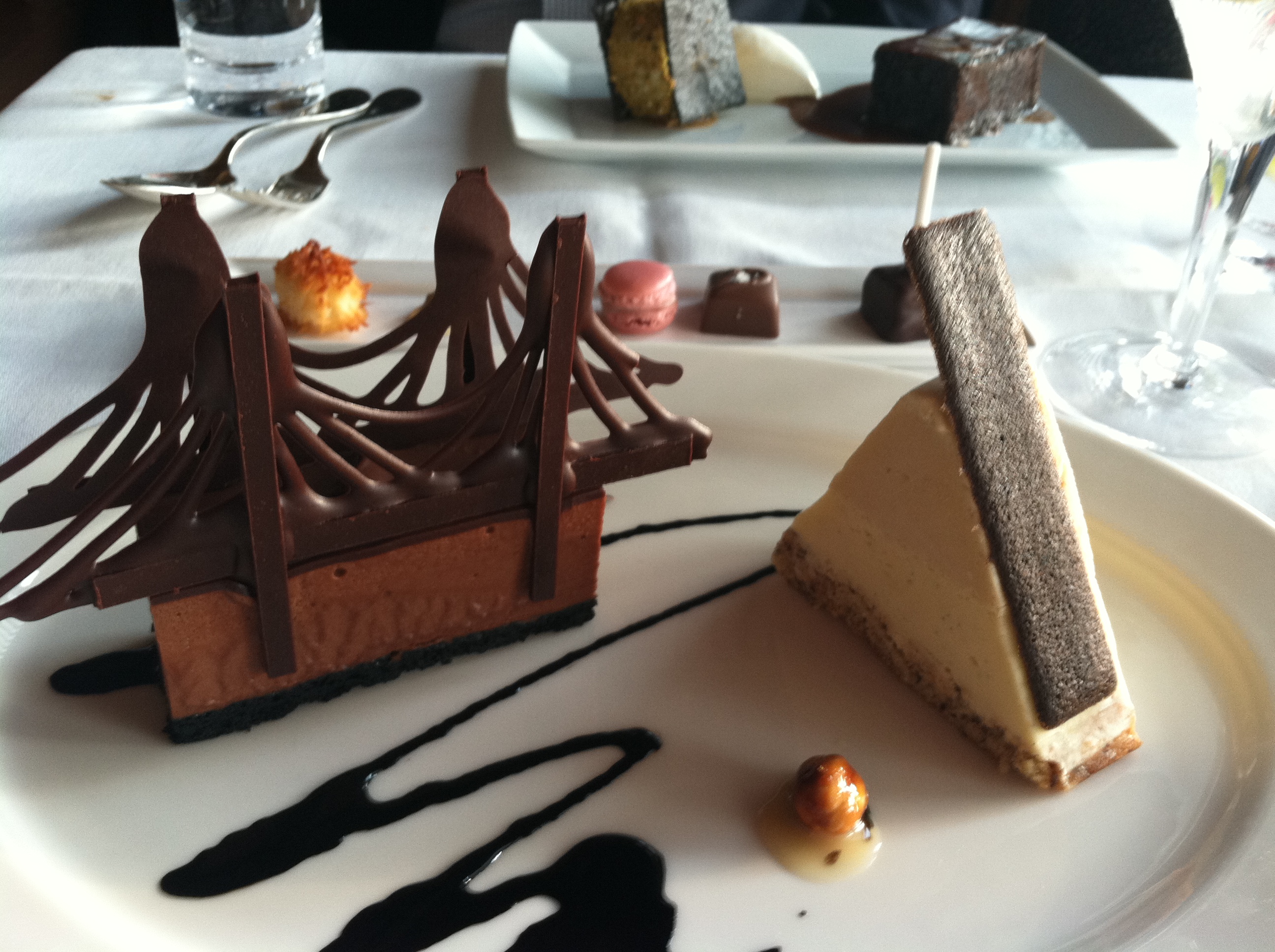 Photo via bevanddara
Brooklyn bridge cake:
At the River Cafe in Brooklyn, they serve a very special dessert: Brooklyn Bridge Cake. A decadent chocolate base is topped with a bridge-shaped garnish to resemble the famous bridge in a very delicious form. Although the recipe has not been divulged, it's possible that a similar effect could be attained with modeling chocolate (view an excellent modeling chocolate recipe).
With a sugar buzz like this, it's not hard to see why New York is the city that never sleeps! What NYC landmark would you like to see in cake form?