October has nearly come and gone, but we haven't forgotten that this month is the time to promote breast cancer awareness by celebrating survivors and honoring loved ones. These breast cancer awareness quilts made by Craftsy members have us thinking pink! In fact, we are so inspired that we might just get a head start on quilting a pink ribbon quilt for next year's Breast Cancer Awareness Month.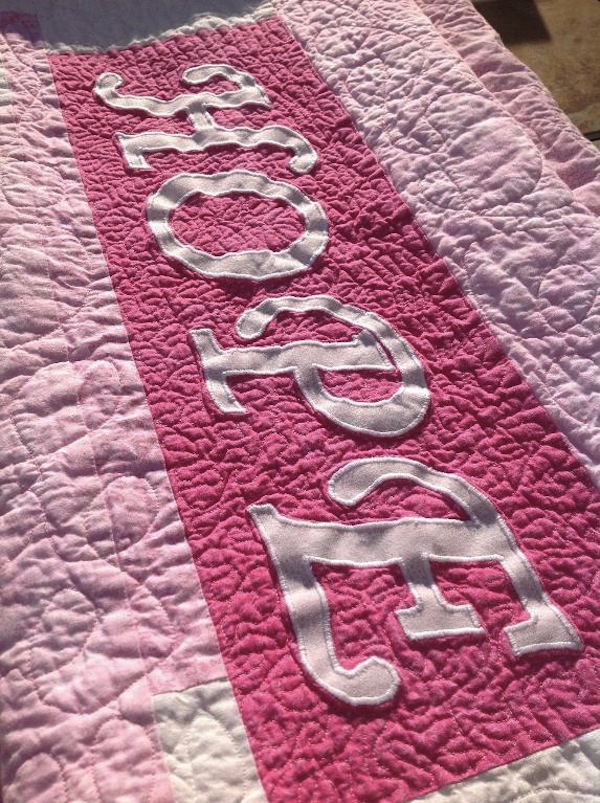 Photo via Craftsy member KathyDipp
Ladybug Hugs HOPE Quilt Pattern
The Ladybug Hugs HOPE Quilt Pattern features pink solid fabrics and embroidered letters, and it's on sale for a great cause. Through the end of the month, 100% of proceeds from this pattern will be donated to "Team Udderly Pink," which is raising money to walk in the Susan G. Komen breast cancer research walk in Washington, D.C. This breast cancer awareness quilt pattern is beginner-friendly and includes color photos.

Photo via Craftsy member Lisa_Marie
Breast Cancer Awareness Mug Rug
If a full-size quilt isn't in the cards, how about making a Breast Cancer Awareness Mug Rug? Lisa created this mug rug and accompanying pattern to honor her friend, who recently celebrated 5 years of being cancer-free. "I created this mug rug with her in mind," she says. "I wanted to create something whimsical and uplifting to show my moral support to all those women and their families who so bravely battle breast cancer everyday."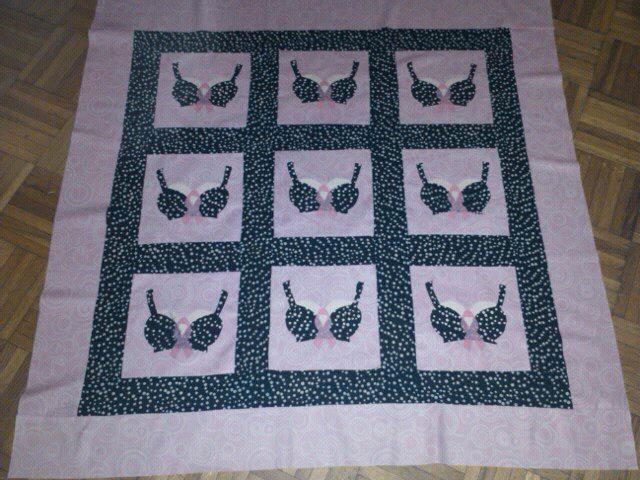 Photo via Craftsy member Nic-reation
Breast Cancer Awareness Quilt
Or perhaps you do have time for that full-size quilt after all! Here's a Breast Cancer Awareness quilt, which was crafted from the mug rug pattern above. The fun and funky design sends a positive message and is sure to bring comfort along with it.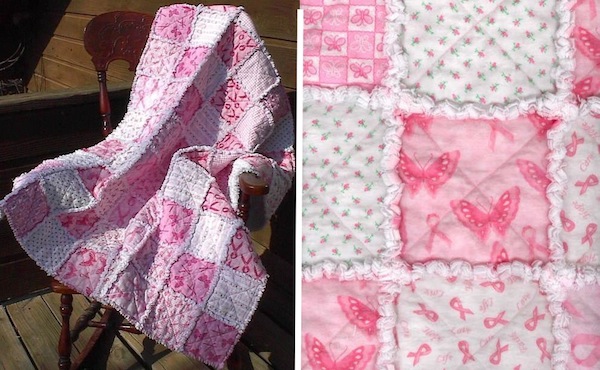 Photo via Craftsy member towodi
Pink and White Rag Quilt
This pink and white rag quilt is soft and cuddly in 100% cotton flannel. Honor your friend or family member who has survived breast cancer, or make this rag quilt pattern as a gift to encourage someone who is still on the journey. A rag quilt is a beginner-friendly project that makes a great gift for many occasions.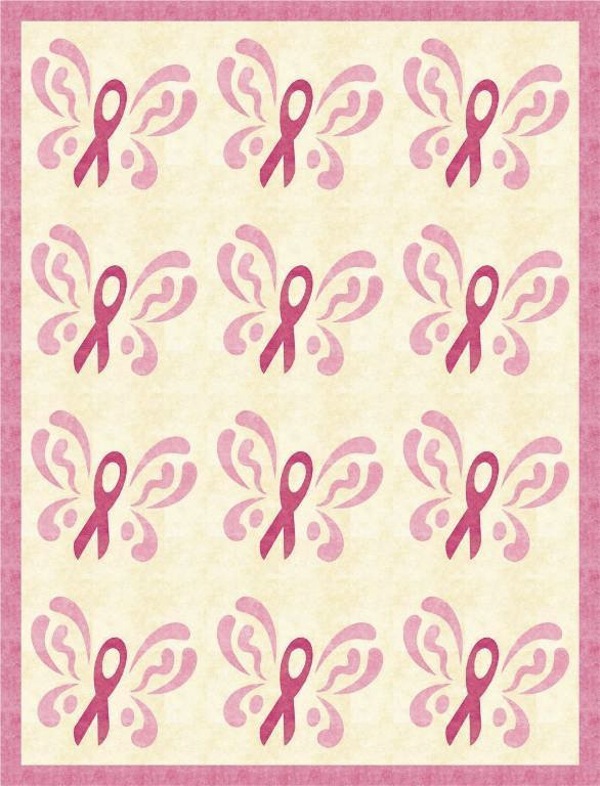 Photo via Craftsy member srodenmayer
Ribbon Butterfly Quilt
Enjoy this FREE breast cancer awareness quilt pattern from FatCat Patterns. The Ribbon Butterfly Quilt is made from 12″ blocks and is suitable for intermediate-level quilters. If you have time to make just one block, it could be used to make a quilted gift, such as a mini quilt, pillow cover or tote bag!

Photo via Craftsy member ManitobaMarnie
Ribbon Cancer Quilt
This Cancer Quilt from Craftsy member ManitobaMarnie pairs pink with deep purple sashing to accent each of the pink ribbon quilt blocks. Although she didn't work from a specific pattern, she says this quilt came together quickly with pink ribbons and butterfly blocks.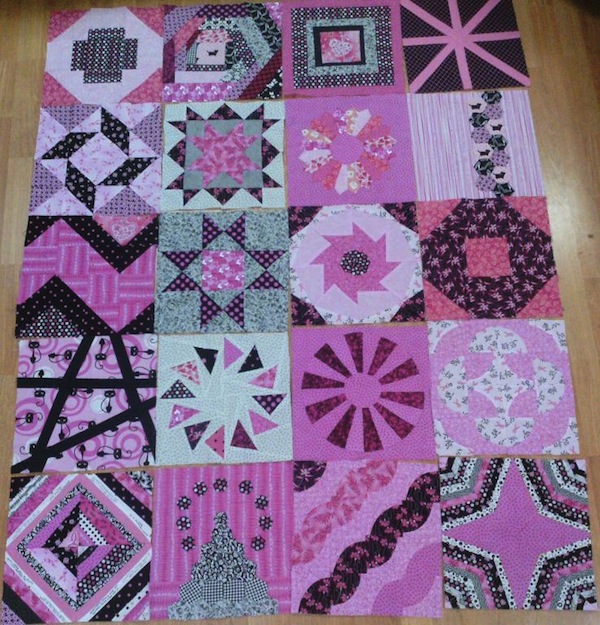 Photo via Craftsy member wondersoo
BOM
Did you follow the FREE Craftsy Block of the Month 2012 series? One Craftsy member made her blocks in bubble gum pink, with accents of black and white. The patterned fabrics feature breast cancer awareness ribbons and even some Valentine's Day hearts and polka dots! Making a sampler quilt in two to three colors is a wonderful way to use fabrics from your stash and create a cohesive and beautiful quilt project.
For more Breast Cancer Awareness Month inspiration, see also our posts on Breast Cancer Awareness embroidery designs, our knitting patterns for Breast Cancer Awareness, our Breast Cancer Awareness cupcake tutorial and our tips for hosting a charity bake sale.
Have you worked on any projects for Breast Cancer Awareness Month?