Fight like a girl with these Breast Cancer Awareness cupcakes! October is Breast Cancer Awareness Month, which promotes the vital recognition of this disease, the emphasis on early detection, and the constant search for a cure. In remembrance of those who lost their battle with breast cancer and to show support for the survivors and those currently fighting the disease, the pink ribbon has become a recognizable symbol widely utilized for fund-raisers and charity events. As it works its way into cake decorating and design, we're making sure that pink ribbon gets cupcake representation!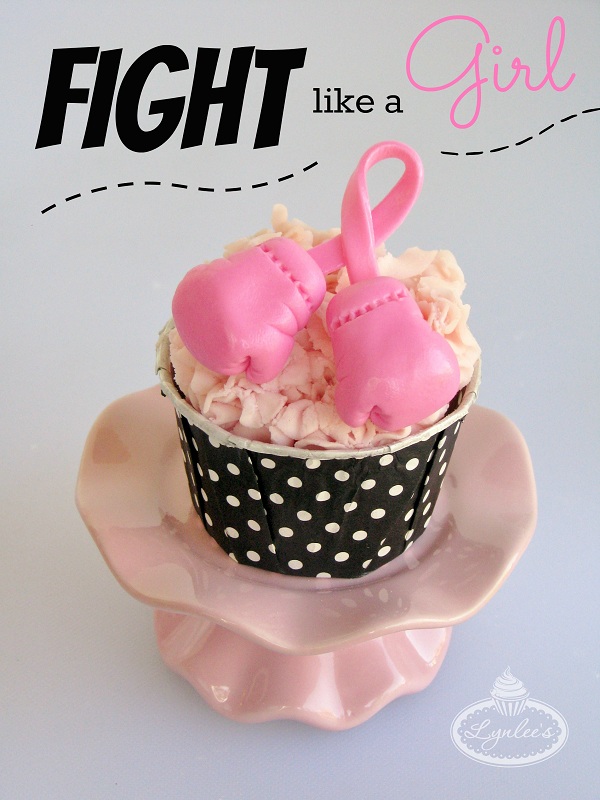 Photo via Lynlee's Petite Cakes 
Follow this tutorial to make pink fondant boxing gloves to embellish cupcakes for your next Breast Cancer Awareness fund-raiser or charity event.
Materials:
Pink fondant (colored with pink gel paste)
Water/edible glue and brush
Round circle cutter (approx. 1 1/2″)
Fondant rolling pin and 1/8″ guide rings
1/4″ wooden dowels
Rolling pastry cutter
Rolling embosser with ridged pattern
Knife tool
Precision cutter
Vegetable shortening to soften your fondant
Powdered sugar/dusting pouch for your work surface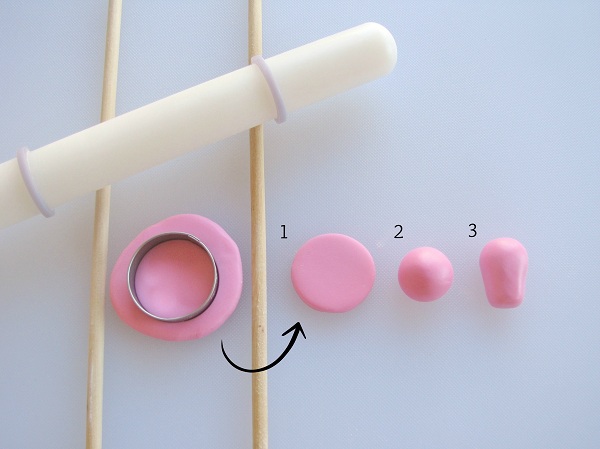 Directions:
Step 1:
Roll out pink fondant 1/4″ thick with the rolling pin, using wooden dowels as guides, and cut out a circle with the round cutter.
Step 2:
Roll the circle fondant into a ball.
Step 3:
With your fingers, shape the ball into a light bulb shape, with one end narrower and flat on the bottom.
Note: If you have a cutter in the shape of a mitten, you can roll out a thicker piece of fondant and cut it out, but make sure you round out all the sides to maintain a puffy glove look.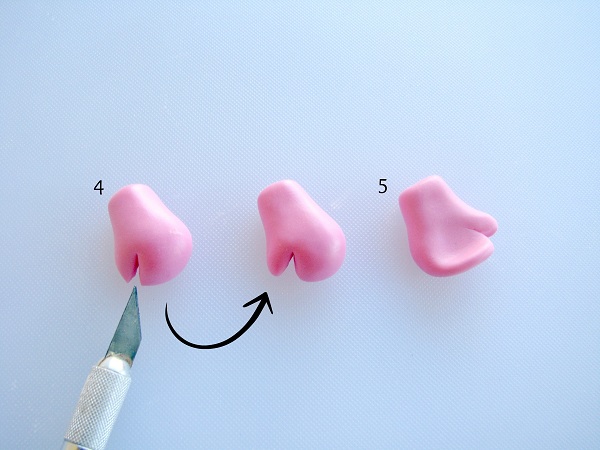 Step 4:
Use the precision knife to cut a slit on one side of the large end to form the thumb of the glove, and round it out with your fingers.
Step 5:
Turn the glove upside down in your hands and with your fingers, indent the top of the glove enough so you are able to fold it over and tuck it in a bit.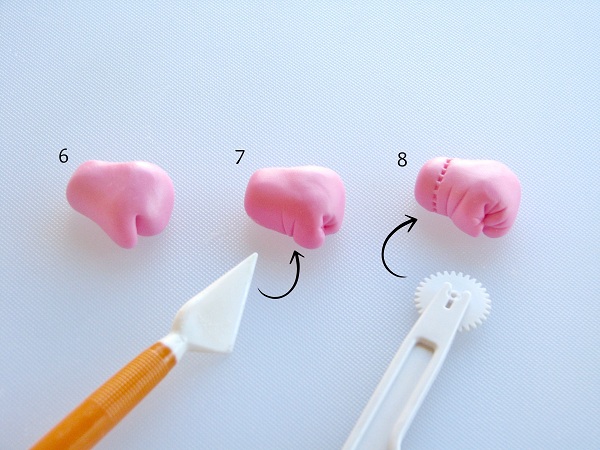 Step 6:
Turn the glove right side up and utilize your fingers to make any adjustments to its shape.
Step 7:
With the knife tool, make linear indentations on both sides of the glove in V-like shapes, as well as the glove and fingers partition, to create folds.
Step 8:
Utilize the embosser to make stitches across the bottom of the glove.
Step 9:
Repeat the above steps to create a second glove, making sure to make the thumb slit on the opposite side for the other hand.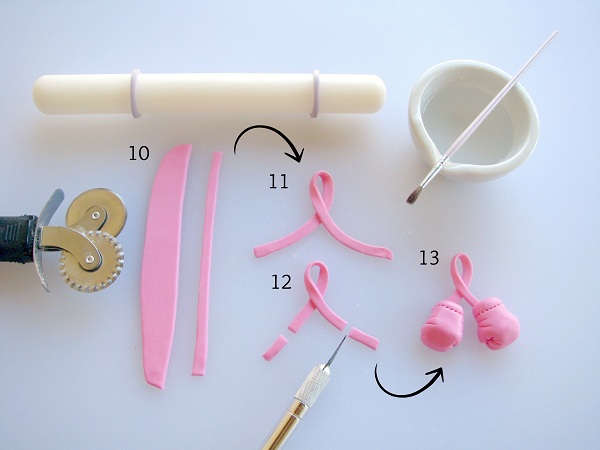 Step 10:
Roll out pink fondant 1/8″ thick with the rolling pin and guide rings. With the rolling cutter, cut two long strips (approximately 1/4″ wide).
Step 11:
Place one end of the fondant strip on your work surface and loop the other end to create a ribbon. Apply a bit of water/edible glue to adhere the two sides together.
Step 12:
With the precision knife, trim the ends of the pink ribbon to size, allowing enough room to glue the gloves.
Step 13:
Glue the boxing gloves to the two ends of the ribbon and allow to dry thoroughly.
Optional steps:
Make additional ribbons in various sizes to embellish additional boxing gloves or cupcakes.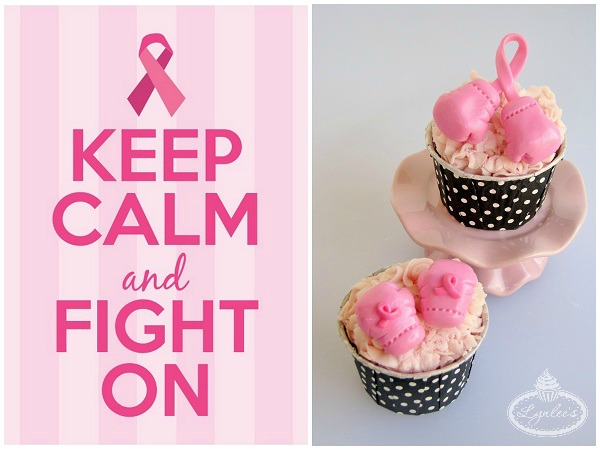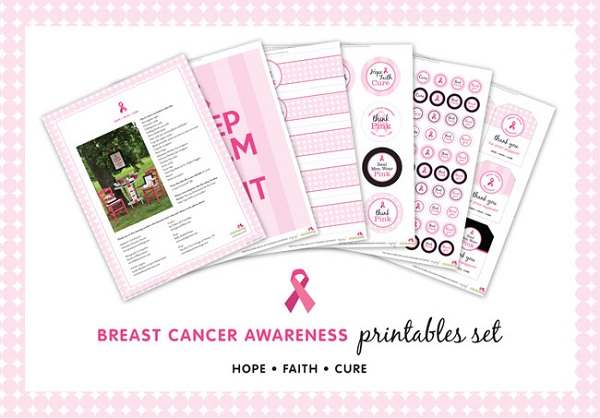 Photos via Chickabug and Lynlee's Petite Cakes
If you are preparing an entire dessert spread or planning additional fund-raising endeavors, take advantage of these free Breast Cancer Awareness printables designed and so generously provided by Chickabug. This 44-page set includes a variety of signs, donation cards, cupcake wrappers and so much more to be printed for your personal or fund-raising use.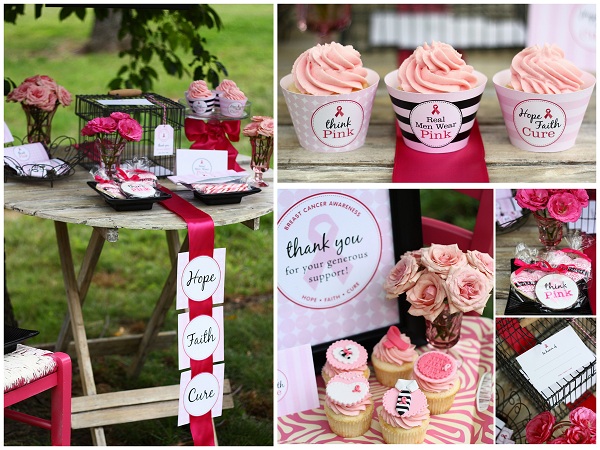 Photo via 6 Bittersweets
For additional ideas, check out the entire photo shoot styled by Pure Joy Events.
See also our tips for hosting a charity bake sale. Are you handy with needles as well as fondant? Knitting needles that is! You might also be interested in our roundup of knitting patterns for Breast Cancer Awareness.
How will you join in the fight against breast cancer?