Ready to up your breakfast game? Now you can thanks to this recipe for breakfast chilaquiles!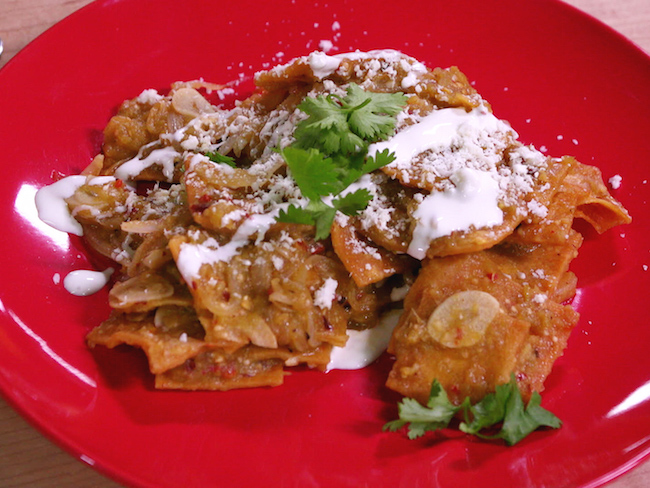 A traditional Mexican dish made from lightly fried corn tortillas, these savory favorites are loaded with flavor and make for the perfect alternative to your everyday eggs and pancakes routine. Oh, and did we mention this recipe comes straight from MasterChef season 6 winner Claudia Sandoval?!
Traditional breakfast chilaquiles recipe
Ingredients
1 cup (240 ml) canola oil
Twelve 6″ corn tortillas, cut into 1" squares (save the rounded ends)
½ a medium yellow onion, thinly sliced
4 garlic cloves, thinly sliced
1½ to 2 cups (360 to 480 ml) salsa verde (store-bought or homemade)
Cotija cheese, crumbled
Directions
Watch this video for a quick walk-through, or check out the recipe below!
Step 1:
Heat the oil in a large, deep skillet over medium heat. Toss in a little piece of tortilla to test it: If it sizzles, it's ready. Add one-third of the tortilla squares and ends to the oil and fry until they're golden brown. Remove them with a slotted spoon to a paper towel–lined plate. Repeat with the remaining tortilla squares and ends, making sure to let the oil come back up to temperature between batches.
Step 2:
Pour out all but 1 tablespoon of the frying oil from the pan. Add the onion and garlic, and sauté until they are fragrant and translucent, about 5 minutes. Add the salsa and bring it to a simmer.
Step 3:
Remove the skillet from the heat and fold in the tortilla chips until fully coated. Cover tightly and allow the pan to rest for 2 to 3 minutes for the chips to soak in the salsa. Uncover, fold them one final time, and serve the chilaquiles garnished with cotija cheese and crema.
Recipe Notes
You can use pretty much any homemade salsa for your chilaquiles, but if you're pressed for time, you can substitute a bottled salsa.
Try making divorced chilaquiles by using two types of salsas. Serve them side by side on the plate.
Ready to start your own culinary journey?
Explore our MasterChef classes, and join Claudia in the kitchen!
No Comments