When you're looking to begin creating wedding cakes professionally, breaking into the industry is your first step. The wedding industry is a vibrant tapestry full of talented, unique, and creative people who are working hard to bring customers' lifelong dreams to fruition. Vendors of all kinds work long and hard hours to finish every custom detail and fulfill every dream. But the wedding industry can also be a scary place, and if you are anything like me, you may find it intimidating and stressful. Breaking into the industry can take some time, but just remember, everybody, likes cake!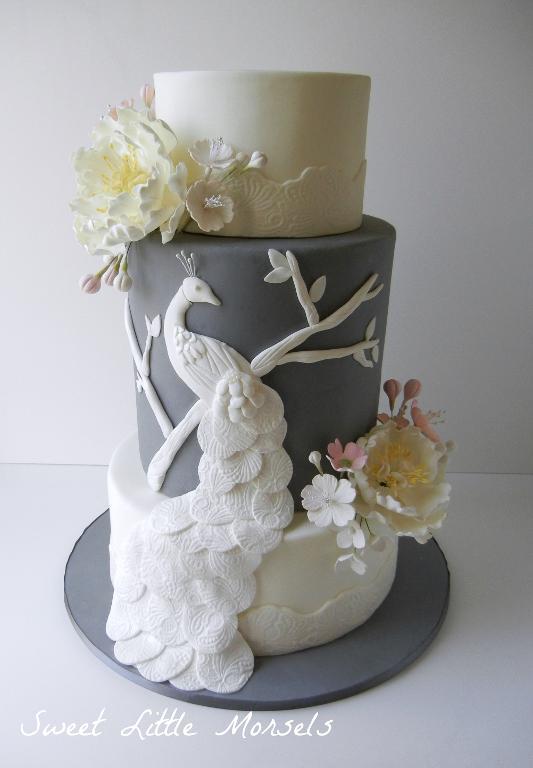 Peacock Cake photo via Craftsy member Sweet Steph
Here are a few tips for breaking into the wedding industry:
1. Make friends not foes
Get to know other cake vendors in your area. Contact them and introduce yourself. Some may not be so friendly but, that's their problem. Most decorators are incredibly nice and would love to network with you. Many times when decorators are booked, customers ask if they can recommend another company. Put yourself in a position to be that company.
Never copy another cake vendor's design without recognition or permission. Use your manners. If you do copy a design, give credit for the original design. If a bride ever comes to you with another vendor's original sketch, refer them back to that company. It;'s easy to copy another cake, but as artists, we want to create unique designs that speak of our individuality.
If you're a small company or the only employee, it's great to have friends in the business that can help out if some unforeseen emergency happens. Be genuine and friendly, and you will find that you can learn a lot from others and make some great friends.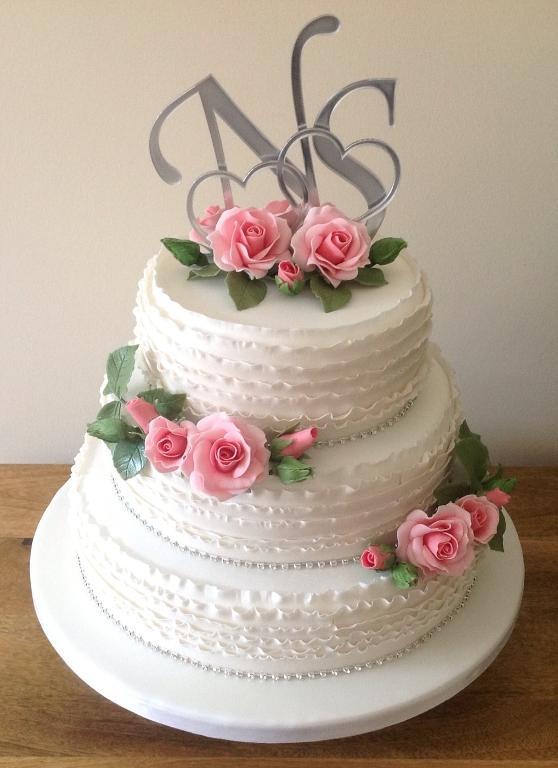 Ruffles and Roses Wedding Cakephoto via Craftsy member Kims Cakes
2. Meet other vendors
Impressing and making friends with other wedding vendors can be your best source for advertising. Word-of-mouth spreads quickly in the wedding industry, and if vendors love your cakes and love working with you, they will refer you to brides and other vendors.
Most wedding industries have monthly luncheons. Offer to bring samples of your treats to these. As I said before, everyone loves cake!
Also take the time to set up meetings, deliver cupcakes or other treats, and visit with other vendors. Learn about them instead of trying to sell yourself to them. Don't be a used car salesman, be a friend that is interested in their work and how you can help them.
3. Understand the engagement timeline
The wedding cake is usually one of the last items chosen by brides. Photographers, wedding planners, and venues are the first vendors to be contacted by brides. Many times, these vendors have a list of companies they prefer to work with. It can be difficult to get onto these lists when you first get started, but taking time to learn about these companies and introduce yourself to them can bring lots of referrals in the future.
Don't forget the other vendors as well (DJs, rental companies, wedding decorators, bands, florists, invitations, caterers, hairstylists, and makeup artists). The more vendors who refer brides to you, the more likely they are to choose you.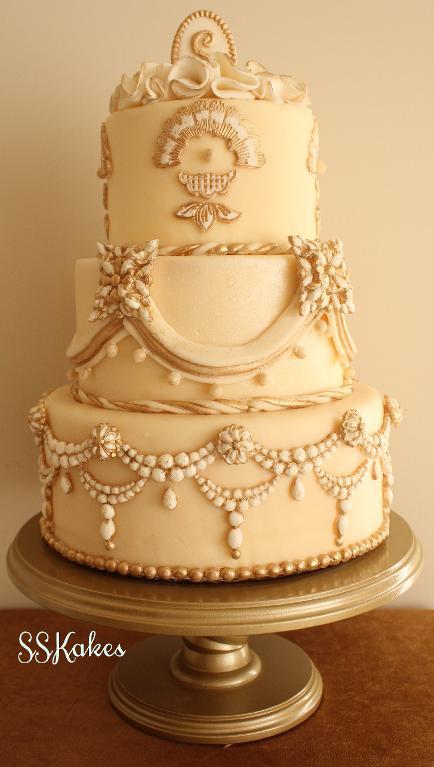 Vintage Jewels photo via Craftsy member SSKCraft
4. Be organized and prepared
As we discussed in How to Grow Your Cake Business, the more prepared and put together you are when presenting yourself, the more people will want to work with you. You may be exhausted after staying up all night finishing a cake, but don't let it show when delivering a cake or meeting with vendors. I know this is difficult, but make sure your details and your cakes have been thought through long before the cake is baked.
5. Delivering cakes
A perfect time to get to know other vendors is when you have a cake that needs to be delivered. Once you know the delivery details from the bride, contact the venue, the wedding planner, and the florist. Introduce yourself as the cake decorator for the wedding in a few weeks. If you have questions or details to go over with them, use this time. Discuss set up or find out which room the reception will be in. Discuss delivery times and if they would like you to come in the front door or the delivery door. The bride may have given you a delivery time, but confirm it with the venue or the wedding planner to make sure it works for them. Being prepared a few weeks ahead rather than calling the day before or not calling at all will win you lots of points in the wedding industry.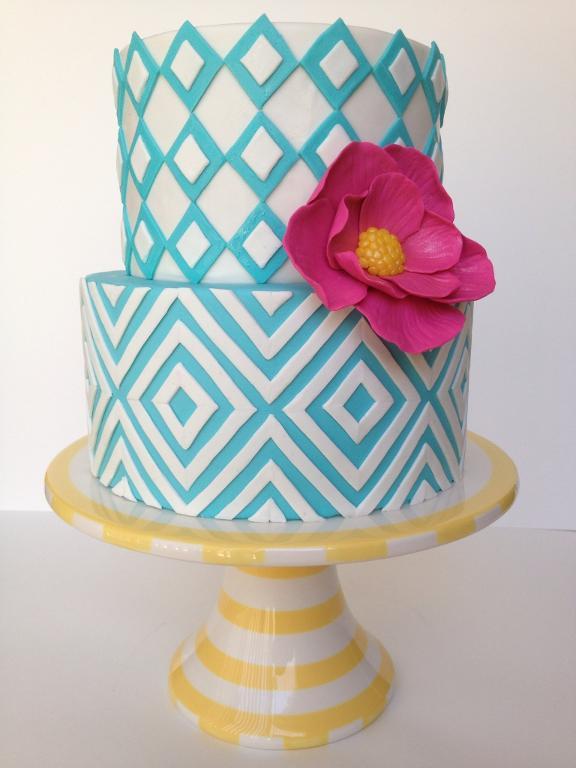 Diamond Stripes photo via Craftsy member Irina Salazar
6. Photoshoots
With the popularity of wedding blogs, such as Style Me Pretty, Green Wedding Shoes and Every Last Detail, photo shoots have never been more popular. From shabby chic to modern and sophisticated, mock weddings designed by a group of wedding vendors are all the rage! Vendors come together and donate their time and talent to put together a stunning photoshoot to help promote themselves and each other. Usually, photographers or wedding planners come up with the general idea or theme and then choose who they want to work with. Once the shoot is published, all of the vendors promote one another and themselves by sharing it on social media sites and on their own Web sites. This is a great way to make friends and get to know other vendors. It's also a great way to get national coverage and get noticed in the cake industry as well.
By getting to know other wedding professionals, you can place yourself in a position to be invited to participate in these events, which can help broaden your circle of referrals and acknowledgment in your wedding industry as well as in the cake community.
So, have fun, make friends, broaden your circle, establish working business relationships, and you will start to earn referrals in no time! Once you have referrals coming in, do what you can to help and promote other businesses. Stay on top by being prepared and reliable, and you will thrive in the exciting business of weddings.
If you're just starting out, check out the Craftsy class How to Start Cake Business.
What tips do you have for breaking into the wedding industry?