Sugar and spice and everything nice — let's not forget ribbons and bows in cake decorating! These modern ribbon and bow cakes know a thing or two about being stylish, cute and cool. From bow ties to giant flowing bows to gold-dusted ribbon scrolls, here's a bow-ver-load of bow-inspired feminine yet modern cakes that will make you want to dig into the art of tying the perfect sugar ribbon knot.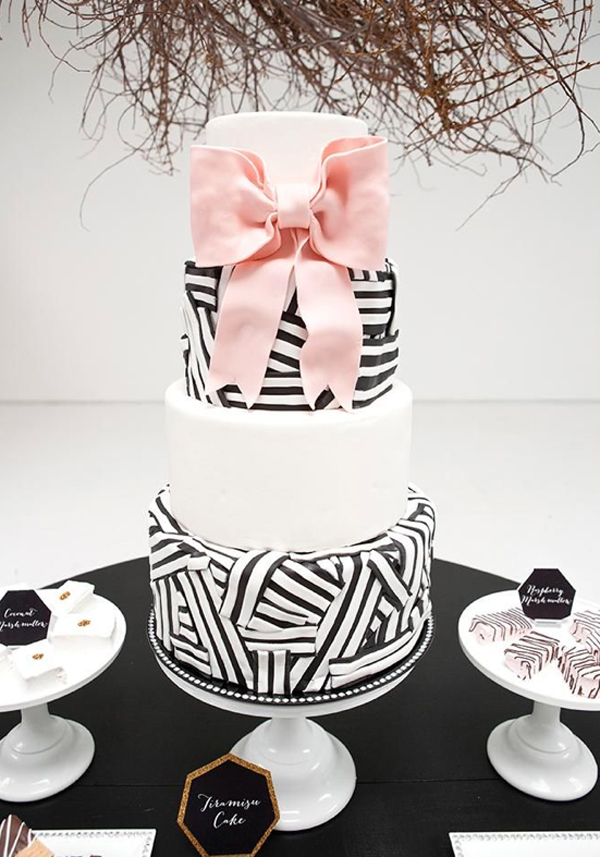 Cake by Sugar Bee Sweets; photo via Perez Photography
Black and white striped ribbon with giant pink bow cake:
This highly graphical tiramisu cake is covered in strips of black and white striped fondant ribbon and is topped with a ballerina pink feminine bow. This cake simply screams "modern, artful wedding."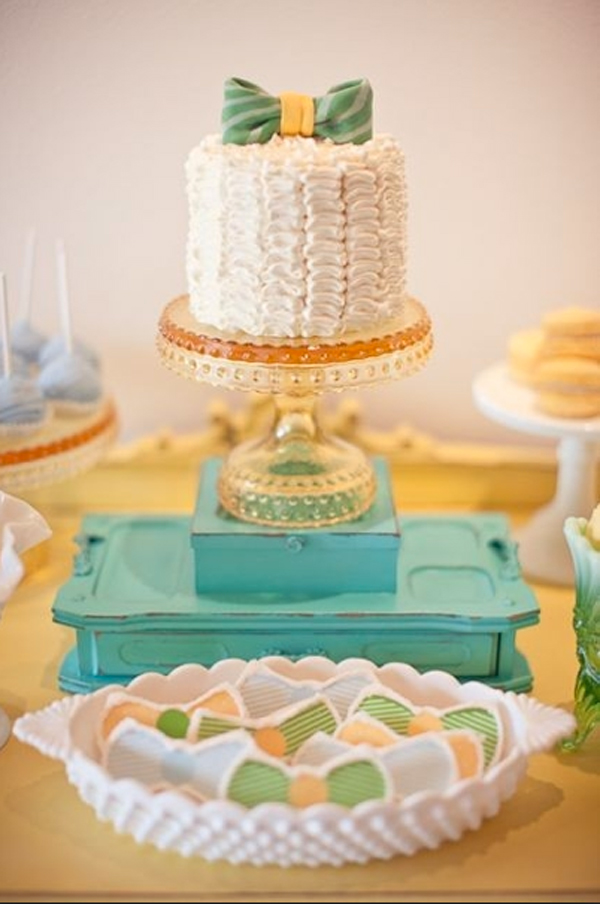 Cake by Sweet and Saucy Shop; photo via Gabriel Ryan

Green striped bow-tie topped buttercream ruffle cake:
The sweetest centerpiece for a modern baby shower is this green and white striped bow-tie topped cake covered in perfectly layered ruffly buttercream, flanked by sugary friends macarons, bow-tie sugar cookies, cupcakes and cake pops.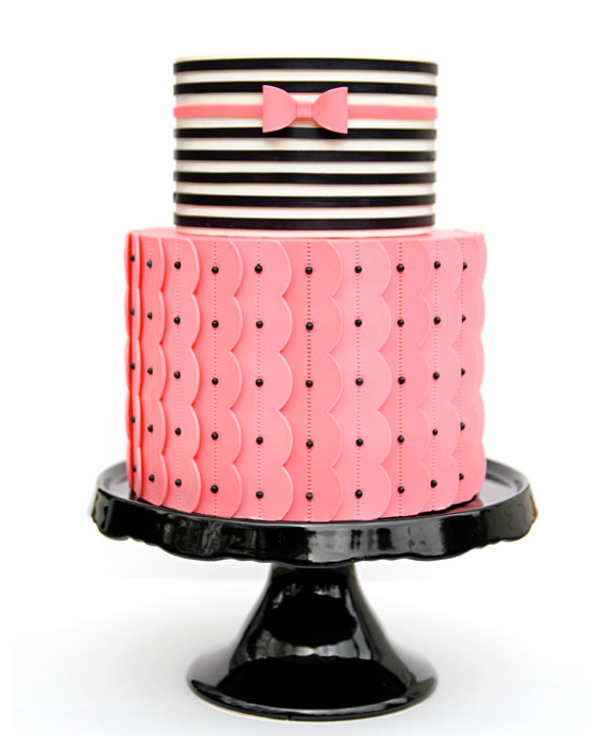 Photo via Jessicakes
Bow-tie with pink stylized ruffles and stripes cake:
Jessica Harris is the master of clean lines and boldly graphic designs with a vintage flair, as seen in this punchy pink modern stylized ruffle cake topped with black and white stripes and a simple, fashionable fondant bow. Jessica shows you just how to create this cake beauty in her Craftsy class Simply Modern Cake Design.
Cake by Sweet and Saucy Shop; photo via Green Wedding Shoes

Vintage-look gold ribbon scrolls wedding cake:
This beautiful modern cake gives the illusion of movement with its scrolls of gold ribbons curled into feminine shapes of looped heart ribbons. I love the top golden scroll perching on the top tier like a little flower girl's bow walking down the aisle.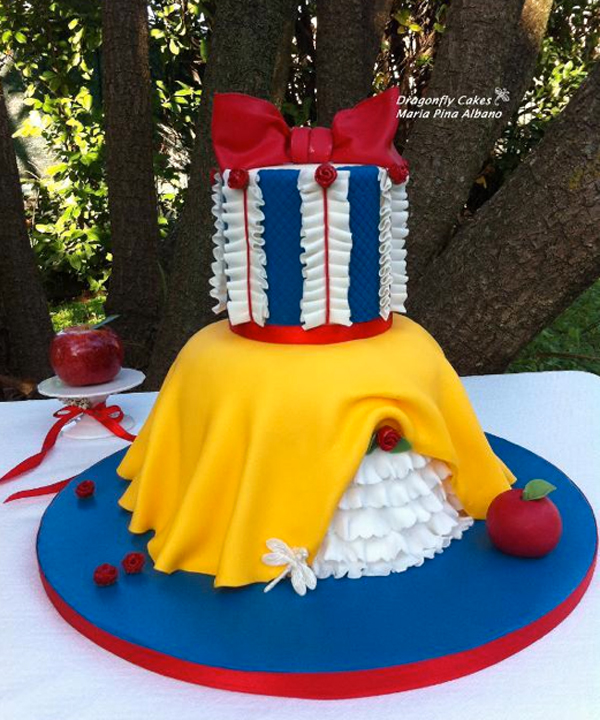 Photo via mariapina1045582
Snow White dress cake
Someday my cake will come…we can dream about the perfect cake over the perfect prince with this amazing Snow White themed cake. This impressive confection was made as a student project in Rachael Teufel's class Cake Design Made Simple: The Wedding Dress. So bright and clever!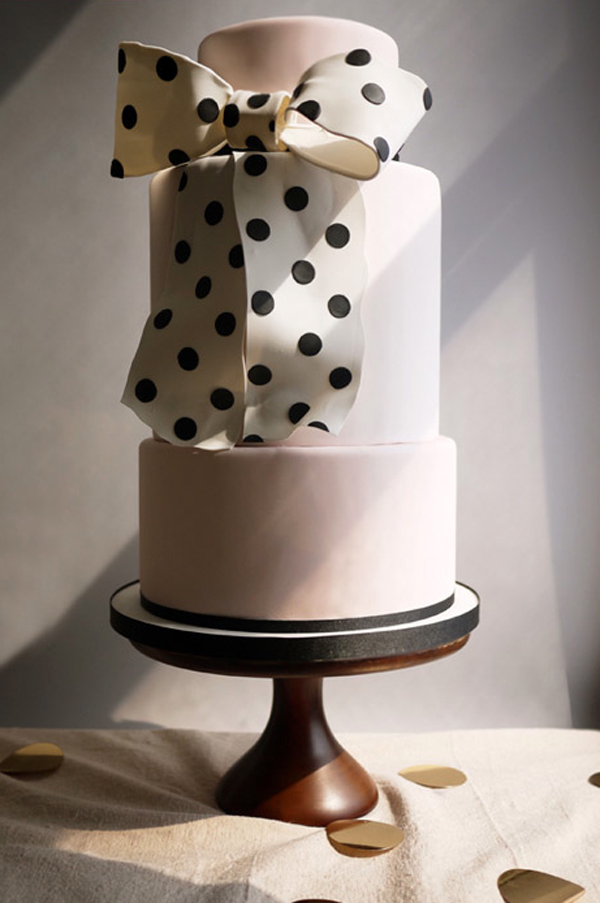 Photo via Charm City Cakes
Black and white polka dot bow topped cake
It's hard to resist a cake as cute as this: tall tiers of pale pink fondant topped with the most giant cartoonish black and white polka dot bow! I imagine a fully modern, fun and colorful bride and groom cutting into this awesome retro-mod wedding cake. Check out our post on how to make a fondant bow like this here.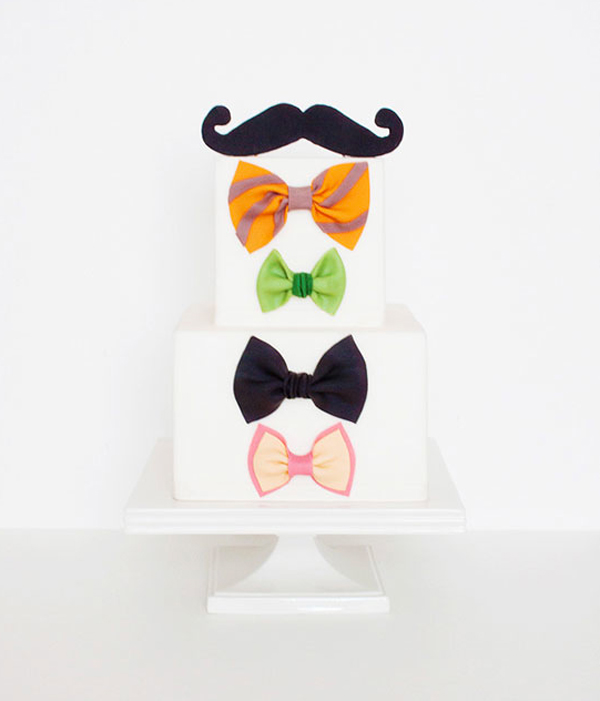 Cake by Miso Bakes; photo via The Cake Blog

Colorful bow-tie and mustache cake:
This fun cake would shine as a sweet, minimalist and contemporary groom's cake. I love the varying colored bow ties and the curly-tipped fondant mustache! Check out the whole DIY by Miso Bakes here on The Cake Blog.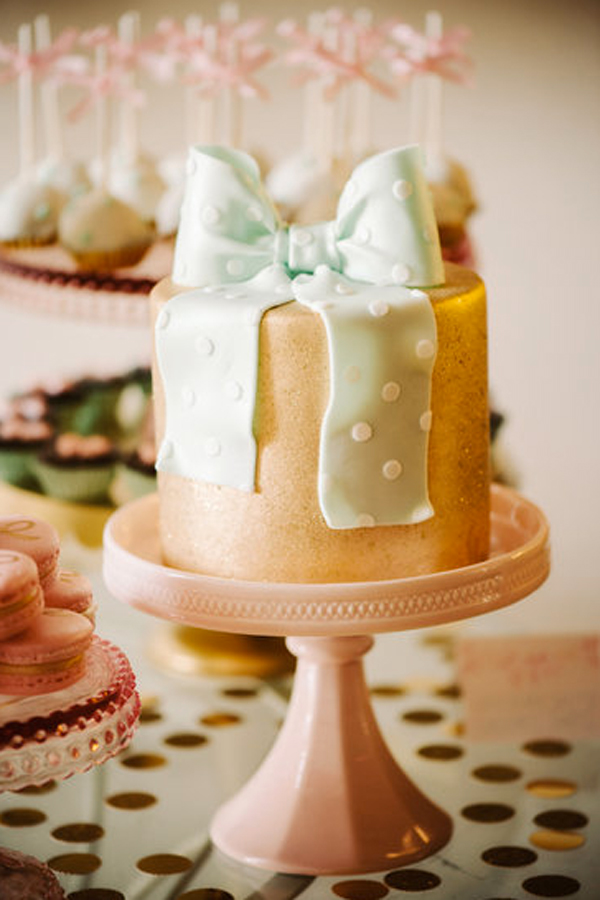 Photo via Sweet and Saucy Shop
Gold glitter cutting cake with mint green polka dot bow:
This sparkly little cutting cake beauty is topped with a sweetly floppy mint green fondant bow dotted with white circle cutouts. The cake was part of a gorgeous, glitzy fun 1st birthday party dessert spread.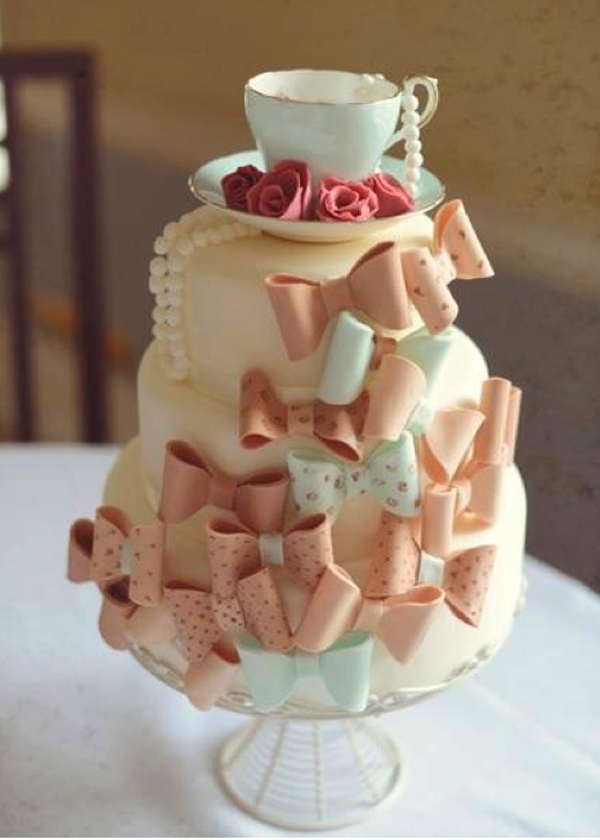 Photo via suzanne.o1332488
Teacup topped bow covered cake
A girly tea party wouldn't be complete without the perfect complement: a feminine, mini bow covered cake! Plus, everyone gets a slice with a bow on it. I love those fondant bows, they look as thought they're created from fabric. Craftsy member Suzanne created this darling cake while enrolled in Clean & Simple Cake Design.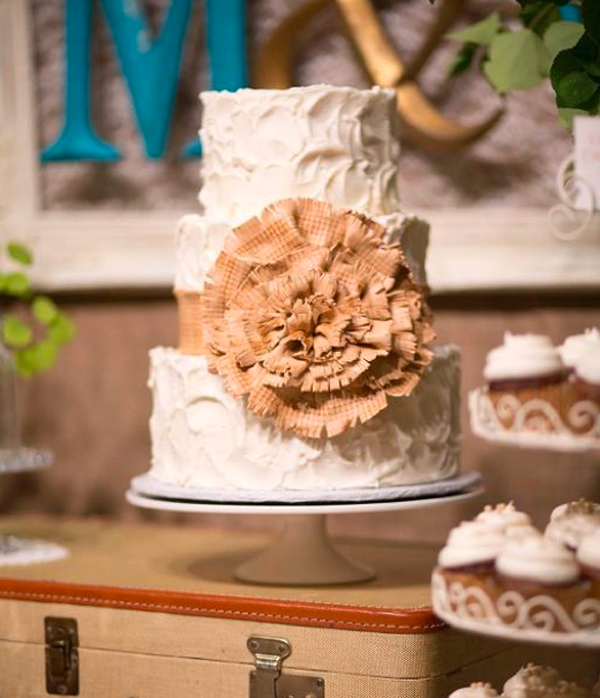 Photo via Rachael Teufel
Rustic edible burlap ribbon and bow cake:
This amazing cake would be so beautiful for a rustic, country charm wedding. The "stucco" look of the buttercream is offset by Rachael's "burlap" ribbon and bow, made from modelling chocolate ribbon textured to resemble burlap. Clever, right? Rachael teaches this technique and so much more in her class Cake Design Made Simple: The Wedding Dress.
You might also enjoy our gum paste ribbon and bow tutorial and our post on how to make a fondant bow.
Would you deck a cake out in beautiful bows?