Math and cakes- not the likeliest combo, you say? Not so! There are a wealth of beautiful and striking-to-the-eye geometric cakes being created these days; the results are bold and original. Add pops of color and you have bright, fun and eye-pleasing cakes with a playful retro feel. From fondant squares to optical illusion delights, we think geometry plus cakes equals great!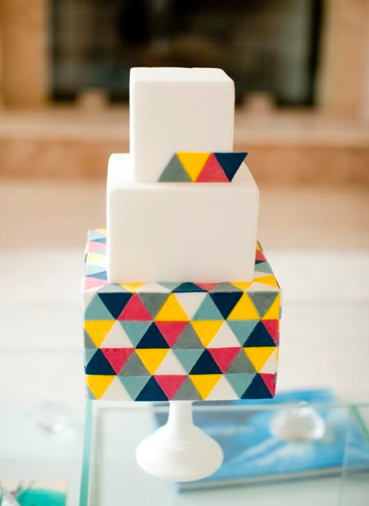 Photo via Sweet & Saucy Shop
Tiered Vintage-look Geometric Cake: The modern color palette combined with design restraint, shoots this beautiful cake straight to the top of the chain! It's such a great pattern and I especially like the tiny strip of triangles that accent the top tier.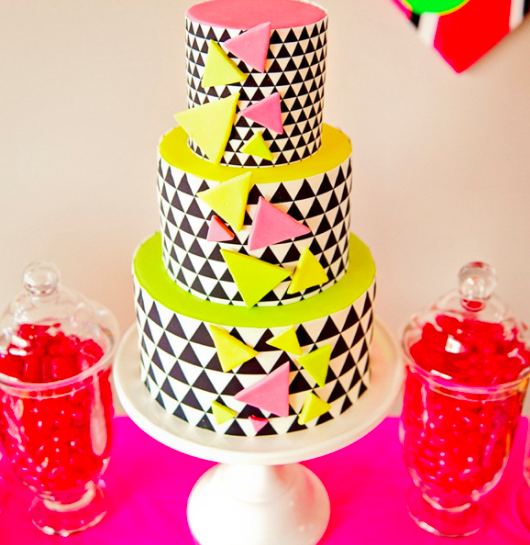 Styled by Little Sooti, cake by Cake Envy
Neon Party Tiered Triangle Cake: This cake just screams party time with its neon yellow and pink triangle accents, and black and white graphical triangle covered tiers. A fun cake that references both the 1950s and the 1980s, it reminds me of the interior of a bright neon-filled diner-style restaurant.

Photo via Sweet & Saucy Shop
Squares on Square Fondant Cake: This beautiful squares-on-square cake pattern reminds me of both an enlarged pixelated photo or a great vintage print gingham dress! Future meets past! I love the matching sugar cookie perched on the top of the cake: a great idea for a cake topper. This was created by the very talented and sweet Melody at Sweet & Saucy Shop for a very stylish baby shower, which you can read more about here.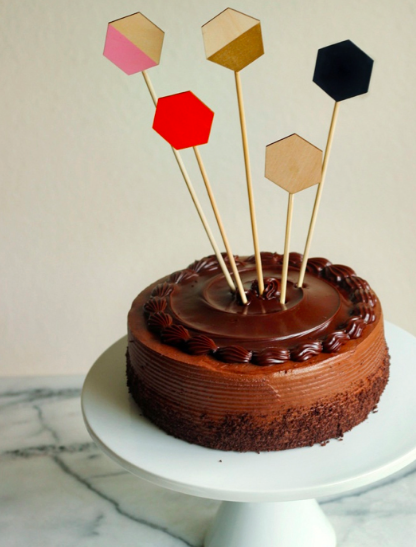 Photo via Hank & Hunt
Geometric Cake Toppers: Love the geometric look but want to get it done much quicker than hours and hour of fondant? Try these clever and cool looking high-impact geometric cake toppers by the awesome party ideas blog Hank & Hunt. Jenny has a great tutorial on how to make them, and once those are done, you just plunk 'em into your cake and you're right on trend!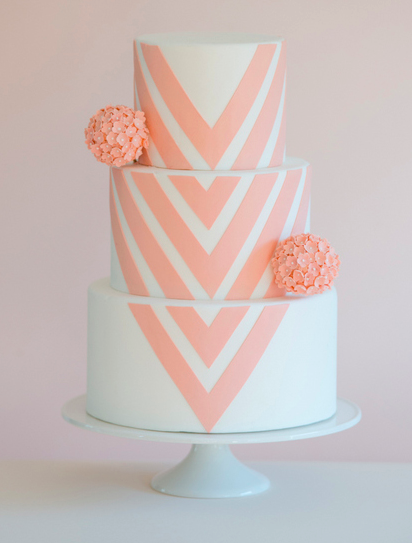 Photo via Erica O'Brien Cakes
Pretty in Pink Chevron Striped Tiered Cake: Clean, modern, bold and high-impact; I love this white fondant covered cake and its peach pink take on the beautiful symmetrical chevron trend. Erica O'Brien Cakes added an additional feminine touch with the hydrangea blossom sugar flower puffs on different tiers. Wouldn't this be sweet for a bridal shower?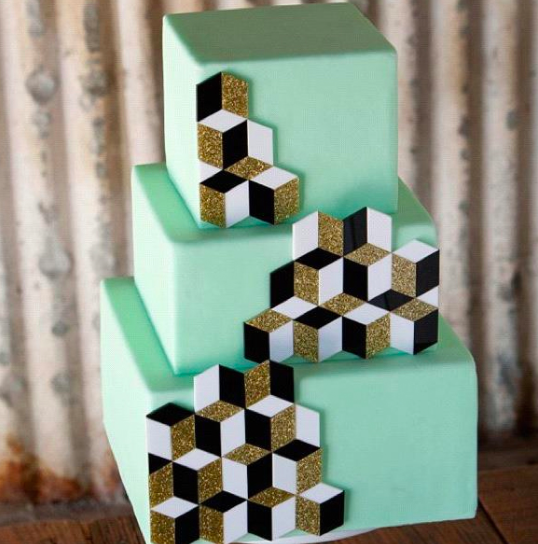 Photo via Sweet & Saucy Shop
Mint Green Tiered Optical lllusion Cake: This cake reminds me of that 1980s video game Q*bert where that little orange guy with the horn nose bleeps up and down those little squares! Love the colors of this cake: mint green with the bold graphical black, white and sparkly gold! Such an eye-catching and fun cake, don't you think?
Itching to make your own high impact geometric designed cake? Try Jessica Harris' popular class Clean & Simple Cake Design on Craftsy! She'll show you how to create some of today's most popular trends in cake design, including the omnipresent and stylish chevron pattern. Hope you enjoyed this post on geometric themed cakes; which style is your favorite?
Come back to the Craftsy blog tomorrow to learn how to make tie dye cupcakes!