It's not a term you hear too often, but Bohus Knitting is stranded color knitting, in the same family as intarsia and Fair Isle. But what makes it even more interesting is how the technique was developed.
Bohus knitting takes its name from an organization in Sweden called Bohus Stickning. The organization was started in the 1930s — a time of depression for Sweden — by a group of women from Bohuslan who needed a way to support their financially-strapped families. Bohus Stickning created hand-knitted clothing for over 30 years, bringing income to struggling families. (Read more about the origins of Bohus knitting.)
Bohus Stickning died down as the economy in Sweden improved. For many years after the garments were produced, these complicated patterns remained a mystery. But now the Bohusläns Museum has teamed with Solveig Gustafsson, who has studied the Bohus knitting tradition, to help develop patterns and yarns for sale. And good news for English-speaking knitters: some of the patterns are available in English!
The challenge in Bohus knitting is that this intricate colorwork is knitted in a small gauge, requiring knitters to balance small needles while also dropping and picking up different colored strands of yarn — sometimes four or five colors in the same row.
You might also notice that most Bohus knitted garments have a little fuzzy halo around them. That's because the garments were traditionally knit using merino and angora, and it's the angora that gives it that halo.
Bohus knitting patterns
You won't come across Bohus knitting patterns too frequently, but they are out there. Here are a few of my favorites from Bluprint and around the web.

Bohus Cardigan for American Girl Dolls
Designer inaknits created this doll sweater as a tribute to Bohus knitting, creating a modified, shortened version of Blue Shimmer. Stick with the blue, or change up the colors to suit your little American Girl. This is the perfect starter project for beginner Bohus knitters since it's doll-sized.
This one is for all you Bohus cheaters out there. (I won't tell!) Designer Blodeuedd wanted the Bohus look without all the complications. These socks never use more than one color per row but still achieve the colors and textures of Bohus knitting.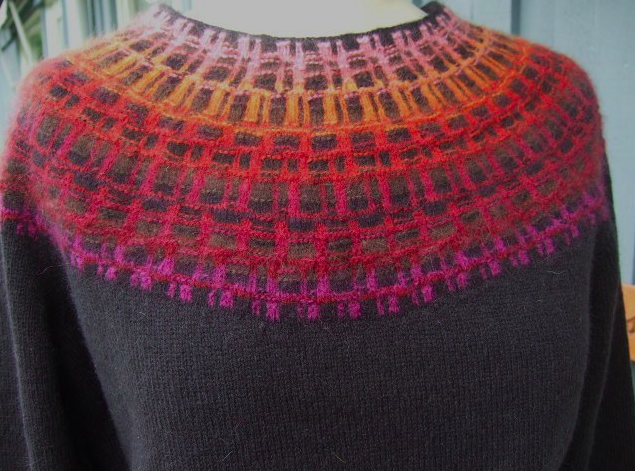 I'm in love with the colors used in this sweater, originally designed by Bohus Stickning designer Kerstin Olsson and recreated by Solveig Gustafsson. Because this is a close-up shot, you can really see that angora halo I referred to earlier. Can you imagine knitting sweaters like these everyday for a living?
You can download Courtney Kelley's Freyja Cardigan for free over on Knitting Daily. While you're there, make sure you check out the Bohus knitting tips Kathleen Cubley has compiled. The tips will make you less nervous about starting a Bohus knitting project of your own. Plus, you're in good company. Kathleen wrote this article as she was starting her first Bohus knitting project!
Ready to get going on a Bohus project? Get advice from Glenna on selecting the perfect color palette for your knitting.
Have you ever tried Bohus knitting? What do you think of it?