There are many opportunities for block of the month programs and they are not limited to quilting. Other options include table runners, wall hangings, embroidery, wool projects and ornaments. Series patterns, otherwise known as block of the month, stitch-along or block of the week programs, are incredibly popular.
With so many wonderful online resources, you don't even have to live near a shop hosting block of the month (BOM) programs to participate. Patterns can be downloaded at your convenience, 24 hours a day. Some provide instruction on special techniques along the way, while others provide the blueprint for finishing what might otherwise seem like a monumental task.
Here are five reasons and several inspiring examples to show you why you should give one a try!
Why are block of the month programs a good choice for stitchers?

Photos via Bluprint member ELEFANTZ
Structure
Procrastination runs rampant on projects without a deadline. Knowing that you have one piece to finish, and that you have a set time to finish it, makes it easier to set time aside to stitch and achieve your goal. And if you don't, it's OK, the world won't implode.
"I was attracted immediately to block of the months because it didn't overwhelm me — it seemed possible to stay on track, and that's a problem many stitchers and quilters face, I think, the growing piles of UFOs (unfinished objects) in the cupboard," said Bluprint member Jenny Reynolds of Elefantz. Her Shabby Roses Churn Dash stitch-along quilt was so well received, she conducts a similar series every year.
Get the Shabby Roses Churn Dash quilt block 3 pattern.
Get the Shabby Roses Churn Dash quilt block 9 pattern.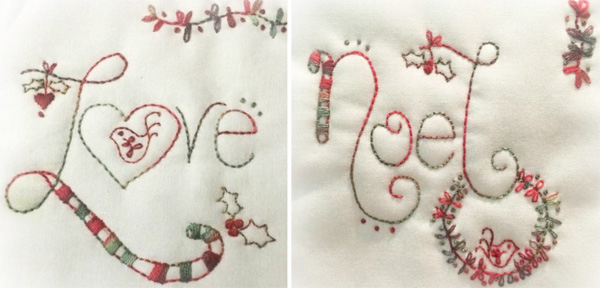 Photos via Bluprint member Sugarlane Designs by Wendy Bertello
Convenience
Bluprint member Wendy Bertello of Sugarlane Designs, attributes BOM success to convenience and value, saying "I think they're popular because they're achievable and they're affordable. Something simple that you can 'grab and go' and, before you know it, you've created the whole project… A bit like taking a huge task and breaking it into bite-sized chunks."
Even though her Christmas stitch-along block series began release in August and wrapped up early October, stitchers can join any time and purchase patterns one at a time or all at once. Either way, there should be no problem getting them ready for Christmas, this one or the next!
Get the Christmas SAL Block 1: Noel pattern.
Get the Christmas SAL Block 2: Love pattern.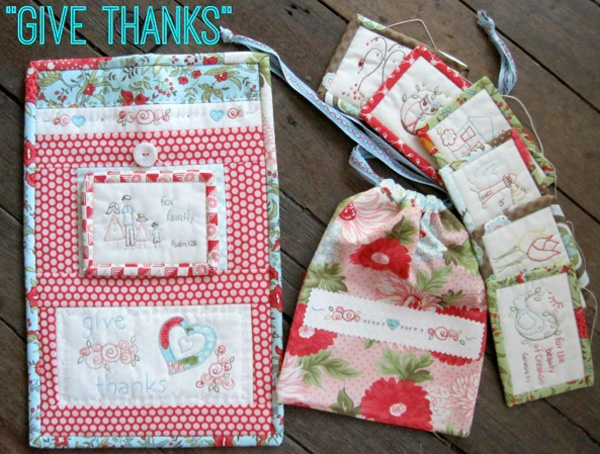 Photos via Bluprint member ELEFANTZ
 In her Give Thanks pattern, Bluprint member Jenny provides 12 mini quilts that can be stitched and rotated on a miniature wall hanging. It even includes a drawstring bag to hold them all.
"Either you're doing just one part of a larger quilt or, like our Monthly Minis or wool clubs, the projects are individual items, often on a smaller scale. We all feel better when we can get something done, and smaller projects can often be managed when larger ones can't, especially with work, children, and a dozen other demands on time," says Cathy Young of Ericas.com.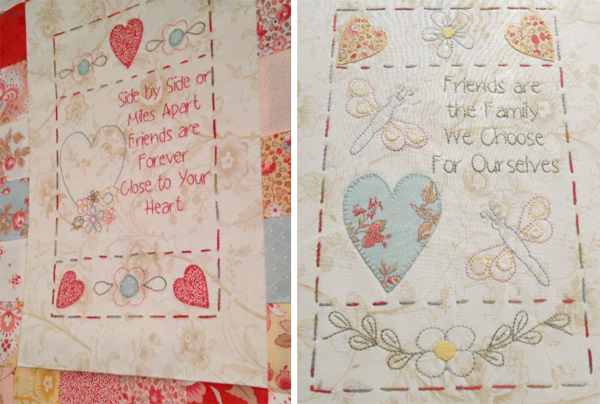 Photos via Bluprint member Designs by Fee
The Friendship Quilt is a 10-part BOM by Bluprint member Designs by Fee. In less than a year, you can create a gorgeous heirloom quilt or use individual panels to create a tote bag, pillow or wall hanging.
Get the Friendship Quilt Block 2 pattern.
Get the Friendship Quilt Block 4 pattern.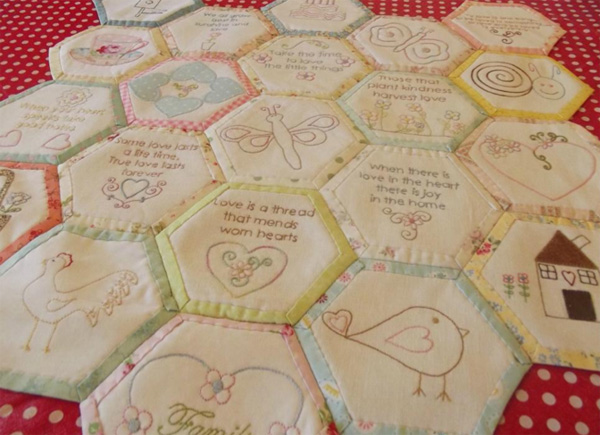 Photo via Bluprint member Designs by Fee
Economy
Purchase only what you want. Often, discounts are offered for pattern groupings of more than one design. Electronic downloads mean no printing, postage, shipping, or handling which keeps costs extremely reasonable.
Jenny of Elefantz promotes using fabrics left over from other projects, saying "I encourage those making my BOMs/BOWs to consider using up their fabric scraps to make the design – you know, all of those leftover pieces from larger projects that seem to accumulate and cause fabric-guilt to set in with many people – and I think that's another bonus for those who follow along with a pattern that is progressively shared."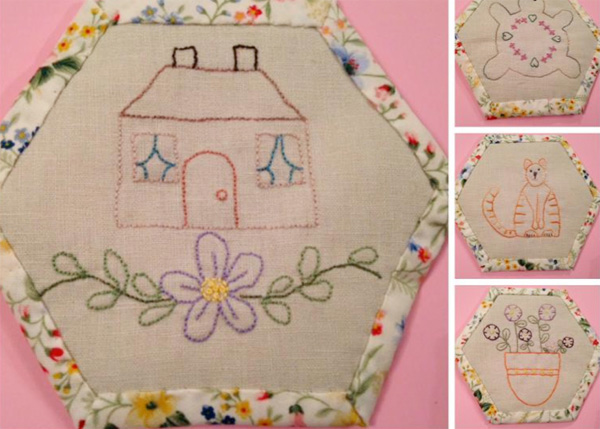 Photos via Bluprint member Designs by Fee
Versatility
Components of a block of the month programs' series can often be used in several different projects. If the thought of creating a quilt is too ambitious, start smaller with a mug rug, table runner or wall hanging. Pieces can be arranged as you like. Although these examples all show hand embroidery, the patterns could easily be adapted to machine embroidery. Stitch designs on fabrics by machine and then assemble the patterns as directed.
Get the Framed Hexagon Club 1st Year pattern.
Get the Framed Hexagon Club 2nd Year pattern.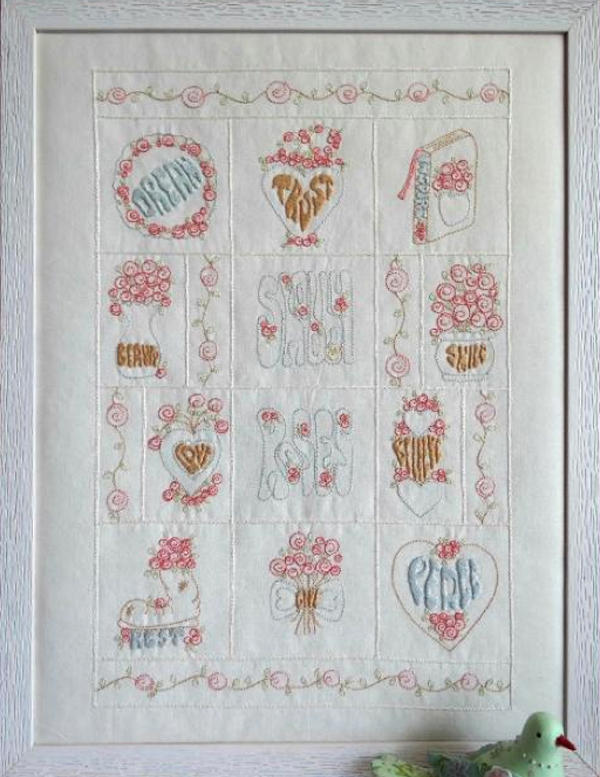 Photo via Bluprint member ELEFANTZ.
Even a small piece, like this Shabby Roses Stitchery by Jenny of ELEFANTZ, can be broken down into weekly or monthly segments.
Get the Shabby Roses Stitchery pattern.
Great resources
The free Bluprint Block of the Month 2012 mini-class was so popular that it was followed up with another in 2013, and the 2014 Block of the Month: Bluprint Color Theory class. If you need help, someone is always just an email away and videos can be watched over and over again. Even if the series is a few years old, the patterns are not obsolete, just continued.
If the social aspect of creative stitching is more appealing, get together with others in your area and take turns hosting stitch-alongs or show and tell, where you can compare progress and offer encouragement on your series projects.
Which block of the month programs would you recommend?