Finding a reliable veggie burger recipe isn't always easy. There are so many problems that can arise, from being too soft in the center, to falling apart in the pan, to lacking flavor. Today I've tried to conquer all of these common issues with this easy black been veggie burger recipe.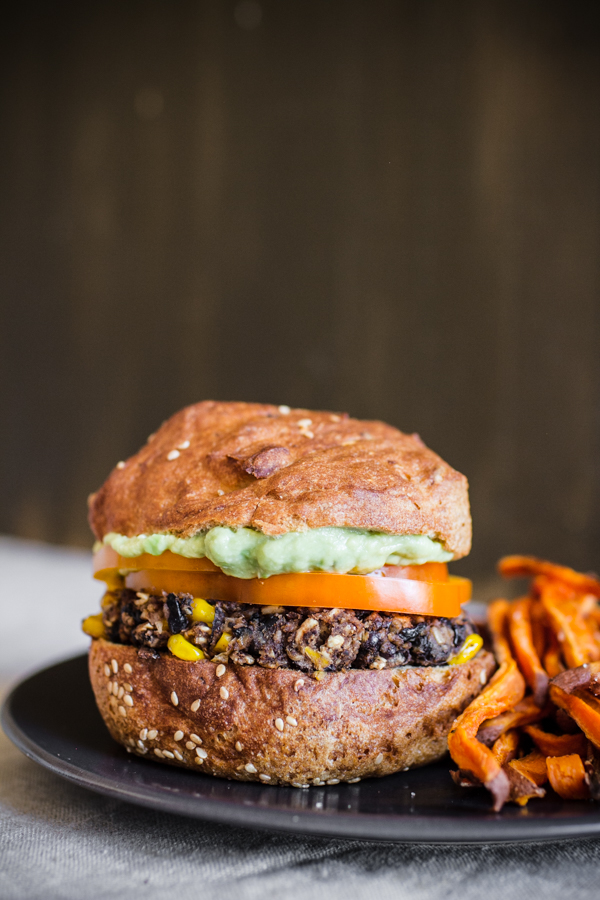 Photos via Edible Perspective
Are you ready to learn how to make black bean veggie burgers? I promise they're easier than you may think! The results are flavorful with the perfect texture through and through.
You know those good old fashioned rolled oats you probably have sitting in a box in your cupboard? You'll need to utilize them for this recipe. They help bind the ingredients together and thicken up the center a bit. Without the oats you're left with a mushy-centered burger, and no one wants that.
To prep the oats you'll need to partially grind them. Don't worry, this is super easy and can be done in a mini food processor, large food processor, blender, and even a coffee grinder. Just make sure to clean your coffee grinder if that's what you're using!
Another common problem with veggie burgers is that the ingredients fall out of the patty while they cook, especially when using chopped vegetables, like onion.
The way to solve this is by grating your onion! It infuses the burgers with just the right amount of onion without biting down into a large piece or having them fall into the pan. After grating the onion you'll want to give it a good drain using a fine mesh strainer or a few paper towels. All of that onion water will make the burgers way too soft, so be sure to drain it!
Next up we have the corn. This adds both flavor and texture. We give it a little roast before incorporating it into the mix, along with some garlic. If you use too much corn it will fall out of the burgers. 1/2 cup (or slightly more) does the trick with this recipe!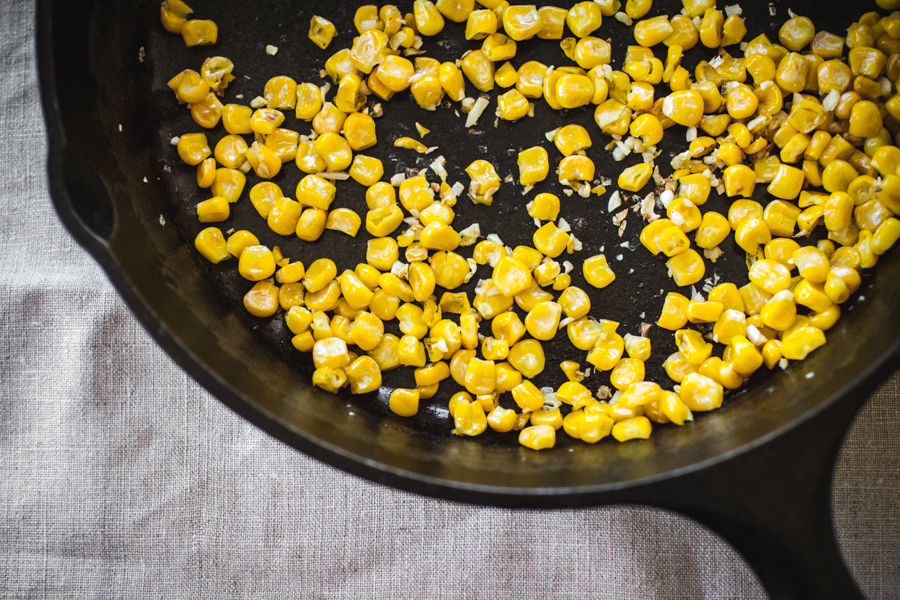 When mashing the beans you don't want to fully mash ever single bean. I'd say about 2/3 mashed is perfect. Then you'll mix in all of the other ingredients and form your patties.
I promise they only take about 15 minutes to prep! While the corn cooks you can get everything else ready to go. As far as veggie burgers go, these are pretty low maintenance.
Ahh, check these babies out!
They're everything I look for in a veggie burger, including how well they held together!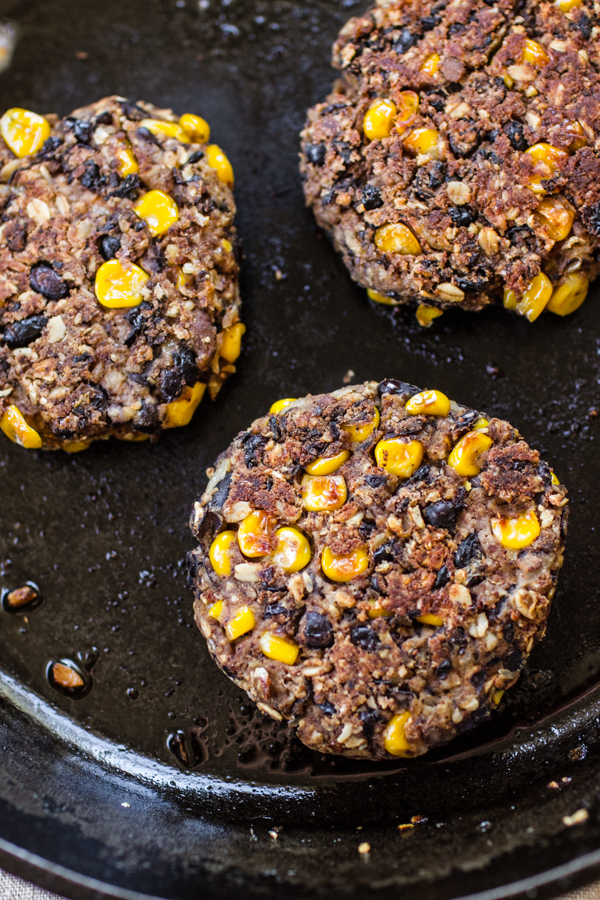 If you're feeling inclined, I highly recommend topping your burger with sweet potato fries. They'll need about 25-30 minutes (depending on thickness — I sliced mine 1/4-inch thick) in the oven at 400° F. Toss them with oil and spread in an even layer. Flip them once or twice while cooking and then keep warm until your burgers are ready. Salt after they're finished cooking.
The best decision you could make.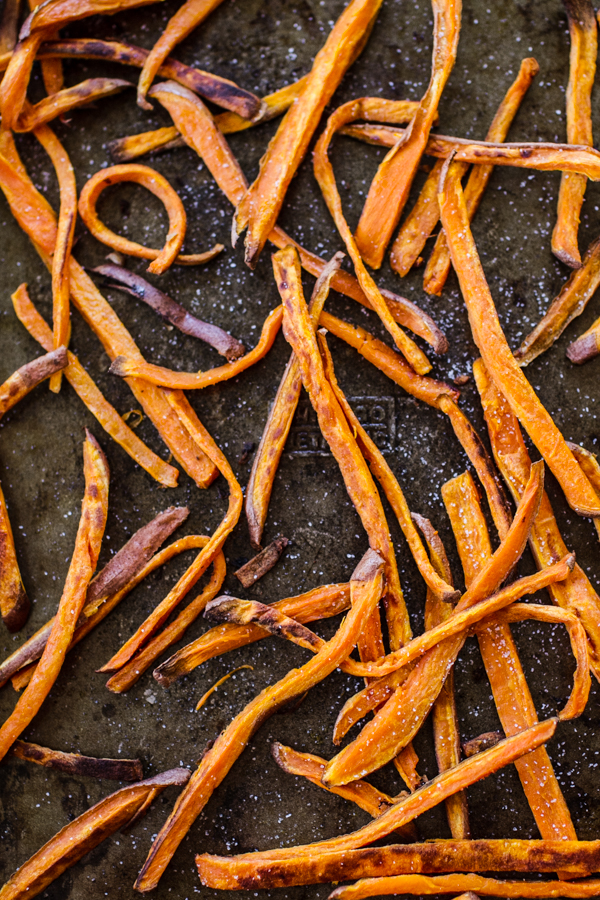 Easy Black Bean Veggie Burger Recipe
Yields: approx. 6 medium burgers
Ingredients:
For the burgers:
1/2 cup frozen corn
2 med. cloves garlic, minced
1, 15oz can black beans, rinsed and drained (about 1 3/4 cups cooked beans)
1 1/2 tablespoons almond butter (or cashew butter, sunflower seed butter, etc.)
1 sm/med yellow onion, grated
1 1/2 teaspoons mild chili powder
1/2 teaspoon cumin
1/2 teaspoon salt + pepper
smokey hot sauce
6 tablespoons partially ground oats
oil for cooking
For the avocado sauce:
1 ripe avocado
juice from 1/2 lime
salt (to taste)
Optional toppings: sliced pepper, avocado sauce, pepper jack cheese, sweet potato fries, hot sauce, salsa, cilantro, red onion
Heat a saute pan over medium/med-high heat with 2 teaspoons of oil.
Once hot, add the corn and cook until starting to lightly brown. Stir frequently.
Reduce heat to medium-low.
Add the garlic and cook for 1 minute, until fragrant, stirring frequently. Empty into a small bowl.
While the corn cooks, place beans and almond butter in a mixing bowl and mash with a fork until about 2/3 of the beans are fully mashed. (Refer to photo 5.)
Drain the grated onion in a fine mesh strainer, pressing to help the water drip through. Or, squeeze between a few paper towels. You want almost all of the liquid to drain out. Measure 1/4 cup (lightly packed) of the drained onion.
Add the onion to the bowl of beans along with the corn mixture, chili powder, cumin, salt, pepper, and a few generous glugs of hot sauce. Mix until fully combined.
Add the oats and mix to combine. Let sit for 10-15 minutes.
While the mixture rests, mash the avocado in a bowl. Add the lime juice and a generous pinch of salt and stir to combine. Taste and add more lime/salt if necessary. Cover and refrigerate until ready to use.
Heat a large pan over medium/med-high heat with a tablespoon of oil.
While heating, form about 1/3 cup of the bean mixture into a ball between your hands. Flatten to about 1/2-inch thick between your palms and pack in the sides. Repeat with the rest of the mixture.
Once the pan is hot, add patties to the pan with 2-3 inches between each. Don't overcrowd. Cook for 4-5 minutes until golden brown. Flip with the help of your other hand to let it back down to the pan gently. Cook for another 3-5 minutes until browned. Add more oil to the pan and cook remaining patties.
Place patties on a toasted bun and top as desired. Serve hot.
Recipe notes:
For thinner/wider patties, flatten a bit with a metal spatula after placing in the pan. Make sure they were tightly packed patties before pressing.
If you want to add cheese, place cheese on the patties and broil in your oven (on a baking sheet or oven-safe pan) for 1-2 minutes, until bubbly. Watch closely.