If you pay attention to knitting trends, you may have noticed a lot of black and white gracing the pages of knitting magazines and websites lately.
While black and white yarn is traditionally used for classic patterns, now designers are also giving it a modern flair thanks to clean, simple designs. The color palette works for garments, as well as home decor and accessories.
Want to try the black and white trend? Take a peek at some of our favorite variegated yarns, knitting patterns and knitting kits that range in style from classic to modern.
Black and white yarn
The easiest, fastest way to get in on the black and white yarn trend is to use a variegated yarn. Check out some of our picks for yarns that incorporate both classic colors.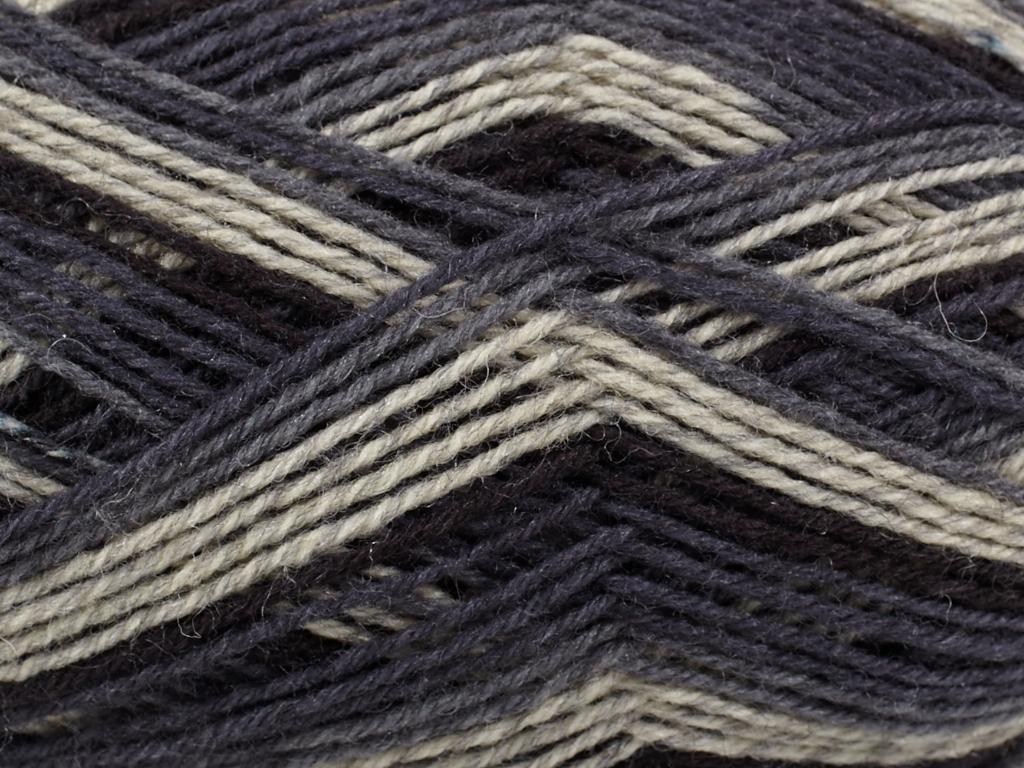 1. Patons Kroy Socks Yarn
This wool and nylon blend is perfect for socks, but you could also consider it for projects like shawls. Plus the wool is washable, so care is easy no matter what you make. Both Eclipse Stripes and Slate Jacquard would work well for a black and white palette.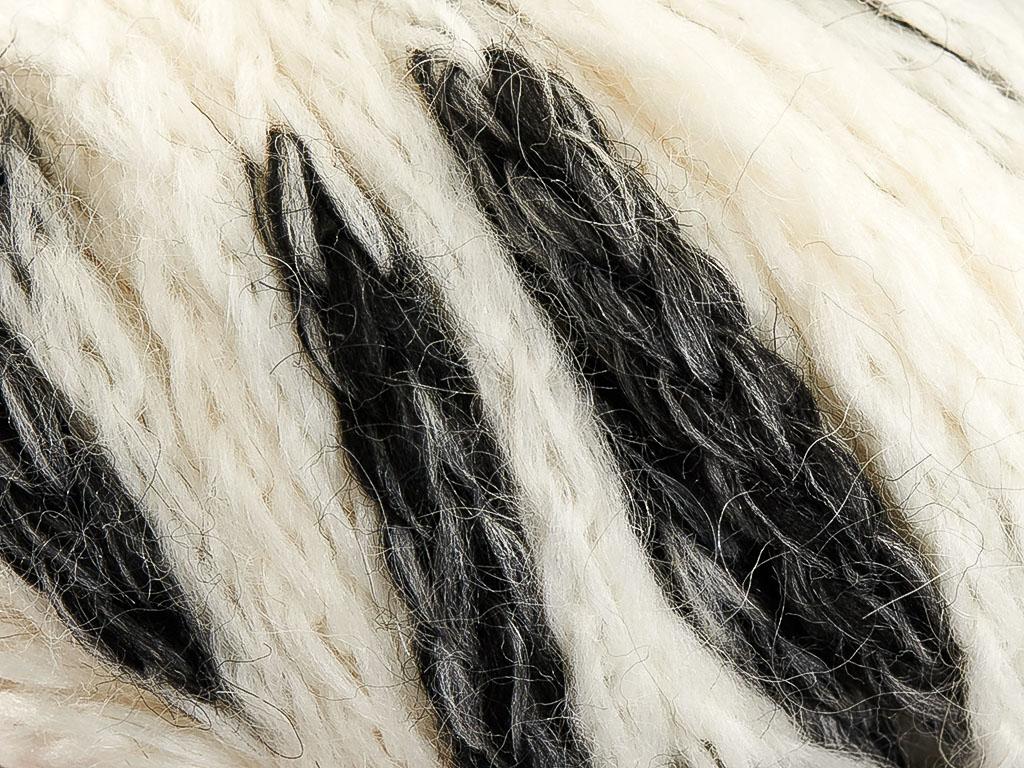 2. Plymouth Wilde
This super bulky yarn is a unique blend of wool, alpaca, acrylic and nylon. The Black/White color features black as the dominant color while the White/Black (pictured above) features white as the dominant color.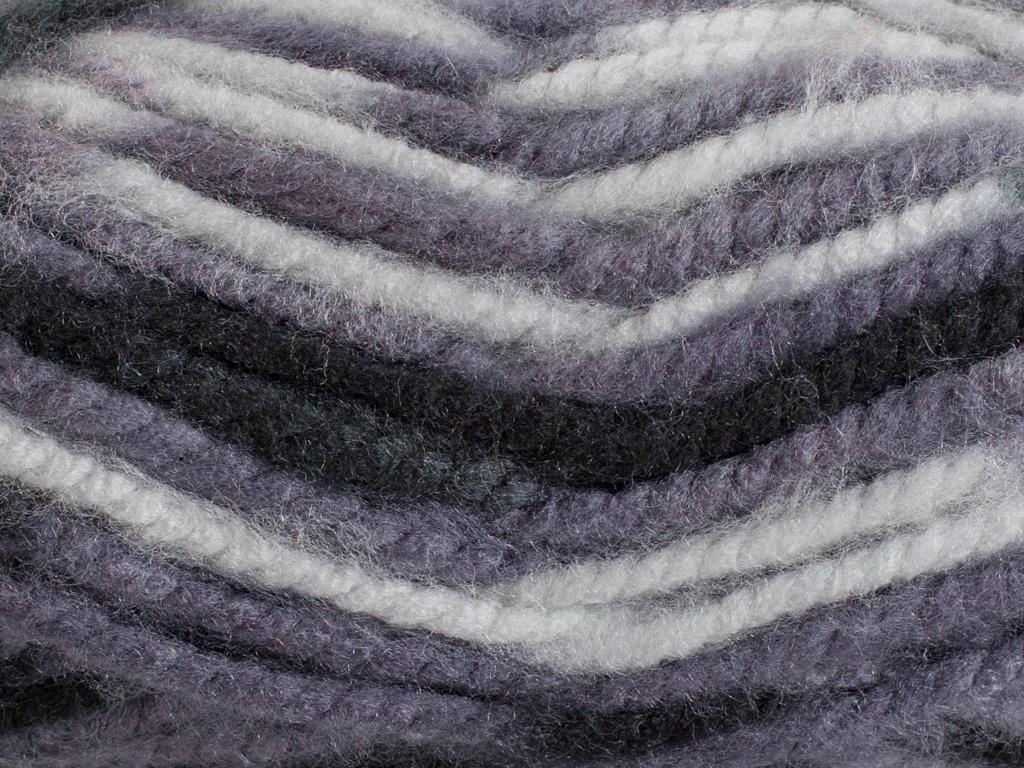 3. Lion Brand Jiffy
Need a durable yarn that's easy to launder? This 100 percent acrylic yarn fits the bill! Lion Brand Jiffy will work for a variety of projects, from home decor to accessories. For a black and white color palette, try the Smoky Mountains colorway pictured above.
Black and white patterns
The ultimate combination of black and white yarn involves colorwork techniques like mosaic, stranded knitting and sometimes just basic stripes. Here's a dose of black and white inspiration from some of our Bluprint designers.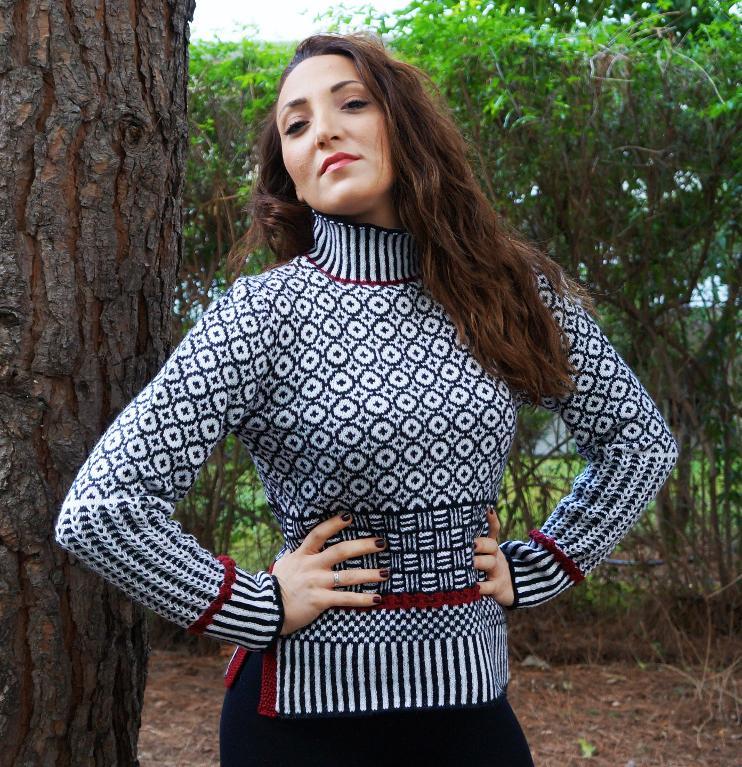 Photo via Bluprint member Evelyn_S
1. Mosaic in Black & White
Mosaic is one of the simplest colorwork techniques. There are no floats to deal with on the wrong side of the knitting; you simply slip the stitch to achieve the awesome effect. Black and white creates a classic look with this mosaic sweater.
Get the pattern »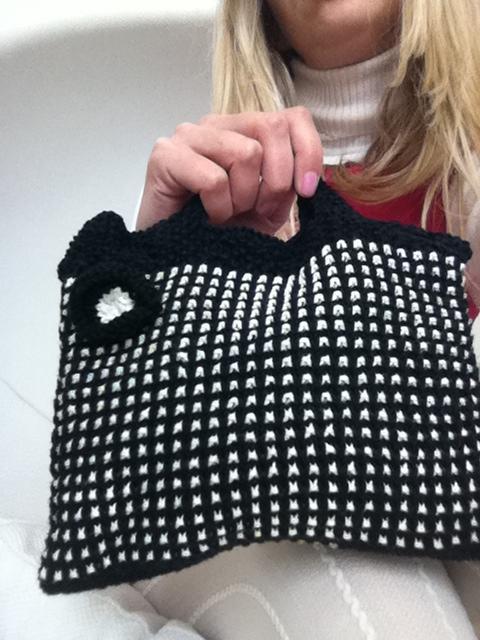 Photo via Bluprint member MissSmart
2. Mod Black and White Bag
Black and white work for garments, but they also look great as accessories. This black and white bag has a modern style that you won't get tired of. And the black and white color palette goes with practically anything.
Get the pattern »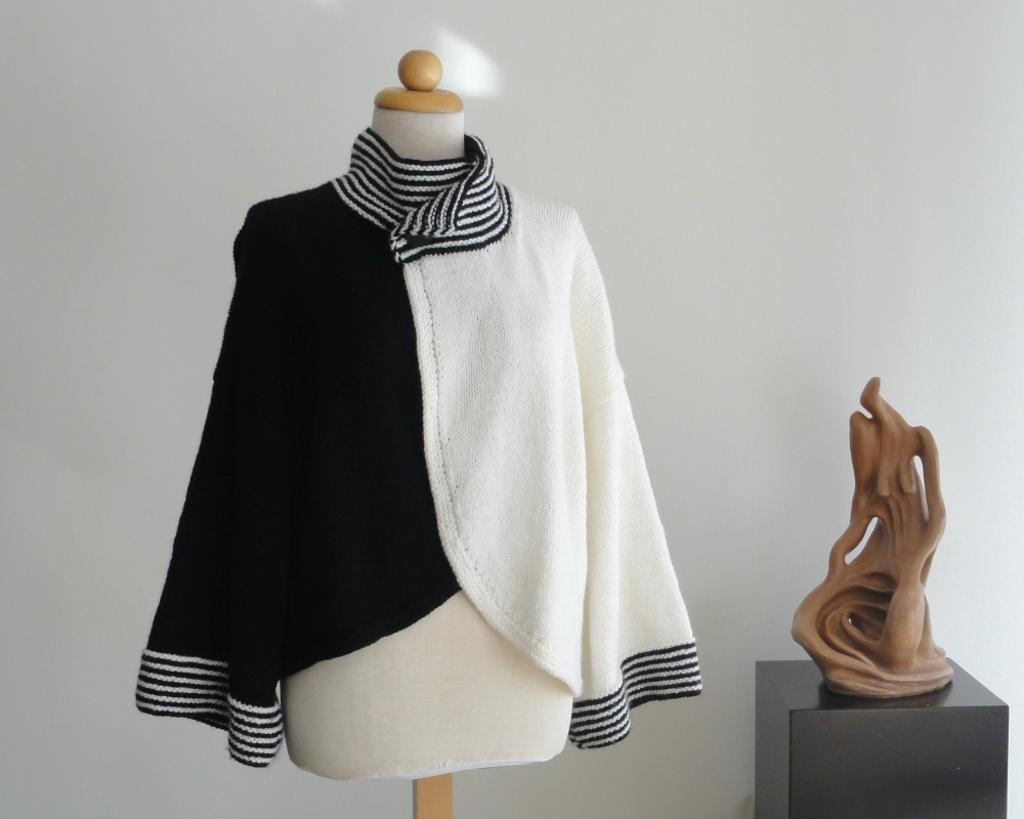 Photo via Bluprint member it took two
3. Jacket in Black and White
The designer of this jacket points out that black and white are reminiscent of the yin and yang balance. In that spirit, this design uses simple stockinette and garter stitches along with minimal finishing to create a garment that's simple to knit and simple to wear.
Get the pattern »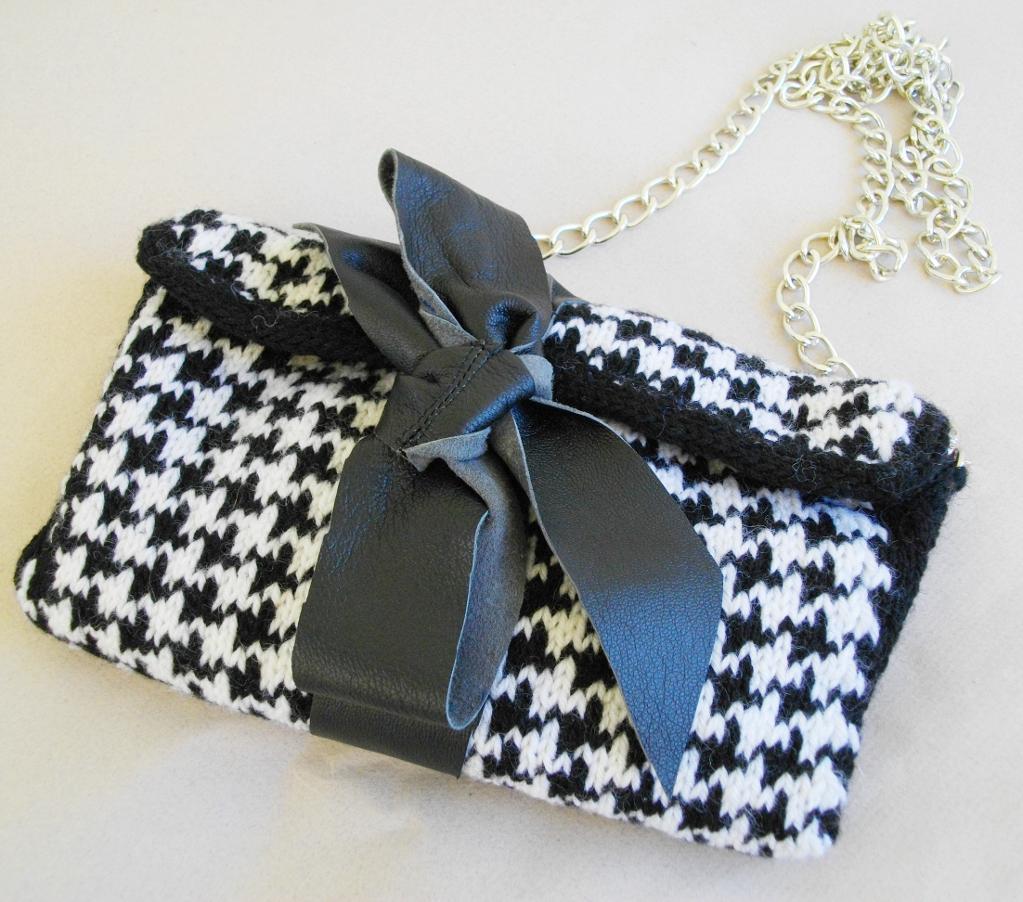 Photo via Bluprint member Evelyn_S
4. Black and White Clutch in Goose Foot Pattern
Black and white are classic choices for houndstooth. Carry this bag as a clutch or use the chain as a strap for a pretty shoulder bag. You'll need to put some of your sewing skills to work to attach all the hardware, as well as the black leather bow.
Get the pattern »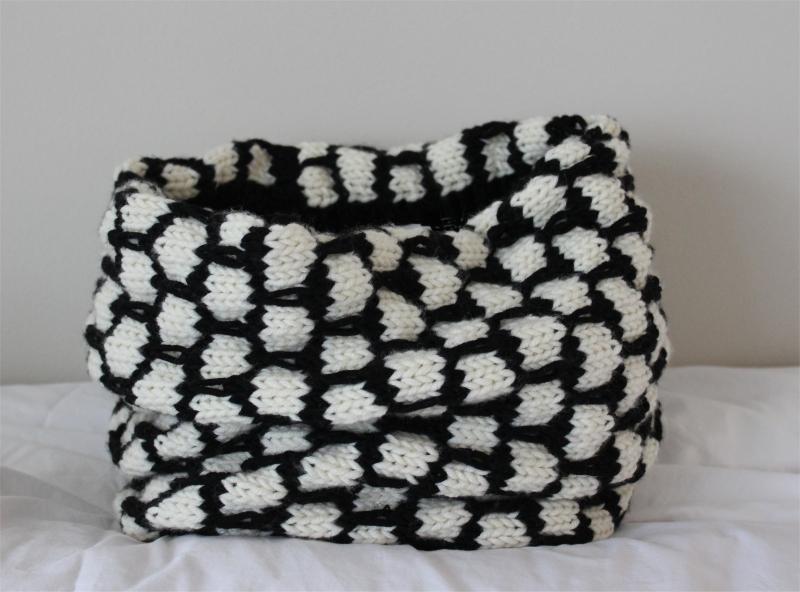 Photo via Bluprint member vtcayton2516856
5. Black and White Cowl
We promise this colorwork is easier than it looks. If you can't get enough of this technique, you can even lengthen the cowl to create a longer infinity scarf. Chunky-weight black and white yarn means the project works up quickly and gives you plenty of cozy comfort. 
Get the pattern »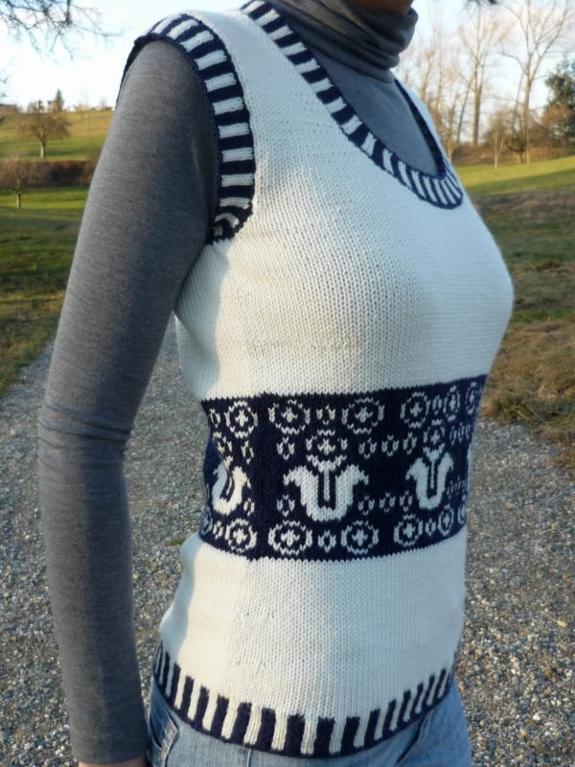 Photo via Bluprint member AgnesKutas
6. White Tulips
Not all flower motifs have to be bursting with color. You can still rock a floral using a black and white color palette. This vest gives tulips a classy style that's still fun. The vest is seamless, so there's no interruption in the stranded colorwork.
Get the pattern »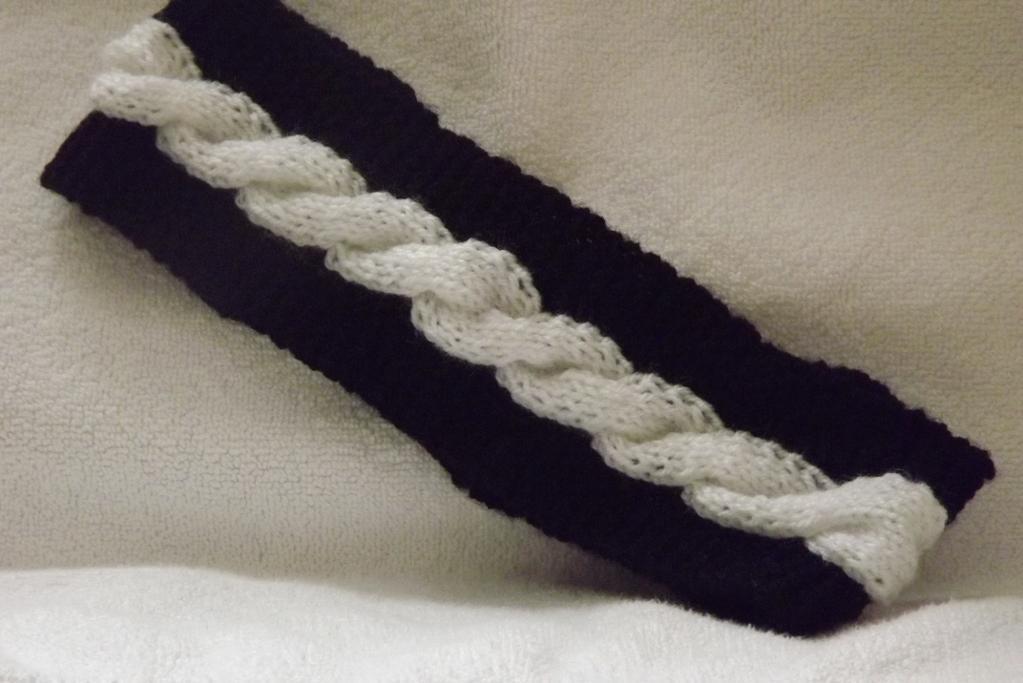 Photo via Bluprint member Seasonknits
7. Cable Headband
When knit in black and white, this headband will match practically anything you pair it with. The white yarn does a great job showing off the stitch definition in the cable. This would be the perfect project for beginners who are trying out cabling for the first time.
Black and white knitting kits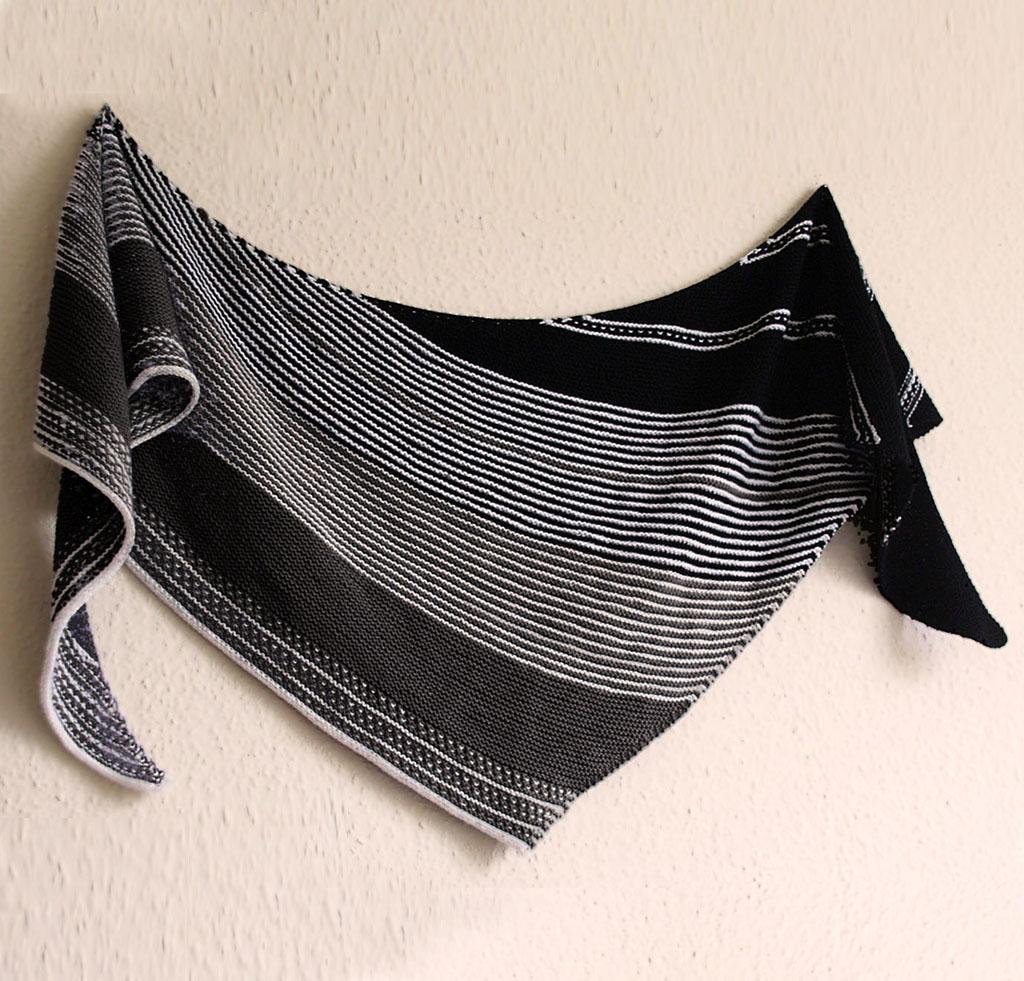 1. Drachenfels Shawl Kit
One of our most popular kits, the Drachenfels Shawl comes in tons of colorways inspired by the element (like Fire, Water and Air). It's the Ice colorway (pictured above) that fits the bill for this trend. With simple colorwork, even beginners can tackle this project.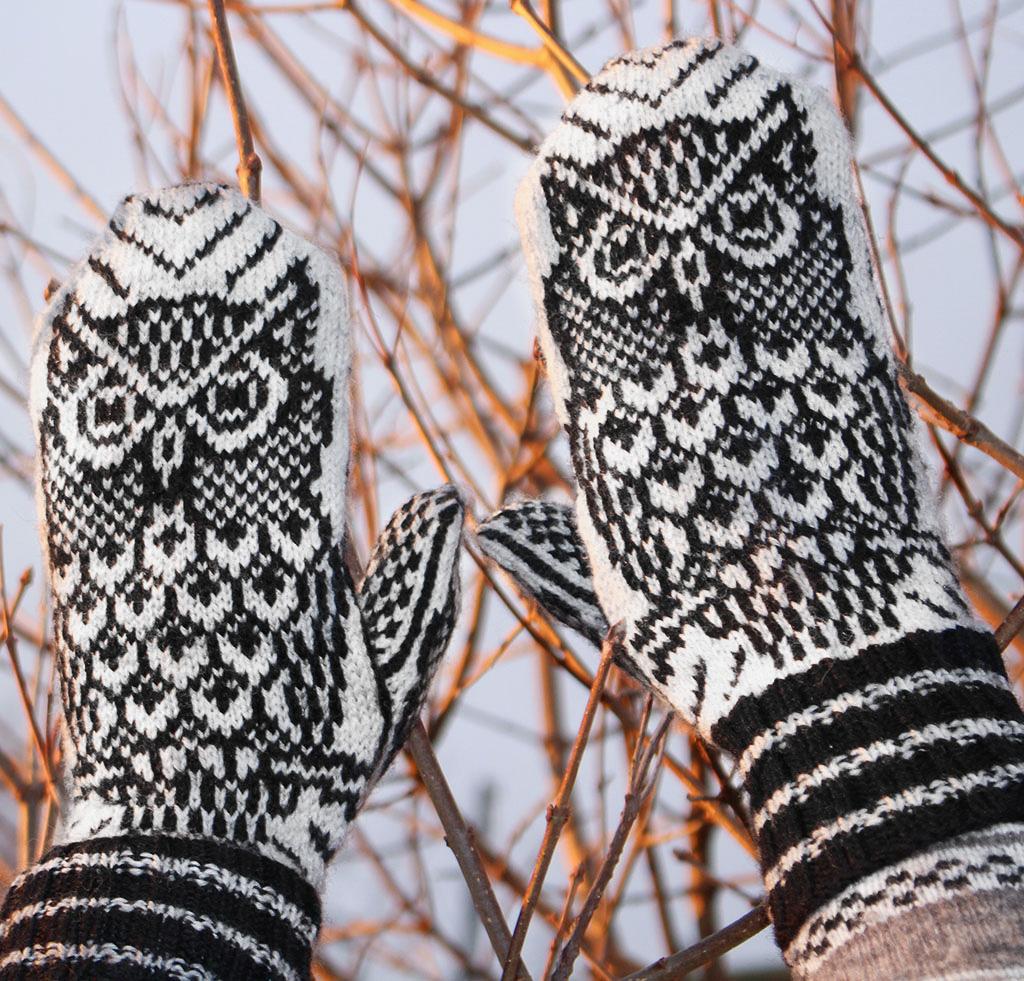 2. Night Owl Mittens Kit
This project combines two of our favorite trends: black and white and owls! The stranded colorwork creates fun owl on the back of the mitten and on the thumb.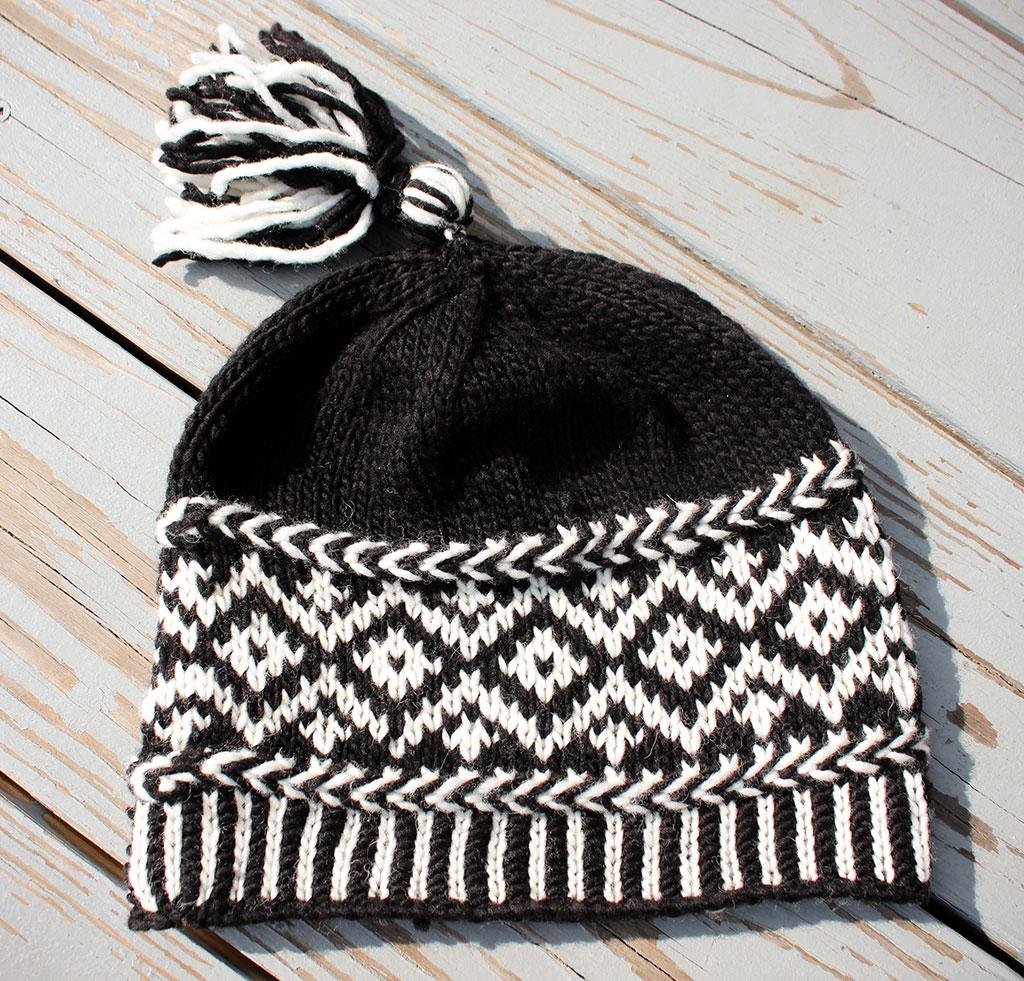 3. Polarized Hat Kit
Amazing stitch definition and the stark color contrast make the Polarized Hat Kit a statement-making project. With Latvian braids, Fair Isle designs and a fun tassel to top it all off, you won't get bored at any point.
Find More Project Kits You'll Love
Your next project made easy: Get a designer pattern with a perfectly paired yarn on Bluprint.Shop Kits Now »