Some foods are very closely associated with a place — for instance, cheesesteaks in Philadelphia or deep dish pizza in Chicago. New York is a city known for many things, but black and white cookies are one of the most recognizable — and also one of my favorites. If you don't have plans to visit the city to pick up some of these, you can use this easy recipe to make them at home.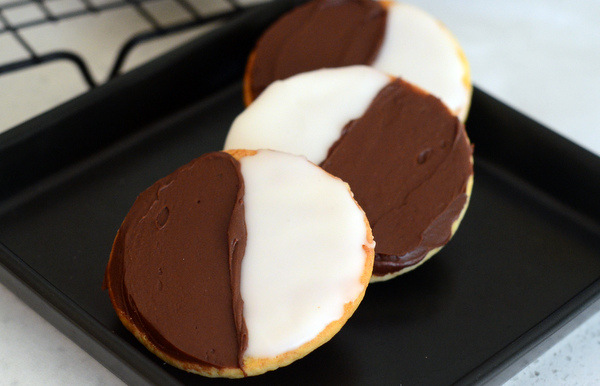 The cookies
Black and white cookies are a little bit different than other types of cookies. They're a lemon-scented cookie (sometimes they're only vanilla, but a hint of lemon is more common) that is covered half with black frosting and half with white frosting. The cookies are somewhere between shortbread and sponge cake in texture, with a soft crumb that melts in your mouth but is sturdy enough to stand up to the frosting. 
Most bakeries make jumbo sized cookies. This at-home version gives you a much more moderate size that is quicker to bake and easier to handle. You can always eat two or three at a time, if you really want the jumbo cookie experience!
The frosting
Traditionally, black and white cookies use poured fondant frosting to achieve their signature look. Fondant produces a shinier finish, but it is much more time consuming to make than some other icings.
These chocolate and lemon icings are both easy to make and delicious when paired with the cookie. The chocolate icing is made with dark chocolate chips and cocoa powder, to give it a deep color and rich chocolate flavor. The white icing is flavored with a hint of lemon juice. If you're not a big lemon fan, you can omit it. You can substitute clear vanilla extract, which has no color and is often used for cake decorating, if you'd prefer vanilla frosting. I don't recommend using regular vanilla extract because it will give the icing an off-white finish.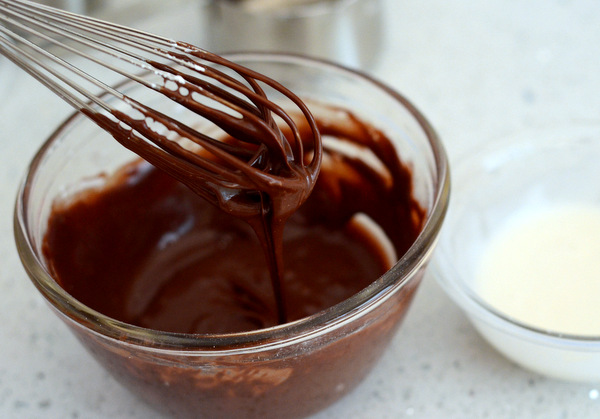 The cookies should be flipped over after baking and the frosting should be spread on the flat portion of the cookie. Frosting the flat side looks neater, since the frosting likely won't to run off the edge of the cookie while it sets. 
How to eat black and white cookies
I recommend eating these right away, as that is how you will come the closest to a real bakery experience. I like to eat mine right down the middle, getting some of both frostings in each bite. They're excellent both with coffee and milk.
If you can't eat them all right away, however, they keep well and can be stored for a day or two after baking. They should be stored in an airtight container in a single layer, as stacking them can damage look of the cookies. For longer storage, you can freeze these cookies and simply defrost them on the countertop when you are ready to eat. 
New York bakery-style black and white cookies
Makes 32-34 cookies
Ingredients:
For the cookies:
2¼ cups all-purpose flour
1/2 teaspoon baking powder
1/4 teaspoon salt
1 cup sugar

½

cup butter, room temperature
2 large eggs
1/3 cup milk
1 teaspoon vanilla extract
1 teaspoon lemon zest
For the icing:
1 ounce chocolate chips
1 tablespoons cocoa powder
5 tablesppons boiling water, divided
2

½

to 3 cups powdered sugar
1 teaspoon lemon juice (optional)
Step 1:
Preheat oven to 375 F. Line a baking sheet with parchment paper. In a medium bowl, whisk together flour, baking powder and salt.
Step 2:
In a large bowl, cream together butter and sugar until light and fluffy. Beat in eggs, vanilla and lemon zest until well combined, then gradually stir in the flour mixture.
Step 3:
Shape dough into 1-inch balls (using a 1½ tablespoon scoop, if you have one) and arrange on the baking sheet, leaving about 2 inches between cookies. Bake for 12-14 minutes, until cookies are set and spring back when the tops are lightly pressed.
Allow cookies to cool completely on a wire rack.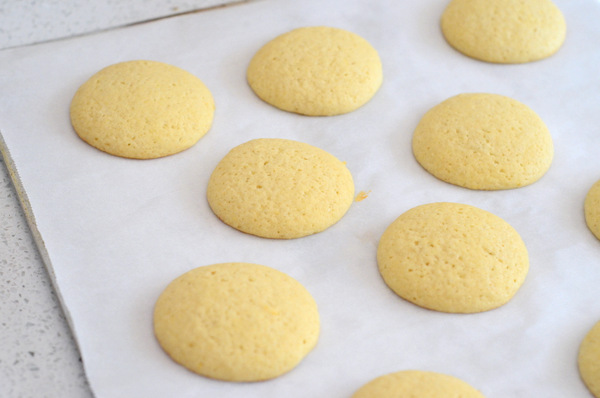 Step 4:
In a small mixing bowl, combine chocolate chips and cocoa powder. Pour 3 tablespoons of boiling water over the chocolate and allow it to sit until chocolate has melted. Add in 1 – 1½ cups of powdered sugar and whisk vigorously, until frosting comes together and is thick and smooth. 
In another small mixing bowl, combine remaining 2 tablesppons of hot water and lemon juice (if using) with 1½ – 2 cups powdered sugar, whisking until frosting is thick and smooth. 
Step 5: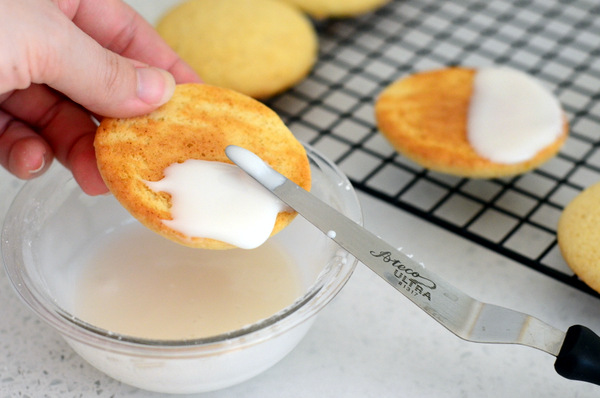 Spread white icing on half of the bottom of each cookie. Allow cookies to set for several minutes, then spread chocolate icing on the other half of the bottom of each cookie. Allow icing to set for at least 1 – 2 hours before storing.