Black and white is a timeless color combination that continues to be a huge trend in the cake decorating world. Modernize the look with both classic and contemporary patterns, materials and techniques and add some color for that extra pizzazz!
Bring black and white to life! Be inspired by these stunning cakes with innovative decorating techniques plus an extra, added pop of color.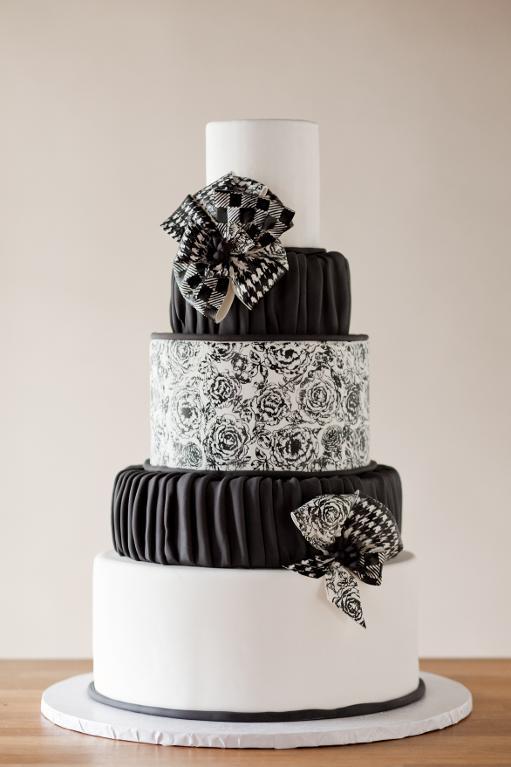 Photo via Craftsy instructor Erin Gardner
Black and white fabric-inspired cake
Craftsy instructor and cake artist Erin Gardner took the classic color combination to the next level with this gorgeous black and white fabric-inspired cake! The two black layers were covered with pleated fondant, while the black rose design on the center tier was achieved with a floral stamp and gel food color. The patterns on the beautiful bows are also attained with the stamping technique, which Erin teaches in the course Simply Stunning: Hand-Stamped Cakes, along with tips to creating stamps designs of your own with a variety of low-cost products.
Learn more about adding layering and fabric effects in the Craftsy course Fondant Ruffles, Pleats & Drapes with Marsha Winbeckler and Fashion-Inspired Fondant with Joshua John Russell.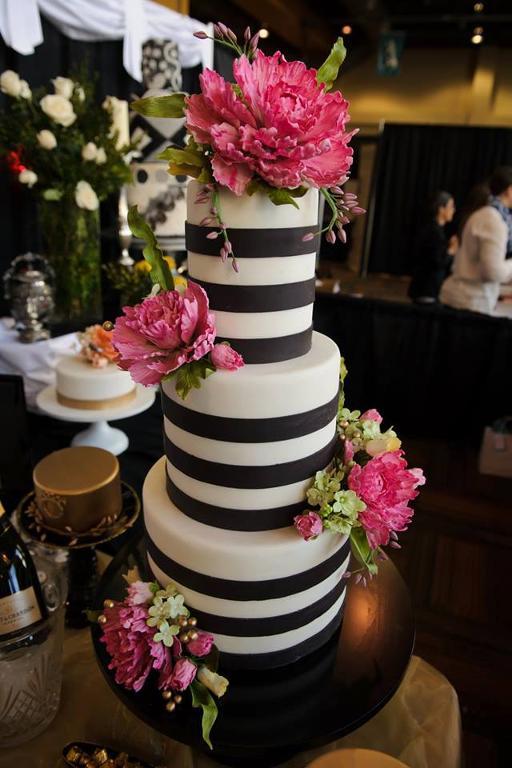 Photo via Craftsy member Alex Narramore
Black and white striped wedding cake
Black and white stripes are bigger than ever for events and cake decorating. Craftsy member Alex Narramore created this incredibly elegant and wonderful black and white striped wedding cake inspired by Kate Spade designs. The stripes are perfectly executed and the entire presentation is given a pop of color with vibrant and exquisite sugar flowers, which make the display stand out beautifully.
Learn to create alluring cakes such as this work of art in the Craftsy course Cakes in Full Bloom with Erin Gardner, attaining the skills to create pair florals with clean patterns and decorations.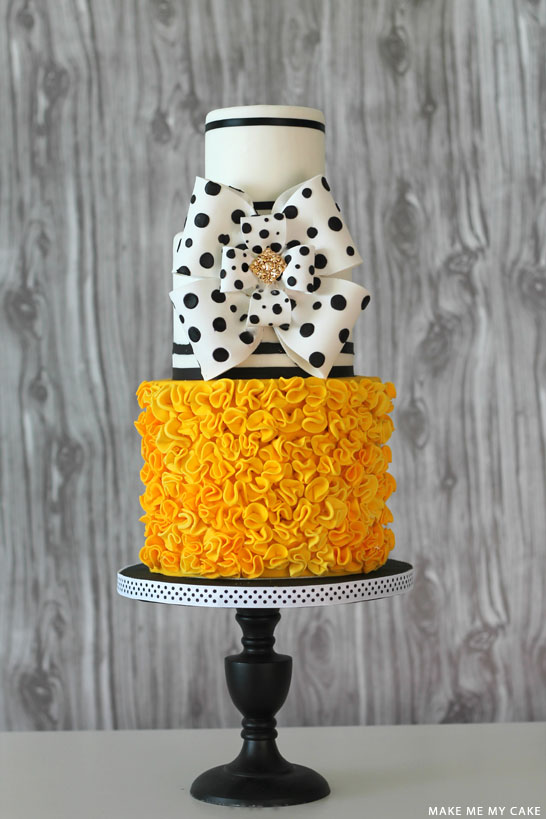 Photo via Make Me My Cake
Black and white polka dot cake
This black and white polka dot cake by Make Me My Cake is simply magnificent! The horizontal striped tiers are further embellished with a lovely over-sized fondant polka dot bow and a gold sugar brooch, which adds a playful, yet graceful look. The entire presentation is taken to the next level with an adorable bright yellow ruffled tier, providing an unexpected twist to traditional designs and hues.
Find out more about adding extra character to your cake projects in the course Designer Fondant Textures with Marina Sousa to learn how to achieve texturing effects, such as fondant ruffling in this beautiful piece.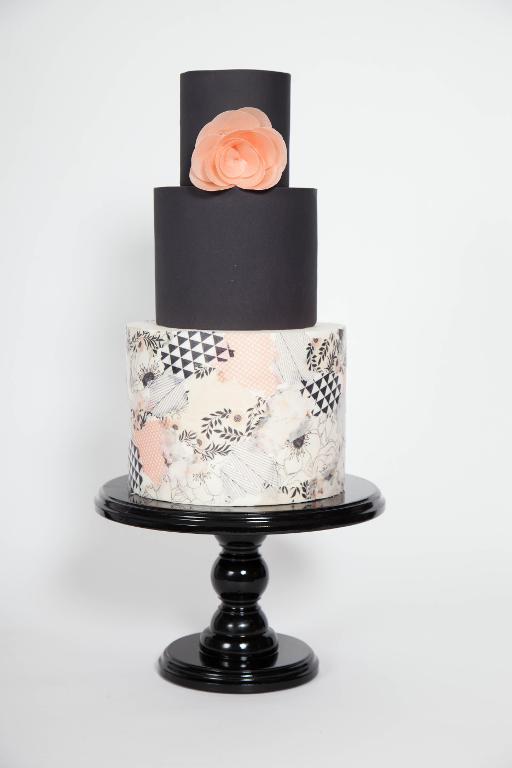 Photo via Craftsy instructor Stevi Auble
Black and white wafer paper decoupage cake
This beautiful and charming black and white wafer paper decoupage cake by Craftsy instructor Stevi Auble is another example of how adding a pop of color, coupled with patterns, can really highlight a design. Stevi demonstrates how to execute the collage effect, along with the formation of flowers, with the use of wafer paper in the course Delicate Wafer-Paper Cakes. This trend-right medium allows you to explore new approaches to creating trims and arrangements to take your cake projects to the next level.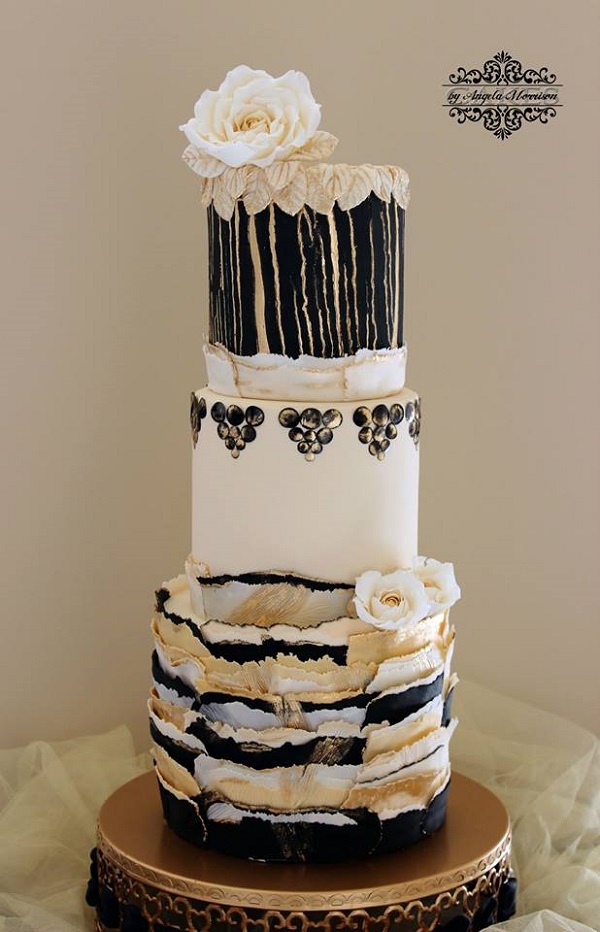 Photo via Cakes by Angela Morrison
Black, white and gold torn cake
This incredibly original presentation by Cakes by Angela Morrison demonstrates a whole new take texturing cake projects! The beautiful layers are achieved with what Angela describes as torn paper, when in actuality, they are made entirely out of fondant! Accentuated with delicate sugar roses and hand-painted gold highlights, this dazzling piece is exceptionally creative and fresh. Angela provides a tutorial for the torn paper effect in her shop.
Make beautiful flowers like Angela's in the Craftsy course The Ultimate Sugar Rose with Nicholas Lodge to add amazing ornamentation to your projects.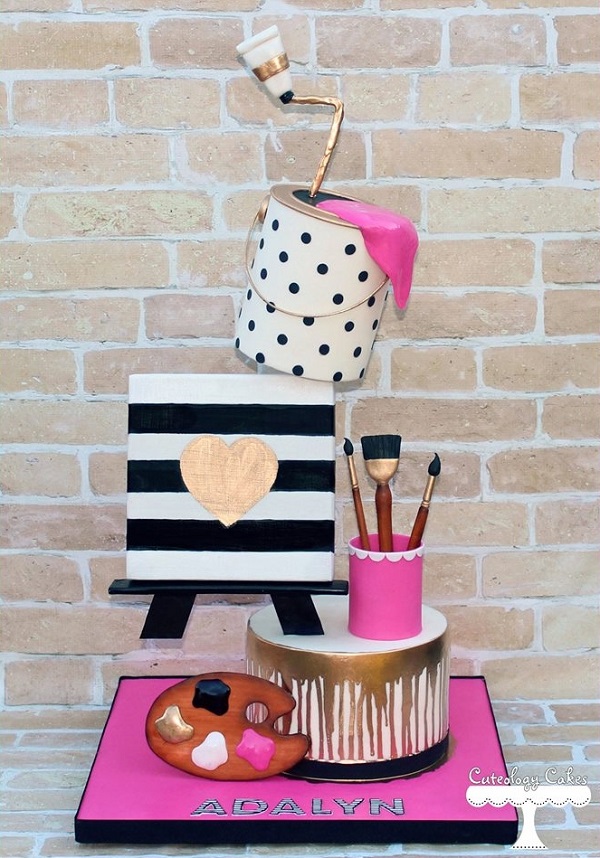 Photo via Cuteology Cakes
Art-themed black and white cake
Black and white isn't only for adults! This incredibly adorable and charming presentation by Cuteology Cakes was created for a seven year-old's art-themed birthday. The amazing gravity-defying structure connects the cake and the beautiful molded fondant details, while stripes, polka dots and pops of hot pink and gold capture all the current popular trends. And who am I kidding? I would love this cake for myself!
Check out Lauren Kitchens' Gravity-Defying Cake Designs course to learn how to make structural bases to create out-of-the-box cakes such as this impressive project!
What technique would you like to try to make your next black and white cake project stand out?