They say that food brings people together, which probably explains why so many holiday traditions are centered around sharing a meal. The food that we choose to share with others during those special times of the year often has a special place in our hearts, memories and heritage.
Some families celebrate the holidays with Swedish potato sausage. Others feast on a brandy-doused, four-week-old cake. And some families, such as merchandising coordinator Lindsey's, bake New Mexico's state cookie.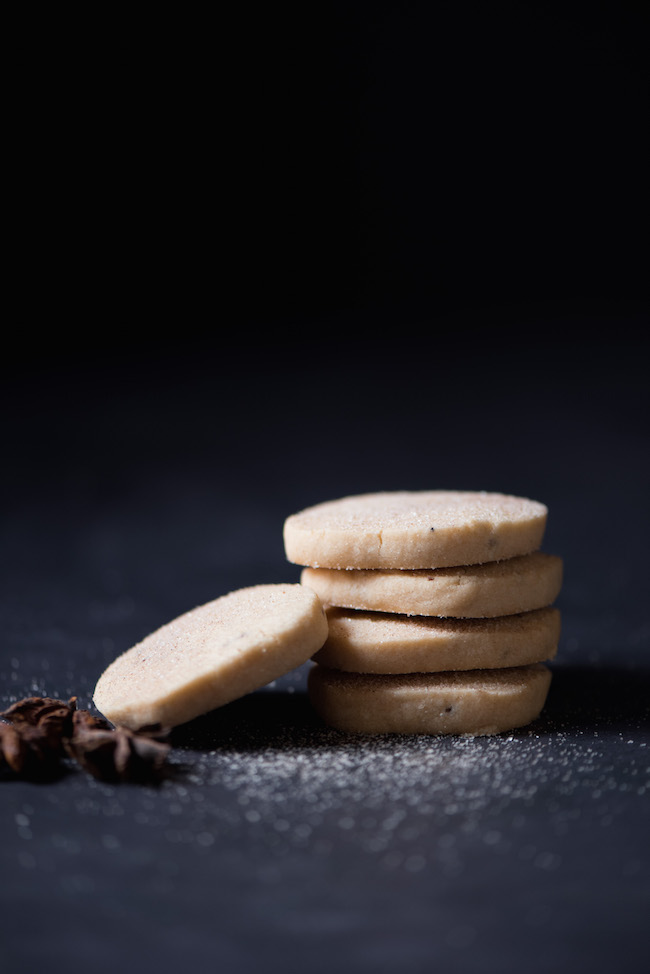 "One of the best things about marrying a wonderful person is melding your families' food traditions." Lindsey says, "My husband's New Mexican family brings a love of Green and Red Chile, corn tortillas, and, every Christmas, biscochitos — which are a perfect match for my family's love of shortbread."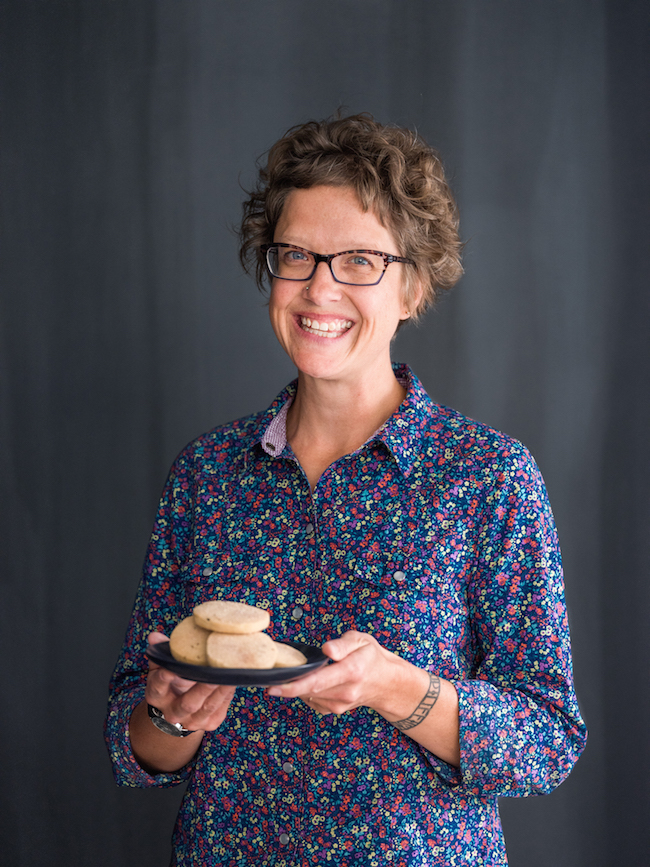 This sweet, shortbread-like cookie is a bit of an international celebrity. Biscochitos originated in Spain in the 16th century. During this time, Spain had a wealth of grains and pork lard, two of the main ingredients in biscochitos. In Spain, these "lard cakes" were known as mantecados.
When Spanish colonists reached Mexico, they brought their mantecados with them. Over the years mantecados were rebranded as biscochitos (or bizcochitos, depending on what part of New Mexico you live in), and are now enjoyed over the holidays.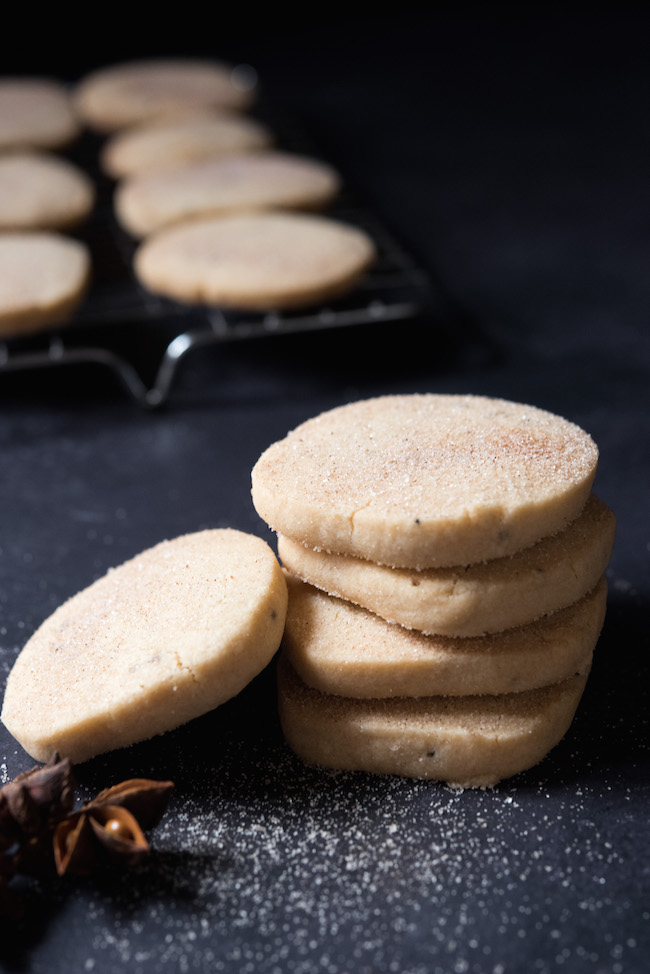 Lindsey assures us that "the deeply New Mexican use of lard is the key to the success of this cookie." Lard makes for a lighter, crumblier, more delicate cookie than butter or shortening. But make no mistake, anise and cinnamon are equally as important. These spices create a "barely sweet" warm and wintry flavor.
To keep with their own family traditions, the Stones usually make biscochitos on a weeknight after a meal of beans, rice, red and green chile, with an egg on top, while partaking in the annual discussion of how "only crazy people make biscochitos without lard."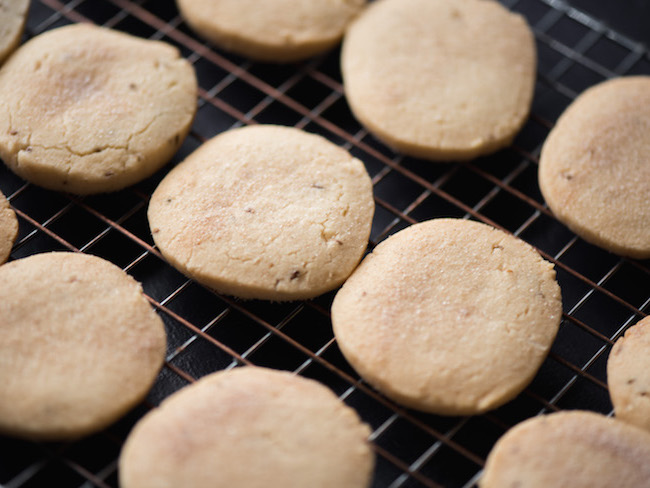 Biscochitos
Makes about 48 medium-sized cookies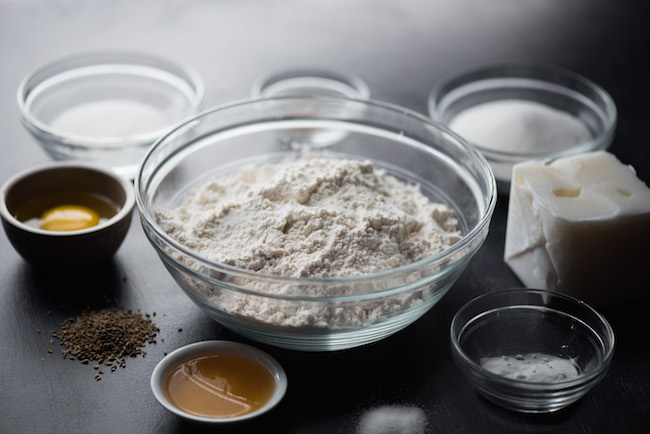 Ingredients for the cake:
3 cups unbleached all-purpose flour
1½ teaspoons baking powder (reduce by ¼ teaspoon at 5,000+ ft)
1 to 1½ teaspoons ground anise
½ teaspoon salt
½ pound lard, softened
½ cup + 1 tablespoon sugar
1 large egg
2 tablespoons brandy, rum or apple juice
Ingredients for the topping:
¼ cup sugar
¾ teaspoon ground cinnamon
Directions:
Sift together flour, baking powder, anise and salt.
Beat the lard in with a stand mixer or electric mixer, gradually adding the sugar to the bowl. Continue beating until extremely light and fluffy, about 8 minutes. (Don't shortcut this step!) Scrape down the sides of the mixer every few minutes.
Add egg, followed by brandy, rum or apple juice. Continue beating.
Mix in the dry ingredients, adding ⅓ of the mixture at a time. Stop the mixer as you make each addition and mix only until incorporated.
Chill dough for 15 minutes. In the meantime, heat oven to 350 F.
Roll out dough into 1'-long logs about 1.5″ to 2″ in diameter. Slice ¼" cross-sections, and transfer each round to ungreased cookie sheets.
Bake 10 to 12 minutes, until just set and pale golden.
While the cookies bake, stir together the sugar and cinnamon to make the topping.
When the cookies are done baking, sprinkle and coat each top with cinnamon-sugar. Transfer to cooling racks to finish.
Speaking of sharing traditions, if you're interested in trying a few more of our all time favorites, take a look at our free holiday recipe book.