Birds are always such a delight to feature on a quilt. Whether you stitch a nest for them on a table topper, wall hanging or a child's quilt, they are a great way to display both color and cuteness.
Spread your wings and quilt one of these beautiful bird quilt patterns!
Photo via Feed Dog Design
This 36.5″ x 45.5″ adorable wall hanging, made using a turned-edge appliqué, brightens any room. Small bits and pieces of prints and solids of your favorite fabrics make these birds delightful to see. What a great size to practice your free-motion quilting! Labelled as for beginners, you will be ruffling your feathers to get this pattern.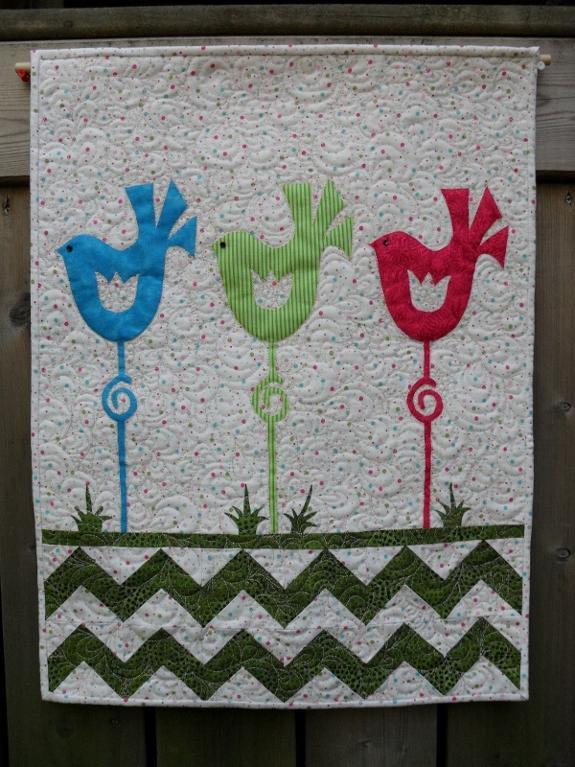 Photo via Crabby Maudie
Small, modern and completely whimsical is the best way to describe this next bird quilt pattern. An adorable, fun and fast project that measures 18.5″ x 24.5″. With some simple piecing, you create the zigzag border at the bottom that lends a bit of funkiness to the quilt. Try putting the birds at different heights.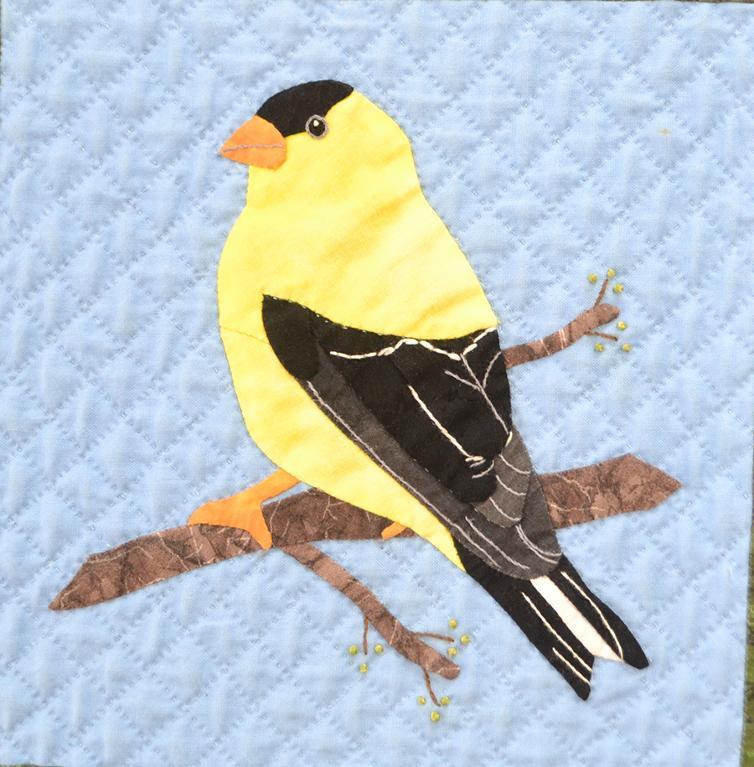 Photo via Alexa's World
This sweet goldfinch has a few secrets! You can purchase him and several other of his buddies if you want to make a full sized quilt using appliqué. Measuring 12″ x 14″, this little fella gives realism a new meaning. Combining embroidery and appliqué, you create a wonderful wall quilt for the bird lover in your life.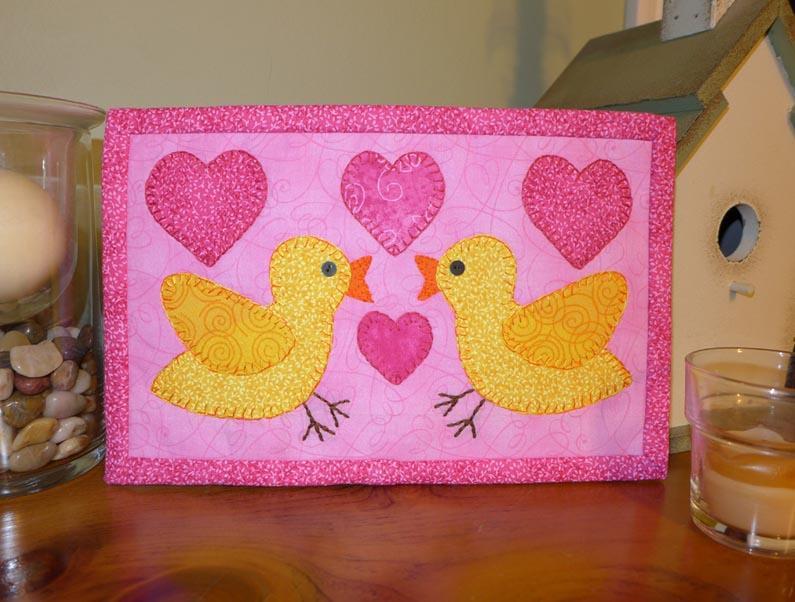 Photo via Sher's Creative Space
This sweet mug rug is sure to brighten anyone's day. With the cuteness of the two birds and the highlights of the embroidery around the hearts and birds, it makes anyone smile. Measuring 6 1/2″ x 10″, it is a fast project to accomplish. Put some borders on it and you have a fun placemat or table topper.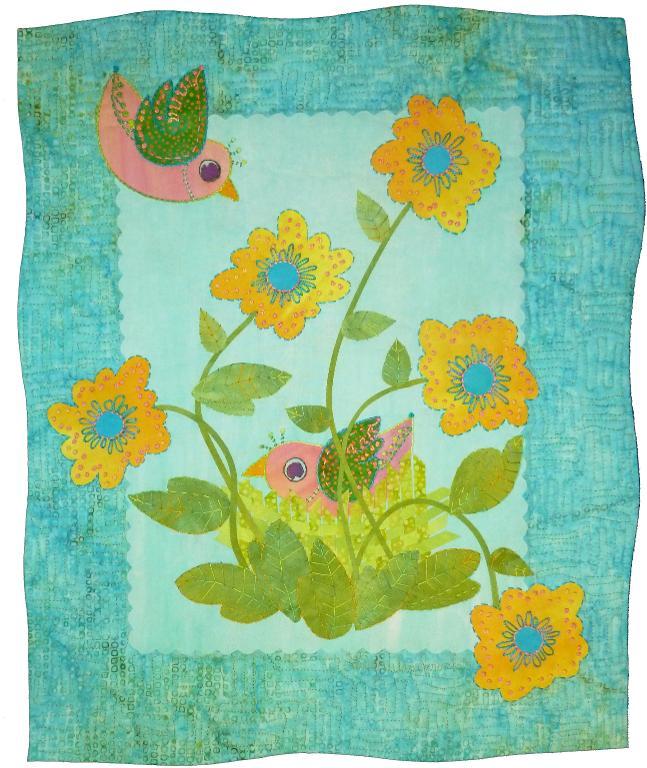 Photo via ArtFabrik
With the color scheme of spring, you can't help but be drawn into this next quilt. Notice all the detail in the stitching that emphasizes the objects. It is a 14″ x 17″ fused art quilt that will bring spring right into your home!
To learn more about this bird quilt pattern featured here, and to create more using her techniques, check out Laura Wasilowski's Craftsy class Hand-Stitched Collage Quilts.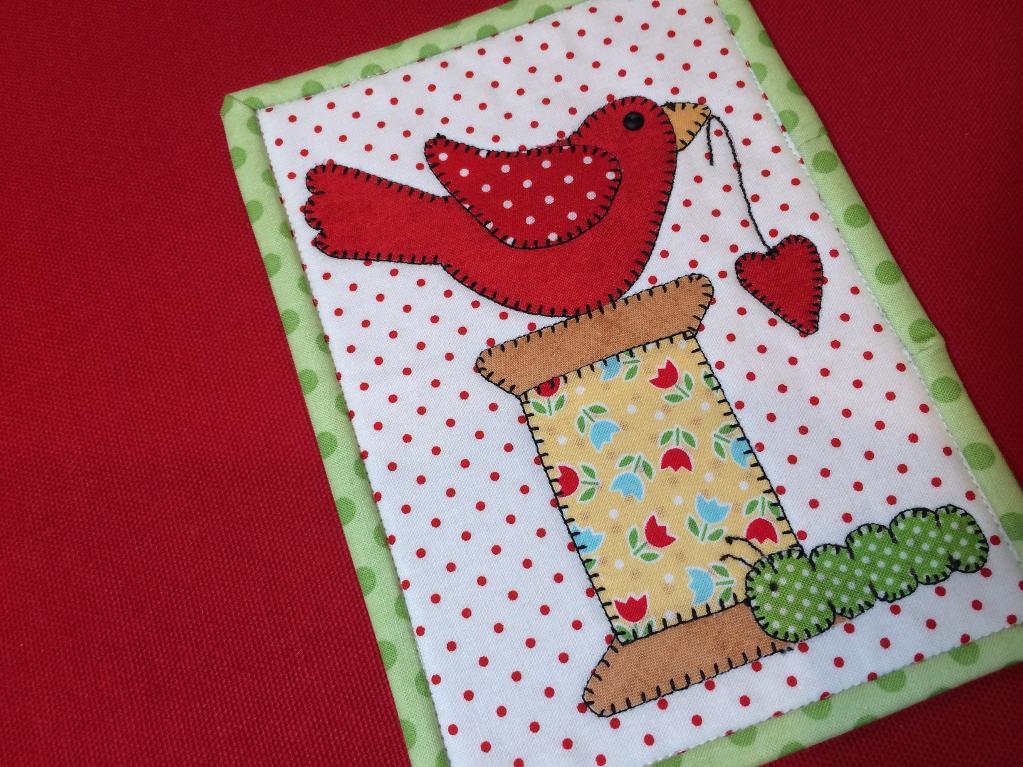 Photo via Stitches of Love Quilting
This bright and cheery pattern is packed with polka dots and features a bird perched on a spool for all to see. Using machine appliqué, this mug rug measures 5 1/2″ x 7 1/2″, but why not hang it on a corner wall or some little nook that needs a facelift?
Don't stop here, check out more bird quilt patterns on Craftsy!