Most of us learn to bind off by simply knitting two stitches, then passing the first stitch over the second, continuing on down the row. But it's not always that simple.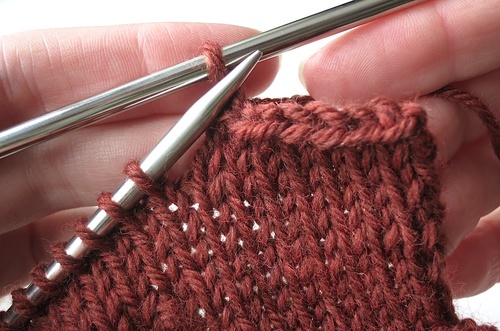 Have you ever encountered the phrase "bind off in pattern" in knitting instructions?
You may have noticed that your bind off row is visible and shows up as the last row of your stitching, so it's just as important as the other rows.
When we bind off in pattern, we're keeping the same stitch pattern that we've used throughout the project, ensuring that last row keeps the stitch pattern going.
More Ways to Bind Off
Learn basic, ribbed and stretchy bind-offs for every project.Get the Class
Standard bind off vs. binding off in pattern
Here's a secret: If you use a standard bind off instead of binding off in pattern, we bet no one will notice. But there are some situations when binding off in pattern actually makes for a better edge.
Let's take a look at some examples of binding off in pattern vs. standard bind off to see the tiny little differences.
Binding off in K2, P2
Many top-down sweaters end with a nice ribbed hem. Let's assume your hem is a K2, P2 ribbing. If the pattern asks you to bind off in pattern, your bind off row will also be a K2, P2 row. Here's a closer look: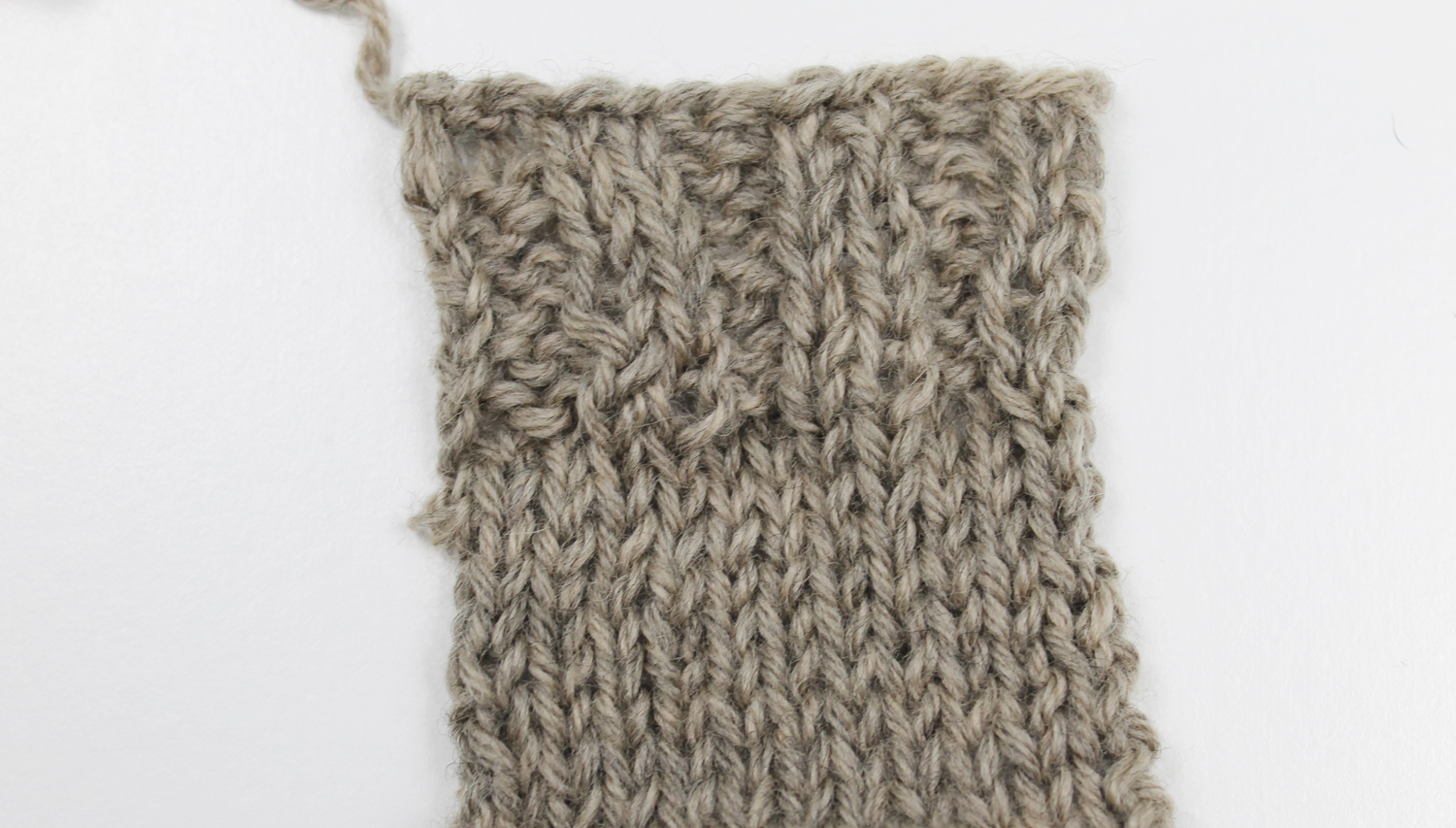 In the swatch below, I just stitched knit stitches all the way across like in a normal bind off, and here's what it looked like: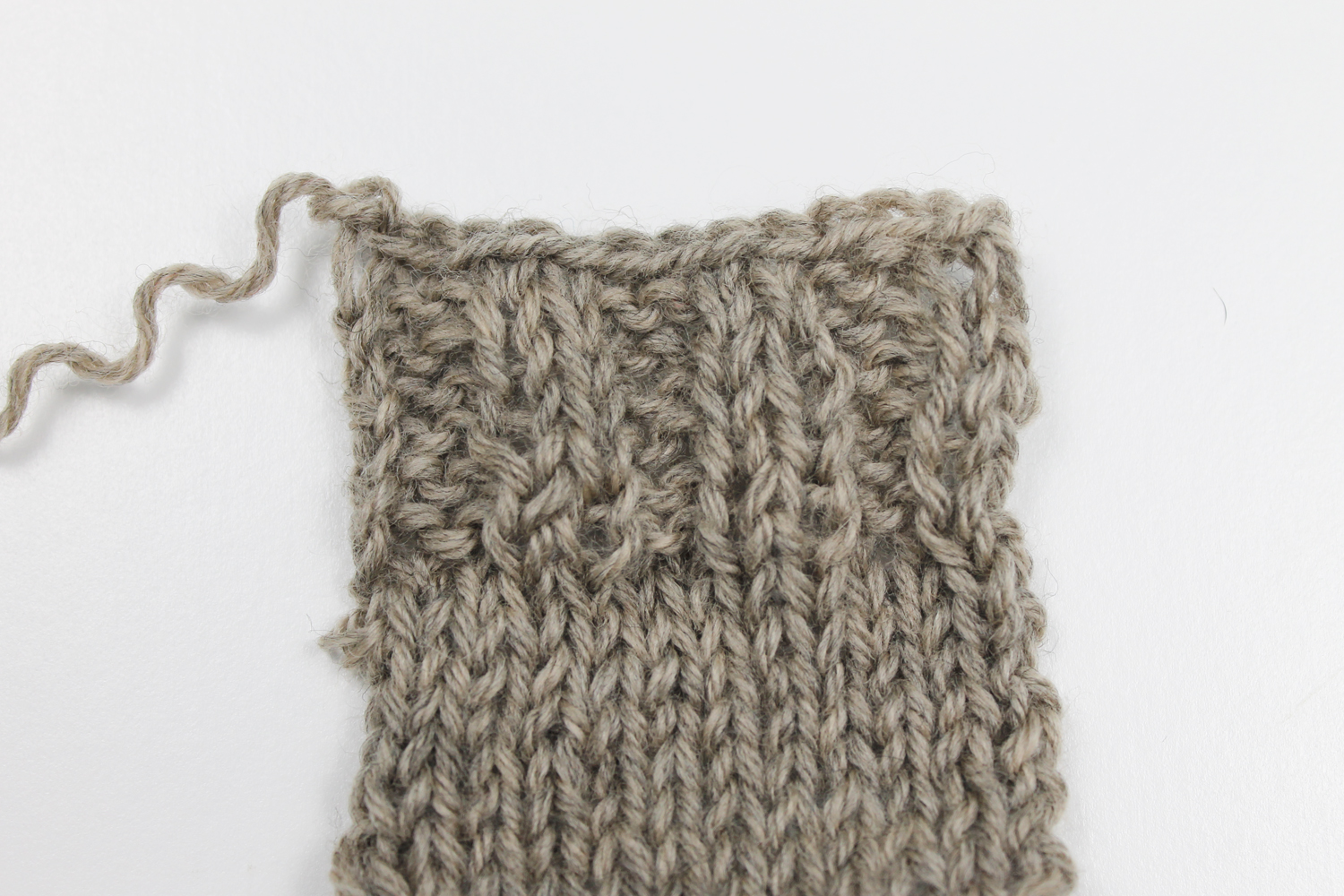 Some knitters might prefer how this looks as opposed to binding off in pattern. In fact, it doesn't actually look that different.
One thing I don't like about using knit stitches to bind off ribbing, though, is that it loses a little bit of its stretch on the edge. Knit stitches lock in the ribbing, and it doesn't move quite as much as it would if I continued the K2, P2. And stretch can be super important (especially for hats, sweater sleeves, sock cuffs, etc.). But if you're not concerned about stretch and you like the way the standard knit bind-off looks, go for it!
Binding off cables
Binding off cables can be a little confusing. Luckily, most patterns that include cables ask you to end on a specific row, so that you don't have to bind off at a cable crossing.
When it comes to cables, a good general rule is: Knit the knit stitches and purl the purl stitches.
In the swatch below, for example, I have a cable that's worked using 4 knit stitches in the center with 6 purl stitches on each side. When I bound off, I purled all the purl stitches on the sides and I knitted the cable stitches.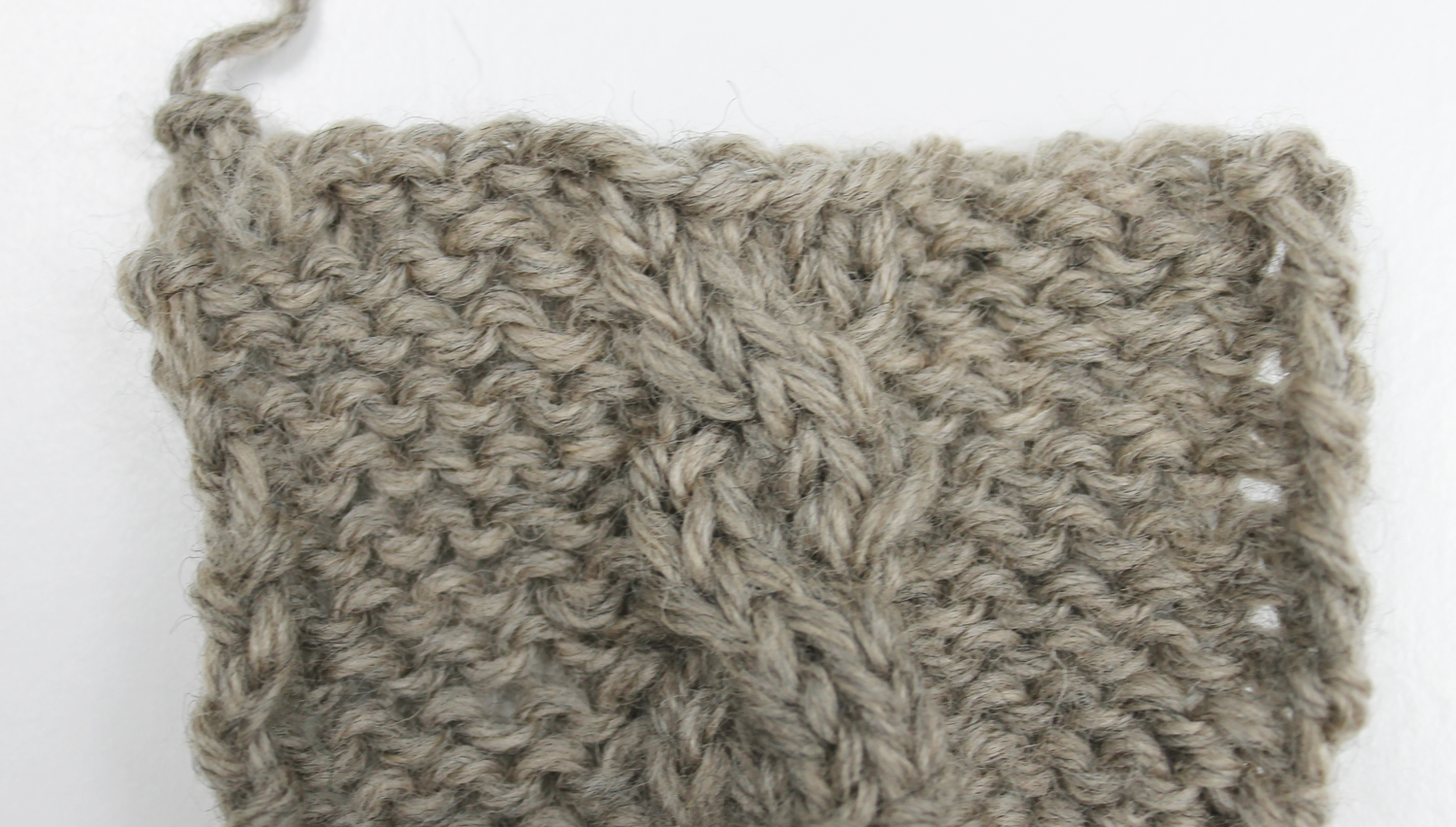 You could just do a standard bind off across the edge, but the knit stitches on the bind off row don't blend well with the purl stitches. Here's what it looks like: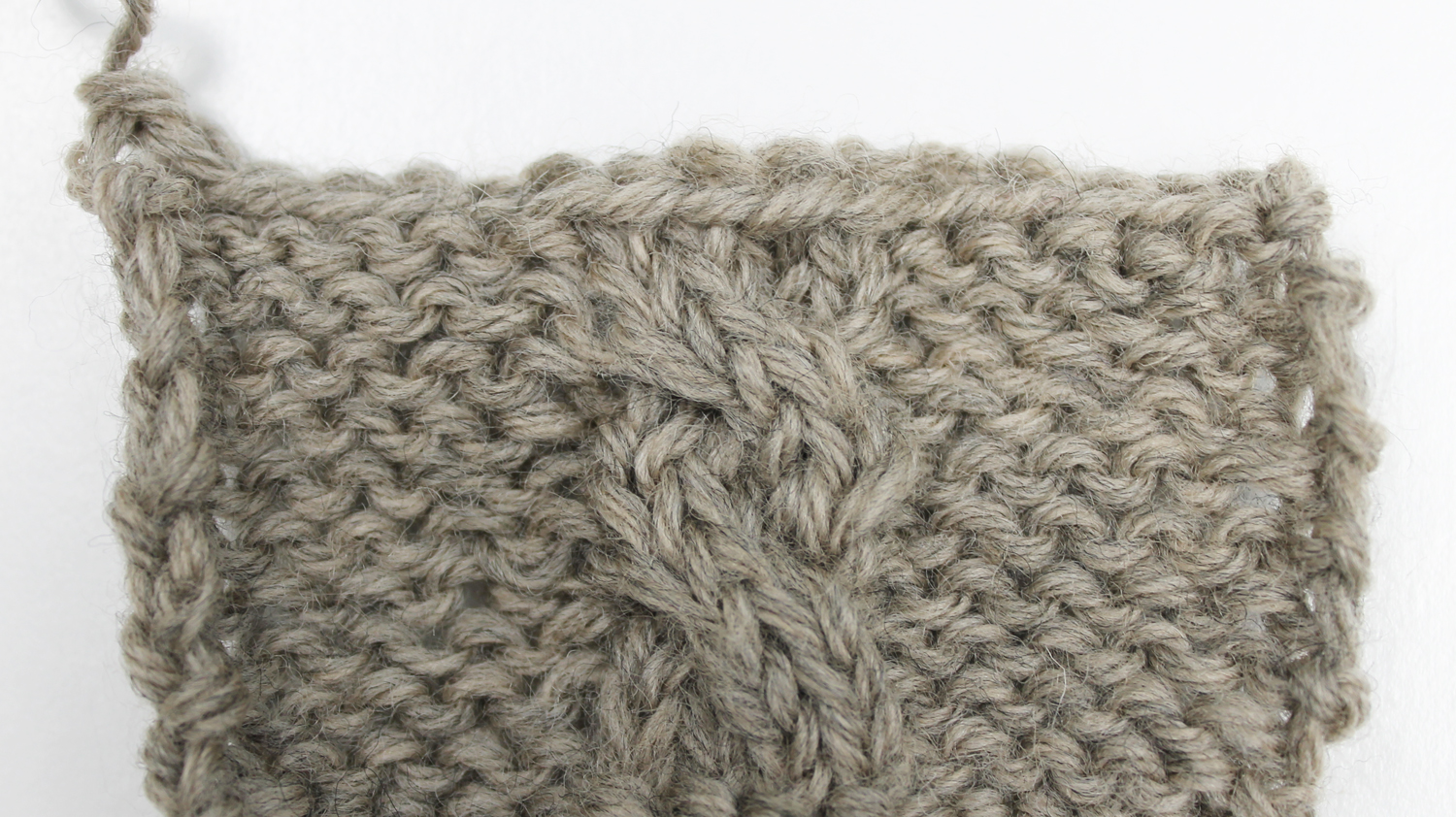 Not that different than binding off in pattern, is it? If you look very very closely and roll back the edge a bit, you'll see the knit stitches right above the purl stitches on the bind-off row. Not a big deal.
If you want your stitches to blend, though, it might be best to bind off in pattern.
Binding off lace patterns
Lace patterns can't follow that knit-the-knit-stitches rule because lace is often made up of yarn overs, k2togs, and other special stitches. It can get confusing!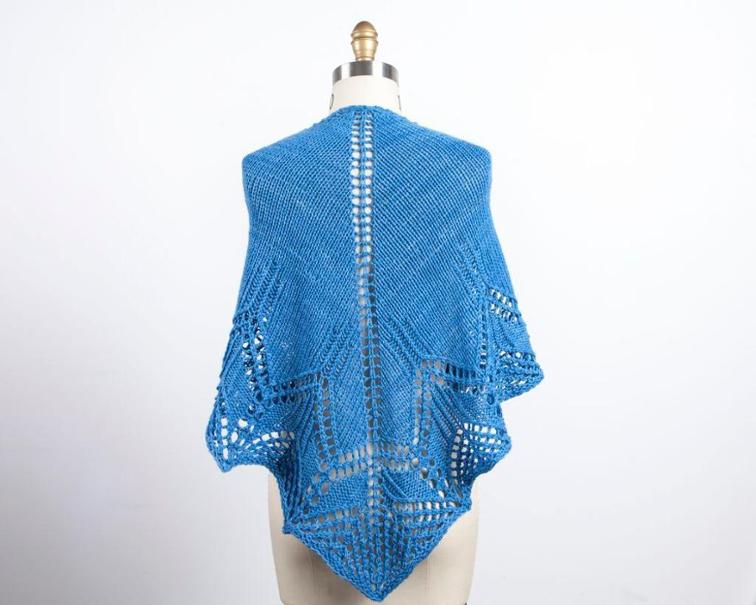 For lace patterns, you probably won't even encounter "bind off in pattern" in the instructions. Instead, you'll find instructions for a specific bind off, like Jeny's Super Stretchy Bind Off or a picot bind-off. The Waterspout Shawl above, featured in Anna Dalvi's My First Lace Shawl class, uses a bind off that combines knit stitches with k2togs. 
The rule of thumb here: Follow the pattern's recommendation!
The bottom line on binding off in pattern
Binding off in pattern isn't totally necessary, but sometimes it looks nicer or reinforces a specific quality in your knitting.
More Ways to Bind Off
Learn basic, ribbed and stretchy bind-offs for every project.Get the Class