Big Hero 6, the most recent superhero movie released from Disney, has appealed to both children and adults alike. The loveable main character, Baymax, has stolen the hearts of audiences worldwide, proving even a robot can be both endearing and charming!
Three cheers for these awesome Baymax cake designs based on the lovable character from the heart-warming animated film Big Hero 6!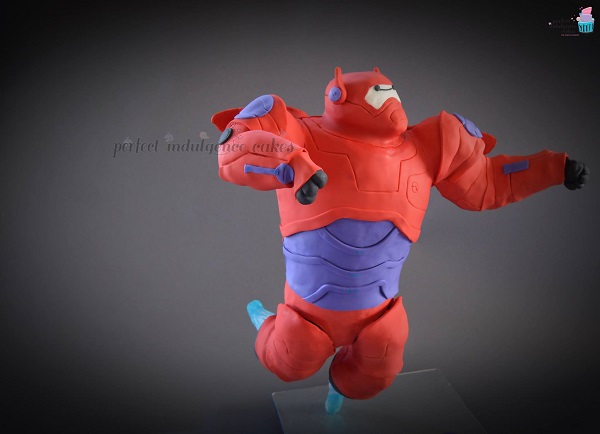 Photo via Perfect Indulgence Cakes
Gravity-defying Baymax cake
The white and fluffy robot character in the film, Baymax, is fitted with a red suit that allows him to fly and Perfect Indulgence Cakes captured him in motion with this incredible gravity-defying cake! The structure of the cake was built to lift him off the ground and include tubes concealed with burners made from isomalt, a sugar substitute, as he takes off. The cake was beautifully sculpted and covered with superb fondant details, bringing Baymax to life in sugar form.
Learn to build base structures on which to build your cakes in the Bluprint course Gravity-Defying Cake Designs with Lauren Kitchens to create mind-boggling cakes such as this! For more insight into working with the sugar substitute to form cake decorations, including pearls, glass and more, check out Intro to Isomalt with Charity Pykles-George.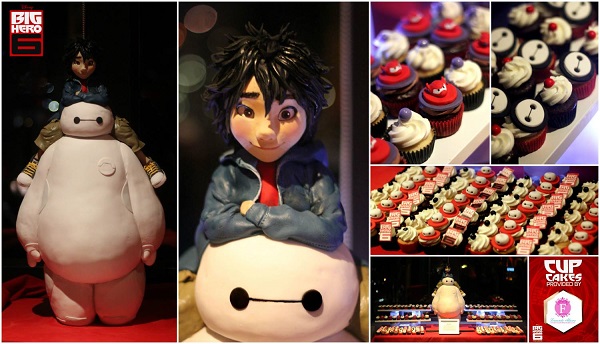 Photos via Fernanda Abarca Cakes
3-D Big Hero 6 cakes and cupcakes
For the World Premiere of Big Hero 6, Fernanda Abarca Cakes was commissioned by the studio to create this unbelievable replica of Baymax and the character, Hiro, riding on his back! The fluffy robot, measuring at over 2″ tall, is cake and rice cereal treats, impeccably sculpted and covered in fondant (see the naked cake in progress), while Hiro is so flawlessly modeled with the use of fondant and chocolate. The cupcakes are embellished with coordinating fondant toppers, matching back to the theme. Perfection!
If you are interested in creating works of art such as this, be sure to check out Advanced Cake Sculpting: Bobbleheads with Mike McCarey, where he teaches progressive cake stand construction, as well as techniques to sculpt and decorate your cakes with a variety of mediums, including fondant and modeling chocolate.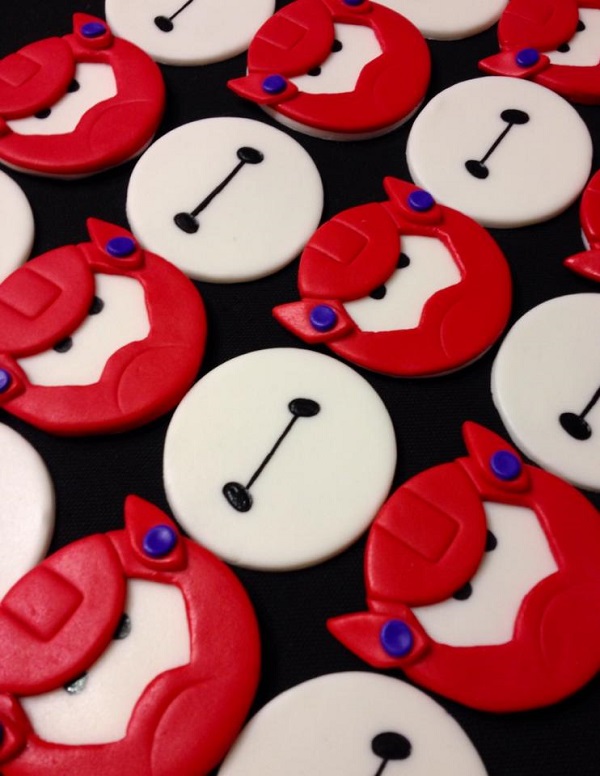 Photo via Oh My Gorgeous Cakes
Baymax cupcakes
These adorable Baymax cupcakes by Oh My Gorgeous Cakes represent Baymax in both his soft and lovable form, as well as with his red superhero helmet. The helmets were each hand-cut and layered over the bottom fondant oval disc, while the robot's eyes and markings were added with the use of black edible markers, creating a sea of charming cupcake toppers!
In Sheryl Bito's Global Cupcake Design, learn to utilize fondant as your medium to create characters out of toppers as you layer and embellish your designs.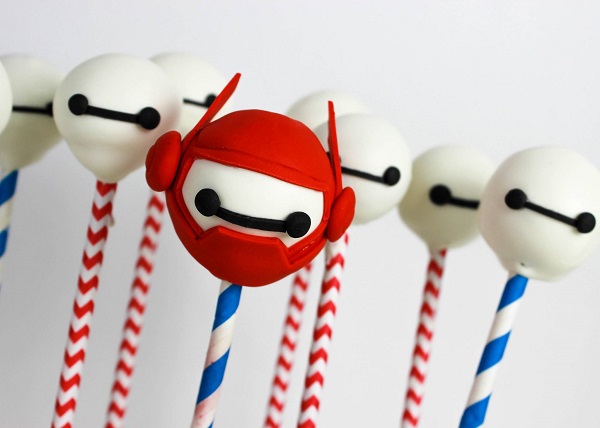 Photo via Nerdache Cakes
Baymax cake pops
Due to the simplicity of Baymax's oval-shaped head, it lends itself perfectly for making cake pops! Nerdache Cakes not only captured him in his adorable form by dipping his head in white chocolate and adding the facial details with fondant, but also created a show-stopping cake pop with his fabulous fondant helmet. And utilizing color-coordinating paper straws always adds to the entire presentation!
Be sure to check out the free Bluprint course The Wilton Method®: Creative Cake Pops with Valerie Pradhan to learn how to shape, dip and decorate your own cake pops!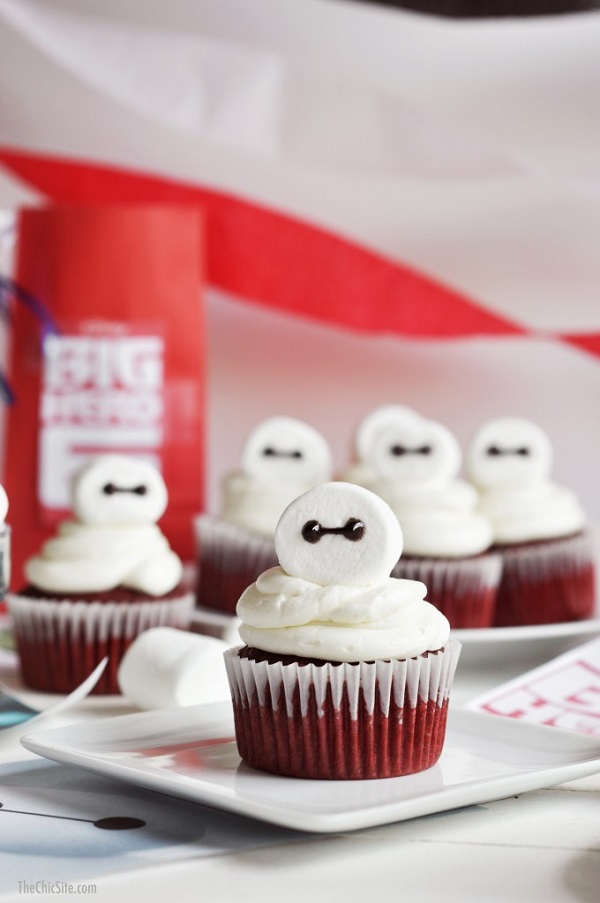 Photo via The Chic Site
Baymax marshmallow cupcakes
To celebrate the release of the animated film, The Chic Site created these precious Baymax cupcakes with the use of jumbo marshmallows as toppers and gel paste for decoration! Utilize either store-bought or homemade marshmallows to create Baymax's head and pipe the design. Find the step-by-step Big Hero 6 cupcake tutorial to recreate these sweet treats and have a fun time decorating them yourself or giving the kids a fun edible craft prior to watching the movie!
Feel free to spice up your cupcakes with a variety of creative and original flavors in the Bluprint course The Perfect Cupcake with Jennifer Shea.
What is your favorite superhero movie?