How do you finish your garment edges — with a facing or bias binding? That is a sewing question sure to generate plenty of discussion, with some sewers being strongly on Team Bias Binding and others on Team Facing.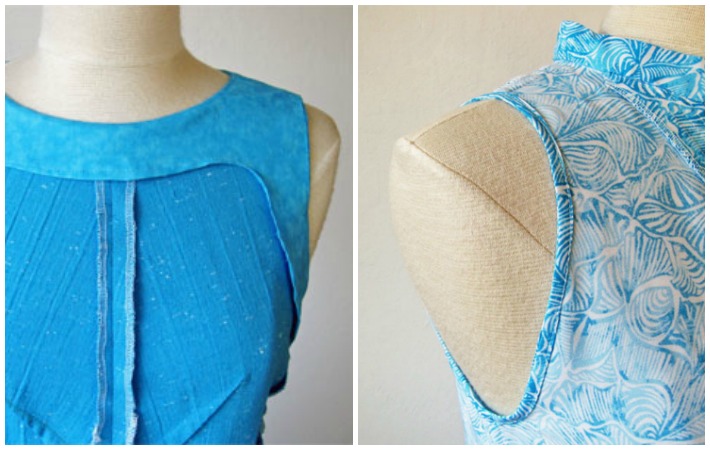 Let's review some of the pros and cons of both facings and bias binding for your garment edge finishes.
The best way to resolve this question is to say it depends on the garment and the fabric. Still, some sewers swear by one or the other. Today, we'll walk through both facings and bias bindings so you can choose the best one for your project.
Learn to Sew Linings, Facings & More With Linda Lee
Demystify garment interiors for quality work that lasts a lifetime! Learn the essential skills you need to know as you follow along with fashionista Linda Lee. Enroll Now »
Facings
Facings are typically sewn with the fashion fabric or a coordinating color. They're designed to be sewn to the garment edge and turned inside. Facings create smooth edge with no stitching visible at the edges of your garment. Because facings are frequently interfaced, they allow for more structure in a garment and can support the outer layers of the garment, which lets you create shapes that are not possible with bound edges.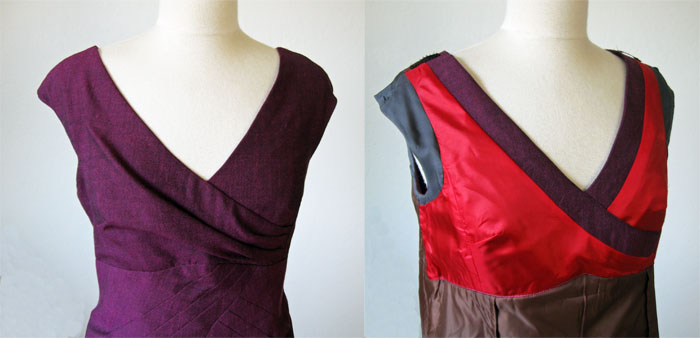 This sewing pattern came with all the pattern pieces to create a fully faced and lined dress, something you often find on high-end, ready-to-wear garments. Here, I used the self fabric at the neckline facing and a neutral gray lining fabric for the sleeve facings.
Some sewers don't like facings because they tend to flip out of the garment or not stay in place properly. This doesn't have to be the case! Here are two techniques for taming the a flippy facing.
1. Under stitch the facing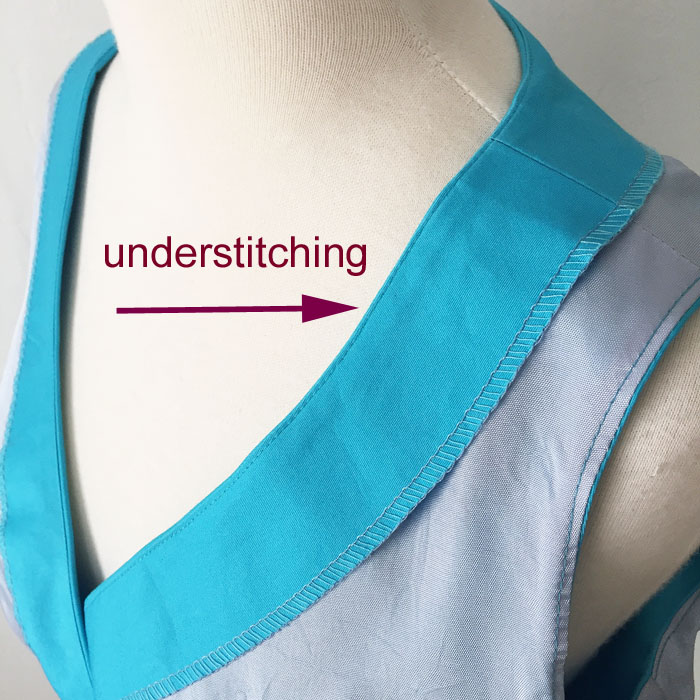 Under stitching the facing guides the fabric to turn under at the garment edge, as well as adding to the crisp edge you want. It also helps the facing to stay inside the garment. A few thread tacks at the shoulder and underarm can keep the facing inside the garment. 
2. All-in-one facing
For a smooth facing that gives a nice edge but also stays smoothly tucked inside the garment, try an all-in-one facing.
Some patterns, particularly vintage patterns, have separate facing pieces for the neckline and armholes; these can be a bit bulky or messy inside the garment. On a sleeveless dress or top, you can combine the neckline facing with the armhole facing to become one continuous facing piece that is quicker to sew and results in a clean finish inside the garment.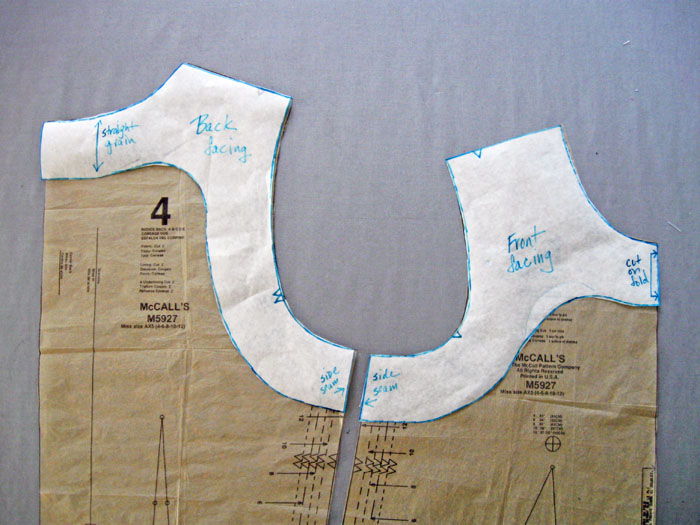 To make an all-in-one facing, trace the facing for the front and back using the dress or top pattern pieces. Sew up the shoulder and side seams of your garment and facing, but leave the center back and side seams open. Then apply the facings, trim your seams and pull the back pieces through the shoulder openings to the front. Your garment will be right side out with fully faced edges. Press and sew up the side seams including the facings.
Bias bindings
Bias bindings have their place in your sewing repertoire, too. Let's review when it's best to use a bias binding, taking factors like fabric and design into consideration.
You can use purchased bias tape or make your own. Bias binding can be used to add an accent of fabric or color to a sewing project.
Take care when applying the bias binding to garment edges so that they don't stretch or become distorted. Pressing is also key to achieve a smooth finish. Applying bias binding can take a bit of practice, as it can be rippled or not lay flat. The key to a good bias finish is proper trimming and pressing!
Lace and sheer fabric
Photo via Ann-Hartley
Bias bindings make the perfect accompaniment to lace or sheer fabrics. They allow you to finish the edge without changing the texture or sheerness of the fabric and also enclose what might be a scratchy lace edge.
Woven fabrics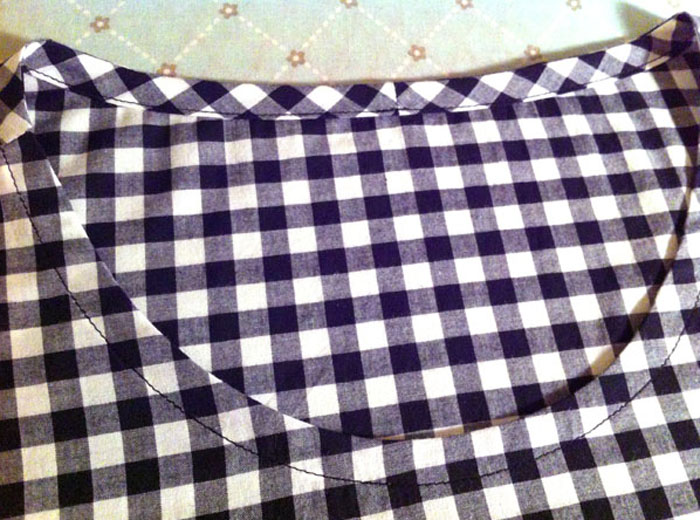 Because bias binding can be formed around curves, it is really useful for finishing woven fabrics.
Design details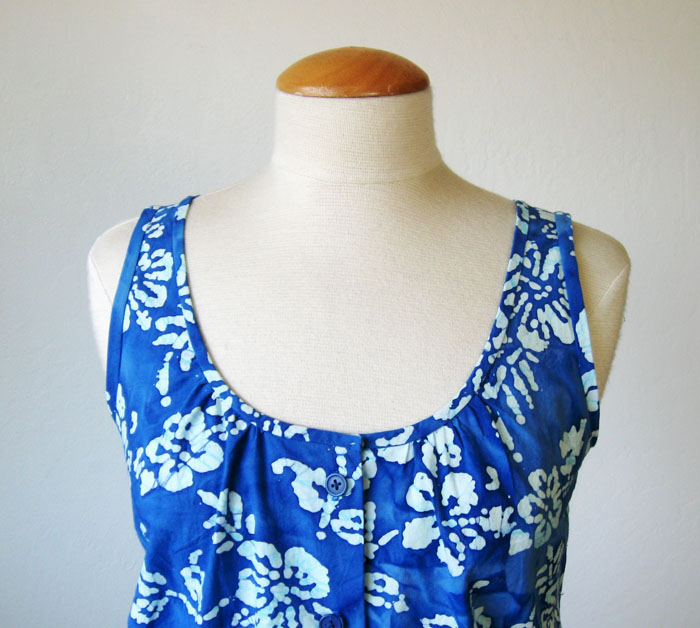 Photo via SunnyGal Studio
Some designs use the bias binding not as a hidden edge finish but a visible design detail. This vintage pattern came with actual pattern pieces for the bias bindings, including markings to distribute the gathers over the bustline. 
If your pattern doesn't come with a patter piece for the bias binding, check out these two methods for applying a bias binding to a neckline:
How to Apply Bias Tape to a Neckline Tutorial: Method 1
How to Apply Bias Tape to a Neckline: Method 2
Fast seam finishes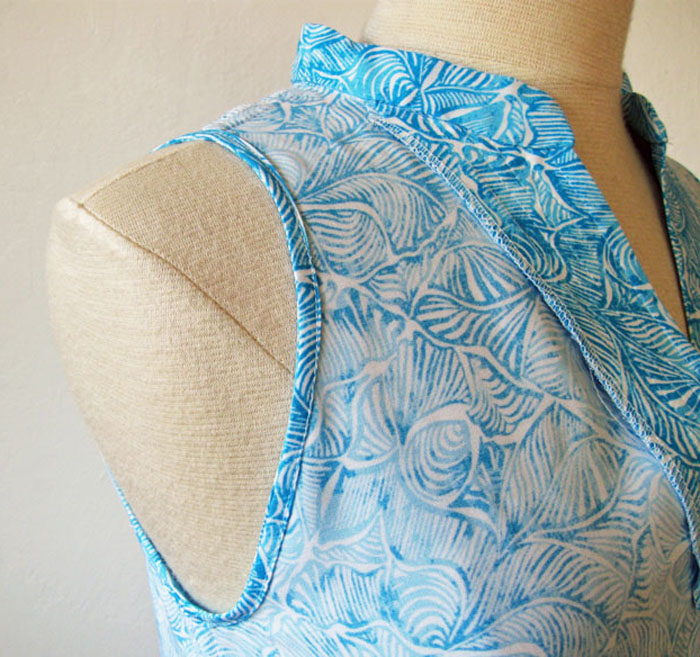 Using the same fabric as the garment for a bias binding at the neckline or armholes is quick and easy. It also results in a beautiful matching look inside and out.
So, how do you decide between bias binding and facing?
Consider the project
For example, outerwear generally has more structure (plus linings), so facings are your best bet — although some jackets have a combination of both facings and bias bindings.
Consider formality
I tend to think facings are more formal because they give a crisper finish for dresses. However, sometimes a bias binding works well for more formal attire. For many sheers, silks and lace fabric, a bias binding is the perfect solution.
Consider the fabric
As mentioned above, sheer, lace and woven fabric benefit from bias bindings. Other fabrics like cottons can work with either method.
Play around with edge finishes before you complete your garment — you might be surprised which you prefer for a particular item.
Are you Team Facing or Team Bias Binding? How do you choose? Let us know in the comments!
Learn to Sew Linings, Facings & More With Linda Lee
Demystify garment interiors for quality work that lasts a lifetime! Learn the essential skills you need to know as you follow along with fashionista Linda Lee. Enroll Now »