Did you hear the news? We teamed up with Lorna's Laces to dream up three totally unique color collections for one of our favorite yarns, Cloudborn Superwash Merino. And we're just as excited about the collaboration as we are about the incredible colorways! So to celebrate, we sat down with Lorna's owner Beth Casey to chat about life, yarn and a love of hue.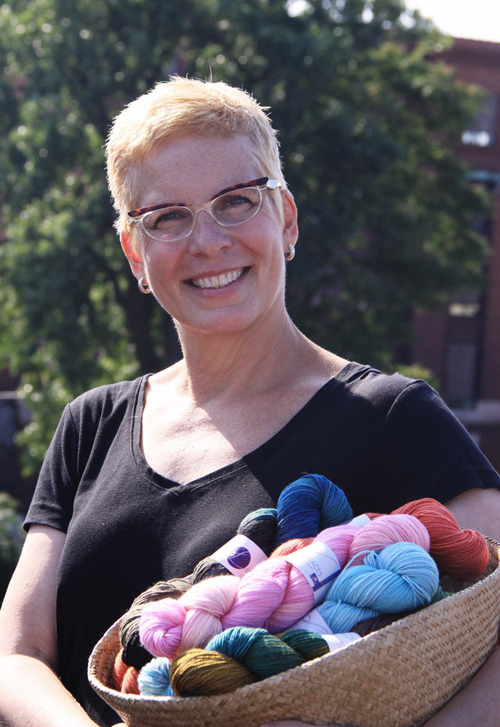 What draws you to dyeing?
"Dyeing is really a match made in heaven for me. I get to stretch my creative chops AND be messy at the same time!"
Where does your dyeing inspiration come from?
"Everywhere! I know it sounds glib, but I mean it — if you keep your eyes open to the world around you, you can find inspiration almost anywhere."
"If something strikes my fancy today, it can be on yarn tomorrow."
"A couple of years ago, I was walking home on a crisp fall evening where the light was filtering just so through the turning leaves. I looked up to one of the neighbors' front porches and noticed a bunch of orange and yellow flowers with sage green leaves in terracotta pots. The next morning, I went into the studio and created Glenwood."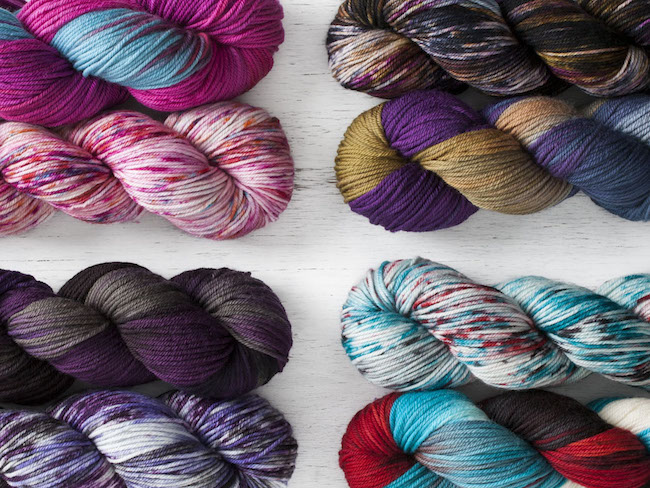 What inspired the collaboration with Cloudborn?
"When Bluprint initially approached me I was excited! I know so many people who both teach and take Bluprint classes, so I thought this could be a great way to reach them. I also love working with companies and individuals to create new and exciting colors."
"Most of my job is playing with color, and the more people that come to play with me, the happier I am."
What's your favorite collection from the collab?
"My favorite piece is where we've taken the traditional table-dyeing technique from Lorna's Laces and reinterpreted it as a speckle. We took the same ingredients and came up with something completely different. That was a really gratifying day's work. "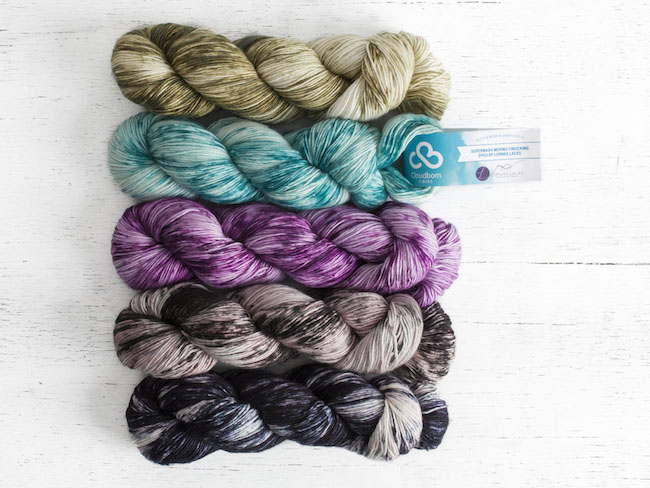 Why did you start Lorna's Laces?
"I realized that I wanted to find a way to make a living in yarn, but I know myself well enough to know that I don't have the temperament to work in retail. I also don't have the skill set to be a designer. Then one afternoon in the summer of 2002, I was thumbing through a knitting magazine and noticed a want ad for a hand-dyed yarn company. I answered the ad and started a conversation with the owner. We worked out the details over the fall, and in January of 2003, I became the new owner of Lorna's Laces!"
What are you most proud of so far?
"We've been a stepping stone for so many people. Among our alums are a DJ, a gerontologist, a college professor, a nutritionist and several full time artists — a few still work in yarn. The thing that makes me proudest is providing a livelihood for people like these, and watching them grow."
Your colorways have so many cute names! Where do they all come from?
"The previous owner used to name the colors after things that were close by: Towns and streets were a big favorite. When we moved Lorna's Laces to Chicago, we decided to branch out. Every season, we come up with a theme and go around the table and everyone gets to name a color. The themes vary and we often pick them on a whim. We've had gentlemen's fripperies, Chicago landmarks, favorite vacations spots…."

After all that dyeing, do you still go home and work on your own fiber projects?
"I do! I'm primarily a knitter, and knitting keeps me sane. I generally keep two or three projects going at any time. One or two will be mindless and the other is always more challenging. I need the challenging one to distract me from all the voices that live in my head. (I've been trying to get them to pay rent for years!)"
Time for a tough one… What's your favorite color?
"I have favorite colors for different things. My favorite color just to look at is orange. Not a fancy orange, just the one that comes in the small box of crayons. Blue is the color I wear most often because I wear jeans every day. Black is a staple in my wardrobe as well. As far as a favorite Lorna's Laces color, well, that's like asking asking a mother which of her babies she likes best."
What's your favorite thing to do outside of the yarn world?
"We recently rehabbed a small cottage in Michigan, and I love going there to garden and tend my new bee hives. Making honey and giving something back to the community has been rewarding and quite tasty!"
To check out all the colorways from our collab with Beth and Lorna's, just pick the weight you want to explore.