Bright, beautiful, lush and full, or delicate, pale and light as air — sugar flower mania continues to explode in the wedding cake industry as cake designers from all over hone their skills creating intricate and spot-on sugar imitations of favorite flowers, creating incredible sugar flower wedding cakes.
What are the benefits of sugar flowers on your wedding cake? I think the No. 1 reason is that you just won't have to worry about a heat-drenched wilting rose or potential little bugs on your cake. A sugar flower made of gum paste (for a gum paste that's boasts perfect consistency for sugar flowers, try a Gum Paste Recipe) should be properly wired and held in place to give the appearance of a fully-in-bloom, rich-in-hue rose or perfect-petaled peony.
Now, how about some eye candy? Here's an inspiring collection of our favorite sugar flower cakes.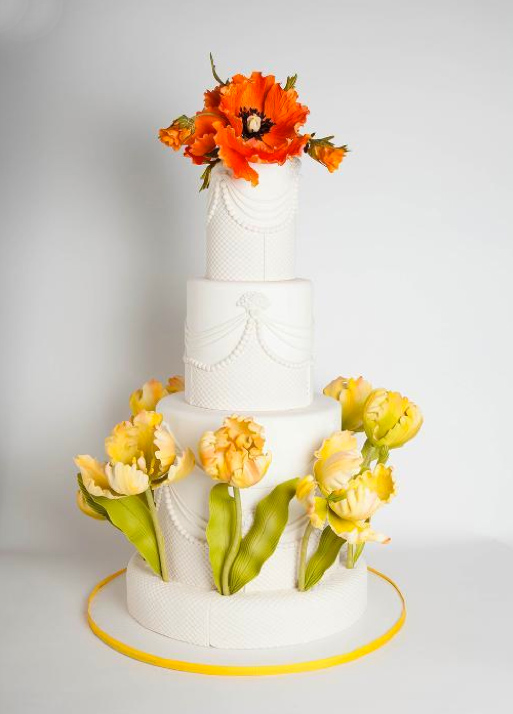 Photo via Craftsy instructor James Roselle
Spring and summer flowers tulip and poppy cake:
The design of this modern cake is so clever with the parrot tulips appearing to be growing up from the bottom cake tier! The leaves and stems look so realistic, and then there's the brilliantly-hued perfectly formed red poppy sitting on top as a  sculptural centerpiece.
Are you chomping at the bit to learn how to make such beautiful sugar specimens? You must take James Roselle's Spring & Summer Sugar Flowers class, then! Sign up today and make your own show stopping blooms.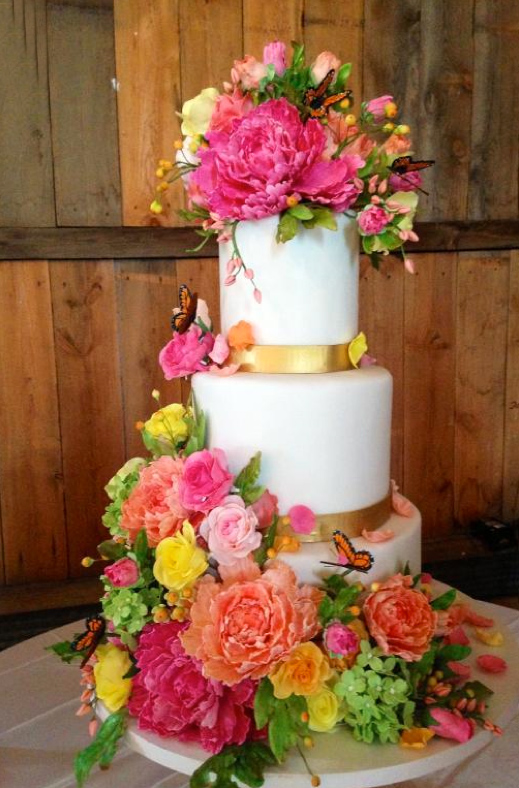 Sugar Flower and Butterfly Wedding Cake via Craftsy member Alex Narramore
Incredible sugar flower cake:
This gorgeous explosion of petals had me pretty speechless. My hands and fingers felt tired after examining this photo too much! Can you imagine the hours it took to create this beautiful sugar blossom covered cake? Peonies, roses, leaves, buds and butterflies, too — all hand crafted from sugar.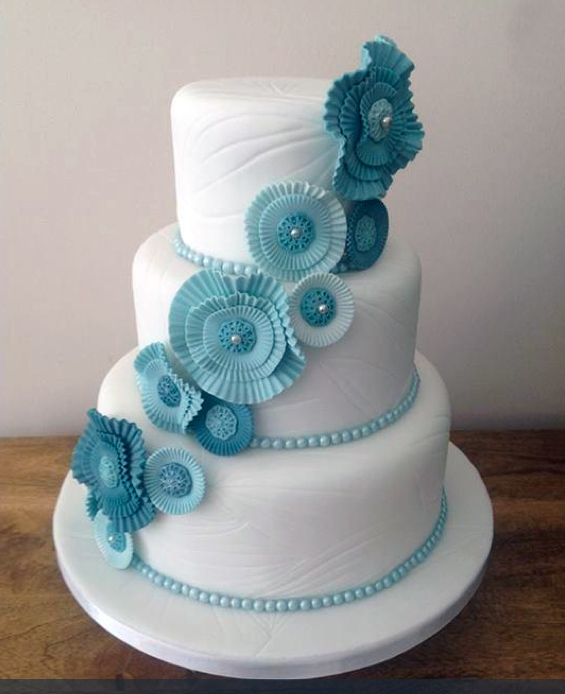 Sea Green Rosette Wedding Cake via Craftsy member Kim's Cakes
Pleated ribbon rosette sugar flower cake:
There is a wonderful simplicity with this fondant-covered cake, which is offset by the rippling, pleated rosettes climbing up the cake. This reminds me of a fancy pleated accordion skirt or paper fan decor at a chic bridal shower. Knowing how to cover a cake in fondant is a basic skill for most decorators, but the added texture of the fondant here gives the cake a quality of unique expertise.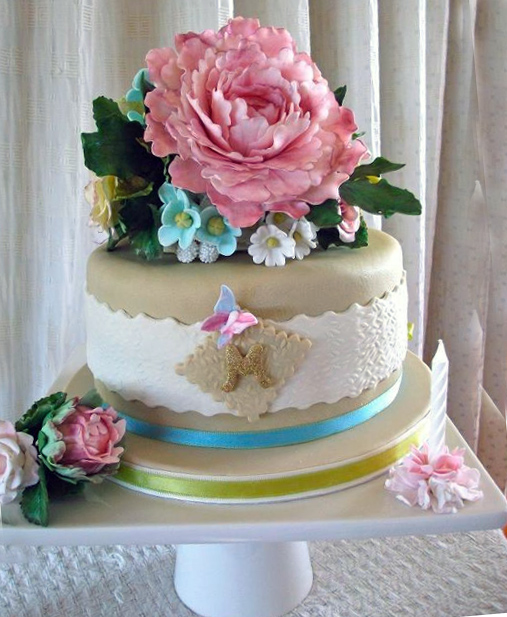 Sugar Flower Birthday Cake via Craftsy member PAKNZ
Giant pink sugar peony topped birthday cake:
This whimsical fantasy cake is so fun with its over-the-top pink dusted sugar peony perched on top like a proud new hat, flanked by smaller pretty blossoms in blue and white. Craftsy member Paknz created this beauty while enrolled in Jacqueline Butler's online Craftsy class Handcrafted Sugar Flowers.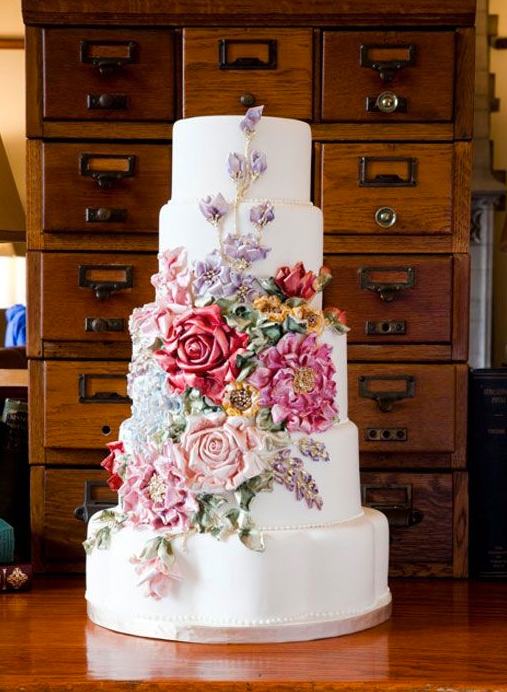 Photo via Bobbette & Belle
Vintage porcelain-looking blanket of sugar flowers cake:
This utterly splendid vintage-looking cake boasts a blanket of the most surreal sugar flowers that impressively resemble delicate porcelain.
Learn to re-create this vintage look in the Craftsy class Vintage Cakes, Modern Methods with Colette Peters.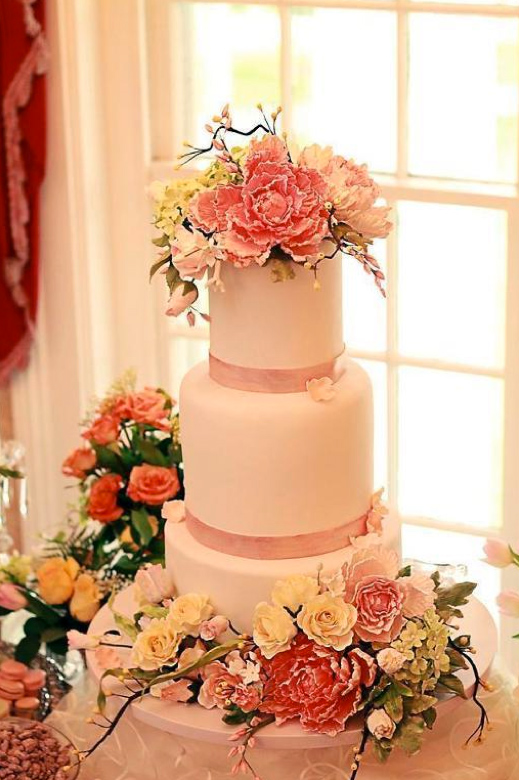 Sugar Flower Wedding Cake via Craftsy member Alex Narramore
Pretty in pink sugar flower wedding cake:
Imagine walking into your wedding reception and having this stupendous cake waiting for you, with its incredible sculptural display of peonies, branches and blooms sitting on the very top. I love the natural feel of the sugar flowers — while each one looks incredibly real and perfect, the bottom tier flowers are arranged in a way that feels like they were brought in by the bushel carried in the arms of a bridesmaid.
I admit my sugar flower making skills are not up to par,  but I'm inspired to dig deep! Luckily, Craftsy has just about every type of sugar flower class you can imagine! Become a sugar flower expert with help of amazing cake decorating instructors who are among the best in the business!
Tomorrow on the Craftsy blog, we'll share tips for using Tappits letter cutters to decorate your cakes.
 What sugar flowers have you been dying to try?