We have some very exciting news! Kimberly Einmo, one of Bluprint's most treasured online instructors, was recently recognized for her achievements in quilting! We checked in with this prize-winning quilter to find out her thoughts on the prestigious award as well as where she finds inspiration for her incredible designs. Keep reading to find out more!
 …Kimberly Einmo — whose quilt, Fire and Ice, took a top prize at AQS Quilt Week!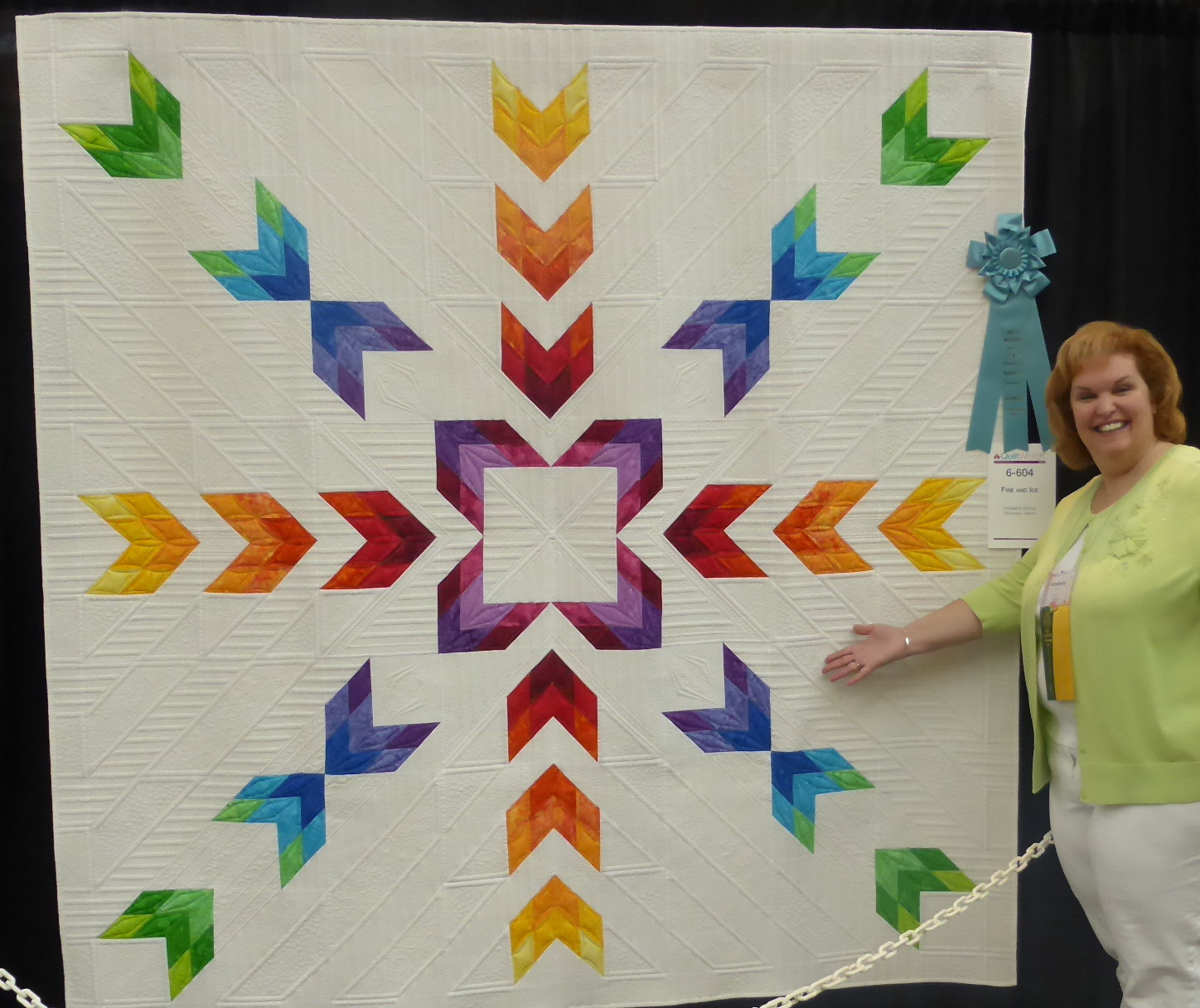 Congrats on winning Best Modern Quilt at AQS Quilt Week Kimberly! How did you first find out about your award?
I received the phone call from the contest organizer on my birthday telling me my quilt, Fire and Ice, had won a top prize at the AQS QuiltWeek Show in Chattanooga, and I was completely surprised! That was probably the best birthday present ever!
Sounds like an amazing birthday gift! Can you tell us a little bit more about making the Fire and Ice quilt?
I designed the quilt using EQ7 (Electric Quilt software). This quilt is a modern interpretation of one of my most popular, more traditional-style designs, Lone Starburst. I had fun playing with the block layout, rotating and editing the blocks until I had the perfectly balanced design in grayscale. Then I added in the warm and cool tones of rainbow colors, and I love the effect of fractured light like colors in a prism!
I wanted there to be a lot of background (negative space), which was the perfect place to add design elements with linear quilting motifs. Judi Madsen, Green Fairy Quilting, quilted the quilt on her longarm machine. One of the most challenging aspects of making this quilt was keeping the white fabric clean and pristine!
Incredible. You are truly an artist! What do you love most about quilting?
I love the entire process of creating a quilt from the first spark of an idea to a completely finished piece; whether it is a show quilt or a snuggly quilt meant to be used, loved and laundered. I truly enjoy the design process (probably the most), but I also love choosing fabrics, cutting and sewing everything together.
To be honest, I'm not particularly crazy about "blocking" the quilt when it is finished because it involves so much crawling around the floor on my hands and knees. But I even enjoy binding quilts – although I'm always particularly eager to be done so I can start on the next project!
We have to know, what's your secret? Where do you find your quilt inspiration?
Everywhere! I'm always looking at things in nature, and I try to be observant with my surroundings no matter where I happen to be! You can find inspirations in magazines, interesting tile floors, wallpaper, architecture and of course, on the Internet! Truly, I find using EQ software is a great way to harness my creativity and inspiration to go from idea to design with a few simple mouse clicks.
I have a background as a graphic artist, so I enjoy using software which allows me to translate my ideas onto the computer and make all the changes I need to make before I ever cut into a piece of fabric. The other thing I do is to carry a digital camera with me everywhere, so I can take photos of things that inspire me, no matter where I may be.
Want to know how to make incredible quilts like Kimberly? You can!
Check out her collection of incredible online classes! Including the newest addition on how to use the AccuQuilt GO! Fabric Cutter.
[box type="shadow"]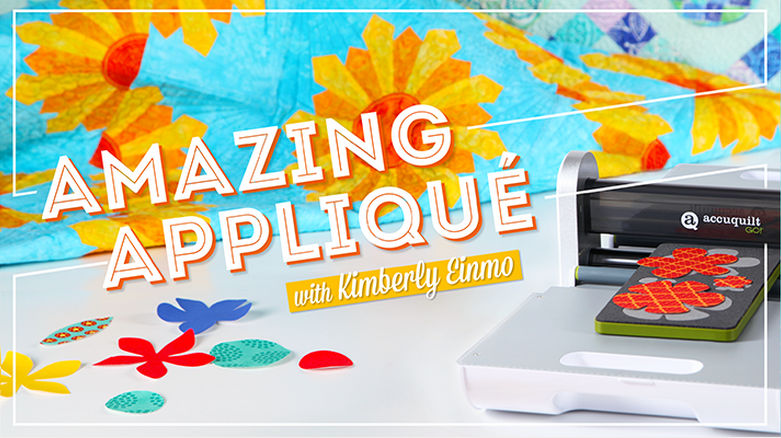 [one_half_last]
Amazing Appliqué
Finish appliqué projects with more interest and efficiency than ever! Learn techniques for eye-catching decorative stitching and speedy die cutting with more efficiency and interest than ever!

Sign me up! >>

[/one_half_last]

[/box]

[box type="shadow"]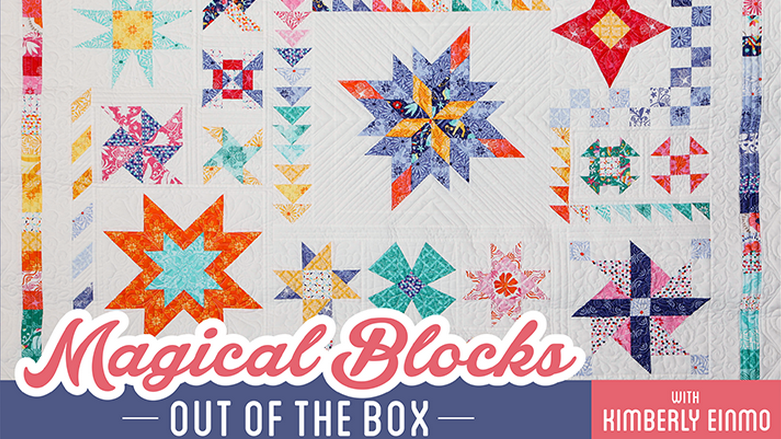 [one_half_last]
Magical Blocks: Out of the Box
Transform simple pieced units into complex-looking blocks and captivating quilts! Learn to break down intricate blocks into easy, manageable units — so you can piece quilts that look incredibly complex but were really a joy to make!

Sign me up! >>

[/one_half_last]

[/box]

[box type="shadow"]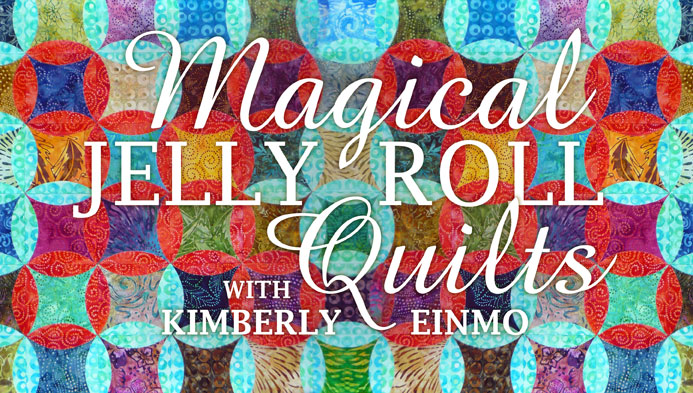 [one_half_last]
Magical Jelly Roll Quilts
Use pre-cuts to breeze through gorgeous quilts! Get ready to impress, as you learn the techniques you need to create your very own, one-of-a-kind designs!

Sign me up! >>

[/one_half_last]

[/box]

[box type="shadow"]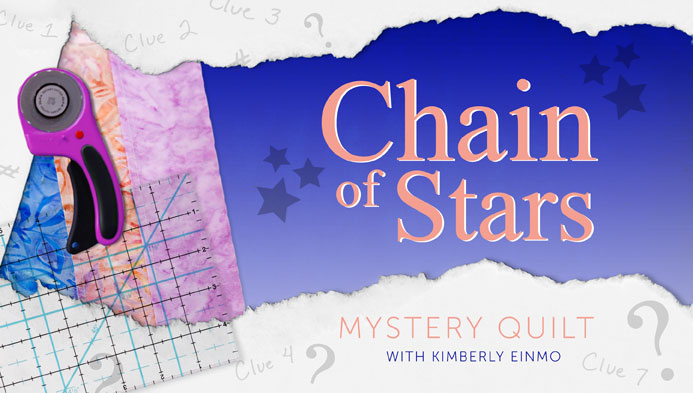 [one_half_last]
Chain of Stars Mystery Quilt
Have fun quilting an all-around mystery — make a gorgeous quilt with a surprising secondary design! Uncover simple methods & time-saving techniques, as you embark on a thrilling quilted journey!

Sign me up! >>

[/one_half_last]

[/box]
What makes online Bluprint classes great?
Learn for life! With lifetime access to your classes, you can watch lessons at your preferred pace and easily revisit your favorite concepts with just a click.
Kick up your feet! Enjoy classes anytime from the convenience of your home or even on-the-go with our mobile apps.
Get personalized guidance! Ask your instructor questions to receive all the answers and feedback you need to succeed.
Love it! There's no risk in trying with our 100% money back guarantee.