I've been making this recipe now for years, so I can confidently say these are the best grilled potatoes. Ever. It's become a definite go-to for summer grilling. I love how it's simple enough to prepare for a weeknight meal but impressive enough to serve to a crowd. 
What I love even more than the simplicity of this recipe is the texture of the potatoes. Their pillowy, soft interior and crispy crust make this side dish highly addicting.
Photos via Edible Perspective
Tips for making your best grilled potatoes yet
Hit the right heat
I typically set my grill to 375-400 F for grilling potatoes. In an oven I would set the temperature around 425 F. You want to avoid overheating the grates so your potatoes don't char on the outside faster than they cook on the inside. No one wants to eat a partially cooked potato!
Keep 'em moving
It's also helpful to toss the potatoes more frequently than you would when using the oven. Instead of tossing once, you may want to toss 3-4 times to keep the cooking consistent. Grills tend to have hot spots and this will help keep the potatoes more evenly cooked.
Chop consistently
You'll also want to chop your potatoes (or any grilling item) to a fairly consistent size. They don't have to be perfectly even, but you'll want to avoid large variations.
Use the right pan
A perforated grill pan will be your best option for grilling these potatoes to perfection. I use mine nearly every time I turn on the grill. It's great for vegetables, potatoes or any smaller item that would otherwise fall between the grill grates. The one we use is similar to this, but you can find many others that would work just as well.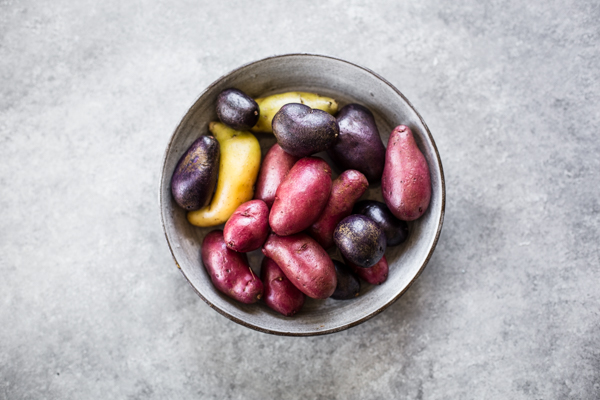 Once they're finished on the grill I like to toss the potatoes with just a small pad of butter and fresh herbs. It really takes these grilled potatoes to the next level!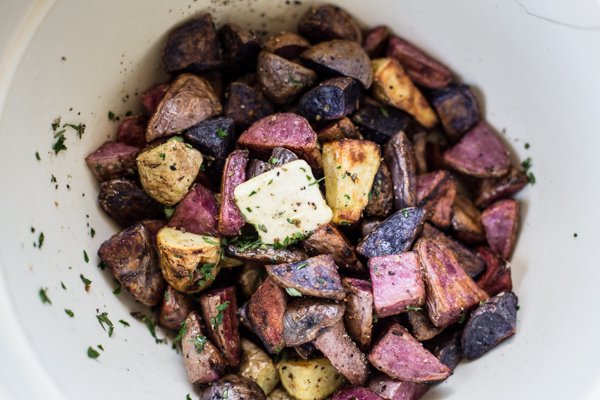 The BEST grilled potatoes recipe
Grilled fingerling potatoes tossed with butter and fresh herbs and spices are the perfect accompaniment for any summer cookout.
Yield: 4 side servings
Prep time: 10 minutes
Cook time: 26 minutes
Ingredients:
1½ pounds fingerling potatoes (or baby red/yellow potatoes)

1–1½ tablespoons refined avocado oil (or other cooking oil)

1 teaspoon dried oregano

½ teaspoon salt

½ teaspoon garlic powder

¼ black pepper

¼ teaspoon onion powder

1–2 teaspoons butter

1 tablespoon coarsely chopped fresh herbs — oregano, parsley and basil work well
Instructions:
Preheat grill to medium/med-high, about 375–400 F. Wash potatoes thoroughly and chop evenly, about ½" – 1″ pieces. 

Toss potatoes with enough oil to coat, along with the oregano, ½ teaspoon salt, garlic, pepper and onion powder.
Spread evenly on your grill pan and grill for 18-26 minutes, until tender on the inside and golden brown on the outside. Toss the potatoes 3-4 times to help cook evenly. Fingerling potatoes cook faster than other potatoes like yukon, red, etc. Cooking time may vary depending on which you use.
Place potatoes in a serving dish and toss with butter and more salt, if desired. Top with coarsely chopped fresh herbs. Serve immediately.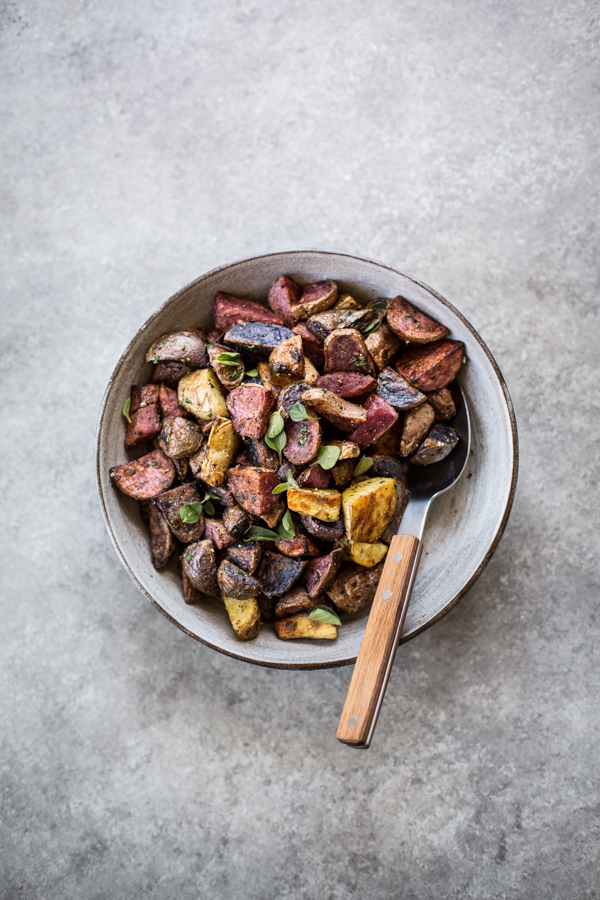 No Comments