No garden space? No problem. Try container gardening! You can grow an amazing amount of food in proper-sized containers. Just make sure your containers have a quality potting mix (not garden soil), excellent drainage and a location with at least 6 hours of sun. Some of these veggies are shade-tolerant too!
Here are 5 of the best container garden vegetables:
Lettuces, mesclun and cooking greens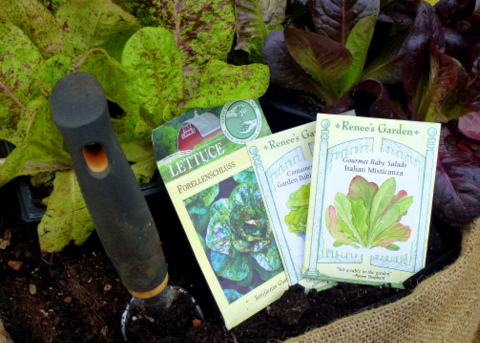 Photo via Teresa O'Connor
Whether you start salad greens from seeds or plant six-packs of Swiss chard, you'll find these greens thrive in containers. Lettuces need at least 6 inches of soil depth, and grow well in containers that are wider rather than deeper. Cooking greens such as turnip or collards require 12 inches of soil depth, so select a deeper planter for these edibles.
Seeds will give you the largest selection of varieties to consider. Sow seeds directly in rich, well-amended soil with excellent drainage.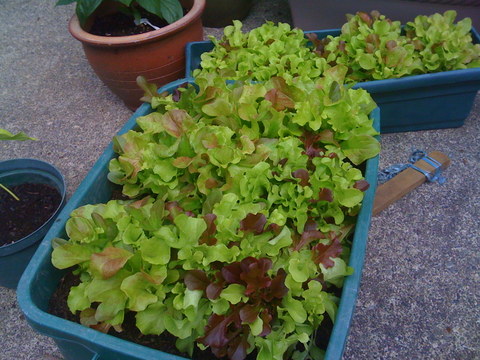 Photo licensed via Creative Commons by Flickr member Jocelyn
Instead of planting in rows, mesclun and lettuce mixes are often planted by scattering seeds evenly over the moist soil and covering lightly with fine soil. Keep soil moist while lettuces are germinating. When they grow a couple inches, cut the baby leaves back an inch from the ground and they will often come again a few more times.
Herbs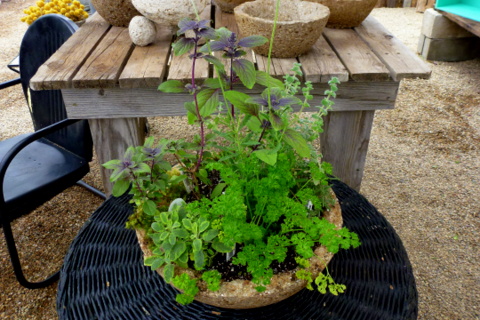 Photo via Teresa O'Connor
From basil and parsley to cilantro and chives, herbs grow well in containers. In fact, it's an excellent idea to plant mint in a container, rather than directly in your soil. Mint roots spread so quickly that it can take over your garden.
Often you'll see mixed herb containers with a number of different plants in the same pot. If you prefer this look, group herbs together with similar growing needs, such as drought-tolerant Mediterranean herbs like sage, thyme and rosemary.
Eventually, however, you may want to transplant those herbs into separate pots, so they can grow larger and healthier root systems.
Peppers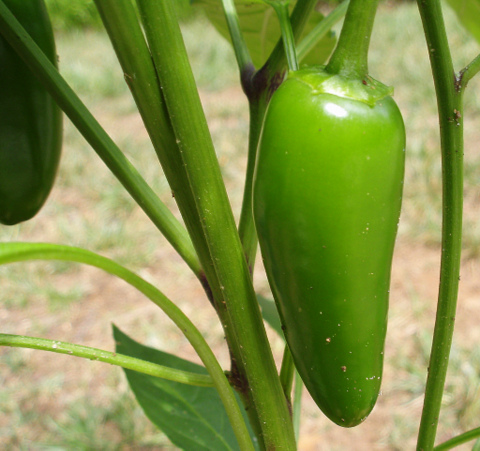 Photo licensed via Creative Commons via Flickr member Christie
This warm-season vegetable grows well in pots that are at least 14 to 16 inches deep. Experiment with growing hot peppers such as jalapeño (shown above) or sweet peppers such as "lipstick," a red tapered pepper that ripens in 70 days and grows well in northern climates.
Before you get started, however, wait until the last frost date has passed and the soil has warmed to at least 60 F.
Tomatoes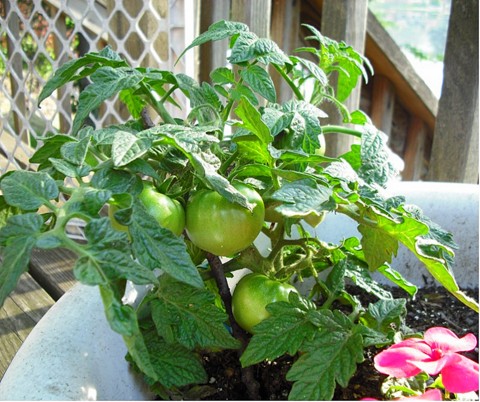 Photo licensed via Creative Commons by Flickr member HappyNutritionist
With a little planning, you can successfully grow tomatoes in containers. Your best bet is to try dwarf tomatoes like this "patio" variety, which grows less than 2-feet tall and works in 12-inch containers. Indeterminate tomatoes produce fruit all season and can grow 6 feet or taller. Determinate tomatoes produce all their crops at once, and tend to be shorter. Plant determinate tomatoes in 20-inch containers and indeterminate tomatoes in 24-inch containers or larger; definitely include sturdy cages for support. When in doubt, err on larger size containers.
Tomatoes are frost-sensitive, just like peppers. Don't rush to plant them before the last frost has passed, without proper weather protection.
Eggplants
Photo licensed via Creative Commons by Flickr member NellieMcS
Give this warm-season food a sunny spot in your container garden. These edibles are as pretty as any ornamentals with their star-shaped flowers and colorful fruit. Eggplants will grow in 18 to 20-inch containers with soil temperatures at least 70 F.
I've had great luck growing everything from the Italian heirloom "Rosa Bianca" to the darling hybrid "Fairy Tale" in containers for several years. "Little Fingers" grew about 4-feet tall in a huge garden pot on my deck, providing lots of shiny black, finger-shaped fruit in late-summer.
These are just some of the best container garden vegetables. Once you start experimenting, you'll find growing vegetables in containers offers lots of options, from salad greens to spicy peppers and much more. Have fun and eat well!
Which of these vegetables are you growing in containers?