Gorgeous floral bouquets are essential when it comes to stunning wedding cake designs. And while the classic sugar flora and fauna are great, the addition of gorgeous gum paste berries is a great alternative to the usual filler flowers, adding a really wild and unique element to an already fantastic wedding cake. We love seeing all manner of fruits and berries paired with both traditional and unusual blossoms from blackberries set amongst sugar ranunculus flowers or elegant fondant roses with hypercium berries nestled underneath petals and leaves.
To help inspire your next creation, here's our roundup of beautiful berry adorned wedding cakes!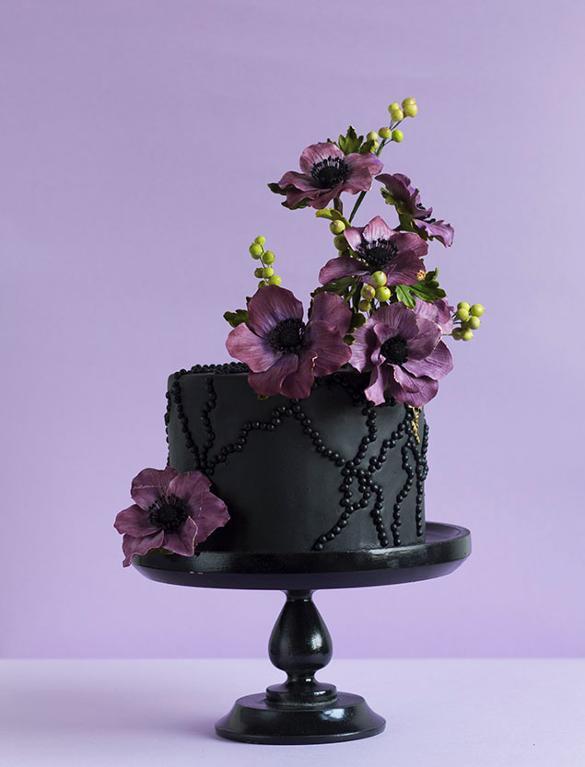 Photo via Craftsy member ModernLovers
Anemone and hypercium berry cake
We adore the unusual placement of the floral and berry elements on this pitch black cake. Pairing bright greenish-yellow hypercium berries with deep purple anemones, dark green foliage and black fondant with black pearl detailing gives this creation quite a striking gothic look!
Can't wait to begin making sugar berries? Sign up for Maggie Austin's Sugar Berries, Leaves & Blossoms class today!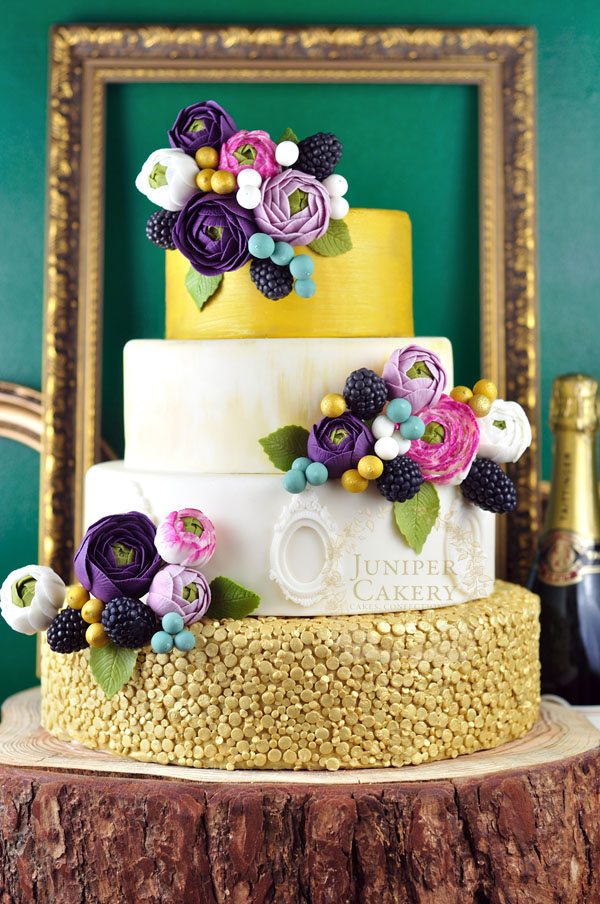 Photo via Juniper Cakery
Gold and purple ranunculus and berry cake
This wedding cake pairs bright and bold ranunculus florals with both fantasy berries and inviting gum paste blackberries! Creating this four-tiered cake adorned with quirky and realistic blackberries sparked our love for adding fondant fruits and berries in with beautiful blossoms. We simply adore the fun yet wild look that adding berries into sugar flower sprays can evoke!
To learn how to create gum paste ranunculus flowers Erin Gardner's Cakes in Full Bloom class is perfect for your next blossom filled project!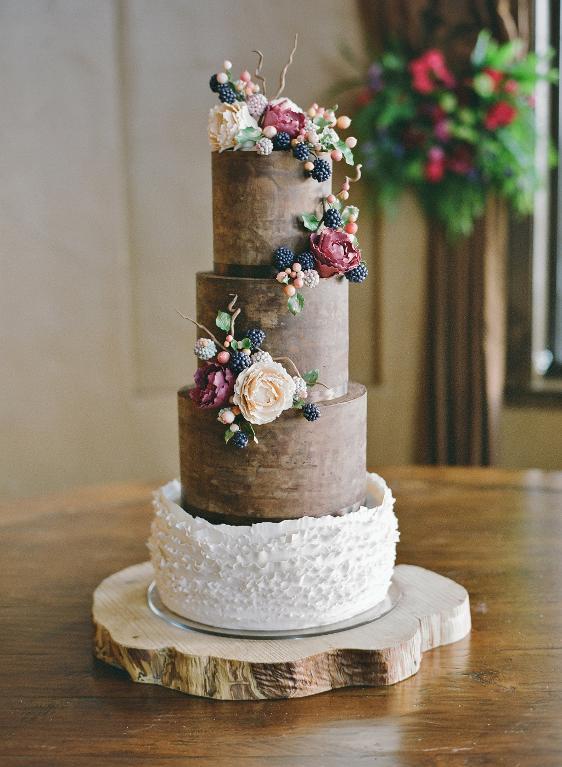 Photo via Craftsy member SweetandSwanky
Ganache cake with sugar berries and peonies
This gorgeously rustic yet romantic four-tiered wedding cake is beautifully adorned with ruffled sugar peony flowers, hypercium berries and blackberries. We adore the simple elegance of this cake paired with the unique nature inspired sprays.
To learn how to master the art of gum paste peony blossoms why not enroll in Nicholas Lodge's Classic Sugar Flowers: Peony, Anemone, Tulip class!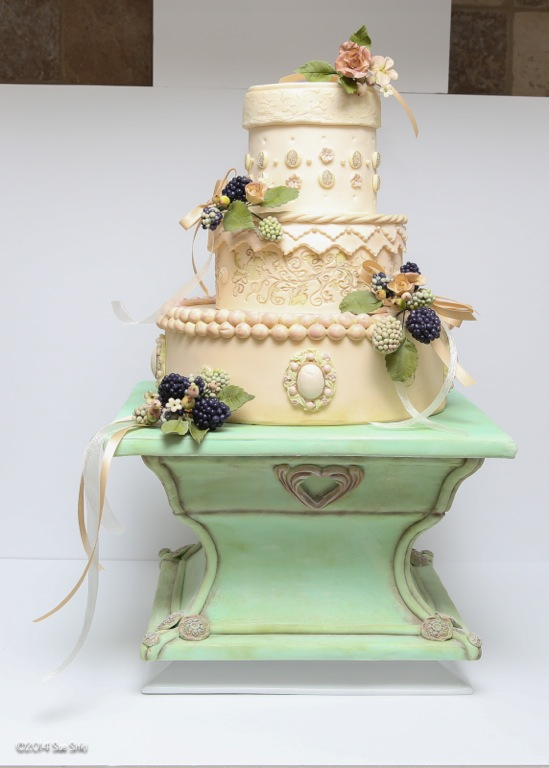 Photo via Craftsy member Sweet-Sue
Berries and blooms cake
There are some wonderful fondant techniques and texture implemented on this vintage inspired wedding cake. But what really draws us in attention are the the gorgeously sweet berry sprays that adorn the sides. We love the addition of ribbons and tiny blossoms too!
Discover some handy tips, tricks and advice with Marina Sousa's Advanced Fondant Techniques class for your next gorgeous creation!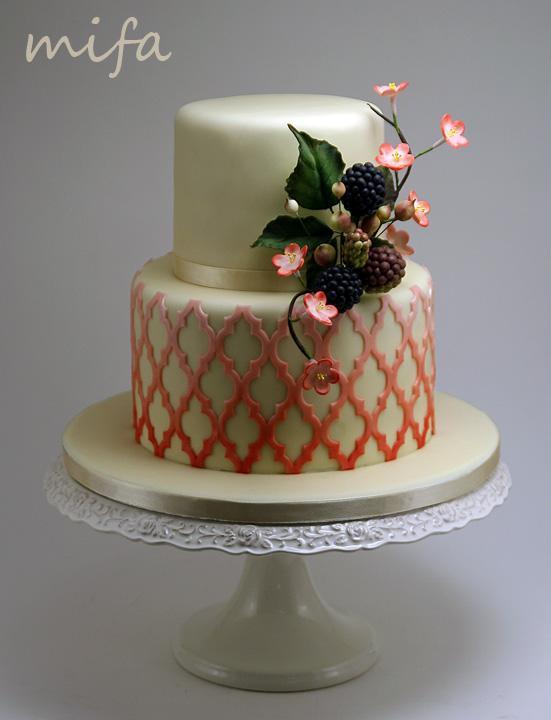 Photo via Craftsy member Mifa
Moroccan lattice cake with berries
There's such a great yet subtle use of color on this cake: We love the dusky terra cotta of the lattice pattern, mimicked on the tiny sugar blossoms and set off wonderfully with the dark gum paste blackberries. The curving blackberry leaves are especially dramatic and impressive too!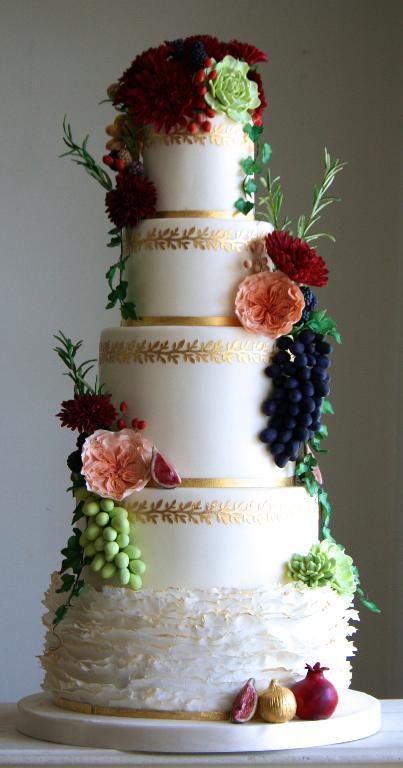 Photo via Craftsy member Flutterby Baker
Gold flower and fruit cake
We love the Grecian look that this cake seems to exude from the crisp white fondant to the gold detail and more unusual gum paste figs, pomegranates and grapes! The addition of the sweetly ruffled tier has a wonderful amount of texture and intrigue too.
Maggie Austin's Fondant Frills class is perfect for you if you'd like to create a delicately ruffled cake yourself!
Adding sugar berries and fruits to sugar floral sprays creates a wonderfully unique and rustic feel to any cake. We've loved looking at how different cakes and designers feature gum paste berries in their designs and hope that you have too!
How will you be working sugar berries into your next cake design?