We're used to seeing relatively tame quilts — flowers, stars, stripes. It's not everyday we run into designs featuring skulls. But that's what we saw on Ben Venom's incredible quilts.
Ben is an artist — not just as a quilter. But the quilting is an important element of his art. "My art is a collision — a collision of fine art, craft and what I call the fringes of society," Ben says. And by "the fringes of society," he means the culture around things like motorcycles, heavy metal, tattoos and skateboarding. He combines all those elements into functional pieces of textile art.
While Ben was familiar with these "fringes of society" and had plenty of artistic experience (he earned his Master of Fine Arts from the San Francisco Art Institute), the quilting was totally new to him.
In fact, Ben didn't know how to quilt — or even how to use a sewing machine. "Things like 'fold on the bias' or 'stitch in the ditch' meant absolutely nothing to me when I first started out," he says. "But I did not let that prevent me from making my first quilt."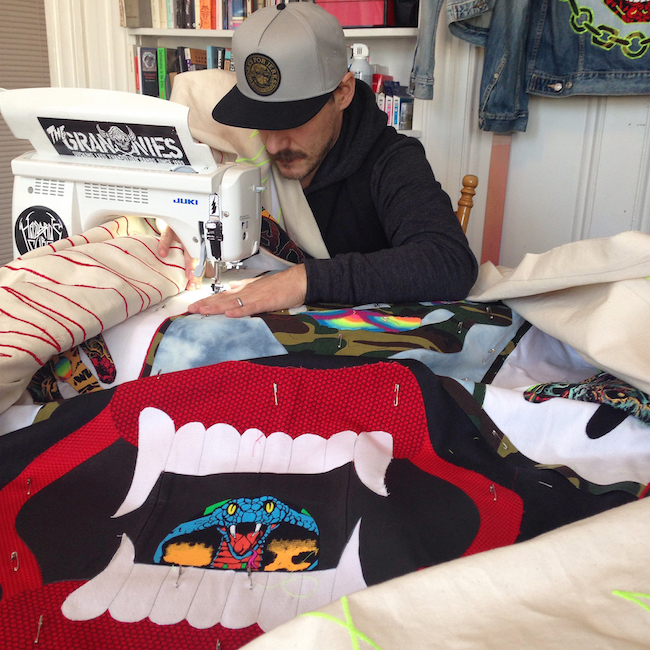 To learn, he started with a quilting basics book with lots of photos. After that, there were a lot of mistakes, trial and error and learning along the way. 
Another challenge Ben faced in learning? He wasn't using simple, easy-to-handle quilting cotton. Ben mostly uses upcycled materials, old T-shirts, leather jackets and acid-wash jeans donated by friends and family.
It maybe a little trickier, but reusing textiles is an important element: Ben sees his art as a collection of memories sewn together. "Everyone's unexplained stain, tear or rip is now on display in a functional piece of art. All these memories that may be tied to the fabric that they donated are now included with everyone else's memories."
Because his art bring so many elements together — personal history, textiles, art, craft and counter culture — it also appeals to a wide variety of people. He'll spend time talking about a recycled band T-shirt with one person, and then pore over appliqué techniques with another.
Today, Ben produces dozens of quilts in his signature style, which are displayed in museums and galleries around the world.
While Ben's style of quilting might not perfectly match yours, we think his approach to art and quilting are something every quilter can be inspired by. One of his best lessons worth remember: "Never let your lack of knowledge or technical ability hinder you from taking your idea all the way to the end."
Want to read more inspiring stories like this?
When you subscribe to the Bluprint Blog, we'll send you updates with new stories about artists, technique tutorials, inspiration and more. And, it's all FREE!