When it comes to beginner sewing, there is sequence of skill building projects that will help you improve and advance at a natural pace. By starting with the basic fundamentals and working your way up to bigger projects, it's easy to solidify the skills you already know while introducing new techniques in a way that's not overwhelming.
Here are three perfect sewing projects for beginners that will have you well on your way to building your own handmade wardrobe!
Photos via Craftsy members eamylove60 and like-to-sew
1. Tote bag
The first project I recommend for the total beginner is learning how to sew a tote. Tote bags are great because you're essentially just sewing straight seams, which is easier than a project with many rounded corners. You'll learn the fundamentals of how to construct anything with fabric, including how to match right sides together, the importance of seam allowances, and how to match your seams. Constructing a tote bag will help you build the necessary skills needed to make your own clothing when you're ready!
For step-by-step instruction on how to sew a tote bag, Craftsy's FREE mini-class Bag Making Basics: Reversible Tote & Zipper Pouch with Kristin Link is an invaluable resource.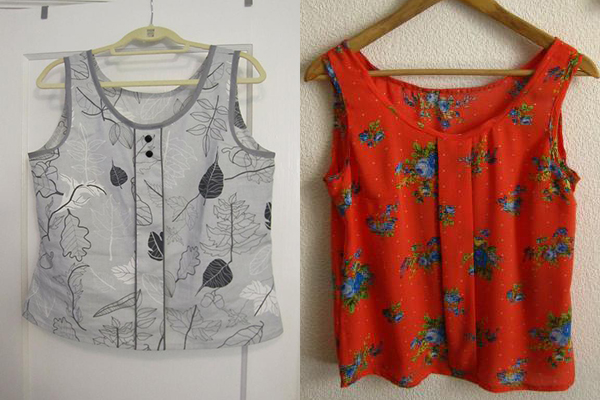 Photos via Craftsy members Juniperr and Chance of Rain
2. A simple top
After you feel comfortable with a tote bag, try a simple two piece top like the Colette Sorbetto. The Sorbetto is a free download that you can print at home and includes detailed instructions. A top like this is a great introduction to garment sewing! You'll learn to sew curved shapes, simple darts, pleats, and bias binding. The shape is feminine but not very fitted, so there aren't many adjustments that need to be made to make this top very wearable and flattering. It's also a quick project for a more advanced sewer who wants to add her own alterations and customizations. This top takes less than 2 yards of fabric to make, so it's a small investment for a great wardrobe staple, and a great stash-buster!
For a thorough introduction to garment sewing, check out Sewing Studio with Diana Rupp.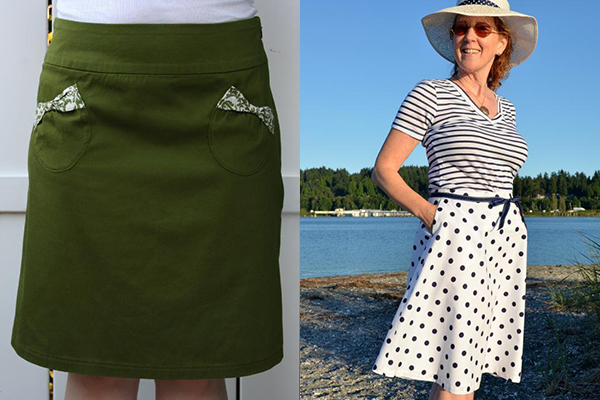 Photos via Craftsy members Mama Jonell and SueAColorfulCanvas
3. A-line skirt
When you feel comfortable sewing a basic top, you can advance your skill further by learning how to sew an A-line skirt. This type of project offers an introduction to installing zippers or elastic, adding customized pockets, and learning basic fitting techniques. A-line skirts have a reputation for being flattering on everyone and don't use a lot of fabric compared to other projects. A well fitting A-line skirt can be made in nearly every type of fabric, making it a good project to use when looking to branch out with print matching or textiles with more drape.
See our A-line skirt sewing tutorial to learn how to sew a simple A-line skirt in 7 steps.
Photo via Craftsy member FancyTiger
With these beginner sewing patterns and projects you'll be building your skills as you build your handmade wardrobe! The best sewing projects for beginners are the ones that can be made over and over again with a different fabric or a small variation each time. If you make a point to improve your technique and learn a new skill with each new thing you sew, you'll move from beginner sewist to advanced seamstress in no time at all.
If you're looking for the perfect Craftsy class to take for your skill level, check out our list of recommended sewing classes for beginner, intermediate and advanced sewers.
What beginner sewing project helped you advance to the next level?