Try your hand at the cake trend that's all a-buzz! Bees are everywhere right now — nestled on sugar roses, swarming up the sides of tiers and making cookies even sweeter.
To sweeten up your next cake, try this honey bee cake tutorial!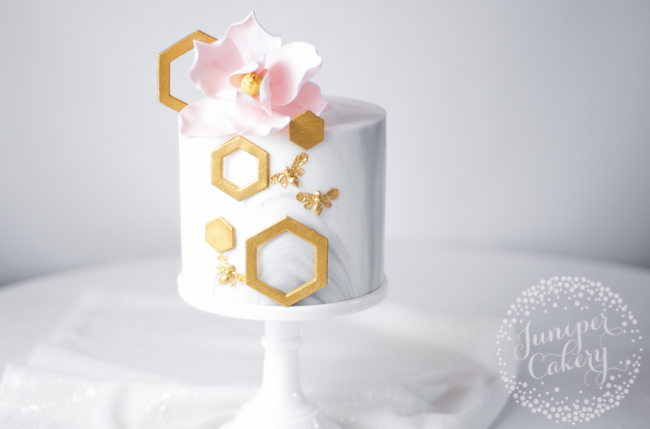 Golden honeycomb bee cake tutorial
What you need:
Freshly iced cake (we used marbled fondant on ours)
Fondant rolling pin
White gum paste
Hexagon cookie cutters in varying sizes
Edible gold paint
Food-safe paintbrushes
Sugar flowers (optional)
Melted white chocolate
Piping-consistency royal icing
Disposable piping bag
Small, seamless round piping tips (we used PME Supatube in sizes 2.5 and 1)
Water
Step 1: Cut the hexagons
Start by getting your decorative hexagons ready. Roll out your gum paste to whatever thickness you feel comfortable with (we roll out ours to a thickness of around 3 mm).
Cut out a series of hexagons using your cutters. Then, use a slightly smaller cutter to cut out the inside of each hexagon, creating "rings."
Step 2: Paint the hexagons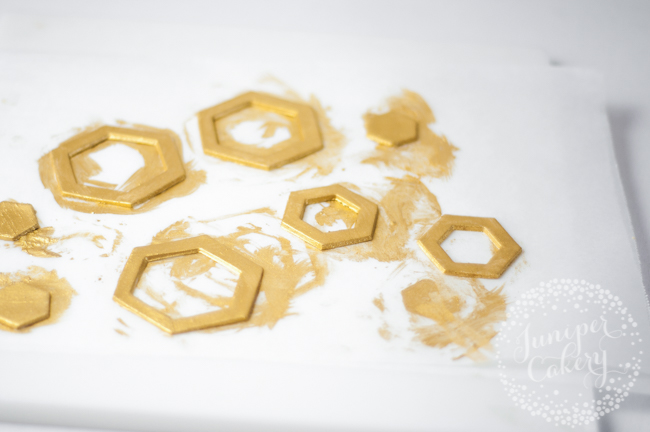 Paint your hexagon "rings" gold. Always remember to use food-safe paintbrushes — synthetic fibers (like nylon) that are either brand new or have never been used on non-food items. Once painted, set aside to dry.
Step 3: Attach the hexagons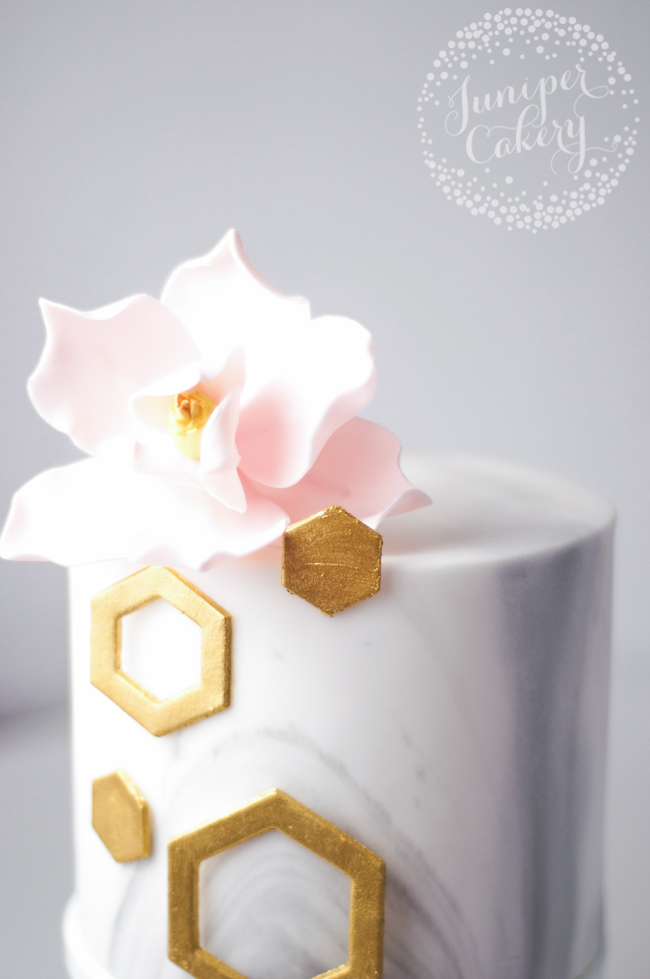 Once the hexagons have set, arrange the pieces along one side of your iced cake. Use some melted white chocolate as "glue" to attach. You can also add a little subtle height to your cake by attaching your hexagon pieces along the top of the cake so the extend over the top.
Step 4: Pipe the bees' bodies
Now for the essential part of this bee cake tutorial… the bees! You can always use a silicon mold to create gum paste bees, but we went the hand-piping route.
Note: Just so you can see each step better, we piped our bees onto bright pink fondant. To recreate, just pipe your bees directly onto your cake.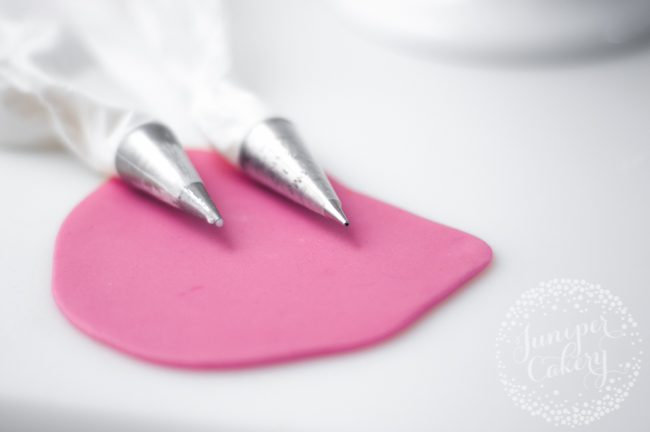 We added piping-consistency royal icing to two separate disposable bags, each fitted with small round tips — one larger and one smaller. We used the PME Supatube in size 1 for the wings and the PME Supatube in size 2.5 for the body.
Tip! Check that the tip you're using is seam-free. Some piping tips have obvious seams that can interrupt the flow of royal icing and result in crooked piping.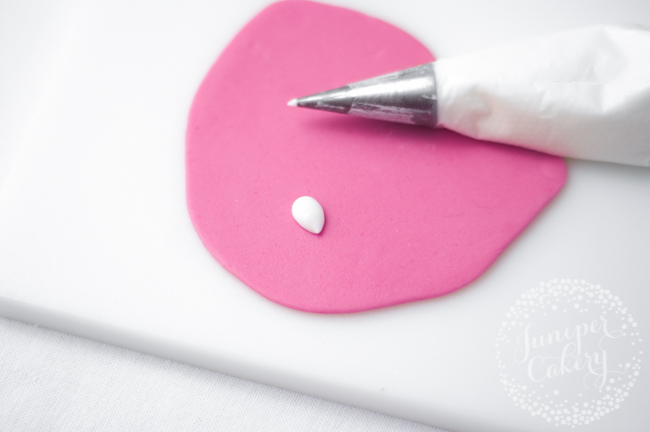 Start by piping the bee's abdomen: Pipe out a nice, fat teardrop-like shape. The thinner, tapered end is going to be the bee's stinger.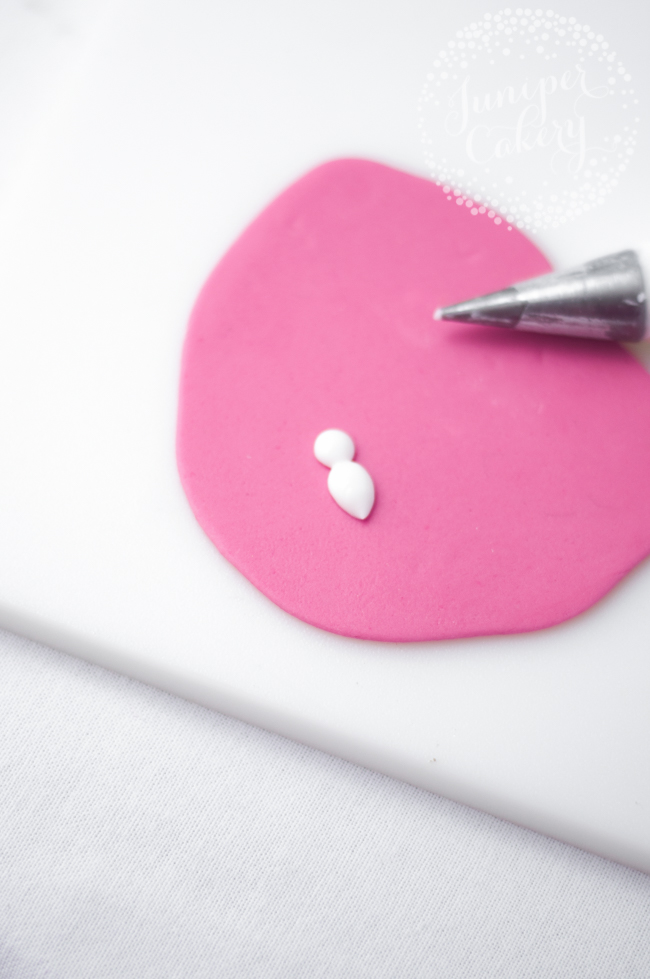 Pipe the bee's thorax (or torso) as a fat circle. It's important to pipe this a little further away from the abdomen so that they don't immediately merge together and create an undefined blob. You can practice your spacing beforehand on a clean surface or parchment paper.
Finally, pipe the bee's head by creating a small, round pearl of royal icing above the thorax.
Step 5: Pipe the bees' wings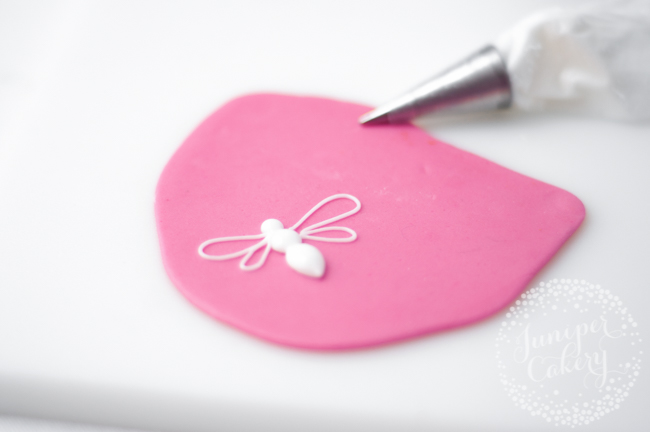 To create your little bee's wings pipe two teardrop shaped "loops" on either side of the body. Then, pipe two more smaller wings underneath.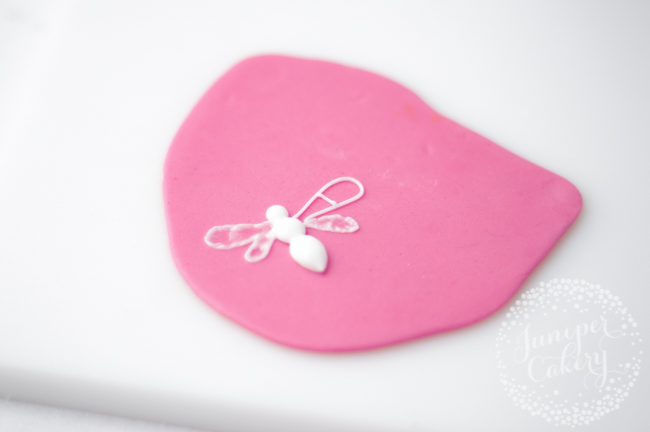 Next, take a small, stiff, food-safe paintbrush and wet it with a little water. Use the brush to drag or "paint" some of the royal icing from the loops in toward the body. This technique is called brush embroidery and it will help create a pretty texture to your bee's wings!
Step 6:
Repeat Steps 5 and 6 to create more  bees around the cake. Then, paint the bees with edible metallic paint to finish it off.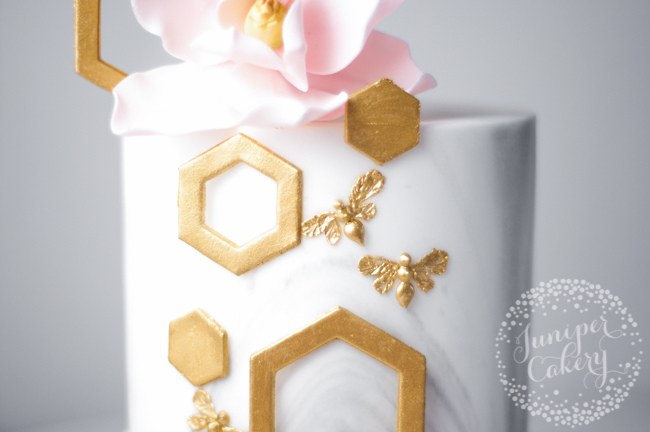 This is a such an easy-to-adapt cake! It's the perfect inspiration for a larger wedding centerpiece. Re-create our tutorial as the top tier to a design, make the middle tier super luxurious with gold leaf and maybe decorate the bottom tier with a subtle white honeycomb tile using fondant pieces.