Typography, hand lettering, text, font — any way you slice it, letters and typography are a huge trend in crafting, and the look translates so well to cake decorating and design.
Today we're spotlighting a range of monogram cakes in different types and styles The monogram look can be done in so many ways — hand-painted gum paste, meticulously piped on the front of a tiered cake, wound upon wire as a cake topper, created with colorful craft paper — so many great ideas, so without further ado: monogram cakes!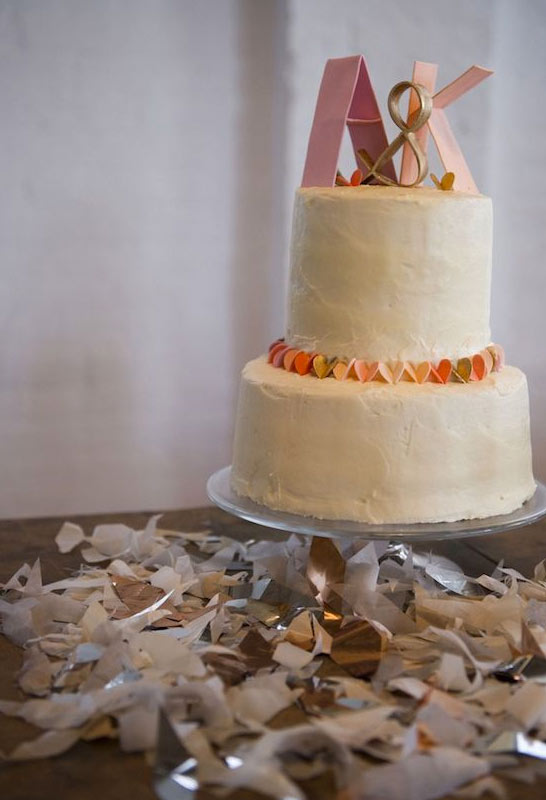 Photo by Bonnie & Lauren; cake topper by Signe Sugar
Handmade gum paste bold letters:
How cool are these peach and pink pastel gum paste letters hand created by Sarah Donato of Signe Sugar? Gum paste is the perfect medium for these thin art-deco-inspired letters, as fondant would simply melt away after a few hours plunked into moist buttercream. I love the matching gum paste hearts that look like craft paper.
Make your own gum paste with this gum paste recipe from Bluprint instructor Nicholas Lodge.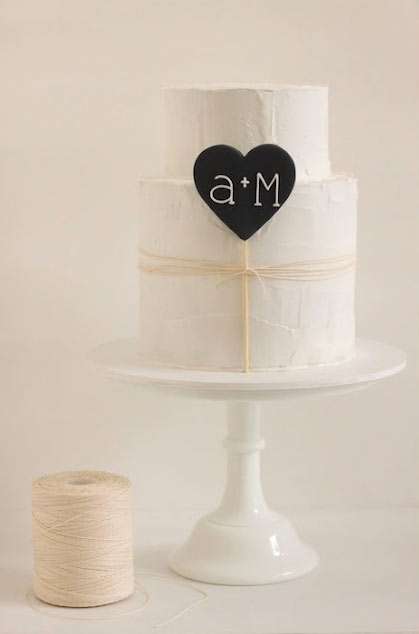 Photo via Hello Naomi
Chalkboard monogram cake:
This black fondant heart with a lowercase piped "A+M" is such a sweet and simple addition to this lovely and rustic iced buttercream cake.
If you think less is more when it comes to cake decorating, you'll love our roundup of pretty and simple wedding cakes. Or if you love the rustic look seen here, check out our favorite rustic chic wedding cakes.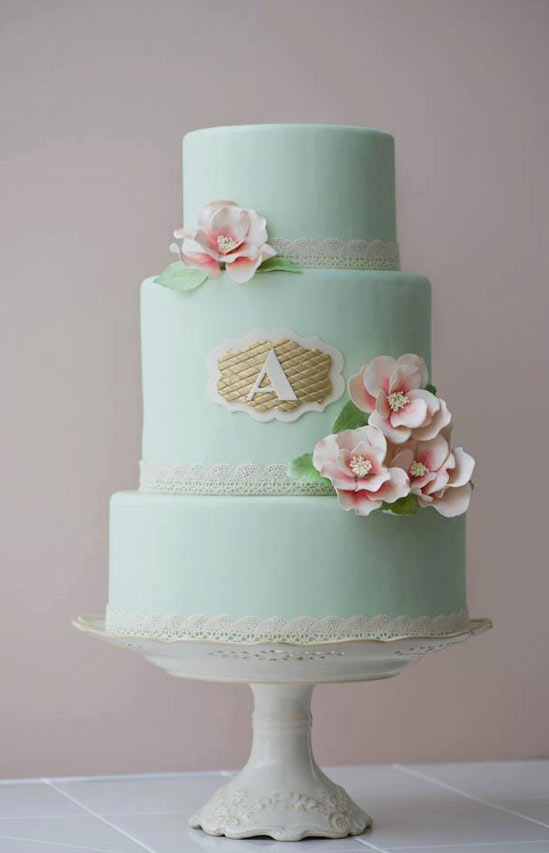 Photo by Brooke Allison; cake by Erica O'Brien Cake Design
Mint green tiered cake with gold monogram:
This beautiful mint green fondant tiered cake has a vintage feminine touch. I love the font chosen for the letter A. It looks great in white against the gold decorative medallion.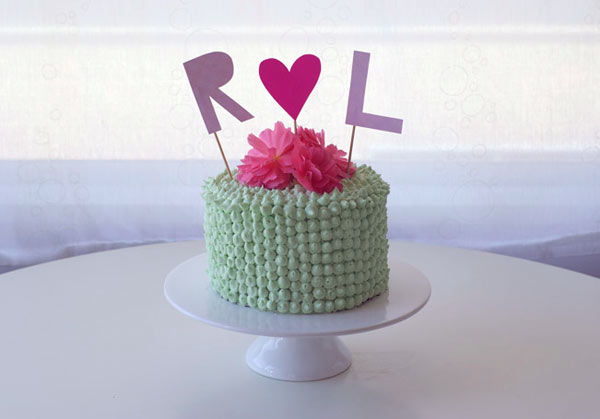 Photo via Coco Cake Land

Craft paper letter monogram toppers:
Simple and sweet! Craft paper hand-cut monogram cake toppers, adhered to wooden BBQ sticks with a tiny bit of tape. Cut out a heart, tape it onto a stick and you've got a very cute and simple wedding cake topper.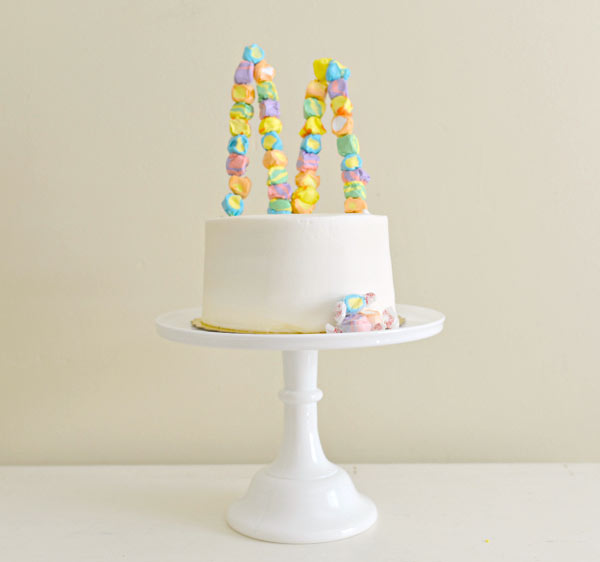 Photo via Best Friends For Frosting
Salt water taffy monogram cake topper:
This idea is so original and fun! Salt water taffy is so colorful and psychedelic looking. I think these cake toppers would be lots of fun for a colorful 1970s-themed disco party!
Learn how to re-create this topper with this tutorial from Best Friends for Frosting.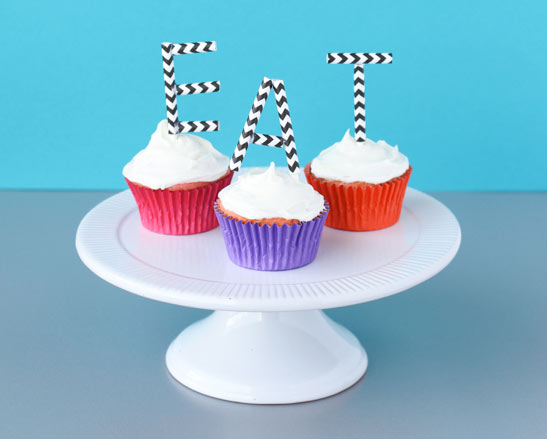 Photo by Brittni Mehlhoff
DIY striped straw monogram cake toppers:
This cute and clever idea would work great on both a cake or cupcakes: simple letters made from cute straws! These are fun for a whimsical DIY wedding. I can imagine these little guys sticking out all over a tiered buttercream cake.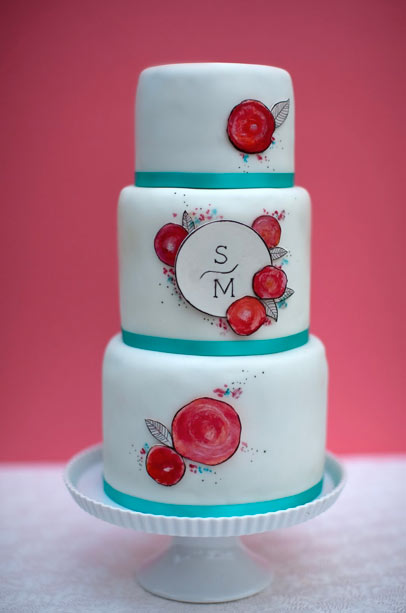 Photo via Erica O'Brien Cake Design
Painted whimsical flower monogram cake:
I love those unique and original hand-painted flowers. They look dabbed in watercolor and the black outlines, and the black and white leaves give the cake an illustrative/sketchbook vibe. The sweet white monogram circle is tucked into the flowers like a drink coaster.
Learn the art of hand painting cakes in the FREE Bluprint mini-class The Hand-Painted Cake with Erin Schaefgen.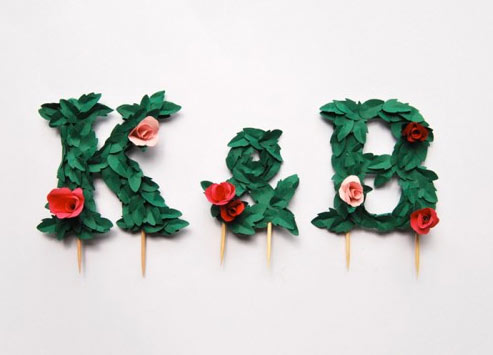 Photo via Design Sponge; cake toppers by Frances & Francis
Paper flower monogram cake toppers:
These gorgeous, lush looking cake toppers are made with craft paper, covered in kelly-green leaves and pink and red roses.
Design Sponge shares a fantastic tutorial on how to make these craft paper cake toppers!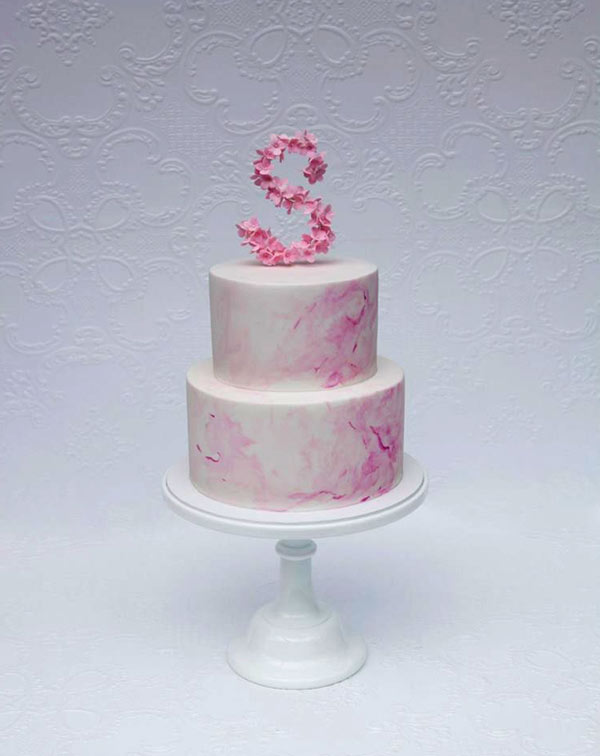 Photo via Sweet Tiers Australia
Sugar flower monogram cake topper:
Sweet Tiers Australia created this gorgeous cake. I love the contrast between the floral textured monogram "S" made from pink sugar blossoms and the watercolor look of the painted fondant.
To brush up on your cake skills or to learn something completely new, check out Bluprint's online cake decorating courses! There are so many to choose from, including great new classes in sugar flowers and fondant textures!
What's your favorite way to use monograms?