I've always thought grey was such a beautiful and classic color, so I love the trend of modern grey cakes. Here's a selection of grey beauties that will have you swooning; from delicate ruffles to a simple and beautiful grey bubble effect, we've got you covered for grey cake inspiration!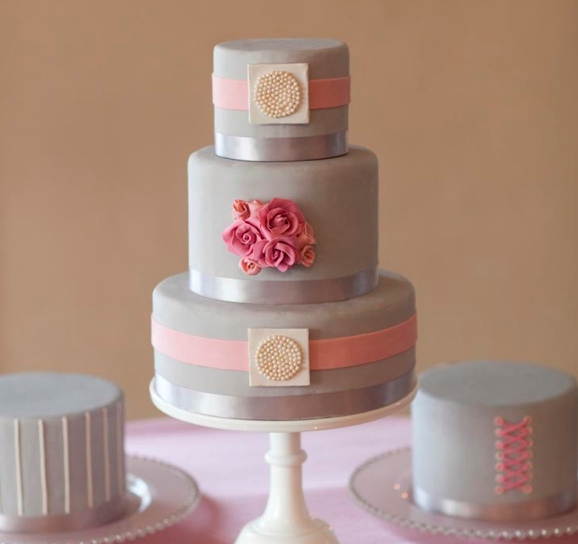 Photo via Erica O'Brien Cakes
Dove Grey and Dusky Pink Cake: This is such a beautiful trio of dove grey hued cakes. The center cake a unique three tiered number with dusky pink accents, including that ruffly bundle of fondant roses which draws your eyes in. I love the circular pearlettes, too: like a stylish belt around a classic dress.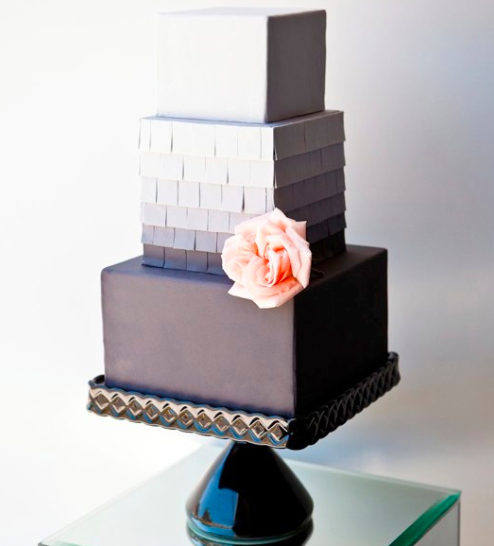 Photo via Brian Leahy
Cake by Kimberly at The Butter End
Art Deco Grey Ombré Cake: Three tiers of grey, from dark to light, with that flapper dress style shingled fondant on the middle tier: this cake has class! The restraint used with the shingle fondant effect is impressive, as I'm sure it was tempting to want to do it to the whole cake! The pale peach sugar rose adds a feminine touch to this cake too, with that dazzling cake stand and bright mirrored table giving this whole cake a 1980's excess era feel.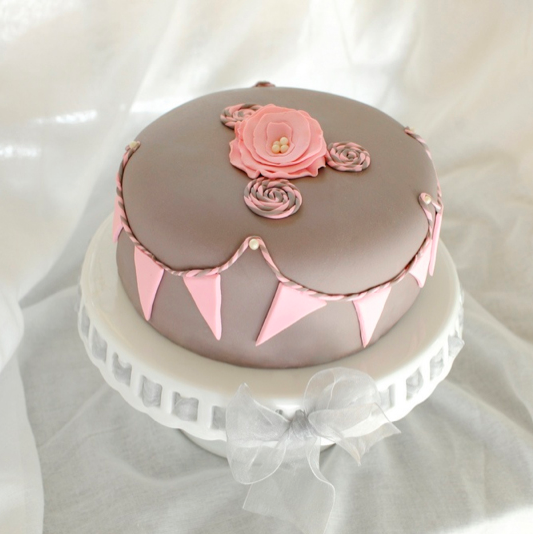 Photo via Sweet Kiera
Fondant Flag Bunting and Baker's Twine Grey Cake: This cake is both feminine and fun, in an unexpected color combo: grey and pink! Goes to show that a grey cake can have a sense of play, too. Sweet Kiera did a splendid job in creating the look of baker's twine with two colors of fondant twisted together- so cute and clever! The bunting flag is a nice touch too, referencing the current DIY craft trend that's sweeping the world. To top it off, she created a simple pink fondant flower with a rustic feel. Perfection.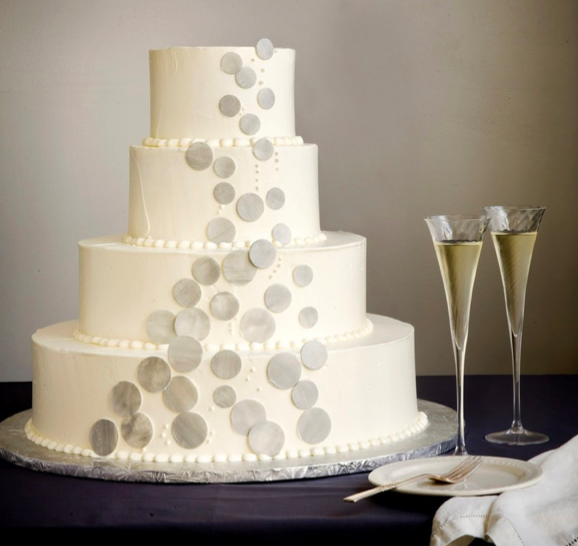 Photo via A Simple Cake
Tiny Bubbles Wedding Cake: A beautiful buttercream iced tiered cake, with the addition of marble and silver hued grey fondant circles in varying sizes, gives this cake a bubbly and modern look. Cheers to awesome cakes! I love how A Simple Cake added little icing piped swiss dot details amongst the circles to really top off the champagne bubble feel.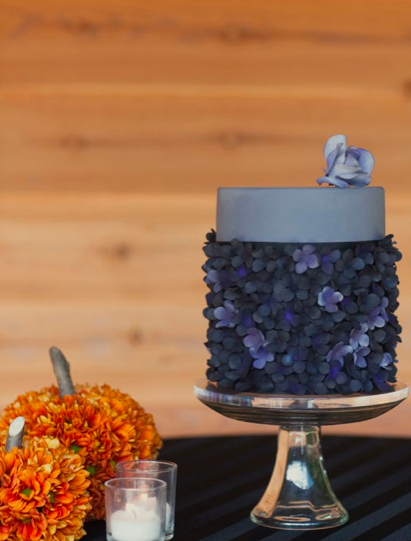 Photo via AK Cake Design
Couture Grey Wedding Cake: This incredible cake looks like a gorgeous couture dress that would cost you an arm and a leg, don't you think? As though you could slip the cake over your head and whisk off to any chic party in town. I love the gorgeous use of sugar flower blossoms in muted grey, blue and purple tones and the simple grey fondant covered top tier.
Are you in love with grey cakes yet? I really hope so! Check out Craftsy's awesome online cake classes and give a go at making your own beautifully hued cakes. I think Maggie Austin's class Fondant Frills would be such a great one to take, to create an incredible ombré grey ruffle cake!