Exquisitely arranged seed beads. Rows of elegant strung pearls. Deco-inspired beaded embroidery. While these beaded touches are most famously employed on wedding dresses, they can also be used in cake decorating to make beautiful beaded wedding cakes.
From seed beads rendered in sugar to edible pearls, beaded elements can be used to create one of a kind, stunning wedding cakes.
Prepare to be dazzled with these beautiful examples of beaded wedding cakes.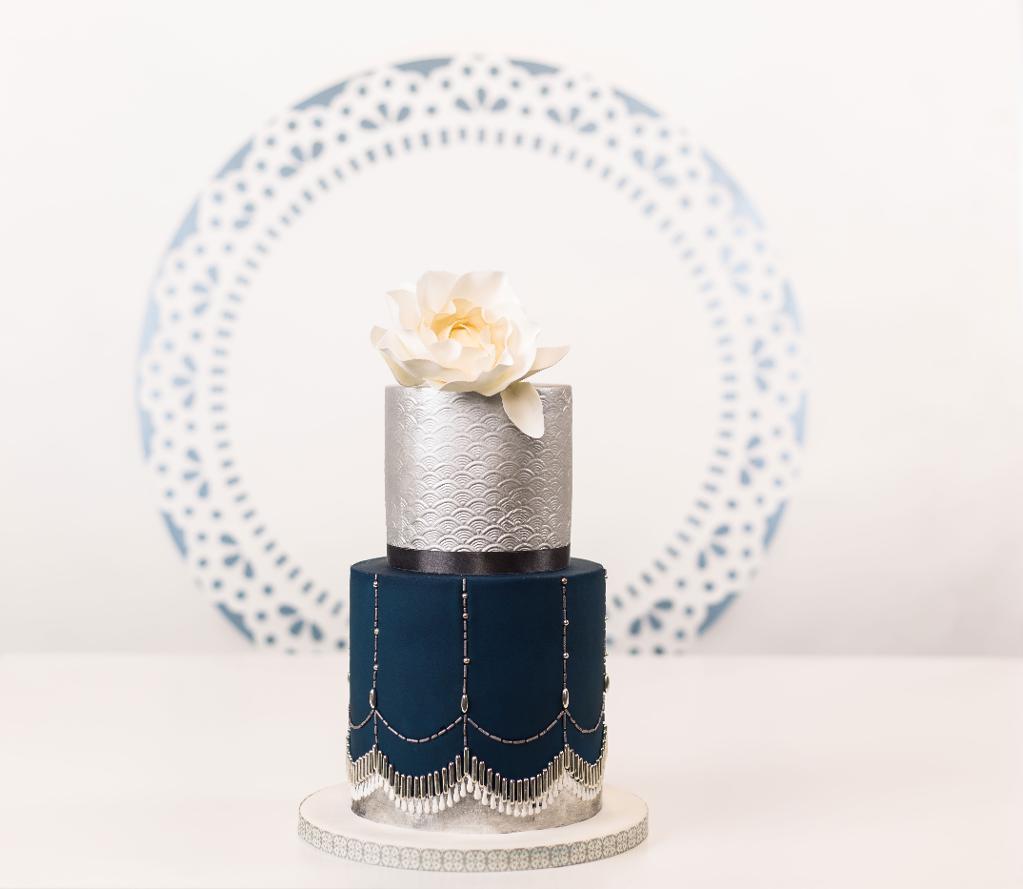 Vintage beaded cake via Craftsy instructor Faye Cahill
Beaded vintage-style wedding cake
Pictured at the top, this cake features a shimmery embossed top tier, beautifully complemented by a bottom tier with delicate beadwork which shines against the solid navy blue backdrop.
The precision of the beading is achieved thanks to a template used to mark out the intricate beading pattern; a full tutorial is featured in Bluprint course Layered Embellishments: 12 Stunning Techniques.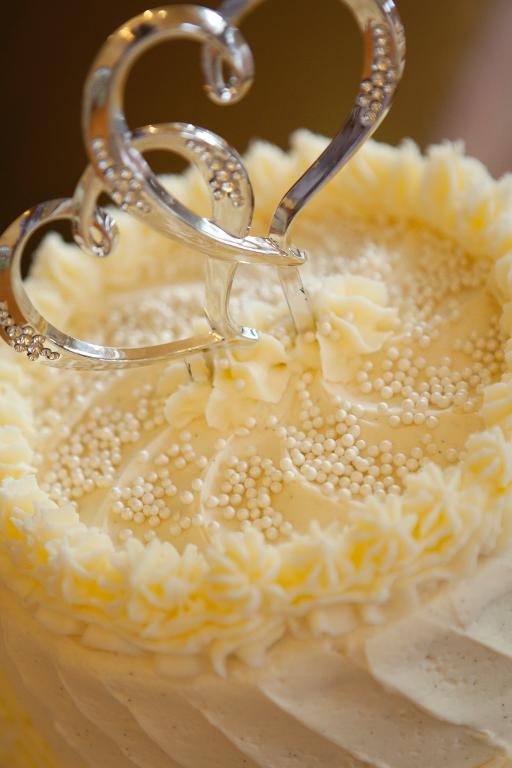 Wedding cake with beads via Craftsy member lalilliana
Beaded cake top
Beads are cleverly employed as a garnish on this cake. Iced in buttercream, the cake achieves a textural effect thanks to icing in lines using a flat spatula. While that effect alone might have a homespun, birthday cake sort of feel, the effect is offset by precise piping all around the top edge with a star tip, and within that piped border, a lavish sprinkling of pearly beads. The effect is somewhat confetti-like, but the elegant topper and piped border keep it wedding-appropriate.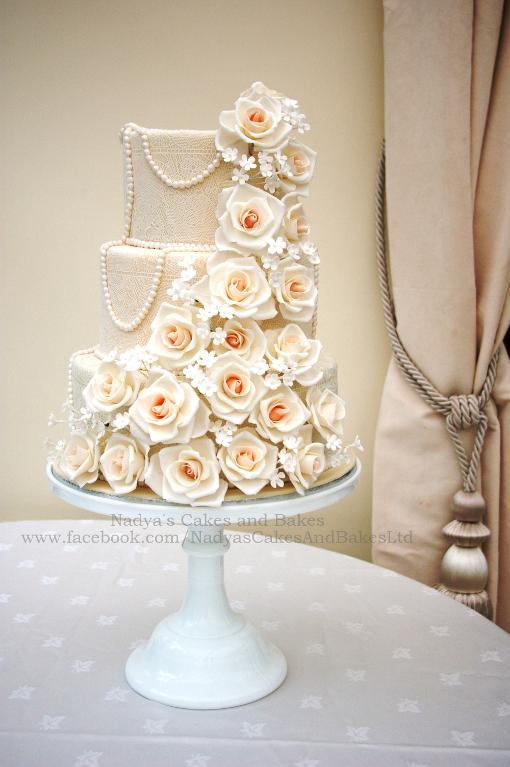 Romantic roses and pearls cake via Craftsy member nadyatk
Romantic roses and pearls
Those pearly beads may look like elegant jewelry, but they're completely edible. The beads were made using molds, and are arranged to look like strings of pearls across the side of this asymmetric cake, which features an elegant cascade of sugar roses and filler flowers which graduate down each of the three tiers.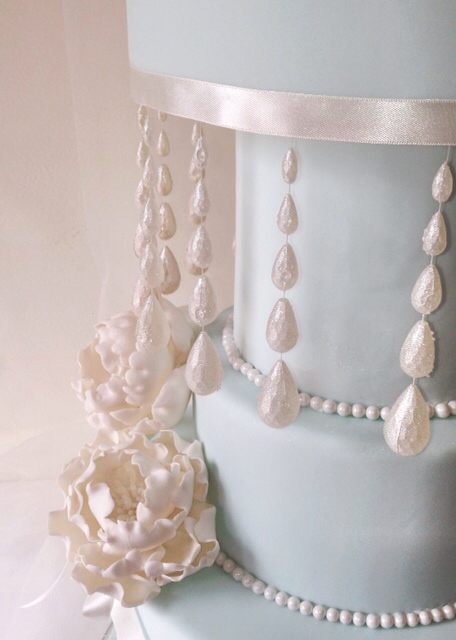 Chandelier cake via Craftsy member Sandra Frearson
Chandelier effect beaded wedding cake
Tiers and tears that's the idea on this beautiful wedding cake, which is made with isomalt, gum paste, luster dust, bead thread, and sugar sand. A creative cake separator separates tiers, and is punctuated with teardrop-shaped beads, which are hung at regular intervals along the edge of one of the tiers for a gravity-defying effect.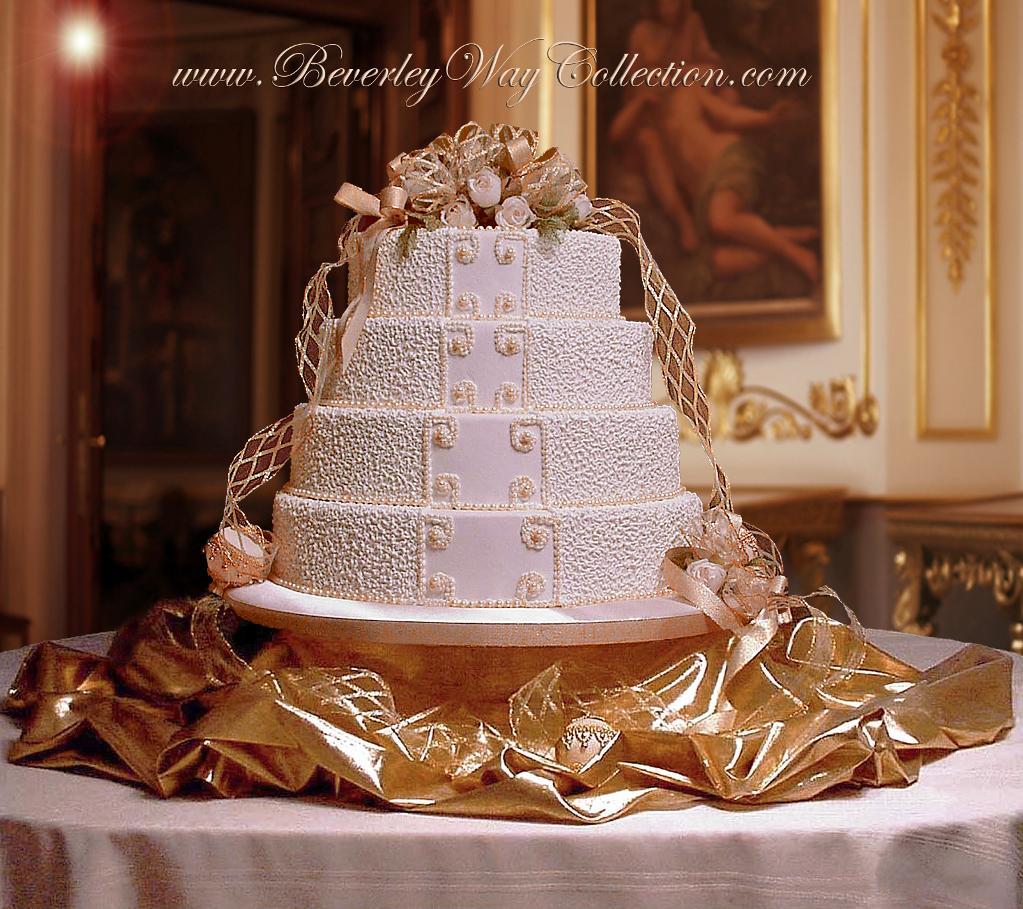 Beaded scroll cake via Craftsy member beverleyway
Embroidered beaded wedding cake
This cake may seem impossibly complicated, but once broken down, the method is actually quite accessible. A template was employed to mark the scroll pattern on each tier of the cake, which becomes larger with the size of each cake tier. The pattern was then hand piped on to each cake layer to create a scroll, and punctuated with string beads to accentuate the effect.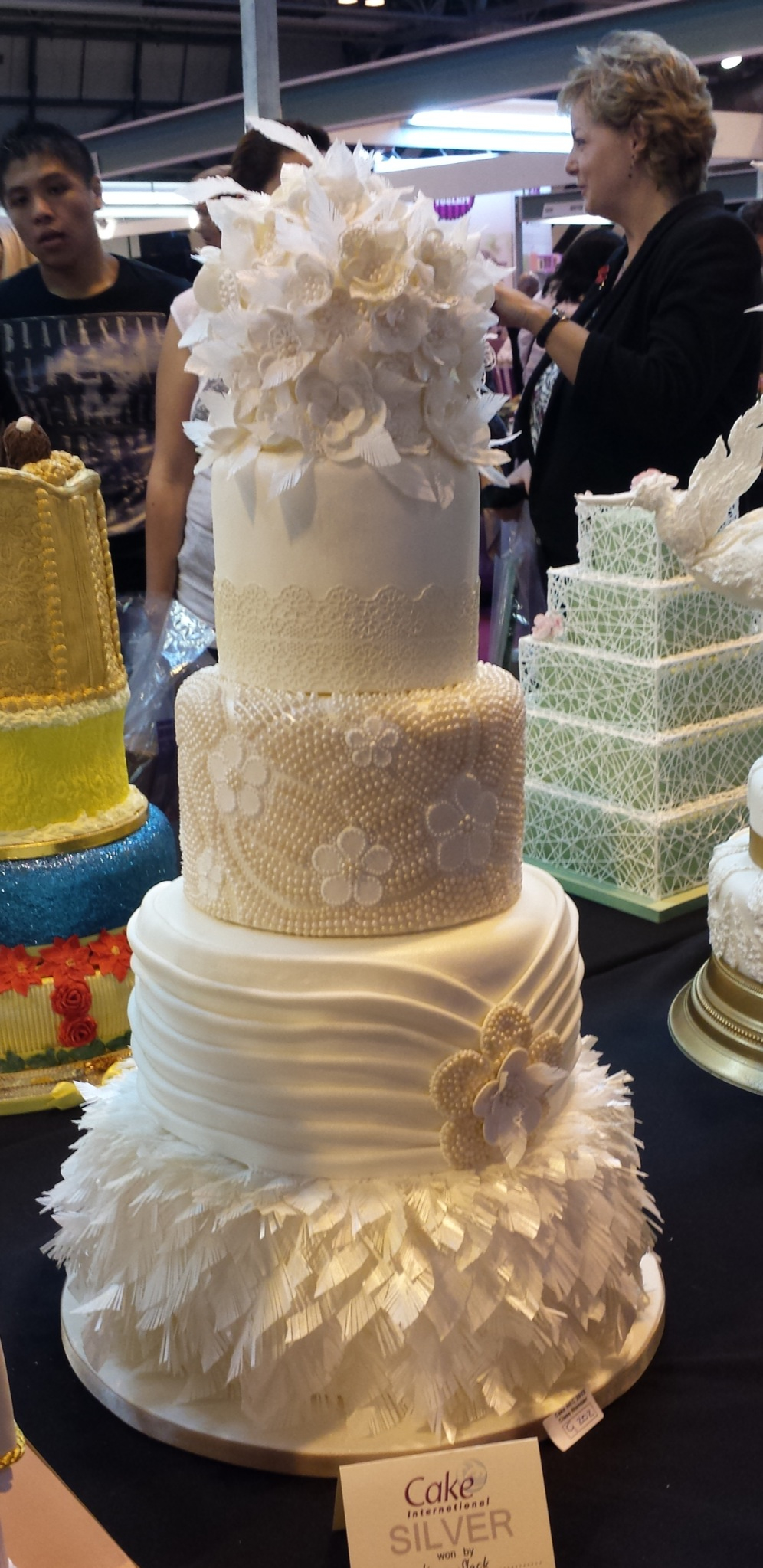 Beaded tier cake via Craftsy member sparklesbakery
Beads and feathers
Beads and feathers come together in delicious matrimony on this showy five tier wedding cake. The "feathers" are actually made from rice paper, and are beautifully offset by the addition of edible pearls, which are featured throughout the design but most prominently on the middle tier, in which an intricate design is rendered in a mosaic-like effect.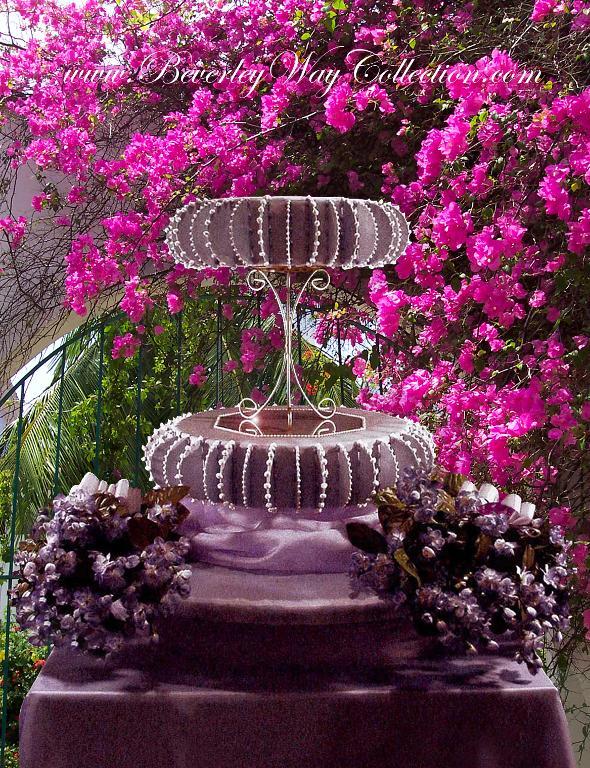 Lavender luster cake via Craftsy member beverleyway
This cake already features a unique design, but beads keep the design from becoming too avant-garde. Decorated in two lavender tones, this cake features two tiers of half pastillage extensions. The edges of the extensions are accented with "beads" formed from piped royal icing, which gives the cake a sparkling, crown-like effect.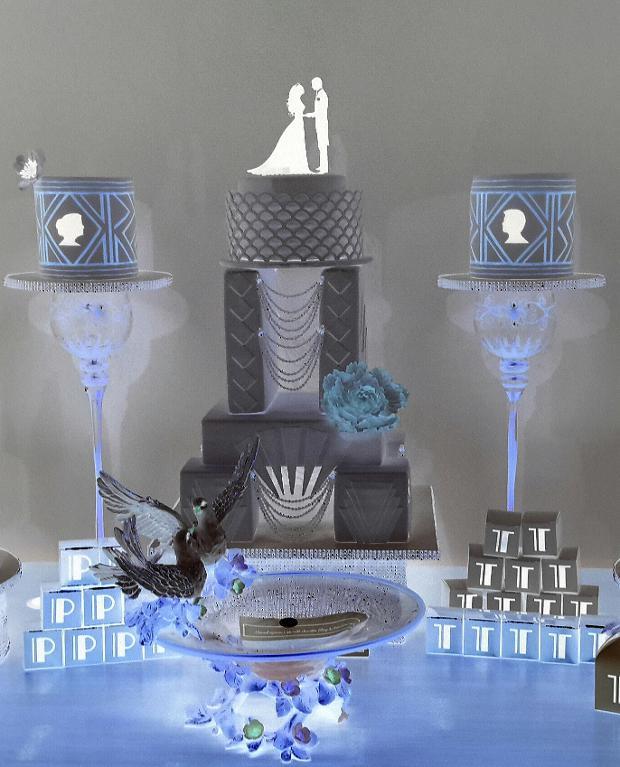 Gatsby wedding cake via Craftsy member fallen476
Deco is the theme of the decorating on this Gatsby-inspired wedding cake. Beads are strung in graduated swags in the negative space between layers for an architectural and gravity-defying effect, using the methods taught in Craftsy course Building Better Cakes: Creative Cake Separators. While the bottom and third tiers are dummies, the second and top tiers are chocolate cake covered and filled with chocolate ganache. The beads are glass crystals in between the two bases and and on the third tier. A gumpaste peony flower is the crowing glory, and fondant detailing forms the deco details used throughout the design.
Looking for more dazzling effects with beads and beyond? Check out Craftsy course Layered Embellishments: 12 Stunning Techniques. Along with renowned cake decorator Faye Cahill, you'll learn all manner of creative techniques for creating unique, layered embellishments, from color washes, piped teardrops and breathtaking beaded effects for a luxurious look.  Easily create the sophisticated cakes clients are searching for with this informative and transformative course.
What is your favorite beaded wedding cake style?