With the official start of summer just a couple weeks away, we're sure there'll be lovely beach weddings a-plenty! This makes for the perfect opportunity to create gorgeous, beach-themed wedding cakes! We love the idea of gorgeous tiers covered with sugar pearls, glistening fondant shells and soft wave-like ruffles amidst a fresh color palette.
Here's our run down of stunning beach-themed wedding cakes!
Photo via occassionallyhomemade
Beach and waves cake
What we really love about this beach-themed wedding cake is the vibrant buttercream waves on the second tier! The selective use of color on this three-tiered creation adds such a fun and exciting feel to the entire cake. The crisp bright seashells would be perfect in white chocolate, we think, especially with a delicious white chocolate ganache!
Inspired to work with buttercream more? Why not try Beth Somer's class The Wilton Method: Buttercream Skills for some fantastic ideas and techniques!
Photo via Craftsy instructor Paul Bradford
Undersea adventure cake
This white chocolate wrap cake illustrates a beautiful and tranquil underwater world wonderfully. It's amazing how the chocolate is utilized to help replicate aspects of sea plants! The addition of bright tropical fish helps add great pops of color throughout the design too.
Sign up for Paul Bradford's class White Chocolate Wrap: Undersea Adventure to create your own oceanic masterpiece!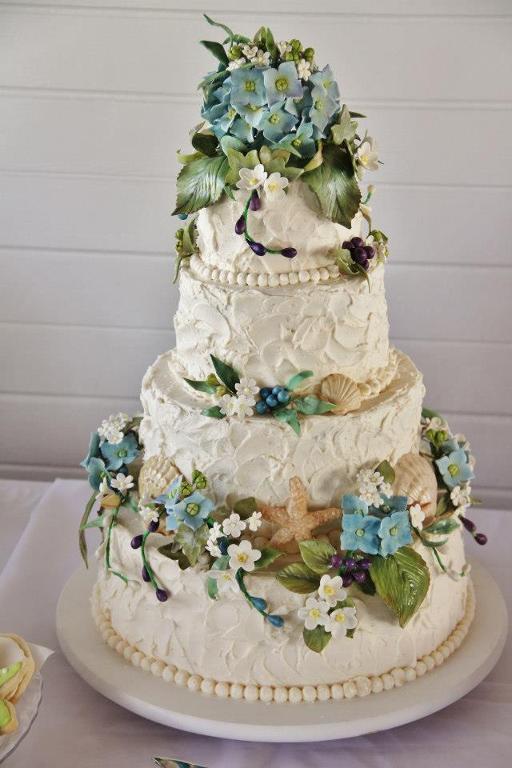 Photo via Debi Johnston
Beach wedding cake with floral sprays
The addition of florals to this rustic buttercreamed wedding cake adds a fantastic sense of nature as well as a whole new level of elegance. We adore the blue and green florals that decorate each tier and think the sweet shells nestled into the blossoms and leaves are a fantastic touch indeed!
Create stunning sugar blooms with Jacqueline Butler's class Handcrafted Sugar Flowers!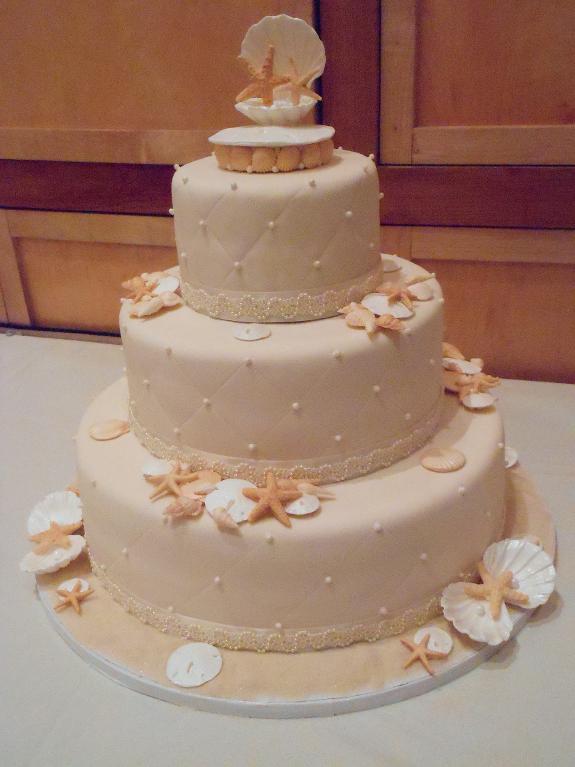 Photo via Cratsy member C-MAC
Seashell wedding cake
The pretty seashells, starfish and sand on this cake help turn a lovely pearl studded cake from a traditional looking centerpiece into a playful design. We love the soft peach and off-white color palette of this cake, which helps keep the focus on the wonderful shell and sea life details.
Love the sweet quilted look of the above cake and want some great ideas for decorating with fondant? Learn fun fondant techniques with Marina Sousa's class Advanced Fondant Techniques!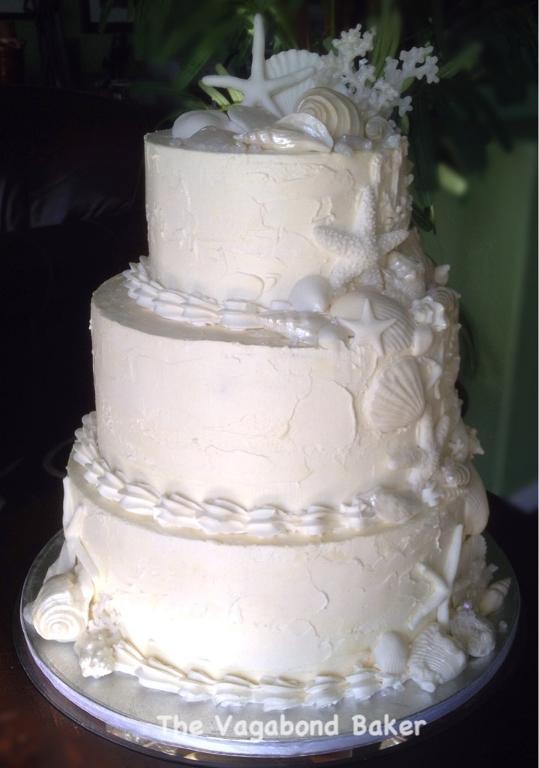 Photo via Vagabond Baker
White seashell wedding cake
The bright whites of this lovely cake paired with the buttercream piping help make this tiered creation combination of a traditional and modern wedding cake look. We think the sweet edible sea shells add a great amount of texture and fun to this cake without being heavy!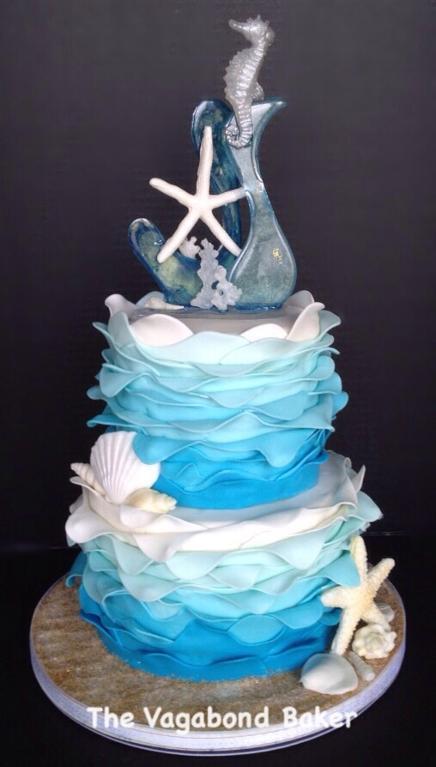 Photo via Vagabond Baker
Blue seashell cake
We love how the Vagabond Baker has adapted fondant ruffles to create fondant "waves" encircling all two tiers of this cake! This adds texture, interest and helps bring fluid (no pun intended) color to the design!
Try Maggie Austin's class Fondant Frills to discover how to create gorgeous ruffles!
With so many gorgeous beach themed wedding cakes we, of course, found it hard to stop adding to our list! Instead, we hope we've left you all with just enough to get you inspired to create your own nautical-style cake!
Will you be adding a carefree beach-theme to any of your cakes this summer?