Batik is a method of dyeing fabric. A removable wax is used to cover specific parts of the fabric before dying, making it so that the dye does not reach those parts. This wax is applied in a design or pattern, and then the fabric is dipped in dye or painted. Once the dye has dried, the wax is pulled up or boiled off. This exposes the previous color and design. Some dye does seep underneath the wax. This leaves a cracked, marbling effect, which is one of the aspects batiks are known for. To create multi-colored designs, the fabric is layered with wax and dyed numerous times. Batiks are mostly made of cotton fabrics, but both natural and synthetic fibers can be used in this technique.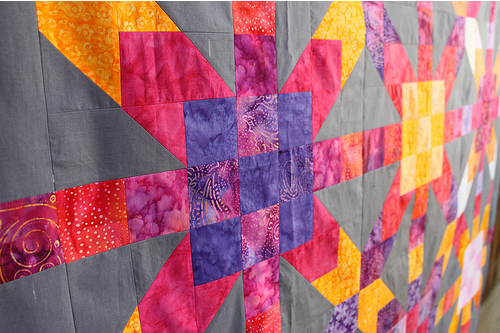 Photo via Live a Colorful Life
Batiks have been around for centuries. Originating in Indonesia, the earliest versions of wax resistant dying are dated back to somewhere between the 4th and 6th centuries. More detailed finding and documentations date back to the 12th century. The application of wax has changed drastically over the years. It began with hand application through different fabrics and applicators, and now machines are used to apply wax and dye fabrics in traditional batik patterns.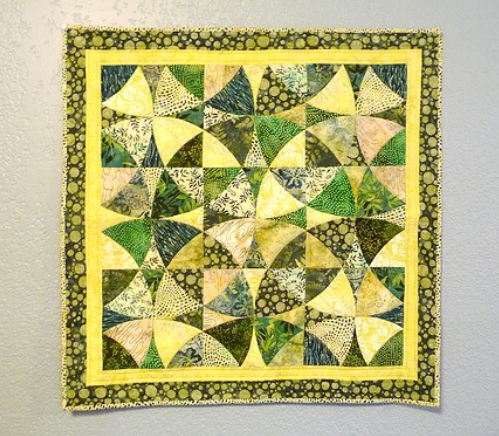 Photo via Spotted Stone Studio
Despite the newer technology, many crafters still like to batik by hand to create their own one-of-a-kind fabrics. This is done using fabric, wax, and dye. The wax needs to be a mix of beeswax and paraffin wax, which creates the crackle. It is applied with a paintbrush or tjanting tool, which is a special piece that works like a pen that is filled with wax!
Here is a basic overview of how batiking or wax resist dyeing works:
– Prepare fabric by washing and drying. Iron if desired. Lay fabric over wax paper to prevent the wax from getting on your work place.
– Draw on the fabric with wax. This can be a design that has already been drawn on the fabric, or you can freehand. The parts of the fabric that you cover with wax will remain the original color.
– Once the wax is dry, crinkle fabric if you want more cracking in your design.
– Mix up the cold water dye and apply to fabric according to directions.
– After the allotted time is over, wash out excess dye with cold water. Repeat steps if you want a more layered, multi colored fabric.
– Remove the wax. It can be ironed off, but many prefer to boil the fabric with liquid dish soap to remove the wax. This will cause the wax to leave the fabric and rise to the top of the water.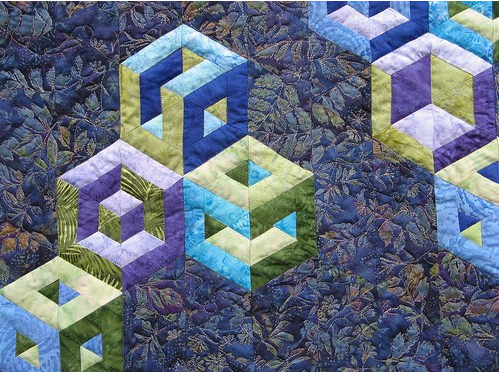 Photo via Cut to Pieces
Ready to explore batiks further? Bluprint has the perfect class for you! Renowned author, quilter, and designer Malka Dubrawsky teaches a class called Fabric Patterning with Wax Resist. Here Malka demonstrates the ancient art of batik and teaches her students how to create unique fabrics on their own.
Do you love batiks? Are you interested in dying your own fabrics?
In case you missed it catch these unique quilts and scrap quilts. And come back to the Bluprint blog tomorrow for a great roundup of fun quilts!