The beautiful look of batik quilting fabric is made through a method of fabric dyeing that uses a wax resist. Hot wax is applied to fabric in a specific pattern, and it masks the lighter color fabric while it is dipped into a darker color of dye. These areas of fabric are protected from the dye, so they will remain the color of the fabric (white or a lighter color).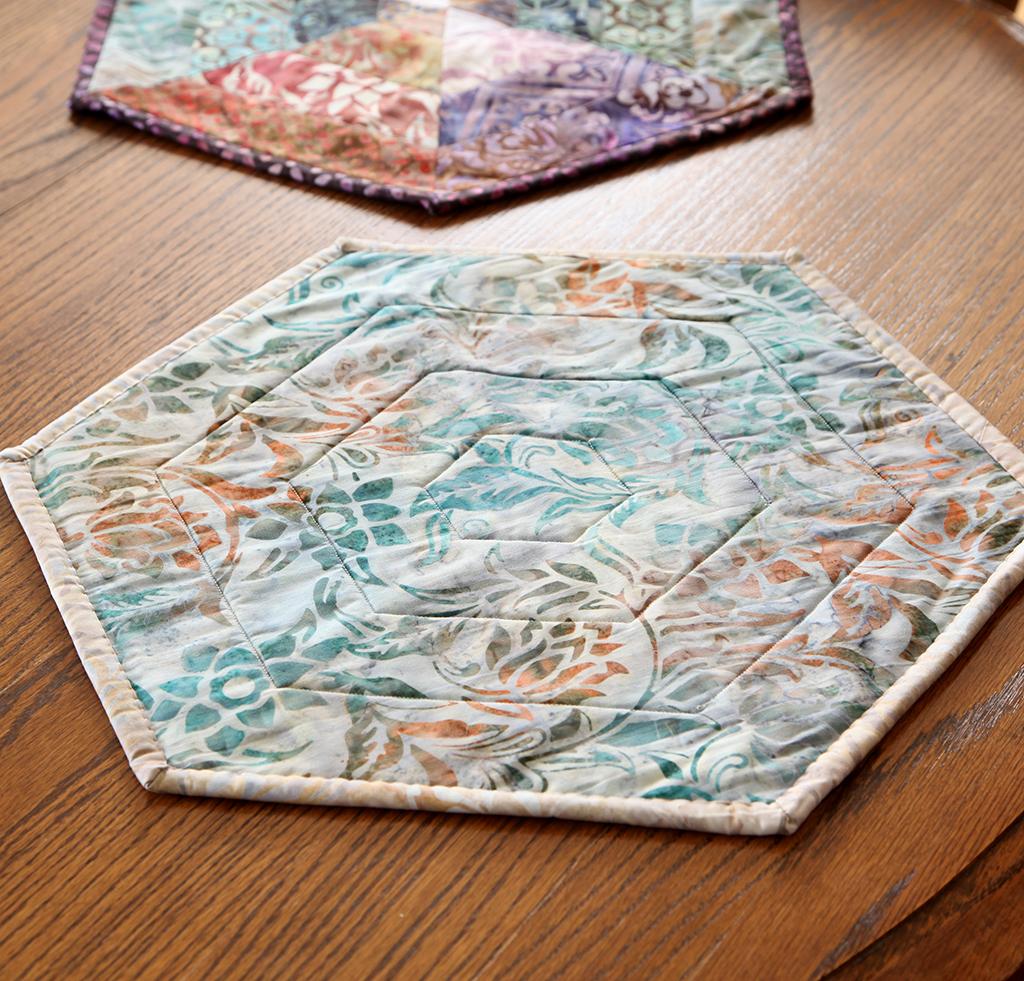 After the first designs are applied with wax resist, you can do another round of wax and dyeing in a darker color to create multicolored fabric. The Double Diamond Reversible Table Runner & Mats Quilt Kit includes some cream, turquoise and orange multicolored batiks. Batik quilting fabric can be either block printed (pictured above) or hand-drawn (pictured below).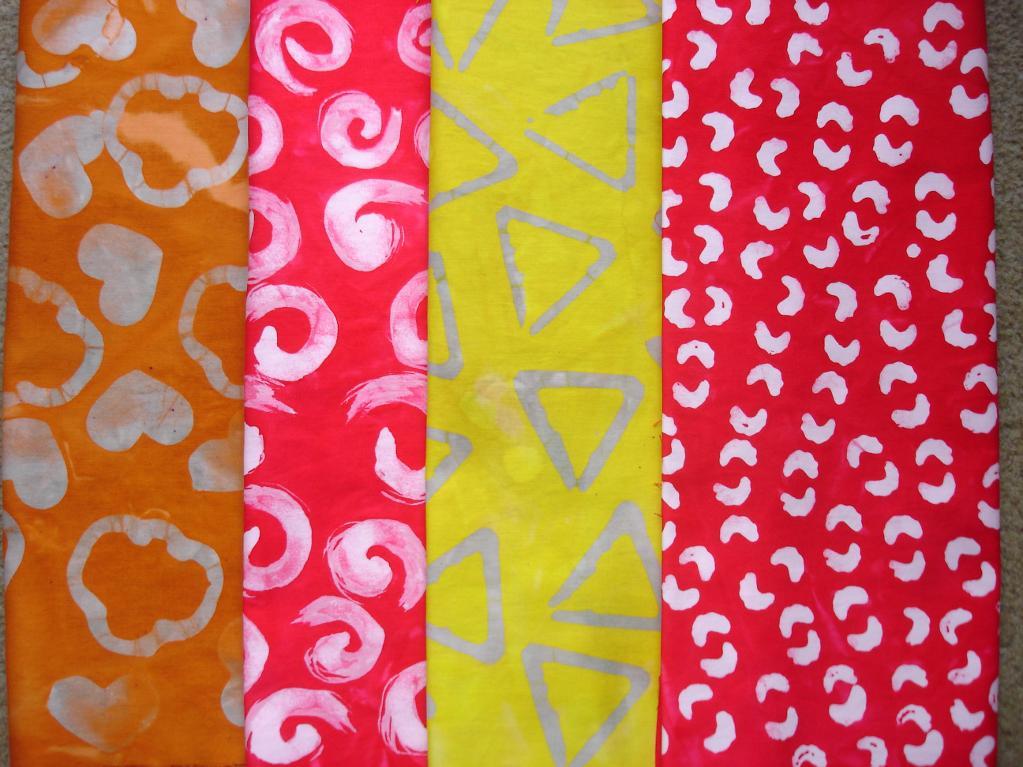 Photo via Craftsy member Annick Cottom
Hand-drawn Batiks
It's possible to make DIY batik quilting fabrics, such as these wax resist designs pictured above. Hot wax can be applied to fabric with the use of stamps, or you can use cold wax sticks and even certain types of glue (such as Elmer's school glue) to create a resist. You get a neat marbled look when some dye seeps underneath the wax.
Read more about different ways to try out methods of fabric patterning with wax resist at home or enroll in Craftsy's online Fabric Patterning with Wax Resist class.
Floral and Near-Solid Batiks
If you prefer to collect and use quilting fabric that's been professionally dyed for you, there are a wide variety of options. Many patterns on batik quilting fabrics are floral or organic patterns like leaves and swirls. For example, the Benartex Bali Batik Bundle pictured above includes three prints with images of flowers or leaves and two batiks that read more like solids with a light marbled look.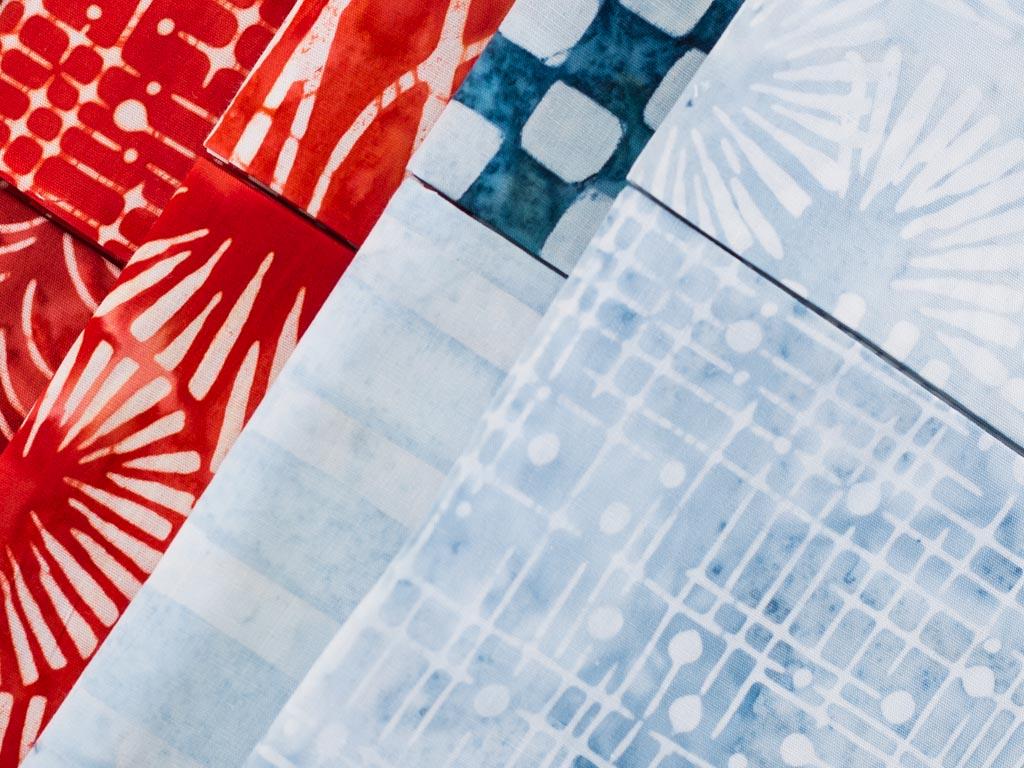 Geometric Batiks
Batik yardage and pre-cuts are available in a wide variety of patterns and colors from popular manufacturers. Some batiks are painted with more geometric designs, such as squares and straight lines, before they are dip dyed. Mixed with organic forms, these geometric prints look right at home with flowers and leaves. The Robert Kaufman Color Source Fat Quarter Bundle is a great example of how to mix batiks, from an assortment of coordinating prints to light and dark colors.

Batik Quilt Kits
If you don't have a large collection of batik quilting fabrics, you can take advantage of pre-cuts and batik quilt kits, which include everything you need to make a project. This way, the mixing and matching of batik fabrics is done for you, and you can make a great finished quilt without the guesswork! The Checker Board Mosaic Quilt Kit comes in two beautiful colorways, incorporating pre-cut strips that sew together quickly and easily.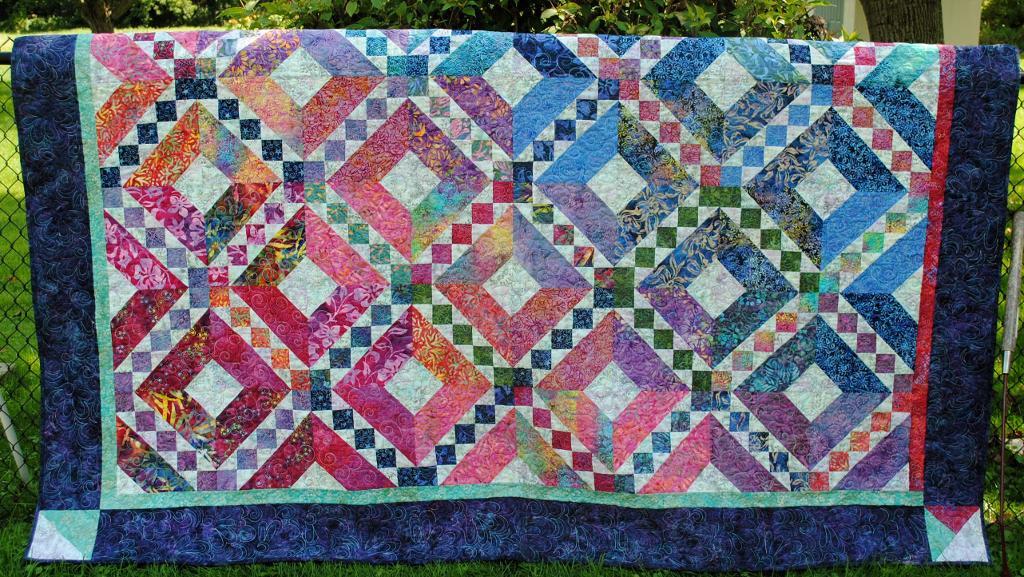 Photo via Craftsy member christineFRD
Using Batiks in Projects
Batik quilting cottons are versatile enough to be used in a variety of quilting projects, much in the same way that you would use solids or monochromatic prints. Because of the rich color variations in each fabric, they allow the quilter to show depth and movement in a quilt. Imagine if the Batik Beauty quilt (above) were pieced in solids rather than batiks. While solids are flat in appearance, the batiks provide a richness and luxurious color palette that makes the quilt so special. While they look like prints up close, batiks often read as solids from a distance.