Wishing for an easy cookie recipe to wow your friends at the next cookie swap? Then consider this basketweave sugar cookie recipe your personal holiday miracle.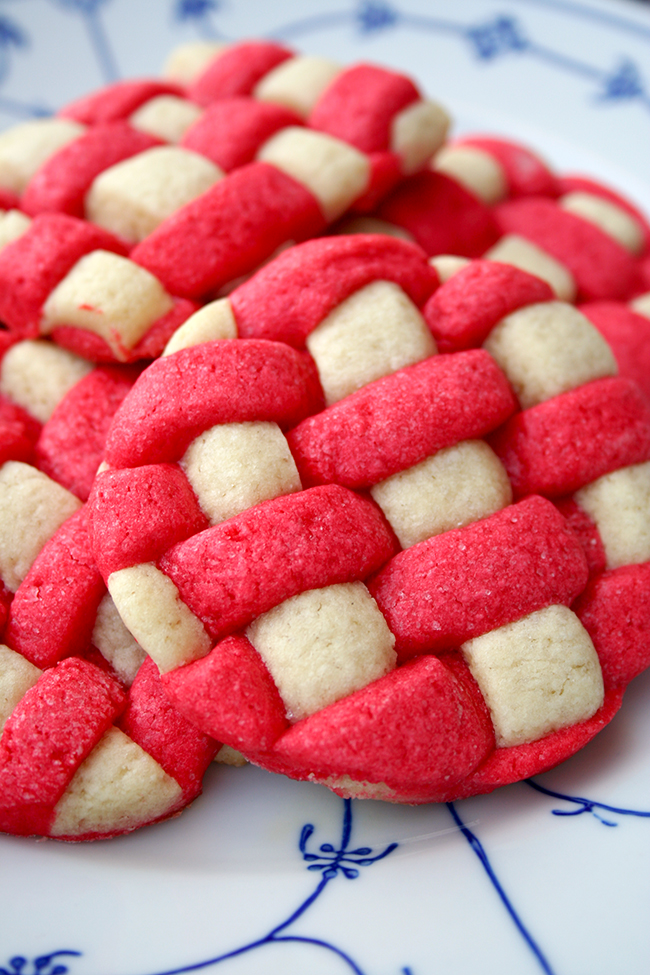 Photos via CakeSpy
While these cookies look incredibly complex, they're actually quite easy to make.
If you've ever made a lattice-crust pie, then you already have the skills necessary to make these pretty-as-a-picture basket weave sugar cookies!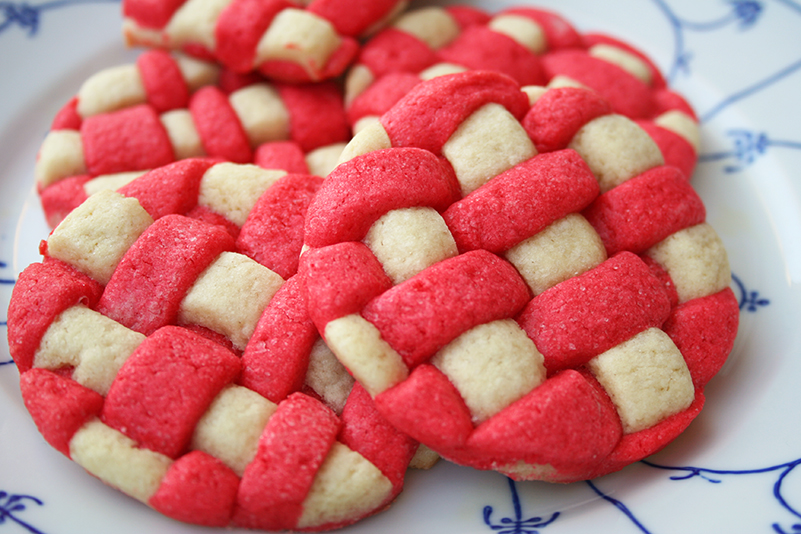 Baskeweave sugar cookies
Makes about 18 large cookies 
2½ cups all-purpose flour 
½ teaspoon salt 
¾ cup (1½ sticks) unsalted butter, softened 
1 cup granulated sugar 
2 eggs 
1 teaspoon vanilla extract 
Step 1: 
In a large bowl, sift together flour and salt. Set aside.
Step 2: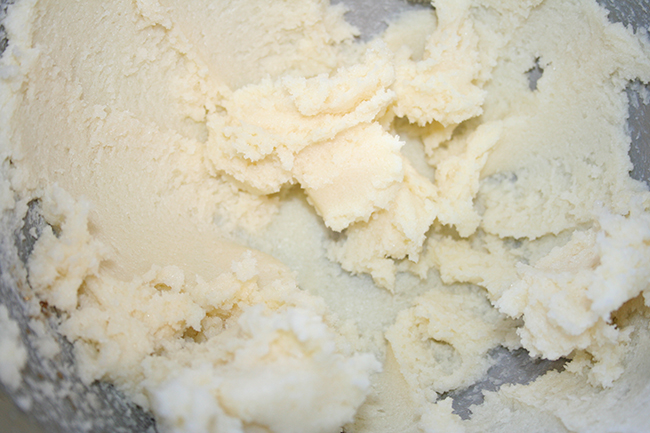 In the bowl of a stand mixer fitted with the paddle attachment, cream butter and sugar until fluffy, 2-3 minutes on medium-high speed.
Step 3: 
Add the eggs, one at a time, mixing after each addition. Stir in the vanilla extract. Use a rubber spatula to scrape the sides of the bowl as needed.
Step 4: 
Add the flour mixture. Mix on low speed until the dough comes together and looks cohesive. Don't overmix; otherwise, your cookies will be tough in texture. 
Step 5: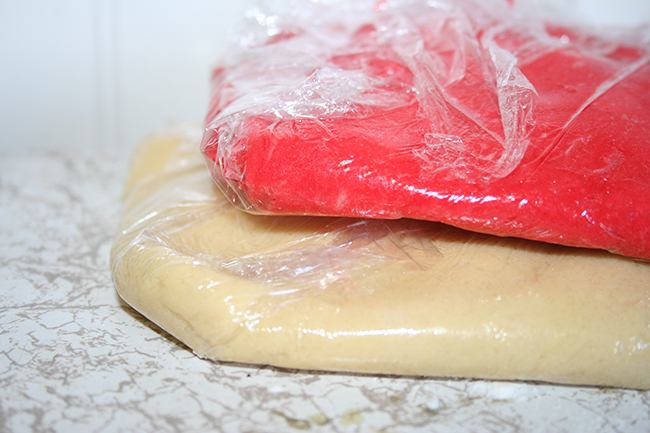 Divide the dough into two equal parts. Leave half plain (cream-colored) and tint the other half with red food coloring. Pat each dough portion into a disc; wrap tightly with plastic wrap, and chill in the refrigerator for at least 2 hours, or overnight. 
Step 6: 
Near the end of your chilling period, preheat the oven to 400 F. Line baking sheets with silicone mats or parchment paper. 
Step 7: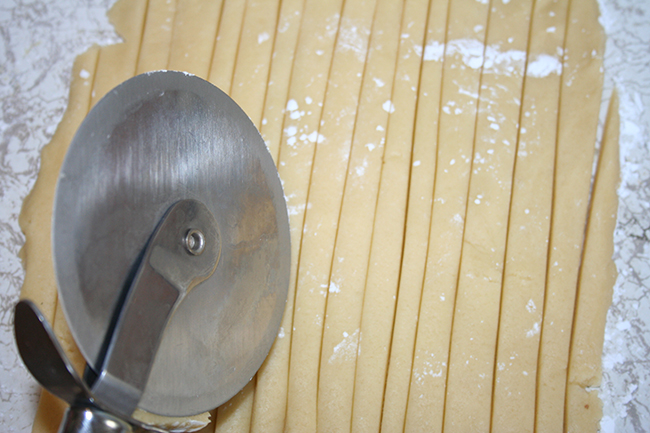 Roll out both portions of dough into squares approximately ¼" thick, on a powder sugar–dusted surface (if the top of the dough looks streaked with sugar, don't worry; it will be absorbed).
Each of the portions shown above measured roughly 9″ x 9″. Cut the dough into strips about ½" thick (I used a pizza cutter to hasten this process). 
Step 8: 
You'll use the lattice-top crust technique here: choose one of the dough colors, and lay strips of dough on the table all facing one direction. Fold down every alternate strip over itself, being careful not to form a crease.
Lay a horizontal strip in the empty space, so it is covering every other vertical strip. Flip back the folded down alternate strips, so that they cover the horizontal strips you just laid down.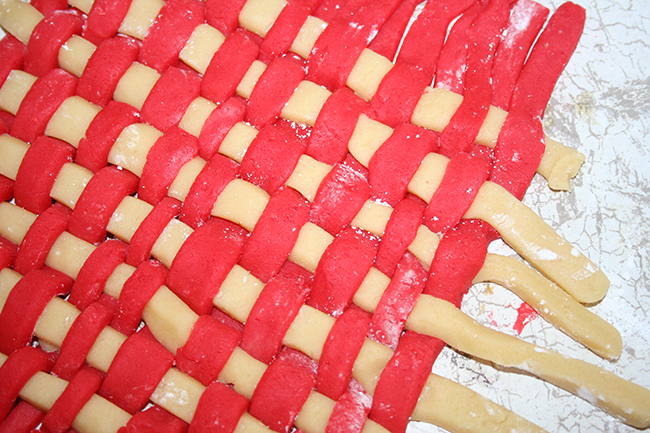 Fold back all of the strips that you didn't last time. Repeat until you have used all of the strips, working in both directions. Gently press down the dough with a rolling pin to make sure that the dough strips "stick."
Note: For a more detailed description of this process with step by step photos, visit our post on how to make a lattice-crust pie. 
Step 9: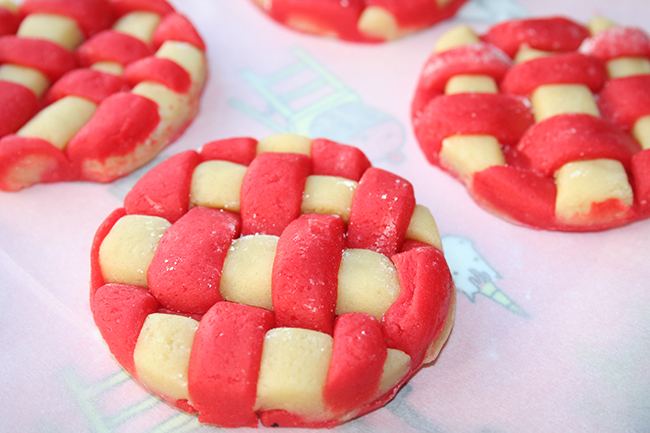 Cut out the cookies using a cookie cutter in your favorite shape. Keep the cut-outs very close together so that you can make the most of this woven dough! 
Note: Curious about those scraps? I combined, re-rolled and cut out the dough, which yielded pretty, marble-like red and white cut-out cookies. Once cooled, I iced them and topped them with sprinkles.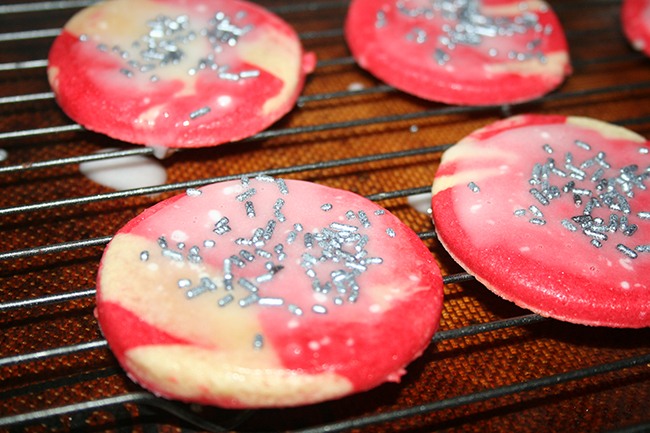 Step 10: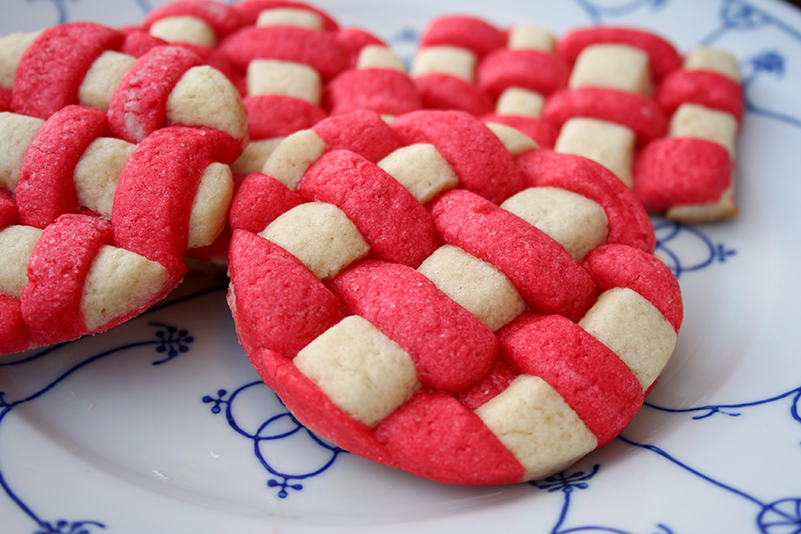 Bake the cookies for 6-8 minutes, or until lightly browned on the edges. Remove from the oven, let cool slightly on the tray, then transfer to a wire rack to cool completely. 
Store in an airtight container for up to 1 week; these cookies will also freeze very well, for up to 1 month. 
Recipe notes
Doubling the recipe
Want more cookies? Don't worry, this recipe can be doubled.
Chilling the dough
Make sure to leave time for chilling the dough in this recipe. It helps the dough become firm so that it won't spread too much when baking. This keeps your pretty basketweave shapes intact and crisp-looking! 
Flavoring
You can personalize the flavor of these festive cookies by substituting the vanilla extract for another flavoring of your choosing, such as almond extract or peppermint extract. 
An open-ended technique
While the recipe featured in this post yields a great cookie dough for molding into the basketweave shape, you can use this technique with other cookie recipes, too. Any firm cookie dough (or even pie crust) that doesn't spread too much when baking can be used to make basket weave cookies. 
No Comments