Crewel embroidery is having a great resurgence amongst seasoned stitchers, and thanks to these stitch-savvy members, there is an ever-growing catalog of crewel embroidery patterns right here on Bluprint. But what is crewel embroidery exactly, and what makes it different compared to other hand embroidery techniques?
Let us give you the basics of crewel embroidery, so you too can start exploring the revival of this classic technique!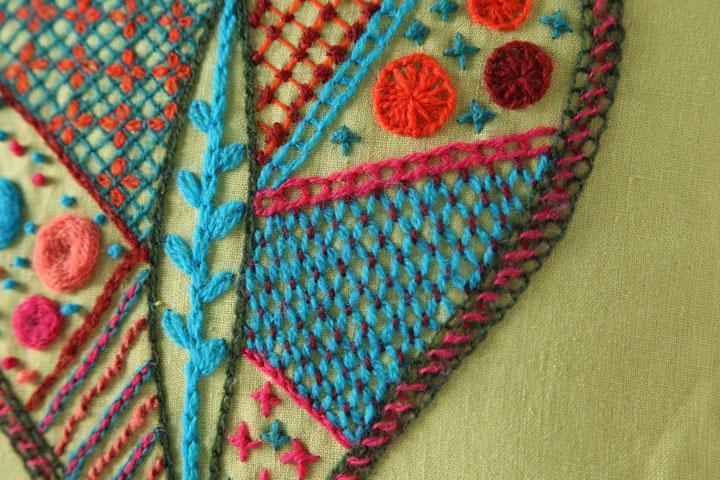 Photo via Bluprint instructor Kristin Nicholas
What is crewel embroidery?
Crewel embroidery refers to stitched work done in a type of woolen thread. It has been traced back as far as the Medieval period and is probably best known for its use within the Bayeux Tapestry. Its greatest period was throughout the Jacobean era in the 17th century.
Jacobean embroidery and crewel embroidery are often confused, however. Jacobean refers to the style while crewel refers to the medium. Typical Jacobean imagery include the "Tree of Life" (pictured below), birds, flowers and woodland creatures, such as stags and squirrels.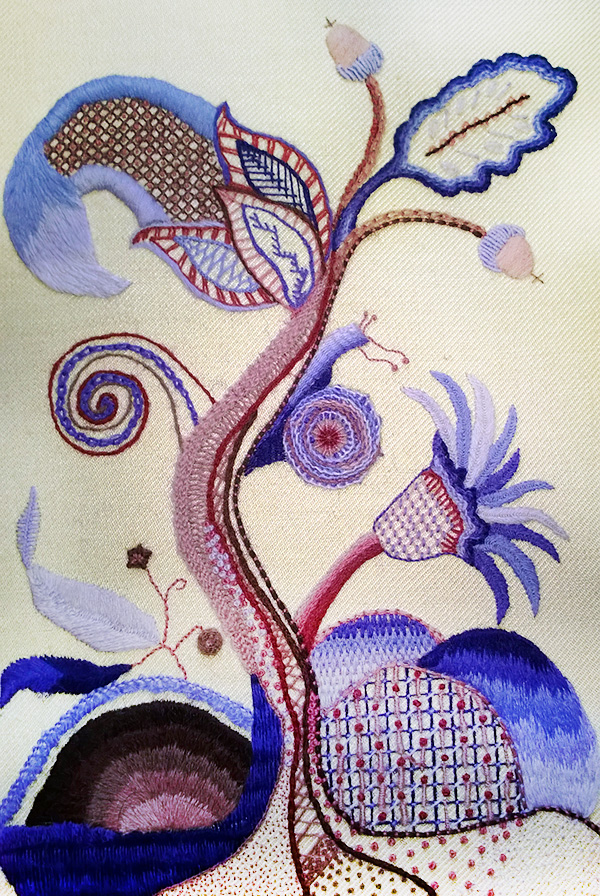 Photo via Poesie Grenadine
What materials are used?
Crewel refers to the 2-ply woolen thread used. It is made by many various brands, but the most well known is a UK based company, who stock globally, called Appletons. It comes in skeins for smaller projects or hanks for the serious stitcher.
Traditionally, crewel wool it is stitched onto closely woven linen or cotton twill, but more contemporary pieces have been stitched onto cotton velvet, rayon velvet, silk and net fabrics. A heavy, sturdy fabric is usually the best option, as it can support the heavier threads.
An embroidery needle, sometimes known as a crewel needle, will also makes your stitching easier, as a large eye makes for simpler threading. Plus, the sharp point will go through your heavy fabric with ease. An embroidery hoop will also make stitching easier and give you better tension to work with.
Photo via Julie at Button Button
What techniques are used?
Many standard hand-stitch techniques are used in crewel embroidery, making it an easy new craft to pick up if you have past embroidery experience. However, you don't have to be an expert embroiderer to give it a go! Stitches include:
Stem stitch, chain stitch and split stitch are often used for outlines.
Couched stitches and laid stitches for heavier textured outline and often used for a trellis effect within a specific area.
Randomly applied seed stitches give a lightly shaded appearance.
For texture, French knots are often seen in the design areas that feature flowers and fruit.
Satin stitches create smooth, filled in areas of block color.
Long and short stitches create areas of soft shading and blending, which is great for petals and leaves.
[box type="shadow"]
You can learn all the basics of hand embroidery, and more, with up-close instruction in the online class Design It, Stitch It: Hand Embroidery with Jessica Marquez.
[/box]
Photo via Suzical
Where can it be seen?
Crewel embroidery has been applied to many cloths over the centuries — from clothing to curtains. Chances are, if you've been to a museum, you've already seen some historical crewel embroidery! Museums such as the Victoria and Albert Museum in London and the National Museum of American History in Washington, D.C. both have examples of historical crewel work in their archives. You can even explore these archives online!
Photo via Bluprint Member Anna Scott
[box type="shadow"]
Now that you know all about it and have all your supplies, why not sign up for our Bluprint class Stitch It With Wool: Crewel Embroidery to get you started on your new crewel embroidery journey?
[/box]
Which crewel technique inspires you the most?