What is wire-wrapping? It's is a jewelry making technique in which wire is bent and shaped into endless shapes and forms. No heat or flames are used, so it makes for an easy introduction to the vast world of jewelry design. It's great for children and adults alike and easy to travel with. Why not learn something new?
In this post, I'll teach you a basic wire-wrapping technique: how to make a wrap ring using a brass ring shank as your base. I like to use a shank because they give the ring a good sturdy base. Let's get started!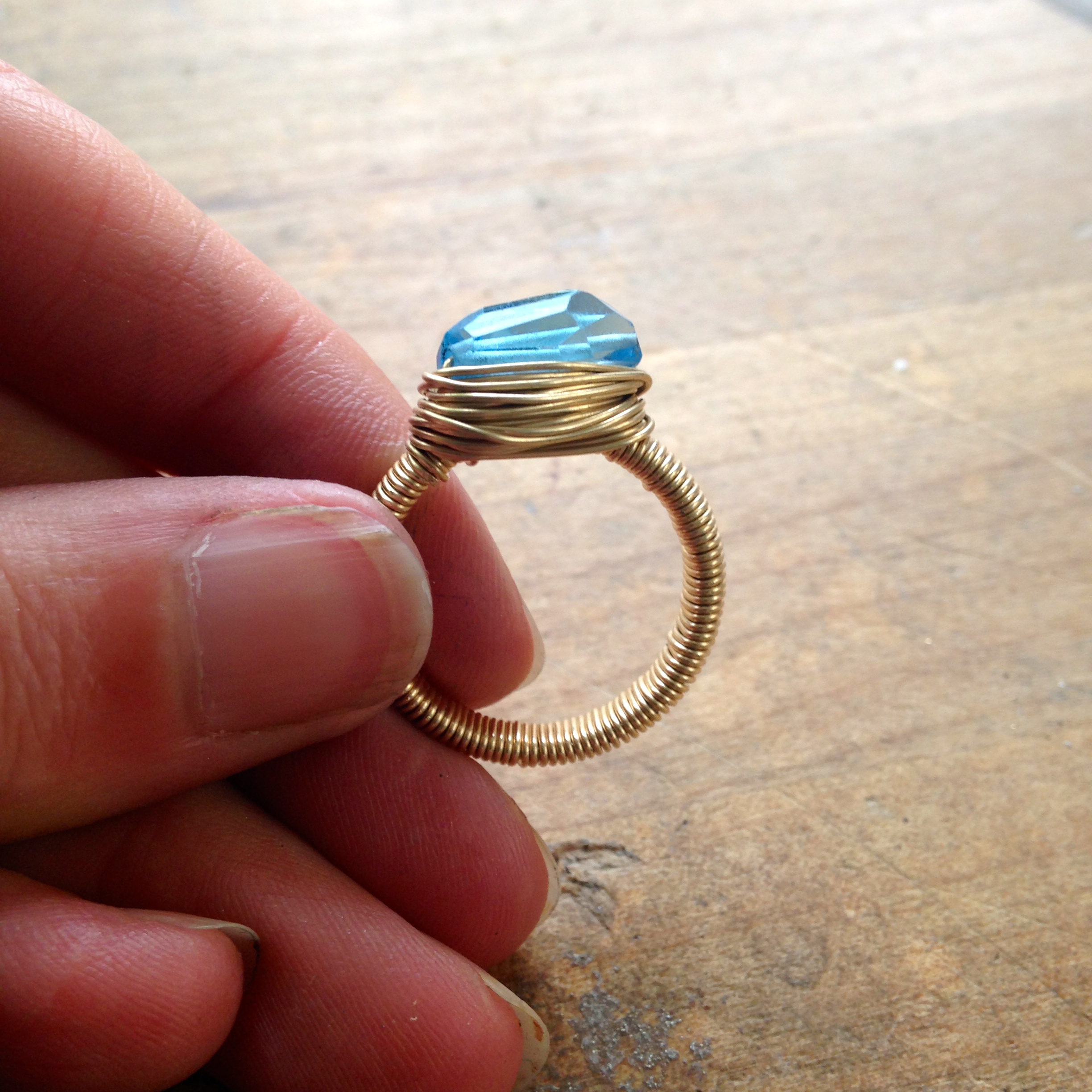 How to make a wire-wrap ring

Various options for stones.
You'll need the following:
Flat nosed pliers
A base metal ring shank (one size larger than your desired ring size)
A stone that will fit on 26 gauge wire
Approximately 7-8 feet of 26 gauge wire dead soft (dead soft wire means that it's extra workable)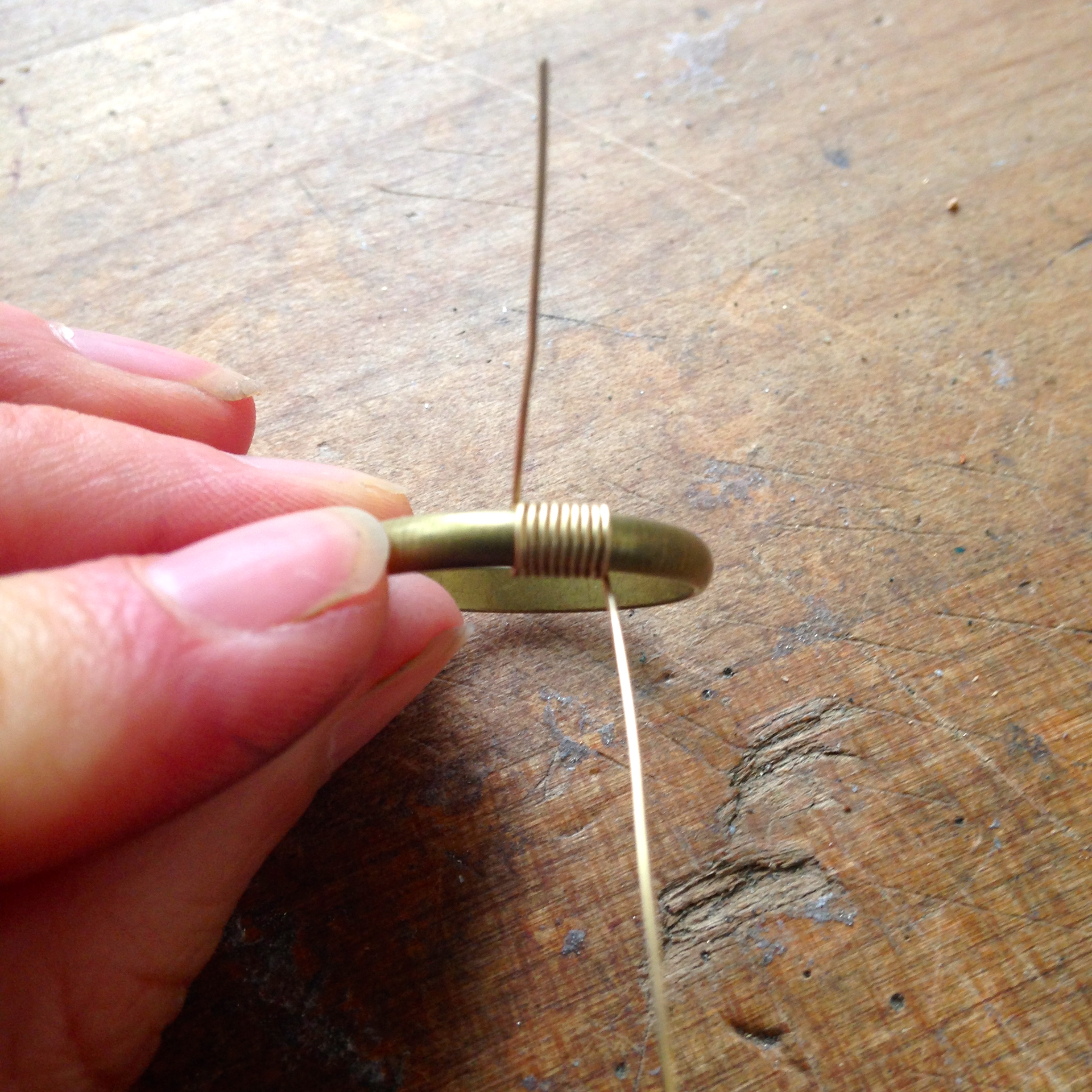 Step 1:
Measure about an arm's worth of 26 gauge dead soft wire. I wish I had a perfect equation for the amount of wire needed, but as of yet I don't — you'll get a hang of how much you need as you practice. (If you are doing a size larger than a 7, you may want to allow yourself a bit more room). Begin by wrapping a few rows on your ring shank, making sure to keep tension on your wire. That will help you to align your wraps so that there aren't big gaps between the rows.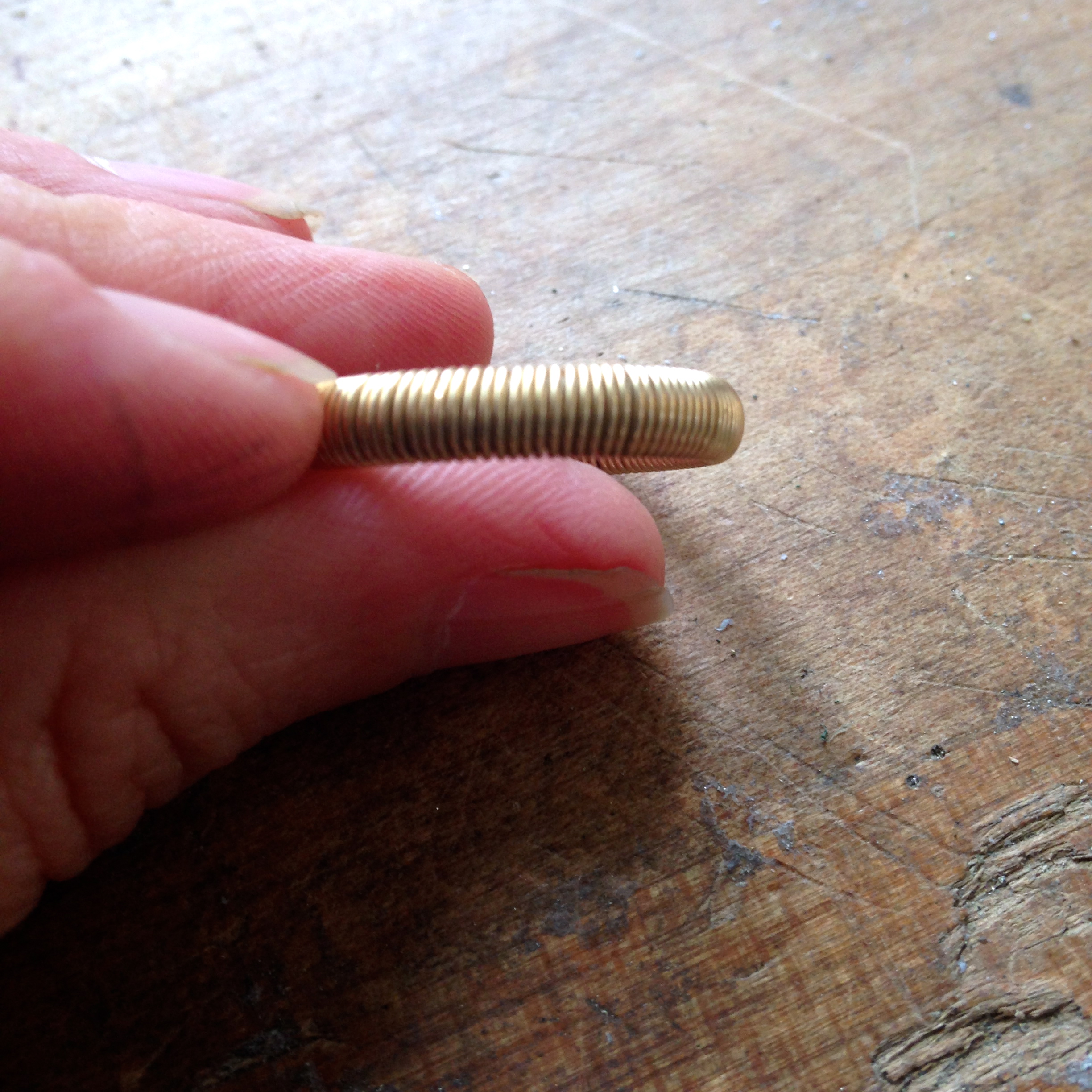 Step 2:
Wrap until shank is covered and flatten the ends using your pliers.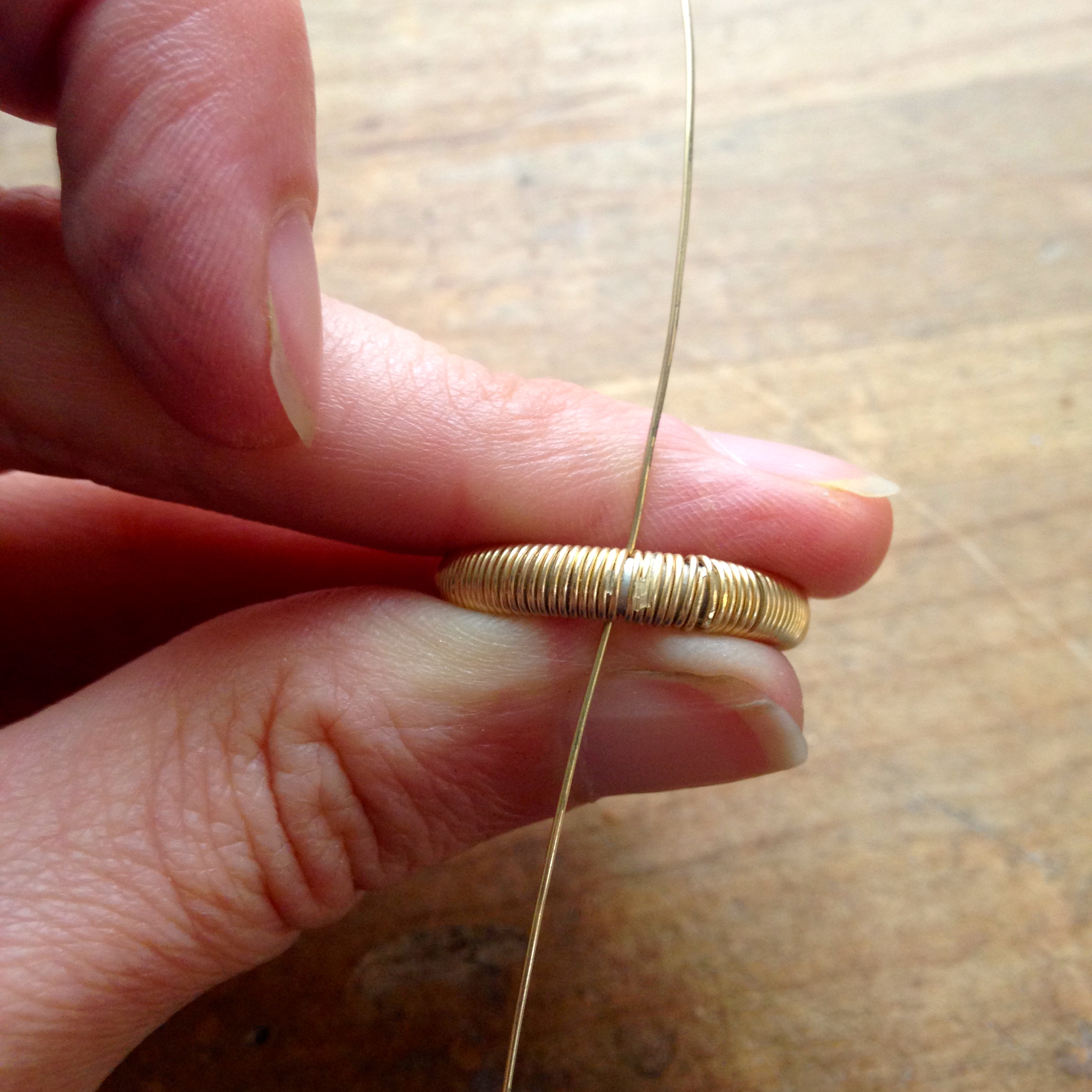 Step 3:
Find the top of your ring, where both ends met. You'll want to cover this with your stone, so start here. Wrap one end of another piece of your wire tightly into the already existing threads.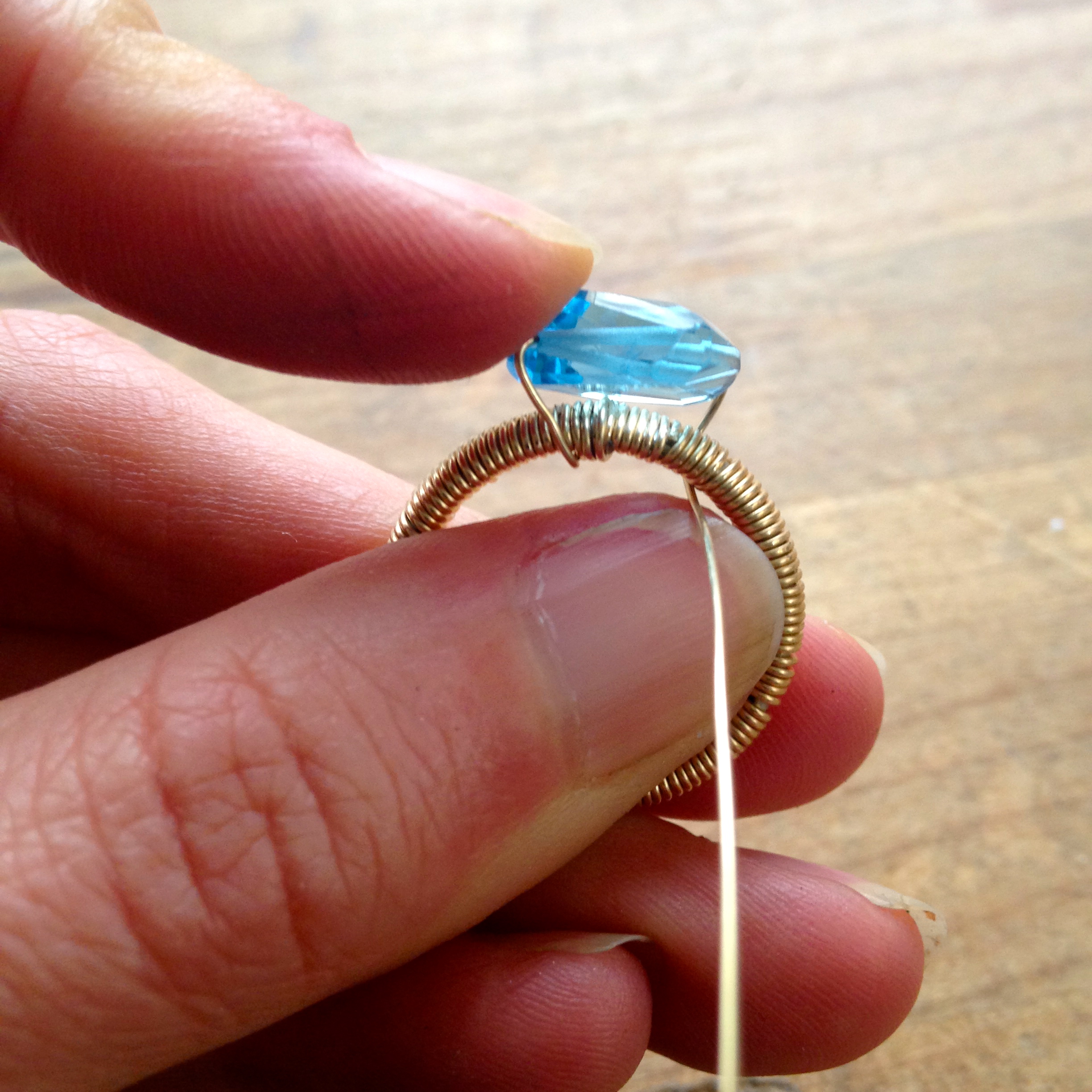 Step 4:
Hold your shank so that the long end of the wire is in front. Thread on your stone and pull the wire across the top of your ring. Making sure that your stone will sit flat, pull the wire down the backside. This will help to secure your stone. Begin wrapping your wire by pulling it across the front toward the right side. Make sure to keep tension on your wire at all times!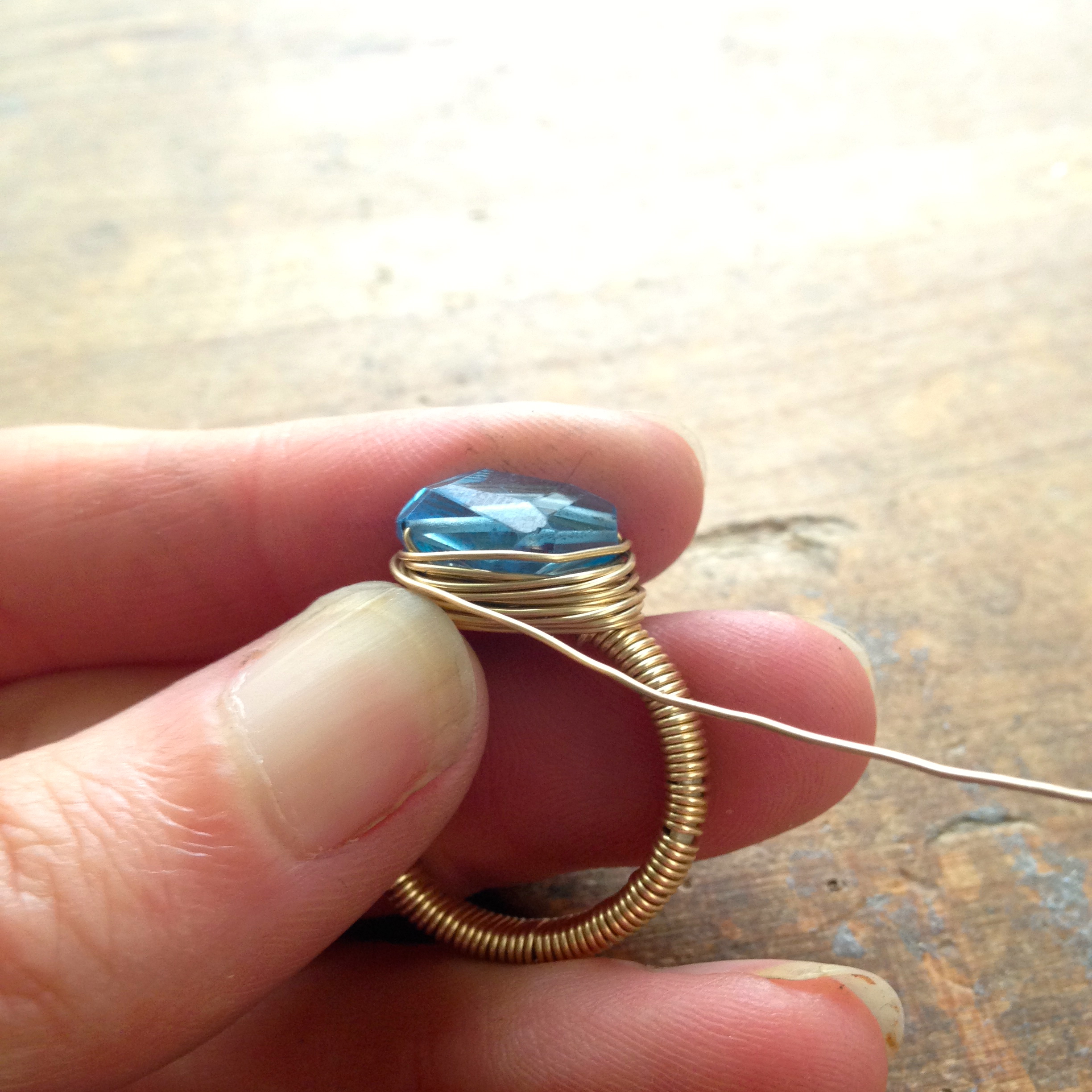 Step 5:
Have I mentioned keep tension on your wire? Can you tell it important? Work slowly and in a clockwise manner. Be careful not to go too high on your stone too quickly. It's helpful to build a base around the stone first. Feel free to work your way up and down in order to keep a uniform wrapping thickness the whole time.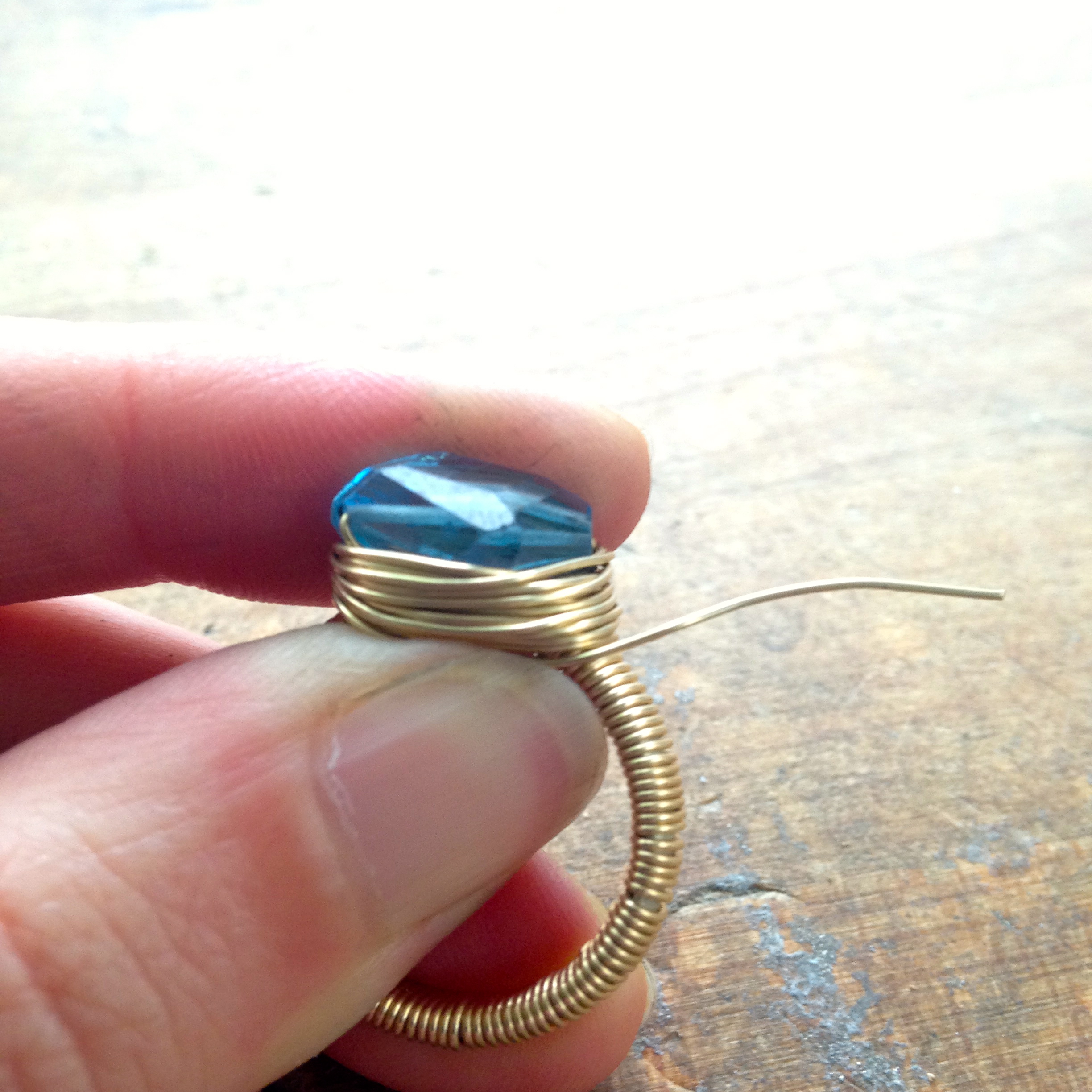 Step 6:
As you finish, keep about an inch of excess on the side you'd like to end on.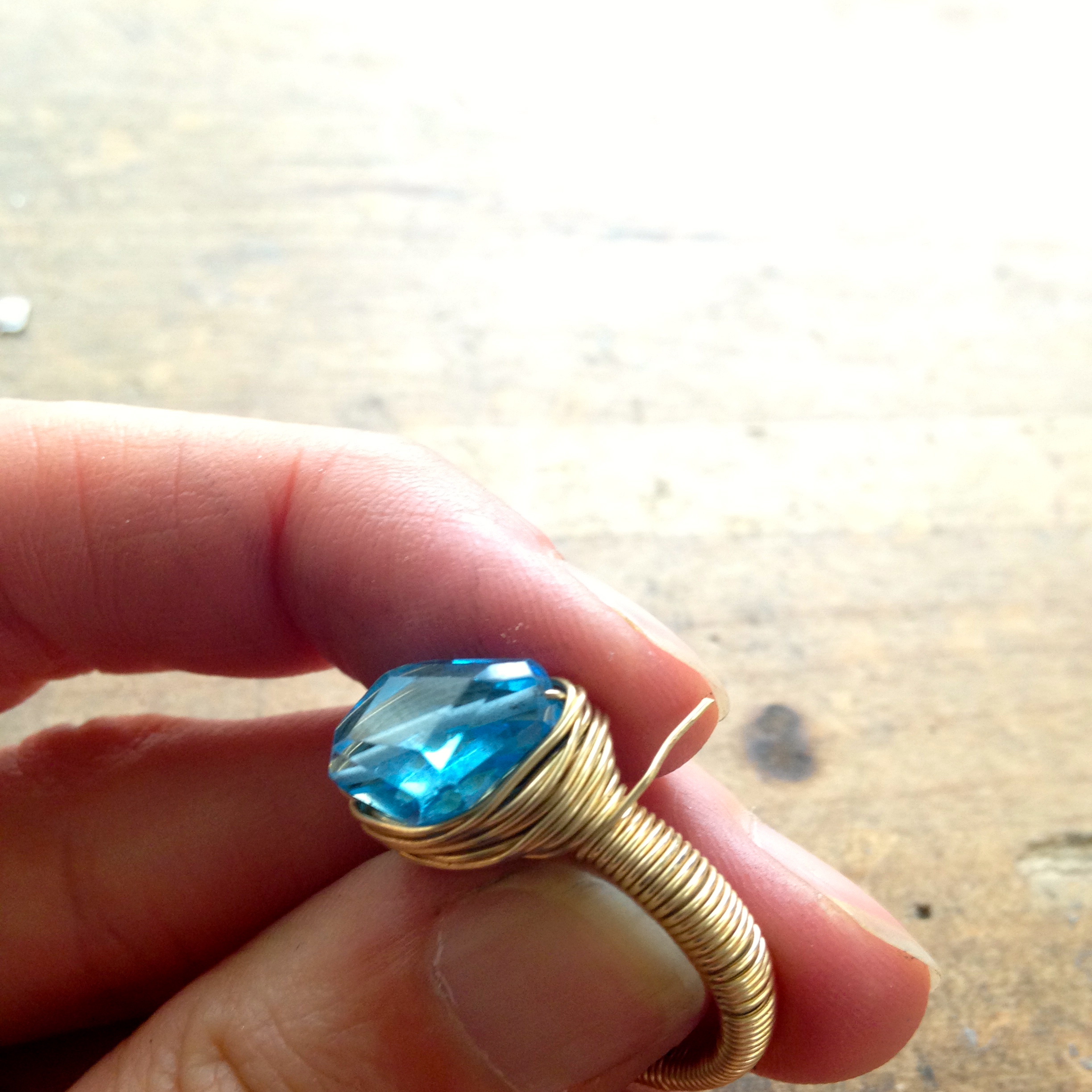 Step 7:
Use your flat nosed pliers and pull VERY tightly so the end will sink between the previously wrapped rows. Clip the end of the wire at an inconspicuous point. Try to find a place close to your wrapping where the end won't get snagged on your skin or clothing. Be sure to flatten the ends using your pliers.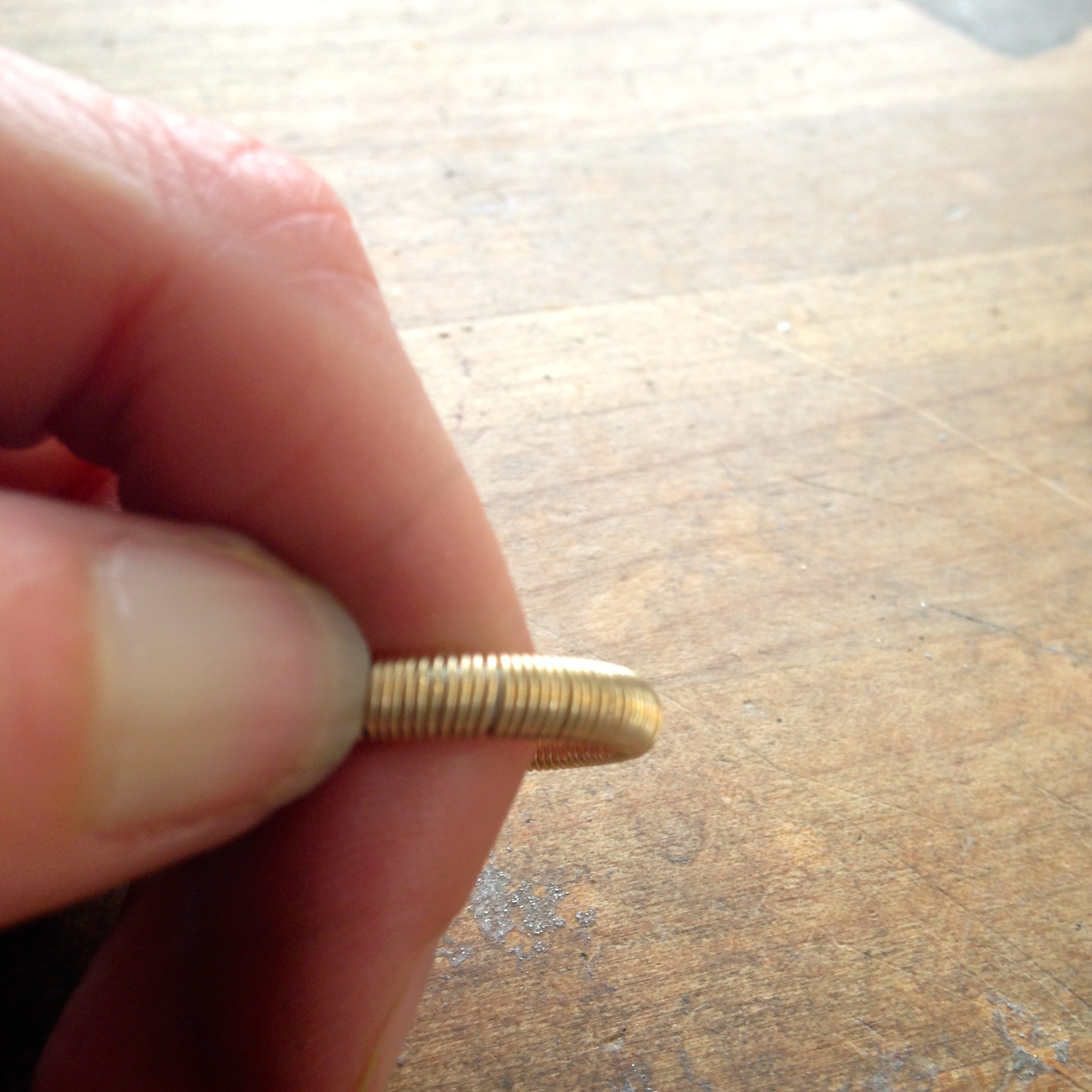 Step 8:
You may notice a few uneven gaps in your shank wrapping but not to worry. Use a fingernail and work your way around the shank until things are more evenly spread out.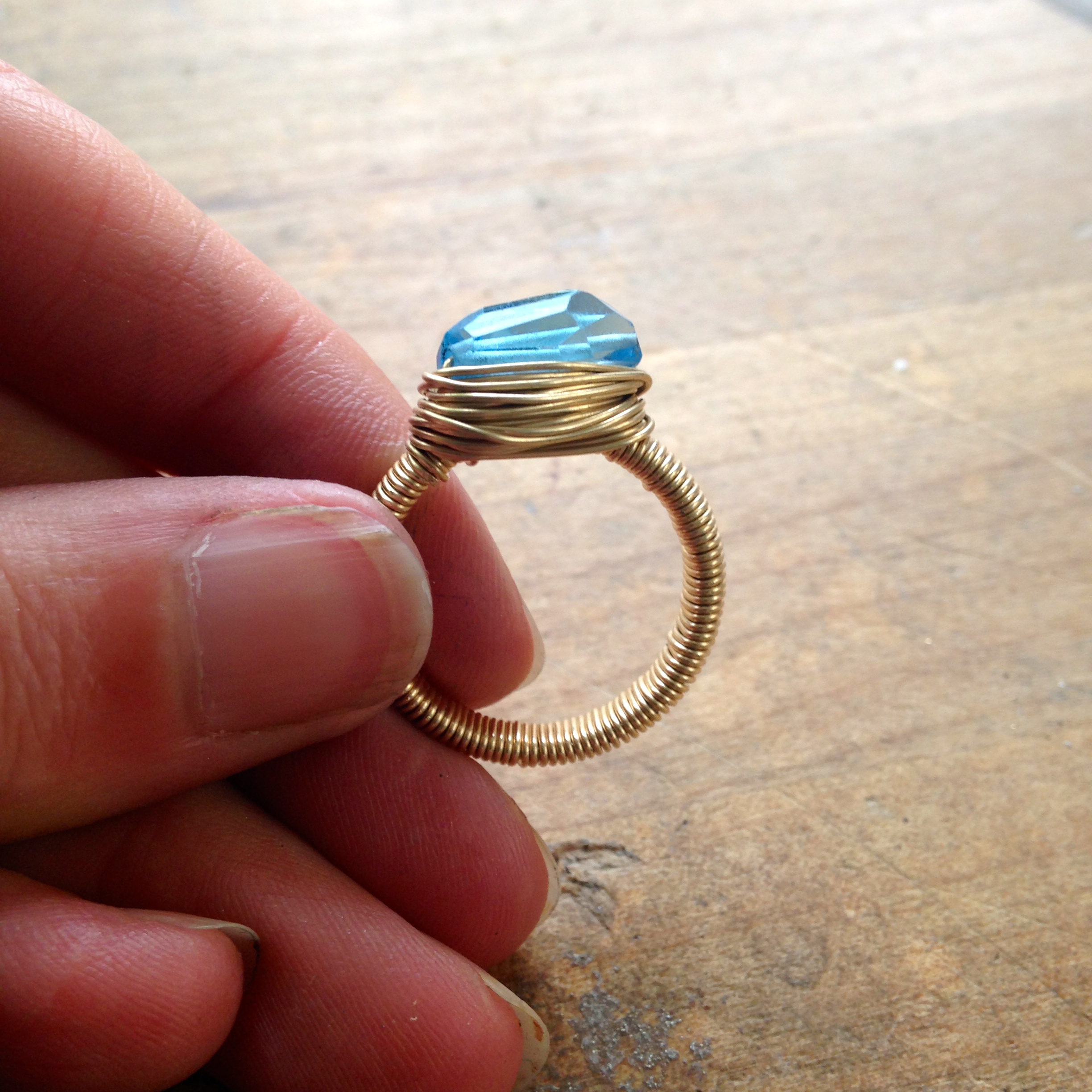 Voila! We're all finished! Now you have all the basic wire-wrapping skills needed to make your very own wrapped ring. It's fun to start brainstorming different stones or combinations of stones that you can use. Once you get the basic skills down the possibilities are endless!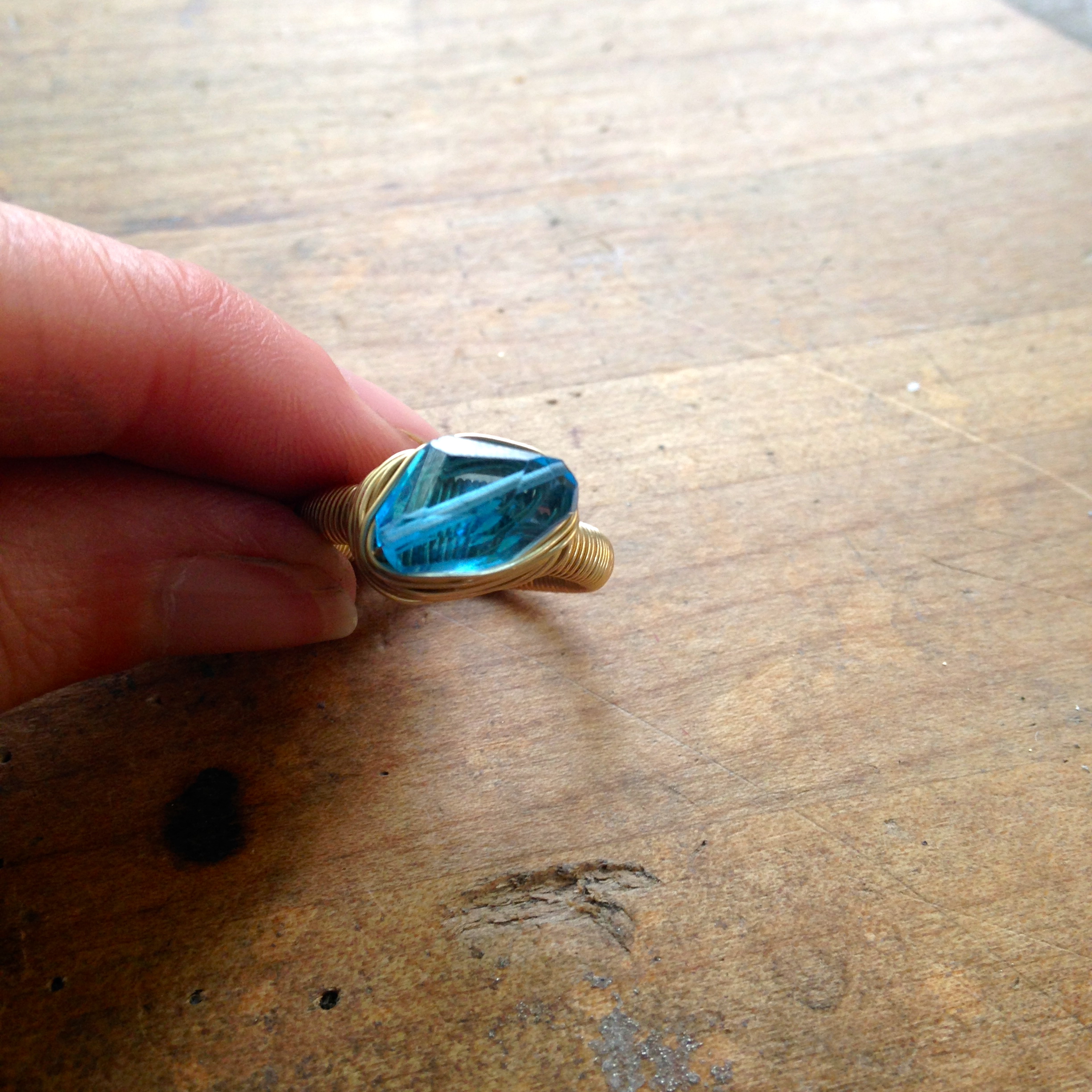 Learn more about basic wire-wrapping in Craftsy's Jewelry Workshop, taught by Uproar Art founder Max Goodman. In addition to wire-wrapping, you'll also learn the fundamentals behind pearl knotting, chain making and photo etching.
If you're ready to move beyond basic wire-wrapping, check out Wire-Wrapped Stones, Crystals & Clusters, taught by designer Aga Kruk. You'll learn wire looping and wrapping, multi-strand beading and more while creating personalized earrings, necklaces, pendants and more.
What are your favorite stones to use for jewelry making?