Knock sports fans out of the park with this cute baseball dessert, which is really Rice Krispies treats in disguise! Savor the sweet and salty mixture of classic crispy rice cereal, pretzels and a smooth chocolate coating — it's a winning combination, perfect for baseball season.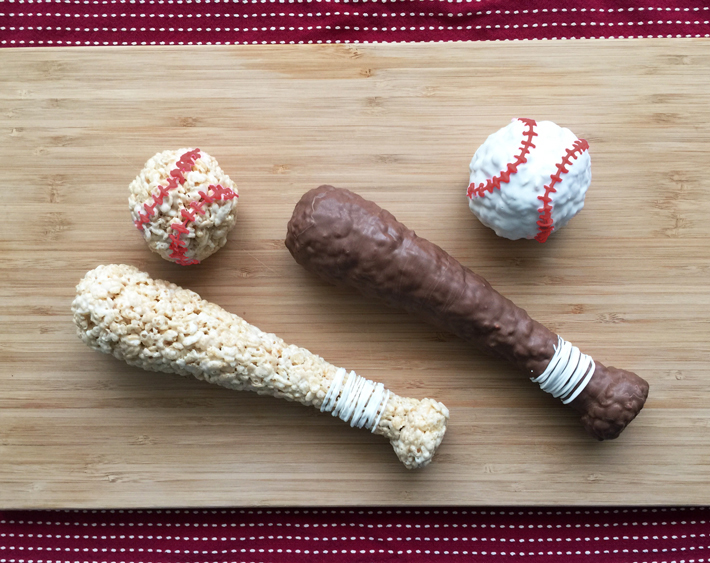 Baseball themed Rice Krispies Treats
Makes 3 bats, 6 balls, or 2 bats and 2 balls
For the Rice Krispies treats (RKTs):
2 tablespoons butter, plus more for greasing

5 ounces (half a bag) marshmallows

3 cups crispy rice cereal (like Rice Krispies)

2-3 pretzel rods
To coat the bats and balls:
1 bag (12-16 ounces) white candy coating

1 bag (12-16 ounces) brown candy coating (needed only if making and coating bats)

Red candy coating or frosting (needed only for creating the stitching if making baseballs)

Paramount crystals or virgin coconut oil
Note that this recipe is for a small quantity. Working with a small quantity at a time will give you best results for shaping since it has to be done rather quickly while the marshmallow is still warm. To make more bats and balls, continue to make these small batches from start to finish.  
Step 1:
First, prepare the RKTs. 
Place 2 tablespoons of butter in a large glass bowl. Melt in a microwave for 30 seconds. Add marshmallows and microwave for 1 minute. Give it a quick stir (with a greased spatula) to combine marshmallow and butter. Add cereal and stir to combine.

Step 2:
Next we'll build the bats. Line your work surface with wax paper and have a piece of wax paper nearby.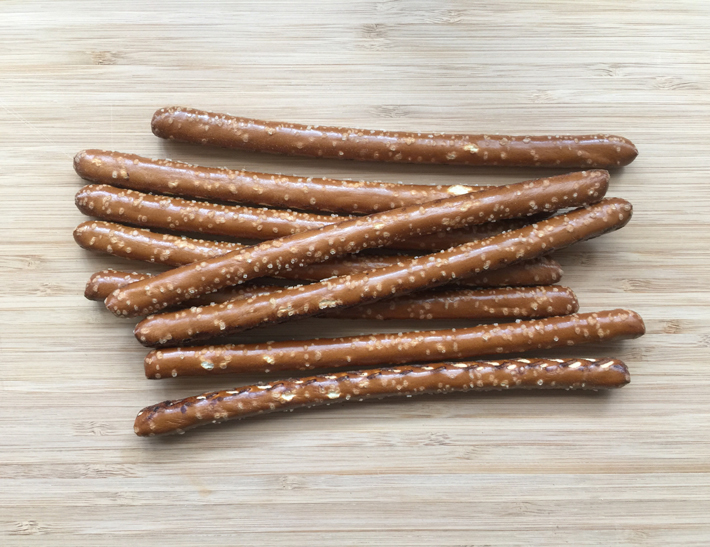 We'll be using pretzel rods for the skeleton of the bats, building around it.
Once the Rice Krispies treats are prepared, immediately butter your hands and the piece of wax paper. Build one bat at a time.
Step 3:
The RKTs should be warm and not too hot to handle. Grab a pretzel rod and begin to form the top wide part (barrel) of the bat by balling up some RKT, inserting the rod into the ball and shaping/tapering down the rod.
Step 4:
Wrap the piece of wax paper around the RKT-covered rod and use it as a tool to shape and smooth the bat, adding more RKT along the way to cover the grip area if necessary.
Step 5:
To make the end part, or the knob of the bat, make a small ball with the RKT and press the end of the rod into it; it will flatten. Place on wax paper to set and cool completely.
Step 6:
To form the ball, butter your hands. Divide the RKT into six portions and roll each portion into a ball using the palms of your hands. Place on wax paper to set.
Step 7:
Now we'll coat the bat and the ball. Coat all of one kind before you move on to the other kind; change out the wax paper in Step 1 when switching from bat to ball since the coating colors are different and reusable. If you prefer not to coat the baseball bats and balls with candy coating, skip to the "Adding details" section below.
Step 8:
Line a baking sheet with wax paper or parchment. Place an elevated cookie rack in the pan over the wax paper. Lightly grease the rack with butter and set it aside for now.
Step 9:
Melt the chocolate candy coating by microwaving it in 30-second bursts at 50% power, stirring after each 30-second interval. Use a microwave-safe plastic bowl or cup. Thin the coating with either paramount crystals or virgin coconut oil (the solid kind) until it's nice and smooth and can be easily poured.

Step 10:
Pour the coating over a bat (or ball) until it's completely covered. You can cover multiple bats at a time but you must be able to coat it completely. Carefully lift the pan a few inches and let it go, dropping it onto the counter to allow the excess coating to drip off the bat onto the wax paper below. Do this a couple of times.
Step 11:
Use two toothpicks to pick up the bat and place it on wax paper to dry and set completely. Use a toothpick to fill the holes on both ends with candy coating.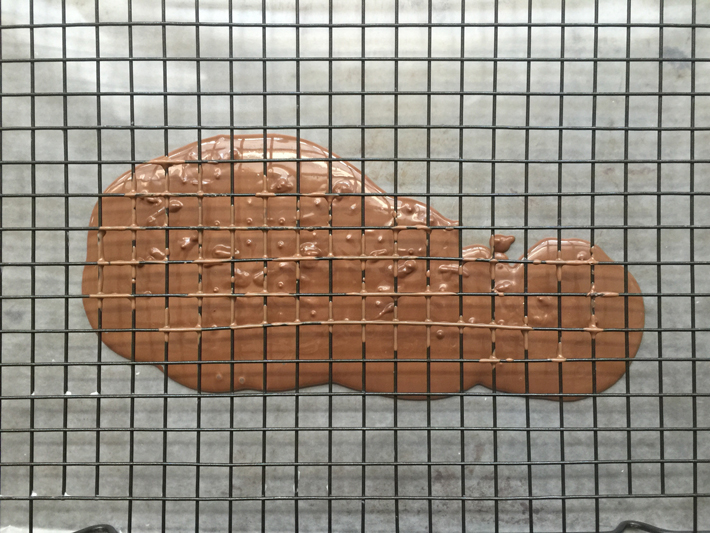 Pour this excess coating back into the bowl (or let it harden, break into the bowl and reheat again) and repeat the process with more bats and/or balls.
Adding details (optional)
Step 1:
Melt white and red candy coating separately and thin if necessary (Step 2 in "Coating baseballs and bats" section above).
Step 2:
Pour both coatings into separate zip-top bags.
Step 3:
Drizzle horizontal white lines along the grip area of the bat.
Step 4:
Pipe red stitch lines on the ball.
Have fun creating these delicious treats!