In the midst of the MLB baseball postseason (which of course includes the World Series!), the focus on America's favorite pastime grows, as do the requests for baseball-themed cakes and confections. Not only is it a popular motif during the playing season, it continues to be prominent in celebrations for fans of all ages, inclusive of birthdays and baby showers.
Forget the peanuts and Cracker Jacks! Be inspired by this awesome collection of baseball cake and cupcake designs to take your biggest fan out to the ballgame!
Photo via Cuteology Cakes
Vintage baseball cake
To celebrate a Little League's 35th Opening Day ceremonies, Cuteology Cakes created this gorgeous three-tiered vintage baseball cake. As cake artist, Alyssa, describes, she decided to "deconstruct" recognizable baseball equipment to decorate each layer, from the baseball to the bat to the glove. The beautiful worn and vintage details were achieved with an airbrush machine and the entire presentation is complete with the incorporation of the cake board, carved and decorated to resemble a base plate.
Learn about airbrushing, along with tips and techniques in the Craftsy course The Art of Airbrushing with Lisa Berczel to create similar classic projects.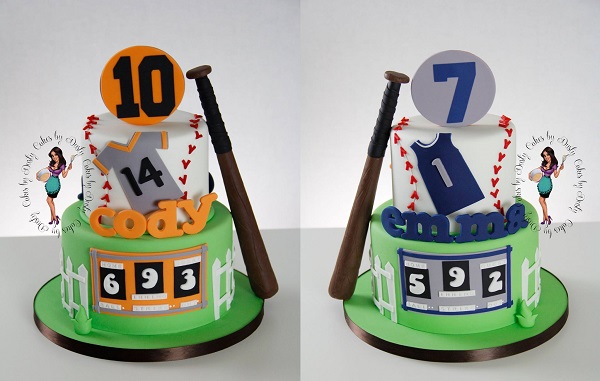 Photo via Cakes by Dusty
Double-sided baseball cake
When throwing a joint celebration, it can be difficult and, not to mention, costly to serve two different cakes for each guest of honor. The incredibly talented Cakes by Dusty cleverly remedied this issue by creating this marvelous double-sided baseball-themed cake! While each side shared the same overall design, details, such as the names and ages, colors and jersey details were modified, representing the birthday boy and girl. The two-tiered cake also shared a baseball bat molded out of modeling chocolate that could decorate either side of the cake.
Become familiar with the basics of working with modeling chocolate as a replacement medium to fondant or gum paste in the Craftsy course Intro to Modeling Chocolate with Lauren Kitchens and take your skills to the next level in Lauren's follow-up course Modeling Chocolate Magic.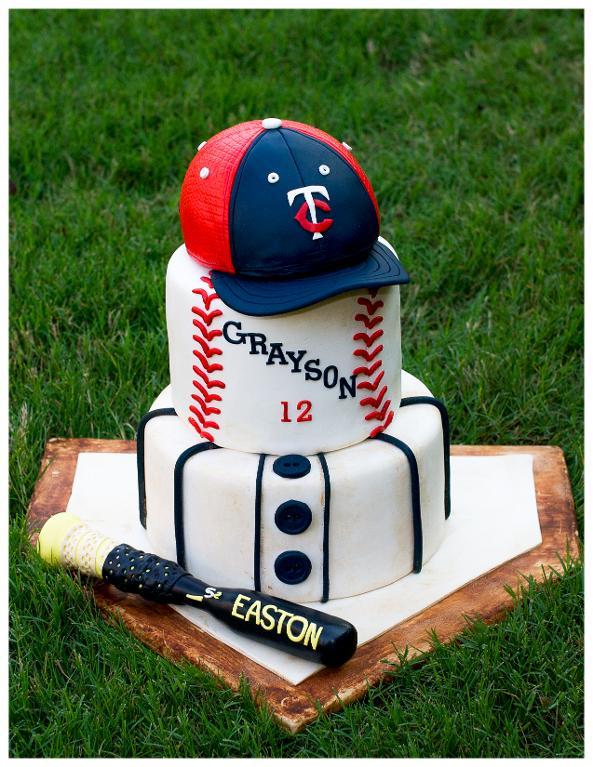 Photo via Craftsy member Redhead1946
Baseball plate cake
Craftsy member and cake artist Redhead1946 created this incredible baseball-themed cake with a current and modern day feel. The first layer resembles a baseball jersey, while the second layer includes the iconic red laces of the ball. The beautifully decorated baseball hat was made out of rice cereal treats and covered with a ganache layer, then fondant details were added, including textures and stitching. The shiny miniature bat was molded out of gum paste and added to the plate cake board.
For additional instruction and techniques to creating sports-themed cake creations, check out All-Star Cakes with Mike McCarey to learn to make amazing high scoring cakes!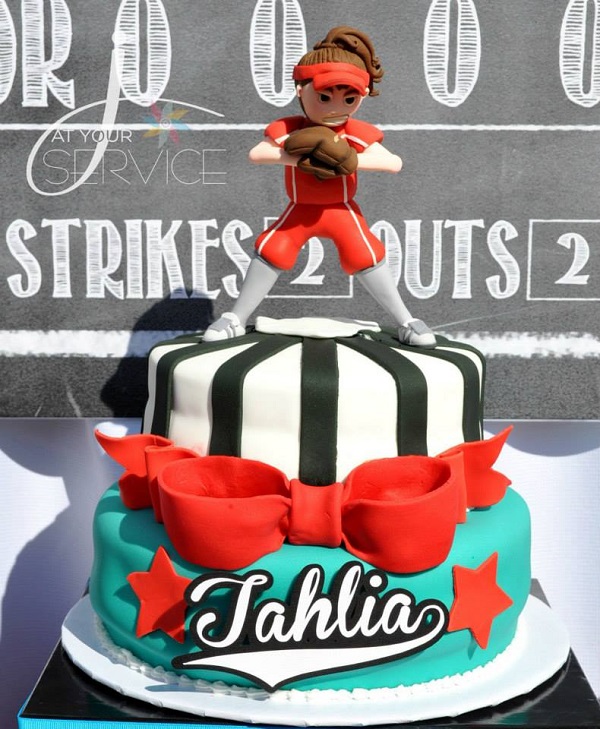 Photo via J. At your service
Softball player cake
We can't talk about baseball without remembering the sister sport of softball! For her daughter's 10th birthday party, Jeanette of J. At your service styled the dessert table with this amazing softball-themed cake as the centerpiece. The beautiful cake was created by Silvia's Cake Creations and was topped with an impeccable fondant figure by Craftsy instructor Brenda Walton of Sugar High, Inc., inspired by the graphic designs by Brave Creative Design. Check out the entire softball party for all the details.
Learn all of Brenda Walton's techniques to creating gorgeous fondant figures such as this one in her Craftsy course Custom Cake Toppers: Step by Step, including face modeling instruction, as well as clothing tips and details.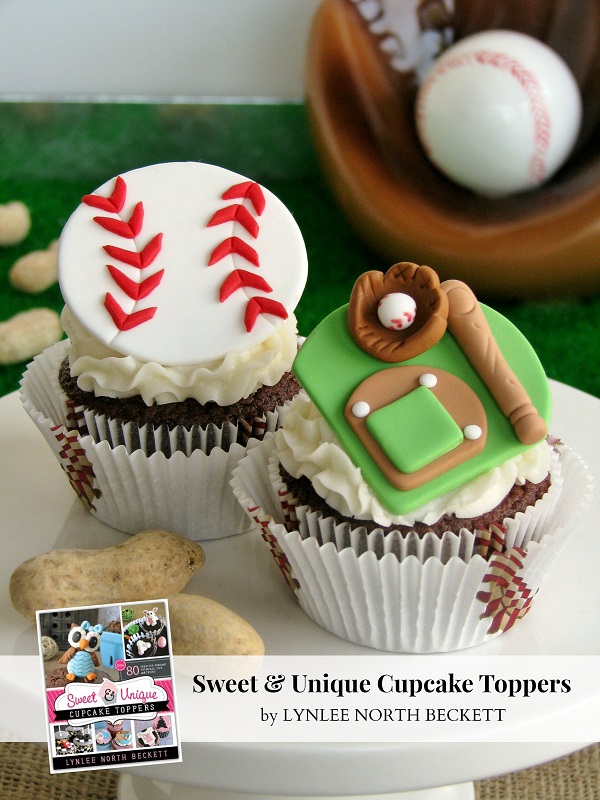 Photo via Lynlee's
Baseball cupcakes
Need individual-sized treats for your next baseball event? These baseball-themed cupcakes would be perfect to pass out to all the players and fans! Made out of fondant, the toppers feature a simple baseball design, in addition to a field, bat, ball and glove. You can easily create additional personalized cake toppers in team colors and names to supplement your collection. Find the step-by-step tutorial in the book Sweet & Unique Cupcake Toppers.
Practice working with fondant on a smaller scale in the Craftsy course Tiny Cupcake Toppers with Sheryl Bito and learn techniques to making miniature toppers for cupcakes and treats.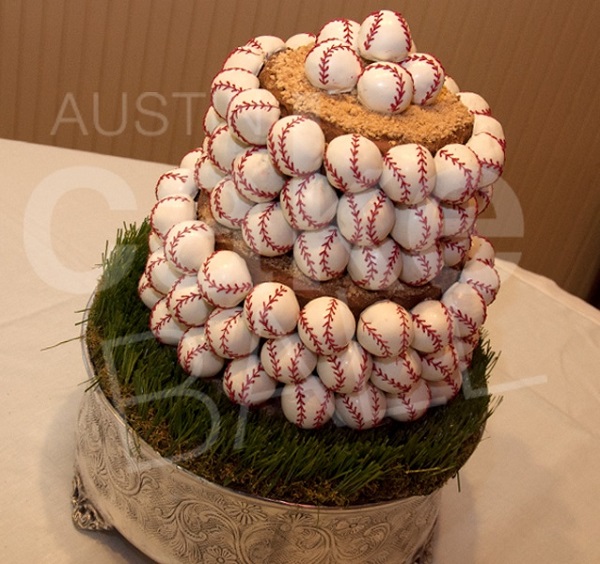 Photo via Austin Cake Ball
Baseball cake pop cake
Cake pops continue to be an extremely popular treat and the possibilities to decorating and displaying these delicious desserts are endless. Austin Cake Ball does a tremendous job of doing just that, such as this incredibly inventive wedding cake made for an avid baseball fan! Sitting atop a grass display, the two-tiered cake is decorated to resemble sand, while the entire surface is further adorned with a plethora of baseball cake balls.
Check out the free Craftsy course The Wilton Method®: Creative Cake Pops with Valerie Pradhan to learn to make and decorate mouth-watering cake pops in a variety of techniques for your next event!
What cake project would you try to cheer on your baseball team?