[box type="shadow"]This post is written by Karen Gibbs, instructor of the new Bluprint quilting class Introduction to Bargello. She's excited to help you begin your exploration of Bargello-style![/box]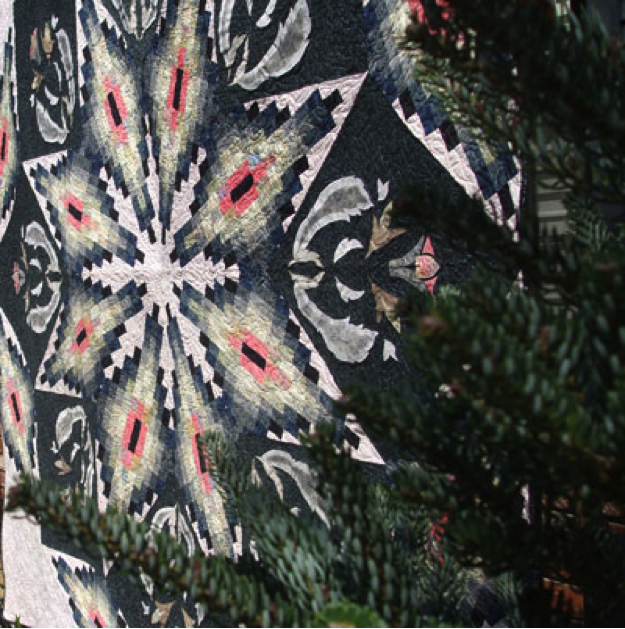 Madison's Star Quilt via Bluprint instructor Karen Gibbs
Bargello quilts are dramatic, take-your-breath-away pieces that only look intimidating. Think of the movement developed in the Bargello as a sort of trip or excursion–those Bargello squares are going on a trip! And every Bargello quilt actually has a "travel itinerary" or map to follow. It's like MapQuest or the GPS in your car!
Let's travel around the world with Bargello!
I'm going to guide you through the color theory of Bargello and what you create with your strip sets. Then, I'm going to take you on a journey around the world with Bargello. Ready? Let's go!

Theses are the Bargello "buddies" together in a strip set before they go into a pumpkin for this pattern
Bargello and color
Bargello is known for its dramatic movement of color, so grab your favorite bundle of fabric, whether it's strips, Fat Quarters or 1/2-yard bundles.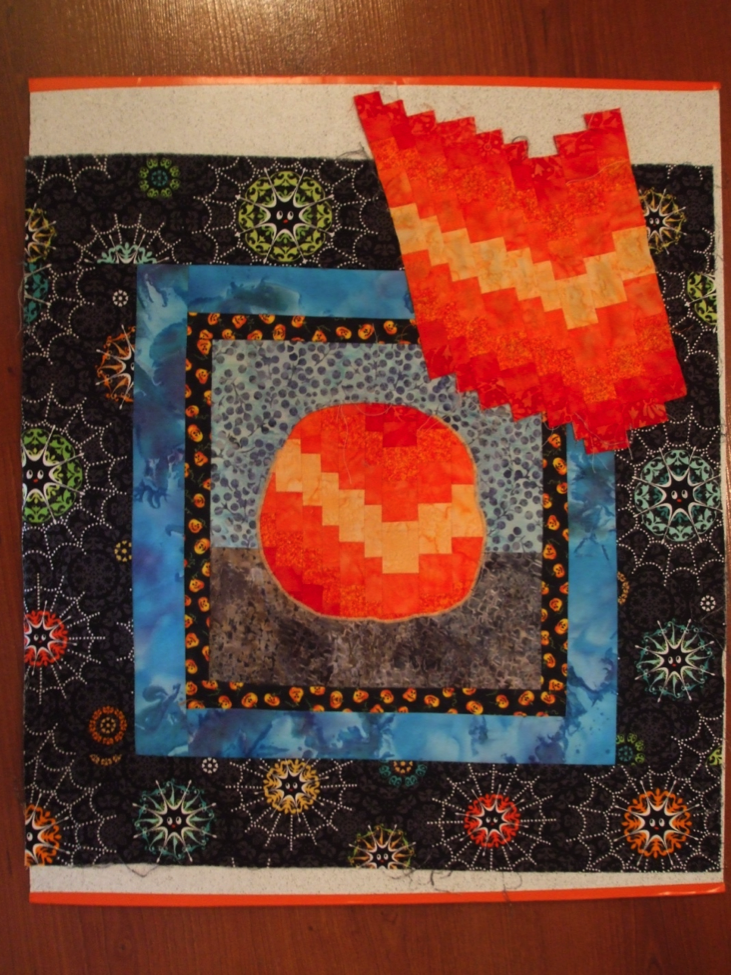 The Bargello finished piece using shades of orange- placed behind for reverse appliqué.
Let's just focus on color right now. The easiest way to arrange it is by following the colors on a color wheel. I usually like to have a couple shades of one color in an arrangement, just so they have a buddy. That's where I got the name "Bargello buddies." Or, you can choose your favorite color and play with the different shades.
Drama, think drama, with color, shades and prints!
Now, when you get started you're always going to have your favorite in each color group. Put that guy right in the center of your strip set. Make him the star of the show! When you are following your travel itinerary (OK, directions in the pattern) focus on moving him around, whether he goes up or down, etc. This way, it doesn't get confusing when you're looking at all those colors!
If you're using five Bargello buddies for a Bargello segment, you get to jump more forcefully from one color or shade to the next.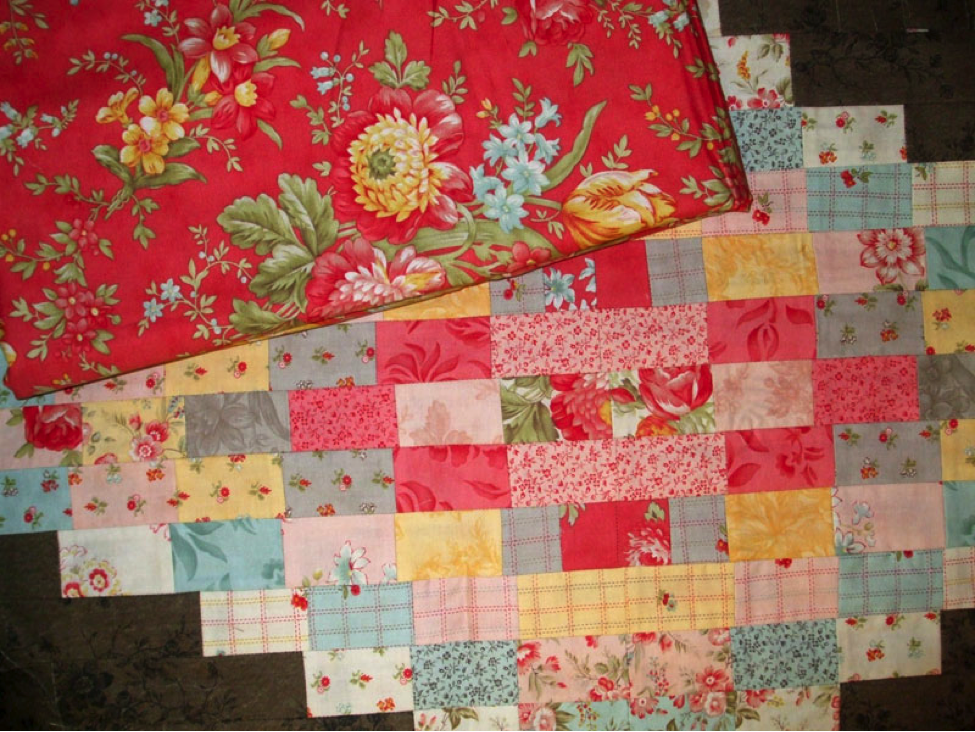 Prints can up the drama!
For a piece with more Bargello buddies in it, think about the drama created by moving through colors. Then again, prints are fun to play with too! The color in the background is what determines the print's color. Adding prints to a Bargello gives it a softer, watercolor effect.
Dealing with color in a pre-cut bundle or strip sets
If you've got that pre-cut bundle, throw the strips on the table and arrange them first by color, then start to pull things that you like together.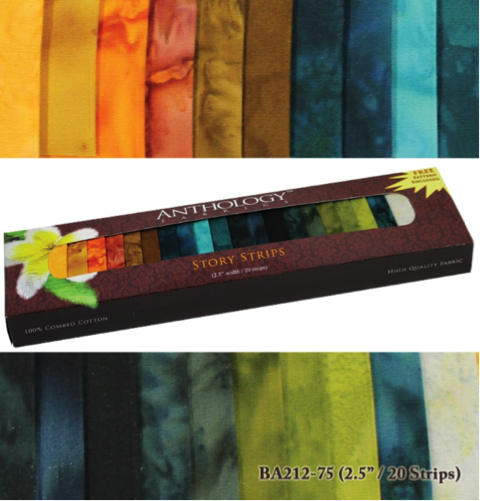 Anthology fabrics strip sets, my favorite colorway!
For instance a purple strip can go beautifully next to a purple and aqua strip, just make sure they have something in common. Kind of like introducing new friends together!
Getting started with the Bargello journey
The first Bargello I made was with individually cut squares and a crazy graph to follow! Of course, I didn't know any better and hand-quilted the thing with a flat, metallic thread…oh boy! I started quilting about the same time I was designing sweaters for a clothing manufacturer. You know those novelty holiday sweaters?

Sweater Graph from an Eagle's Eye, River Art Division, Sweater Vest
We all have them, and I designed a whole bunch of them. They are now coming back in style at the holiday time at ugly sweater parties! I think I spotted one of my designs on a Robert Kaufman employee this past holiday season!
Sweater graphs look a lot like Bargello travel itineraries. And as a sweater designer, I had to be very conscience of "carrying" the color throughout a motif because of cost. Now transfer that principle over to strip sets. Bargello "carries" the color by moving the strip set segment up or down. Then we like to get creative by making a few different strip sets, using the same colors, but it gives the look of more drama. But it's always about strip sets.
A travel itinerary: Bargello is your passport
Let's talk a little about the travel itinerary. I like to use that expression in all my Bargello patterns and do that in the Introduction to Bargello classes. We, as quilters love bus trips, excursions to new quilt shops, a retreat or two, etc. So take a trip with me! On some of my patterns, I don't even mention the word Bargello…shh, trying to trick those that are nervous into trying it!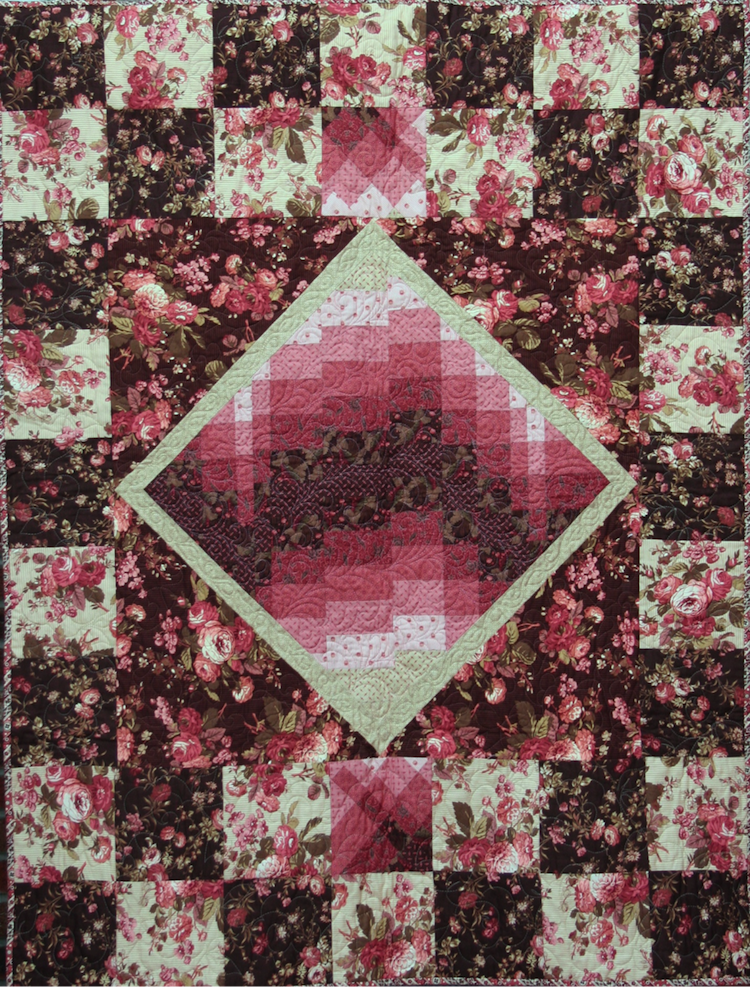 Weekend in Florence Lap Size quilt. Don't you love the watercolor effect of the soft, pink patterned fabric?!
First stop: Florence, Italy
Take the quilt pattern Weekend in Florence; it's a quilt that can be made in a quilter's weekend using the "Florentine" stitch. The "Florentine stitch" is actually Bargello!! So that quilt–go to Florence, Italy with me!
Next, Paris
I love Paris, so of course, let's go there. The Something About Paris quilt in my class Introduction to Bargello is about love and the drama of Paris. Definitely need some pastries and wine to go with this quilt!
Heading over the Asia…Let's go to China!
Another quilt in Introduction to Bargello is Bargello Coins. It's a traditional Chinese coins pattern with a little Bargello flair. So, let's take that travel itinerary and go to China! See, now we're playing, "Where in the world is my Bargello buddy?"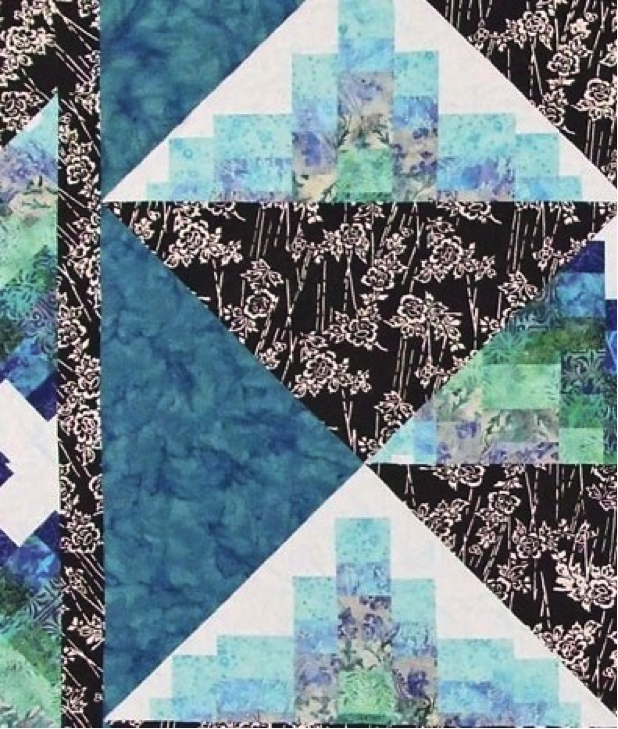 Trip to Bali quilt. See how the Bargello buddies travel across the quilt?
Let's wrap up in Bali!
If you feel like a trip to Bali, there's a quilt for that too! My Trip to Bali quit pattern adds the drama of a Balinese temple to the richness of batiks. I was fortunate to go as staff to Bali this past fall with Anthology Fabrics. Loved it! Batiks lend themselves to Bargello because of the watercolor effect of their color and how easy they blend together as Bargello buddies.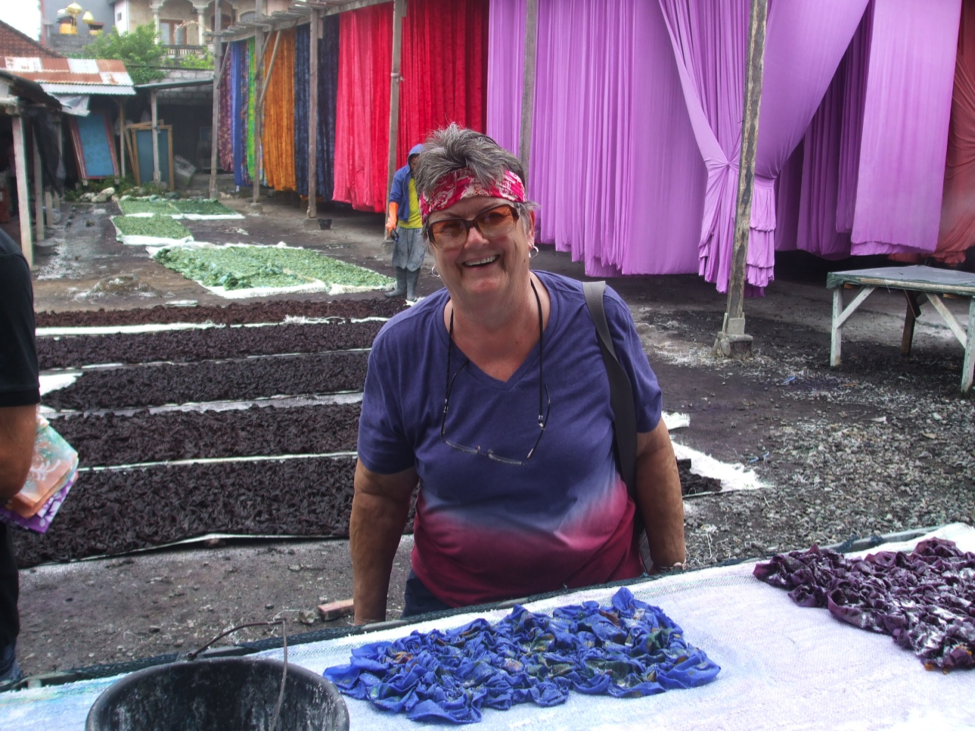 My friend Sharon making her own batik! Behind her are the drying rack for the batiks. If you get a chance to go experience the batik making process, go for it! Amazing!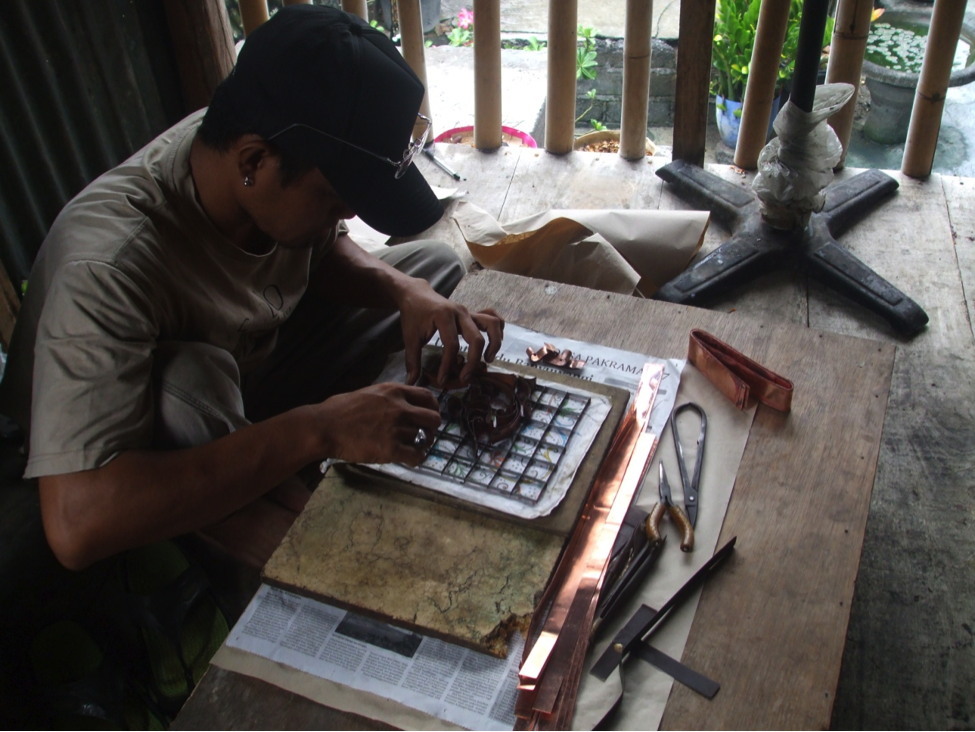 The making of the stamp that is used to put the design in batik fabric
Okay, had enough traveling? Let's go home with the Madison's Star Quilt, also featured in Introduction to Bargello. Whew, all those travel itineraries are exhausting! But, guess what, this one is all done for you!! The secret is you make seven strip sets, cut off a segment of each one and line up the center seam. No traveling. Making this quilt is just like sitting at home, nice and cozy.
Madison is my teenage daughter. The first version of this, she helped me make. My husband, sweet guy that he is, gives me a special gift on Mother's Day each year — free labor! He and the kids usually do all the planting and mulching while I sit with a glass of lemonade on the front porch. This particular year, I was trying to get this quilt ready for Quilt Market and Madison was my labor force. She only asked that I please name this thing after her! Her words, not mine!
Bargello Bombing?!
I love Bargello. I love the drama and texture it can create in unexpected places in a quilt. Introduction to Bargello will give you a taste of it, ideas as to where you can use it in a quilt from piecing in traditional blocks to reverse appliqué. I think designing sweaters taught me to think in squares and rectangles. You can fill any space with Bargello. You know the new fun thing with knitting–yarn bombing??!! I think we should do that with Bargello!! Bargello Bombing!
[box type="shadow"]
Learn Bargello to create quilts with an amazing fusion of rich color and cascading movement other techniques simply can't replicate in the Bluprint class Introduction to Bargello.
[/box]
About Karen Gibbs

Karen lives with her family: three kids, dog and husband (he says in that order), in Upstate NY. She's originally from Wisconsin–definitely a Cheesehead at heart! She started quilting while working for Eagle's Eye, a clothing manufacturer that specialized in novelty sweaters, making for an easy translation to Bargello. She credits getting involved with every aspect of her local guild–from community service, to programs for fueling her quilting passions. Karen has been a longarmer for 14 years, with focus on free-motion quilting. She is the author of Bits of Bargello, published by AQS as well as a large pattern line at TheQuiltStudio.com; patterns focused on trying different techniques. Karen designed batiks for Anthology Fabrics, many of which are in stores right now!