Did you know Barbie just turned 56? This glamorous doll was first introduced at the American International Toy Fair in New York on this date back in 1959 and continues to be one of the most popular toys for many generations around the world! It's no surprise the Barbie theme is so prominent in the party and cake world.
Come on, Barbie, let's go party with these fun and fabulous Barbie cake and cupcake designs!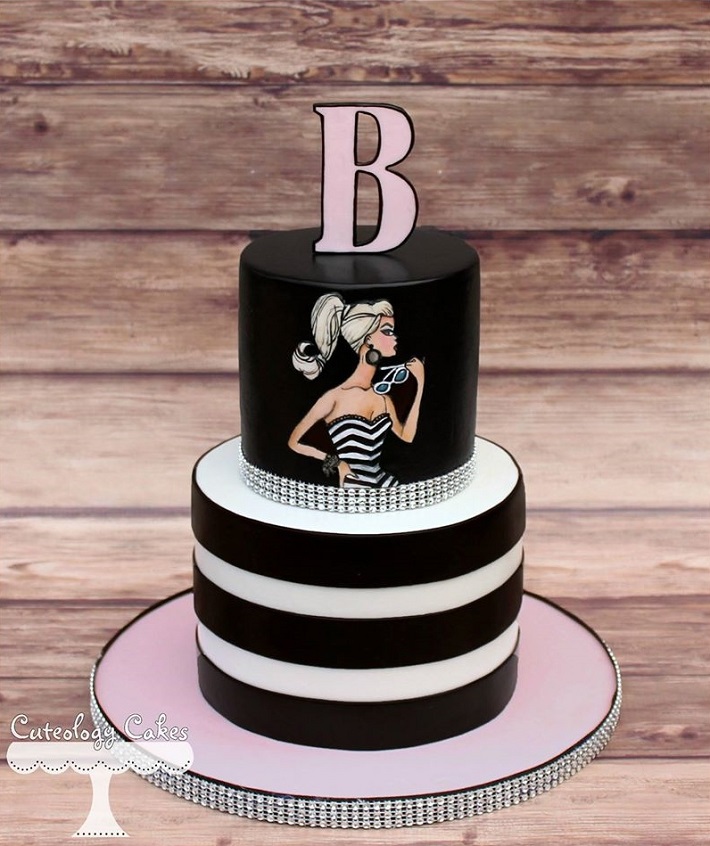 Photo via Cuteology Cakes
Vintage Barbie cake
This beautiful cake by Cuteology Cakes is the absolute perfect way to celebrate Barbie's birthday! The vintage 50's Barbie illustration is cut from fondant and exquisitely hand-painted with edible gel colors. Both cake tiers are covered with fondant, while pristine black stripes are added to the bottom layer. Jeweled ribbon from the perimeter of the cake board is incorporated into the cake design at the edge of the top tier, as the blush pink color covering the board is also reflected in the initial topper, tying the entire design together.
To learn more about edible painting approaches, check out the Bluprint course The Art of Painted Cakes with Kate Sullivan to learn hand-painting techniques, as well as effective design transfer. Learn Jessica Harris' exceptional waxed-paper transfer method to achieve beautiful lines and patterns in her course Clean & Simple Cake Designs.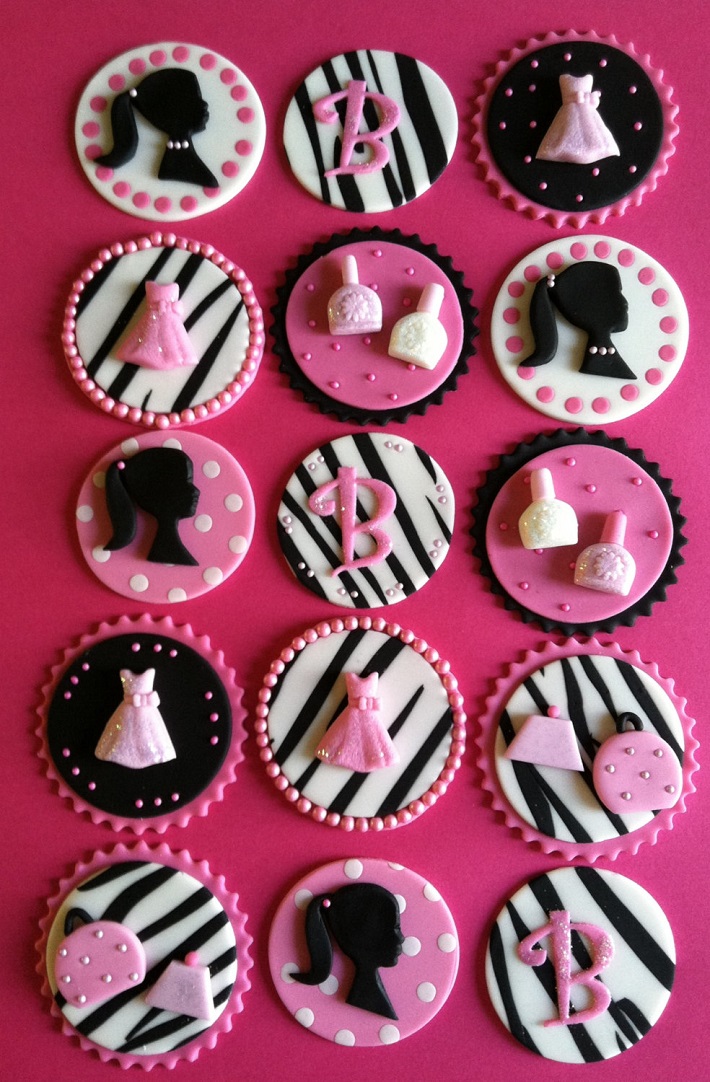 Photo via Cakes by Angela Morrison
Barbie zebra fondant cupcake toppers
These absolutely adorable fondant cupcake toppers by Cakes by Angela Morrison combines several extremely popular themes that are in constant demand: Barbie, glam and zebra patterns! The Barbie fondant silhouettes are hand-cut with a precision knife and further adorned with candies and edible beads, while the dresses can be easily created with the use of a fondant mold. The prominent zebra pattern is achieved by rolling black strips of fondant over the white and is personalized with a cut-out letter.
Find out more about personalizing your cakes and cupcakes in Custom Lettering & Monograms with Nicholas Lodge to add monograms and custom messages to your cake projects. And to feel comfortable working with miniature-sized fondant designs, be sure to look into the course Tiny Cupcake Toppers with Sheryl Bito.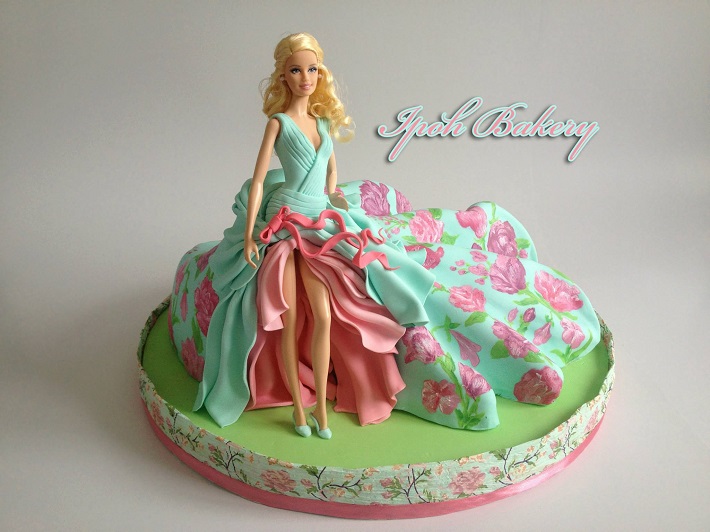 Photo via Ipoh Bakery
Barbie doll cake
This jaw-dropping Barbie cake by Ipoh Bakery blows the traditional doll cake out of the water! Similar to the classic dress cake, this confection is also transformed into Barbie's skirt, but instead of encompassing the entirety of the doll's bottom half, it is carved into a beautiful full dress blowing in the wind! The cake is covered in fondant ruffles and elegantly hand-painted. The doll is then further embellished with fondant made to resemble delicate fabric details. Ipoh Bakery provides tutorials for a variety of dazzling dresses for doll cakes
Treat fondant like fabric to create fashion-inspired decorations in Marsha Winbeckler's Fondant Ruffles, Pleats & Drapes to create your own charming Barbie dresses. And make sure to check out the course Little Pink Dress Cake with Anne Heap learn to create a three-dimensional dress cake by building and sculpting a bodice and adding gorgeous dress details!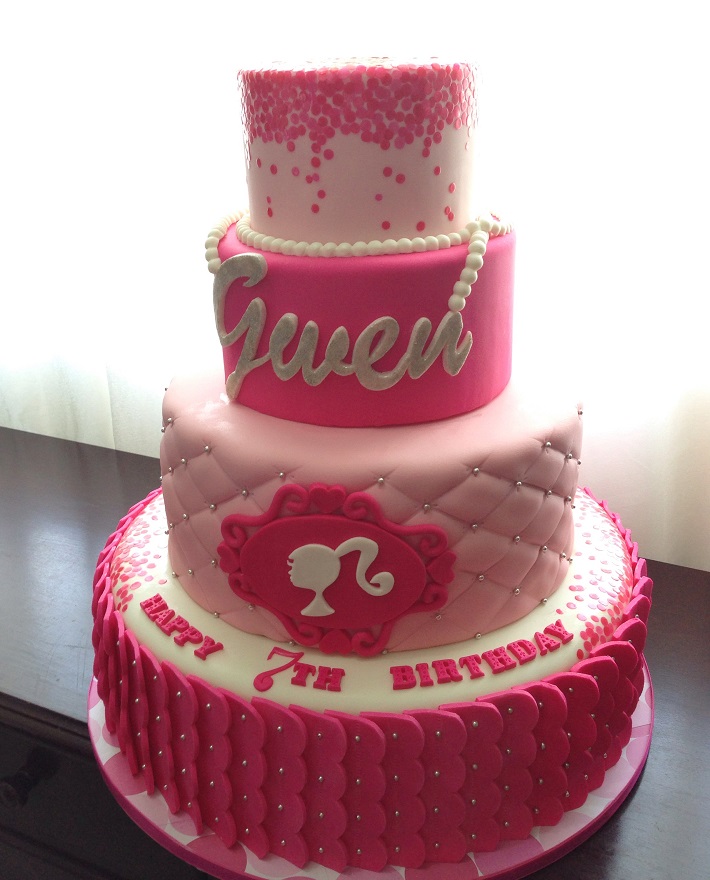 Photo via Bluprint member Je Albay
Girly Barbie cake
This Girly Barbie cake by Bluprint member Je Albay created in the course Simply Modern Cake Design with Jessica Harris is the ideal design for any lover of the color pink! All four tiers are decorated in a variety of pink shades, utilizing a different technique from a patterned design transfer to quilted and beaded embellishments to sugary confetti. A fondant plaque is decorated with a hand-cut Barbie silhouette, while the cake is further personalized with the birthday girl's name creatively resembling a necklace plaque and a customized message with fondant letters.
Enroll in Fashion-Inspired Fondant with Joshua John Russell to learn to create additional embellishments, including the use of materials like fondant molds and impression mats, to achieve quilted textures, appliques and more!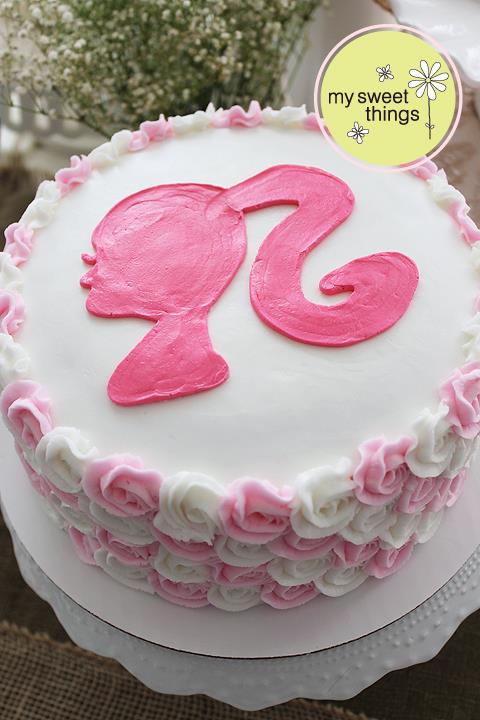 Photo via My Sweet Things
Buttercream Barbie cake
This incredibly sweet Barbie cake by My Sweet Things is decorated entirely out of buttercream icing. The trendy Barbie silhouette is perfectly reflected on the surface of the cake, achieved with a palette knife, while the perimeter is beautifully covered in icing rosettes in alternating light pink and white icing.
Learn the basics of buttercream to create lovely cakes like this in the course The Wilton Method®: Buttercream Skills with Beth Somers, including tips on coloring, along with a variety of piping methods. In the Bluprint course Innovative Buttercream Cakes with Valeri Valeriano and Christina Ong, you'll find more creative methods to pipe, transfer patterns and utilize palette knives on your cake creations.
Did you have a favorite Barbie? Mine was the 80's Barbie and the Rockers!