When I imagine a ballerina, I think of beautiful girls with tightly wound hair in perfect buns, their pointed toes in satin slippers and ethereal light-as-air tutus like clouds around strong, impossibly slender legs. Lately, I've been seeing so many beautiful cake decorating trends that seem in line with a ballerina — frothy frilly cake tiers, pale pink palettes, tall statuesque cakes both modern and beautiful.
Here is a collection of ballerina inspired cakes — some more obvious than others — but all embodying the lovely spirit of the formal, feminine dancer.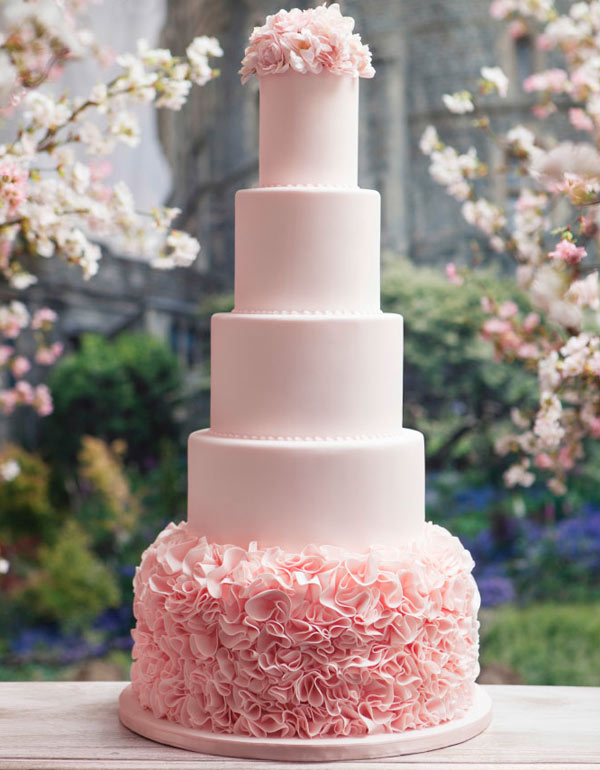 Photo via Wedluxe; cake by Bobette & Belle

Pink ruffle fantasy cake:
I'm not even a girly girl, but this cake makes me covet a frilly pastel cocktail party dress. I love the tutu-esque quality of the bottom tier. The judicious use of ruffles on this cakes gives it lovely sense of drama. The pink sugar flower toppers are the perfect matching accent to this amazing cake by the Toronto-based Bobette & Belle.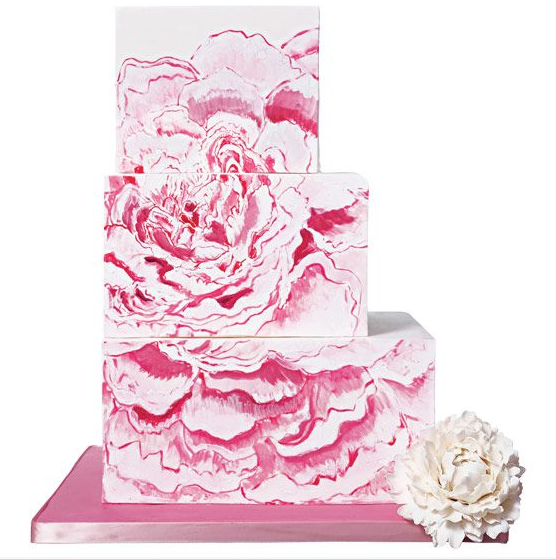 Photo via Lulu Cake Boutique
Pink painted peony square tiered cake:
The delicate and beautiful peony flower, with its thin layers upon layers of precious petals, resembles the puff of a tulle skirt. This cake would be perfect for a pink fantasy wedding or bridal shower. I love the modern take this hand-painted cake offers as it balances the feminine peony, offset by more masculine square tiers. This is a perfectly modern cake.
Learn how to craft sugar peonies like these, as well as tulips and anemones, in the the class Classic Sugar Flowers with Nicholas Lodge. Or, if you love the hand-painted technique seen here, sign up for the FREE mini-class The Hand-Painted Cake.
t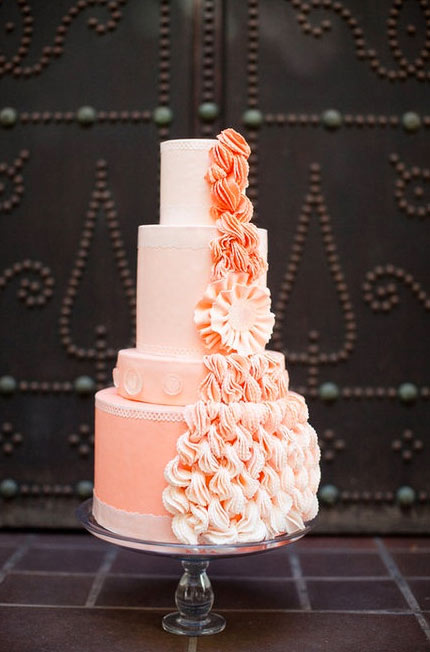 Photo via Hey There, Cupcake! San Diego
Pale coral buttercream swag cake:
One of my current favorite cake designers, Stevi of Hey There, Cupcake!, has stupendously brilliant cake design style: a mixture of pure artfulness mixed with perfect cake judgement (i.e. knowing when to hold back and when to pull out all the stops). Her cakes are true confectionery works of art, and this pale peachy coral cake is no exception. The drama of the buttercream swag against the subtly ombré cake tiers and the tiniest hint of lace ribbon make this cake feminine, dramatic and restrained, much like a ballerina.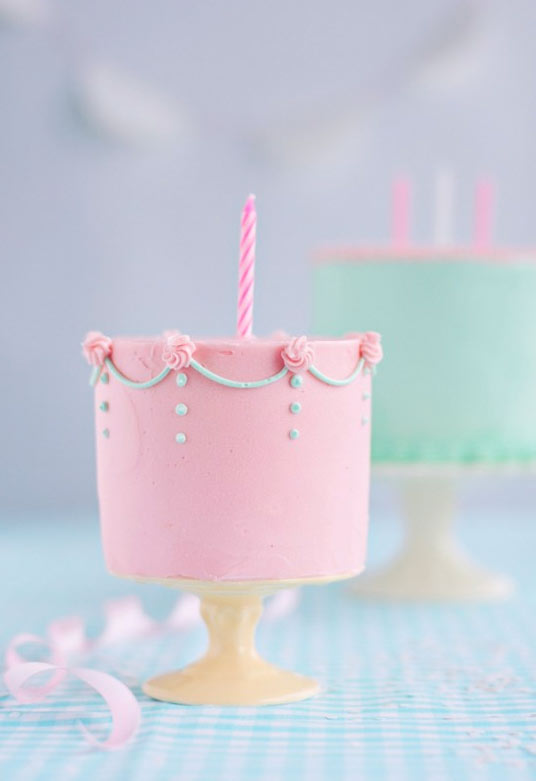 Photo via Sweetapolita
Sweet and simple vintage-looking perfect pink cake:
This whimsical, retro-looking mini buttercream iced cake reminds me of a little girl ballerina who's trying to be grown up with eyeshadow and lip gloss, but really is a child at heart — a child who would simply melt upon being presented with a cake as lovely as this, with iced swags in contrasting color and little pink rosettes.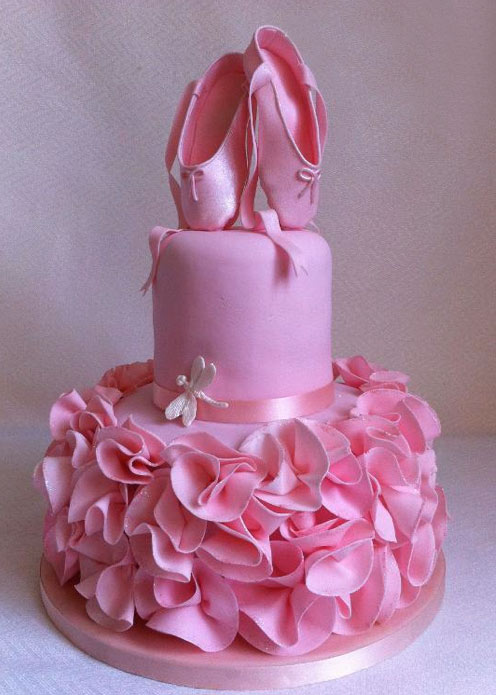 Photo via Bluprint member Mariapina
Ballerina slipper topped pink ruffle cake:
Those sweet pink ballerina slippers are perfectly on pointe! Bluprint member Mariapina created this ballerina-inspired ruffled cake while taking the online class Jeweled Wedding Cake with the talented and TV-famous cake designer Marina Sousa.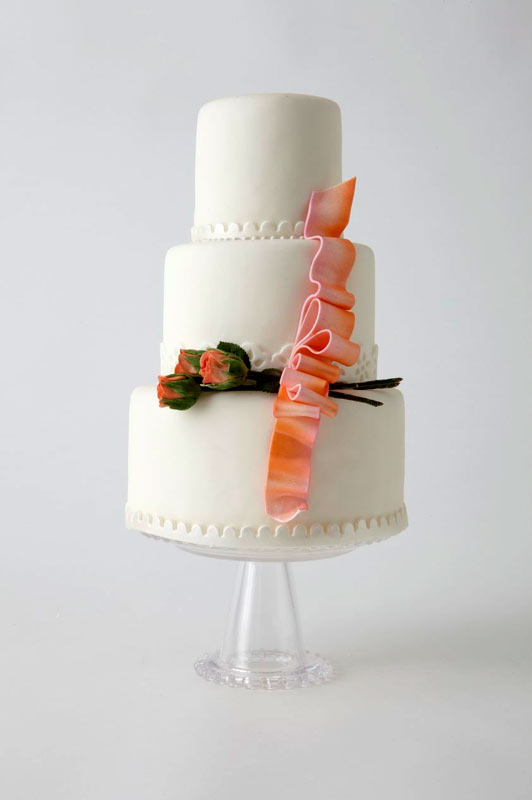 Photo via Lulu Cake Boutique
Ribbon and roses tiered cake:
I love the statement multi-toned ombré sugar ribbon rippling with movement down this cake. The small gathered roses remind me of flowers being tossed on stage at the feet of the beautiful principal ballerina after a mesmerizing turn in Swan Lake.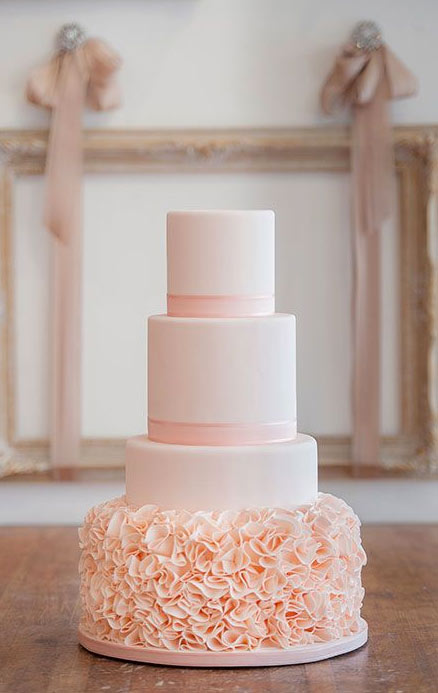 Photo via Bobette & Belle
Pastel peach couture-inspired cake:
Another gorgeous cake from Bobette & Belle, this time in a pale pastel peach. Have you tried this fondant ruffle technique? It reminds me of a wall of carnation flowers.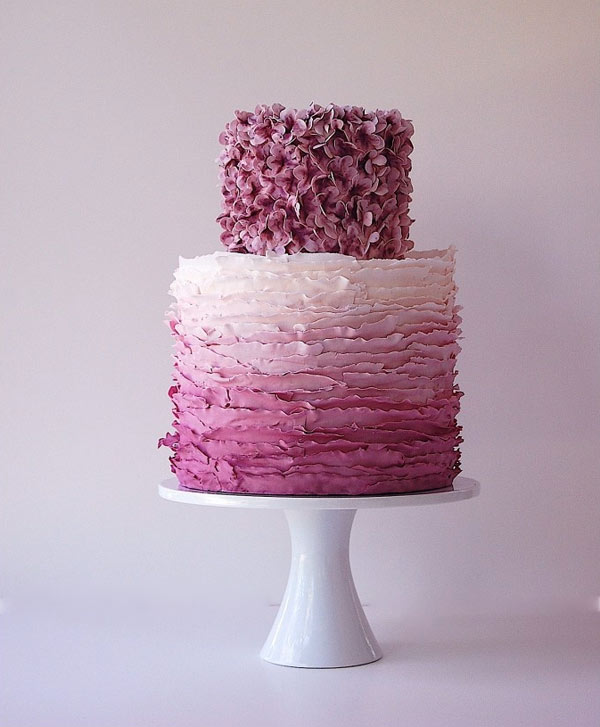 Photo via Maggie Austin Cake
Frills and blossoms cake:
How could I not include the original master of the ballerina-inspired cake — a ballerina dancer herself, the inimitable cake artist Maggie Austin. I love how ethereal, artful and painterly Maggie's work is, and her fondant frill work started a huge trend. There's a reason it's so popular — it's eye catching, feminine and romantic, perfect for weddings!
Have you tried Maggie's beautiful technique yet? You can learn it right here on Bluprint in Maggie's popular Fondant Frills class.
After making a beautiful work of cake art, do you ever wonder how to deliver it to your client in one piece? Come back to the Bluprint blog tomorrow for tips on transporting your cakes!
Have I inspired you to dust off your satin slippers? Are you doing a plié right now in front of the bathroom mirror? Which ballerina cake strikes your fancy the most?