Let's talk about sweet potatoes. Are you a fan? I am a sweet potato lover, but that wasn't always the case. I didn't grow up eating sweet potatoes and just started incorporating them into my recipes. It took me a little while to warm up to this creamy and sweet, oddly shaped potato, but once I did there was no going back.
Whether you're new to sweet potatoes or a long time lover, this baked sweet potato recipe will make your mouth do an instant happy dance.
Ready? Let's learn the (easy!) steps it takes to make sweet potato egg boats
You'll want to start off with two long and wide sweet potatoes. I go with the orange flesh variety, but any will do. They're sometimes labeled "yams" in the store. Those are perfect!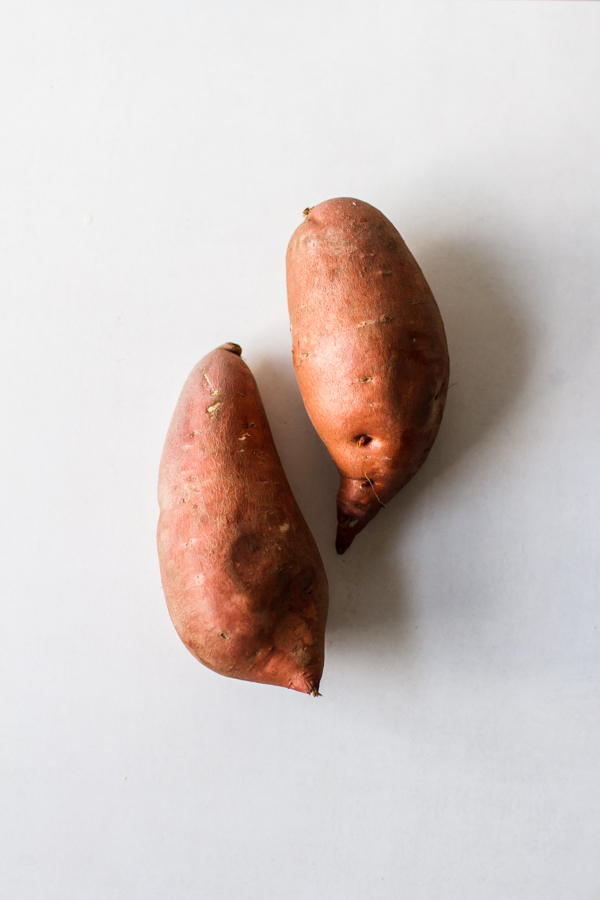 After the skin is wrinkled and crisp you'll remove the potatoes from the oven and make way for the egg. You'll want to carve the hole as wide as possible and not go too deep or the egg will take much longer to cook.
A little pad of butter in the bottom won't hurt things one bit.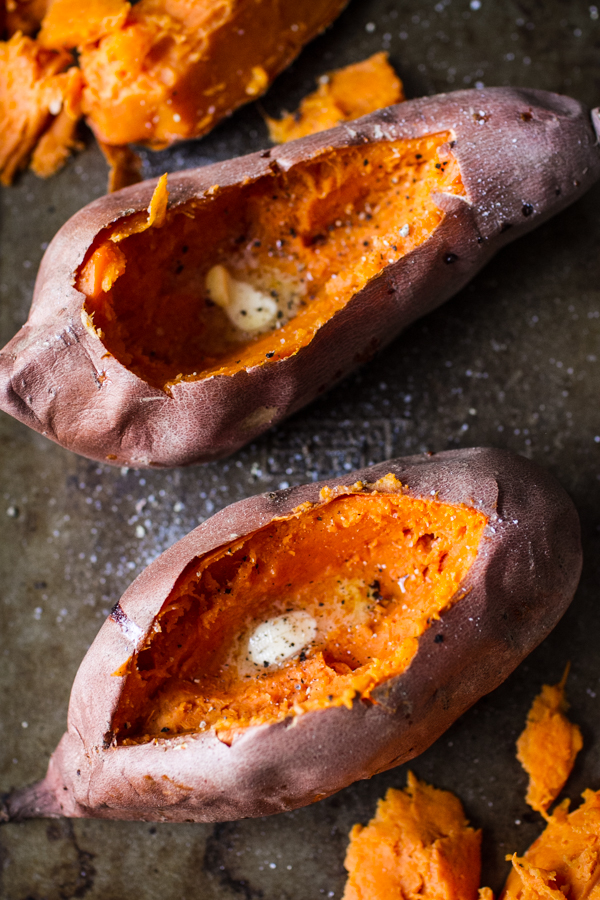 And there you have it.
A baked potato with an egg inside. Who would have thunk it?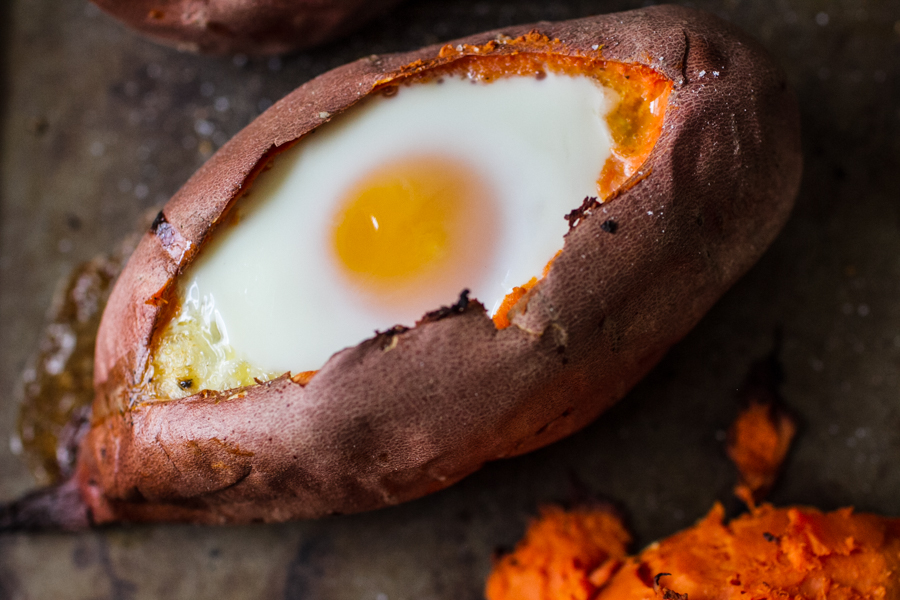 With a salad on the side this is a very filling meal. Sweet potatoes are extremely filling by themselves and then adding more healthy fats and protein from the egg will leave you feeling even more satiated.
I like broiling a little parmesan cheese on top and finishing off with salt, pepper and chives. You can use any type of cheese you like or skip the cheese entirely.
I cooked the eggs so the white was set and the yolk was soft but not runny. There's a definite sweet spot for the bake-time if you want a runny yolk but also want the white fully cooked. It also depends on how wide your potato (and cut-out) are. If you overcook it slightly it will still taste great. Not to worry!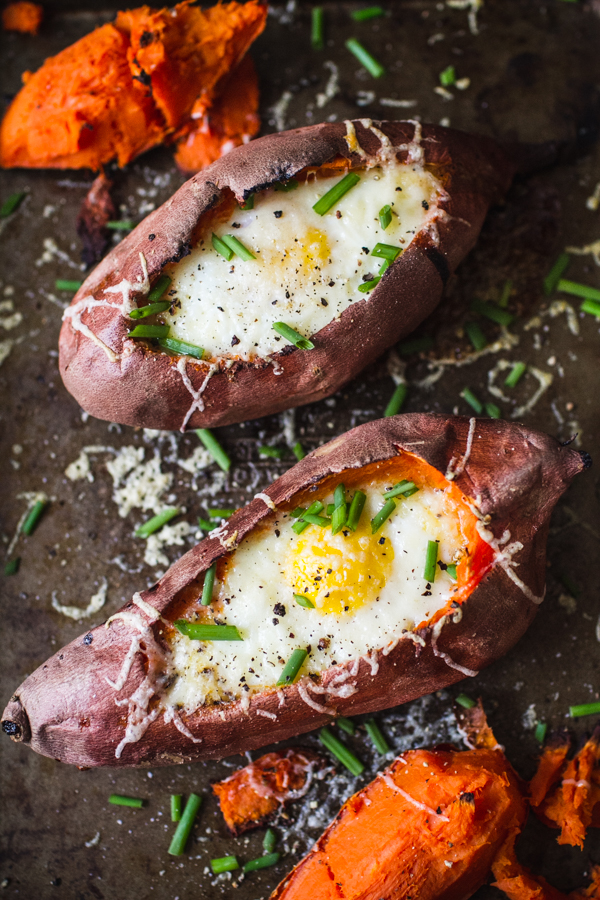 Baked Sweet Potato Egg Boats
Yields: 2 servings
Ingredients:
2 large sweet potatoes*
2 large eggs
Parmesan cheese (optional)
Toppings: butter, salt, pepper, chives
Step 1:
Preheat oven to 400 F.
Step 2:
Prick sweet potatoes a few times with a fork and place in the oven (on the oven rack or a baking sheet). Bake for 45-60 minutes until the potatoes are tender. Test with a fork.
Step 3:
Cut out the top of the sweet potato with a knife and then scoop to remove with a spoon. You want the scoop about 4 inches long, as wide as the edges of the potato, and 1 – 1 1/2 inches deep.
Step 4:
Sprinkle with salt and pepper and spread with butter.
Step 5:
Crack an egg into a bowl then gently pour into one of the holes you scooped out from the potato. Repeat with the other potato.
Step 6:
Place potatoes on a baking sheet and bake for 10 – 20 minutes, checking frequently after 10 minutes. Cook the egg until cooked to your liking. This will vary depending on the size hole you scooped out and how cooked you want the egg. Remove potatoes. You can test the white of the egg with a toothpick. If you are continuing to step 7 and adding cheese, leave the egg slightly less cooked than you want.
Step 7:
Turn your oven to broil.
Top potatoes with grated parmesan and place in the oven for just a minute on the top rack until the parmesan is melted. (If you leave the potato too long the yolk will quickly cook and become firm)
Recipe notes:
*This recipe works best when using large sweet potatoes. Ideally, your potato should be at least 5 inches long and 3 inches wide for most of the length of the potato.
If desired, you can whisk the egg for a more scrambled effect then pour into the potato.