Watch out, French fries. There's a new side dish in town: carrot fries. They're easy to make, vegetarian-friendly and totally delicious. 
Photos via CakeSpy
This simple carrot fries recipe requires fewer than 10 minutes of prep, and only about 20 minutes to bake.
Yes, bake: This recipe doesn't actually require frying. The oven works perfectly to roast seasoned carrot strips into the perfect snack, with crispy edges yet a tender interior.
The flavor is carrot like you've never tasted before. Roasting brings out the natural sweetness of the carrots, and they practically caramelize on the edges with a savory spice and Parmesan cheese coating. They're just so good! 
They're a healthier alternative to French fries, and an easy way to pack an extra serving of Vitamin A into your day.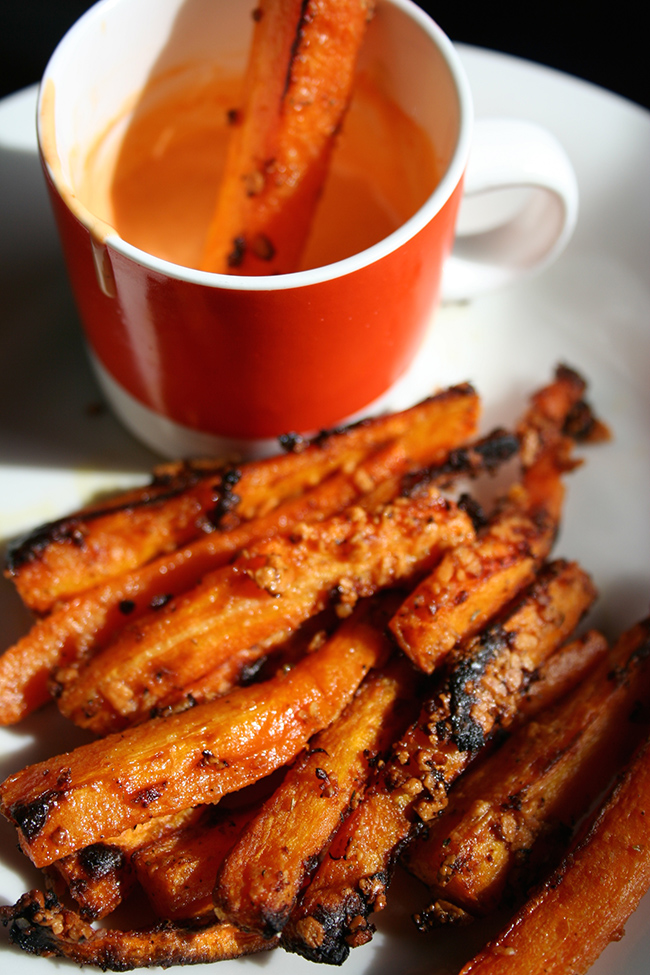 How to make carrot fries 
Makes 2-3 servings 
2-3 medium carrots
2 tablespoons olive oil 
3 tablespoons grated Parmesan cheese 
Salt and pepper, to taste 
Spices or seasonings of your choice (I used herbes de provence) 
Step 1:
Preheat your oven to 400 F. Line a baking sheet with a silicone mat or parchment paper. 
Step 2:
Peel the carrots, and slice each one in half, making for two short halves. Slice each half into four strips (if they're fairly large carrots, slice each fourth in half).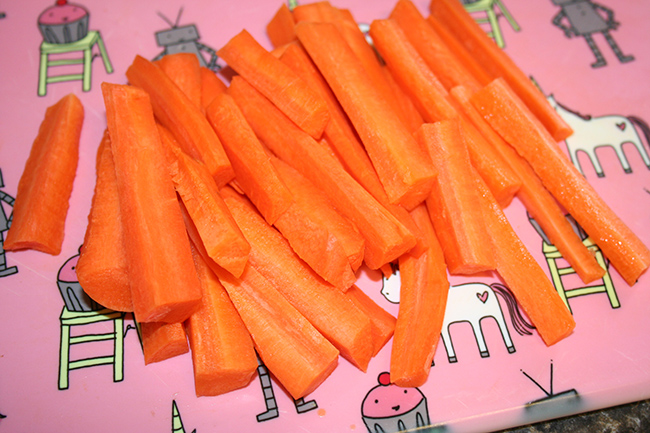 Step 3:
In a large bowl, combine the olive oil, Parmesan cheese, salt and pepper to your liking, and if desired, whatever other seasonings you think might taste good. Add the carrots and, using clean hands, mix the carrots and flavorings together. Make sure that the carrots get nice and coated!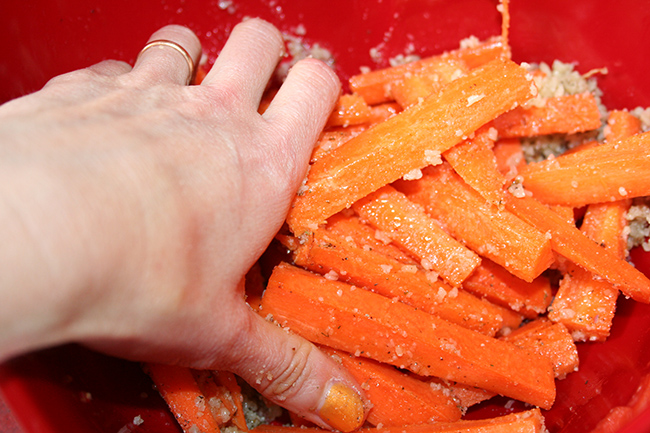 Step 4:
Scatter the carrots on top of your prepared baking sheet. If there's any liquid or spice still in the bowl, scrape it out with a spatula and onto the carrots (you don't want to lose any of that yumminess).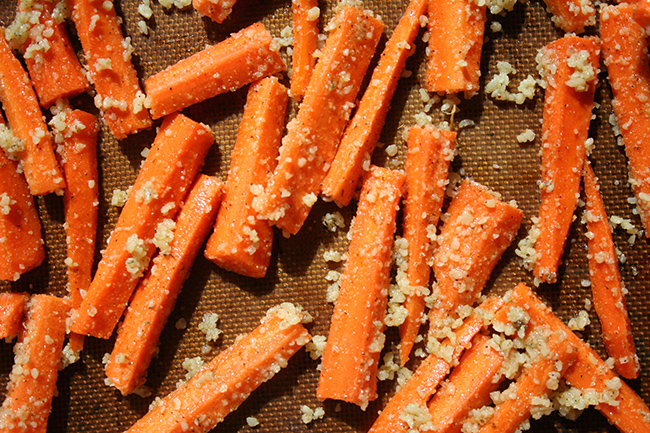 Step 5:
Bake in the preheated oven for 15-20 minutes, rotating after about 8 minutes to ensure even cooking. Remove from the oven, and transfer the baking sheet to the top of a wire rack to cool slightly before serving.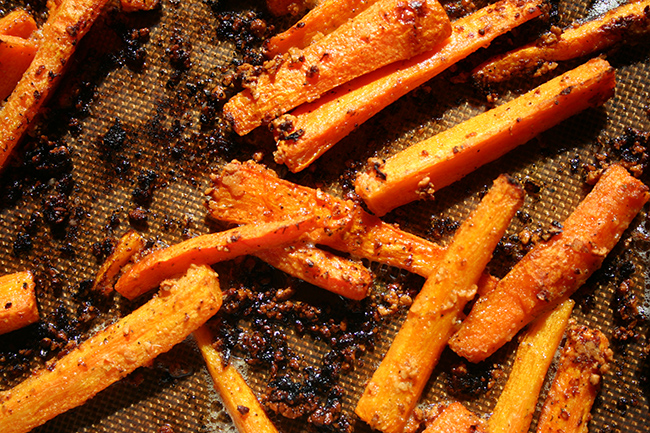 Recipe notes
For seekers of crispy edges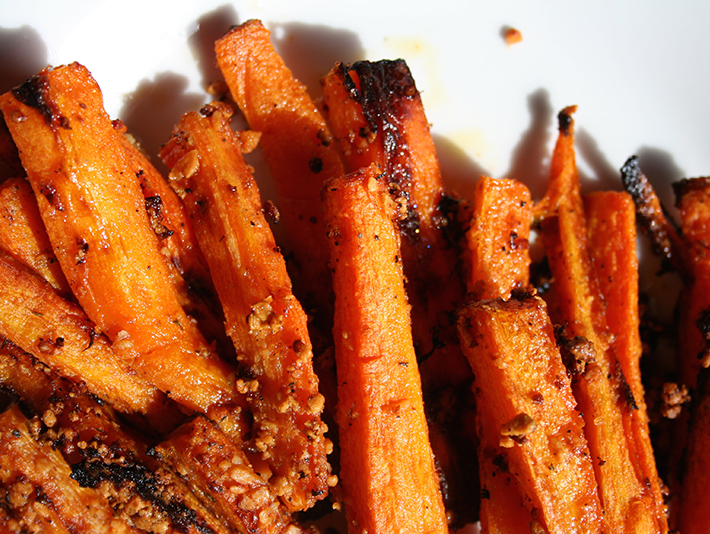 If you like super crispy edges on your fries, switch on the broiler setting on your oven for the last minute or so of baking. It will crisp up the edges beautifully. 
Carrot alternatives
Don't have carrots, or just want to try something new? This recipe works with parsnips or rutabaga as well. I personally haven't tried this recipe with other vegetables, but if you do please leave a comment and let us know how it works out!
Make a simple sauce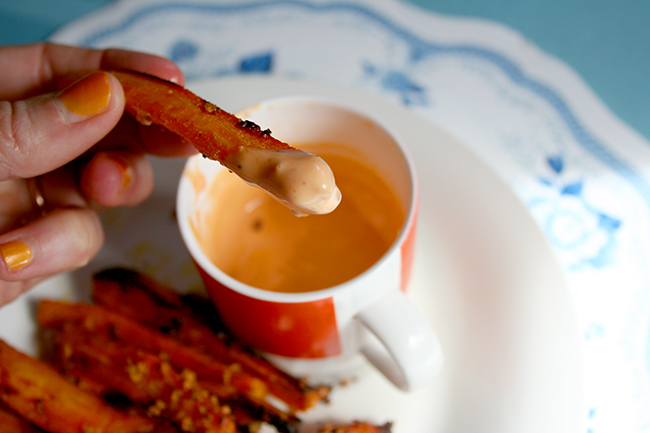 If desired, serve with a simple sauce made from a few tablespoons of mayonnaise or plain Greek yogurt (you can substitute vegannaise or non-dairy yogurt if desired) mixed with sriracha sauce to taste. It's so simple, but decidedly addictive. 
Love these carrot fries? Give our easy roasted avocado slices recipe a try, too. They're creamy on the inside, crispy on the edges, and make for a completely delicious and naturally vegan snack.