Doughnut holes used to be the cutest little carbohydrate on the block. But all that has changed since the advent of bagel balls.
Photos via CakeSpy
These adorable lilliputian homemade bagel balls pack the experience of eating a bagel with cream cheese into a single two-bite treat. The exterior is exactly what you'd expect from a classic bagel: lightly chewy, slightly crisped, but not hard. But when you bite into these treats, you're in for a surprise: the cream cheese is stuffed in the center. 
Making bagel balls feels like a little bit of cooking fusion: you'll use bread making basics to make the dough, which is then poached and baked for the perfect consistency. Then, you'll make little holes in the balls, sort of like filling doughnuts or cream puffs, and fill the holes with cream cheese. At the end of your cooking and baking adventure, you'll be rewarded with delicious bagel balls that are as delicious as they are darling to behold.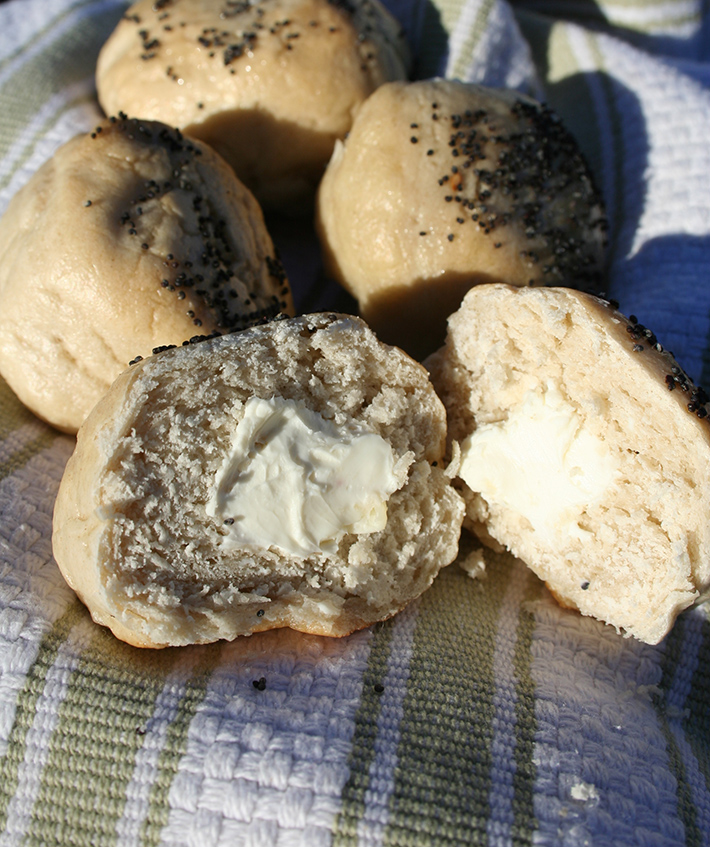 Bagel balls recipe
Makes about 32 2-inch balls 
For the dough starter:
1/2 cup bread flour
1/4 cup lukewarm water
1/8 teaspoon yeast, from a single 0.25 ounce packet
For the dough:
4 cups bread flour
1 1/4 cups lukewarm water 
2 teaspoons salt
About 2 1/8 teaspoons yeast (the remainder of the package)
For the boiling mixture:
Enough water to fill a 10-inch skillet or pan with at least 1 1/2 inches of water
1 tablespoon light brown sugar or honey 
To top:
Sesame seeds, poppy seeds, or your choice of toppings, to taste
To fill:
Note: International readers may enjoy our handy .
Day 1: Prep
Prepare the dough starter. Stir together the flour and yeast in a medium bowl. Carefully seal the remaining yeast in the packet, wrap in plastic, and place in the refrigerator until tomorrow. Stir in the water until combined. Cover with plastic wrap, and let rest at room temperature overnight, or up to 24 hours. It may become puffy or slightly change color. Don't worry. 
Day 2: Make the bagel balls 
Step 1:
Remove the starter from the small bowl and place in a larger bowl. Combine with all of the dough ingredients. Knead the dough until it is stiff and no longer sticky. You can do this by hand, right in the bowl, or transfer it to a smooth work surface (something non-stick will work best, such as a very clean marble countertop). You can also knead with an electric mixer fitted with the dough hook. If you are doing it by hand, it may take up to 10 minutes. The dough may start out sticky, but it will lose its stickiness as you knead, becoming somewhat stiff but still pliable.
Step 2:
Place the dough in a lightly greased bowl. Cover with plastic wrap, and let it rise at cool room temperature for 1 hour. If you are running an errand and can't make it back for 2 hours, you'll be ok, so don't panic.
Step 3:
At the end of this rising period, gently deflate the dough: make a punching-style fist, and press down on the dough. Once you've delivered the gentlest punch ever, re-cover the dough, and let it rise for another 30 minutes.
Step 4:
Transfer the dough to a smooth work surface, and divide it into 32 equal pieces. How to do that? It's easy. First, divide the dough in four, then divide each fourth into four equal pieces; now you have 16 pieces. Divide each portion in half, and you'll have 32 lumps of dough. 
Note: if you'd prefer larger bagel balls, you can divide the dough as you see fit. 
Step 5:
Roll each piece into a round ball. Gather the edges of the dough and fold them under, then roll the dough between your palms. This will help even out any "seams" across the top of the dough. Place each ball of dough with any seam aligned downward. Leave the dough balls on the work space, carefully allowing a little room around each one as they will rise one more time and you don't want them to stick. Cover the dough balls with plastic wrap again, and let them rest for 30 minutes.

Step 6:
While the dough balls rest, prepare your boiling solution. Fill your skillet or pan with about 1 1/2 inches of water (if it's too high, you might want to use a different pan, because remember that the weight of the bagel balls will displace the water, too). Add the brown sugar or honey. Don't heat it quite yet, but have it ready to go.
Step 7:
Preheat your oven to 425 F. Line two baking sheets with parchment paper or silicone mats. Set to the side. If you'd like to add toppings, have them prepared in shallow dishes so that you can dip the tops of the bagels in them before baking. 
Step 8:
Now, it's time to create the boiling bath. Over medium heat, bring the contents of your pan to a gentle simmer. Once you've come to this point, use a spatula to transfer the bagel balls a couple at a time into the simmering mixture. Only place as many balls  as fit comfortably into the pan without touching. 
Step 9:
Cook the bagels for about 1 minute on the first side. Flip using tongs, and cook for slightly under a minute on the second side. They will start to take on a slightly gummy texture, but don't worry. This is normal.
Step 10:
Using a slotted spoon or even tongs, remove the balls from the water. Gently tap to drain excess water. Press the tops of the bagel balls into your shallow dishes of chosen toppings, assertively enough so that they stick but not so hard as to crush the balls. Place them on the lined baking sheets with a little space between each ball.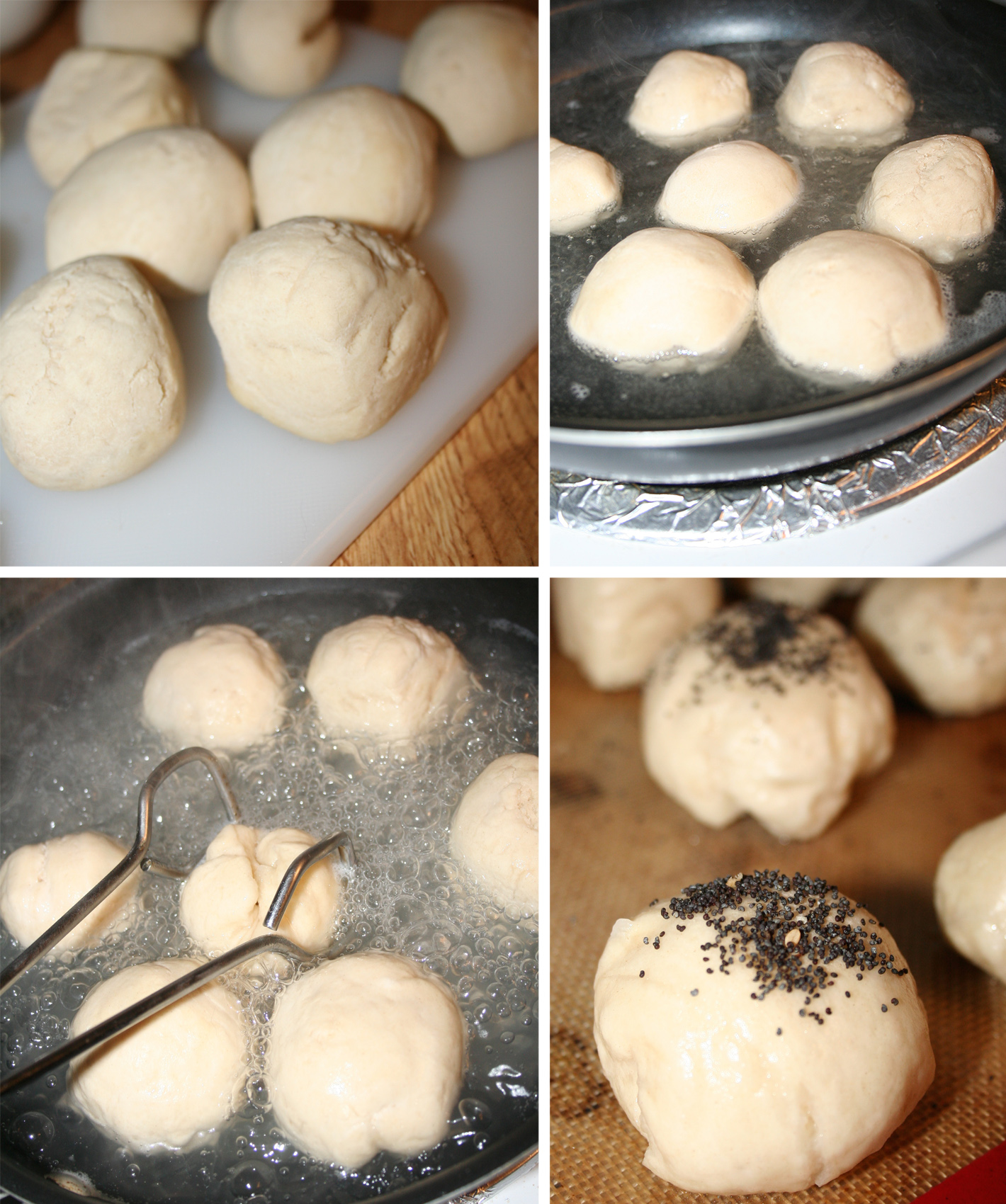 Step 11:
Bake the balls for 14-16 minutes, or until they have attained your desired level of browning. Remove from the oven, and let cool on wire racks until they have reached room temperature. 
Step 12:
Once cooled, make a small cut using a knife in the side of each ball. Use either a very clean finger or a chopstick to create a hole inside of the bagel by lightly smooshing the inner part of the ball. You don't have to remove any of the bread from inside, although you can if you prefer.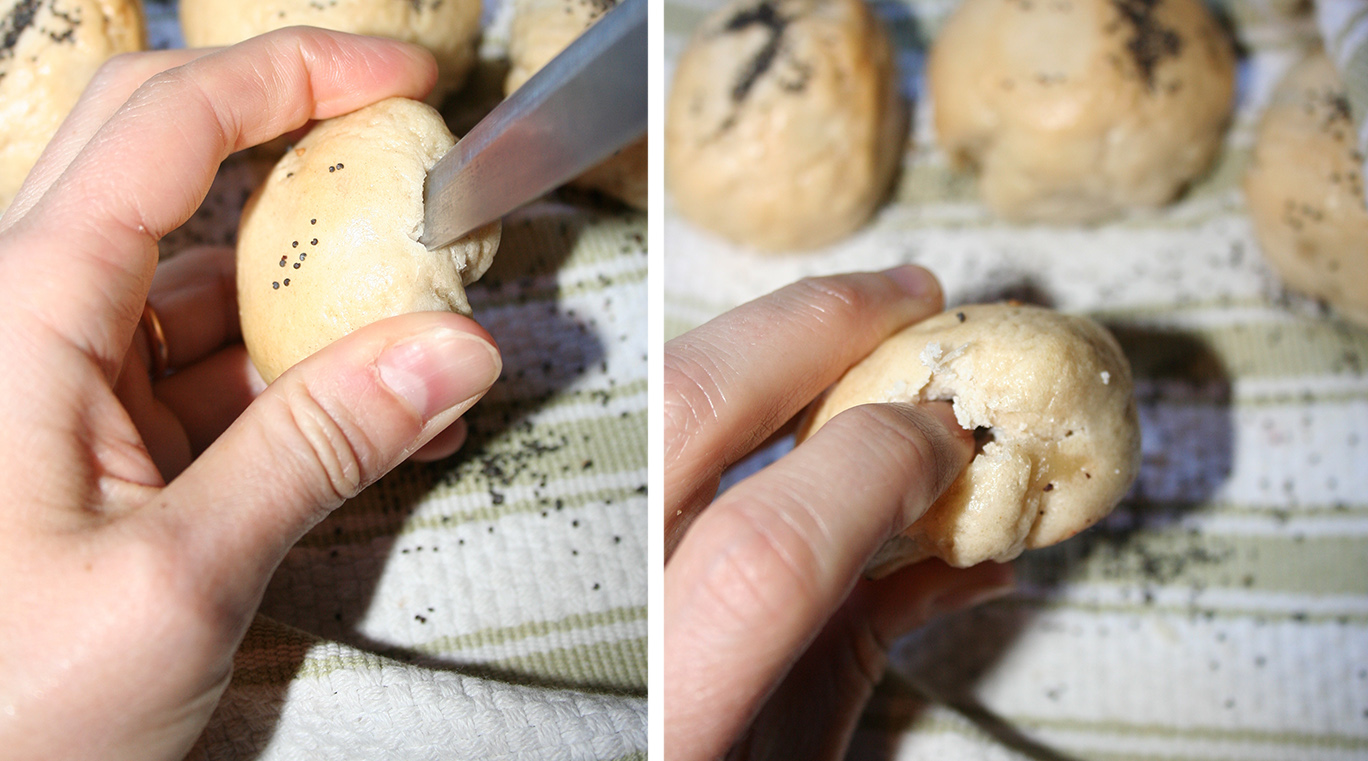 Step 13:
Using a small knife, smear cream cheese in the holes you've created. One 8-ounce brick of softened cream cheese should be sufficient to fill all of your balls.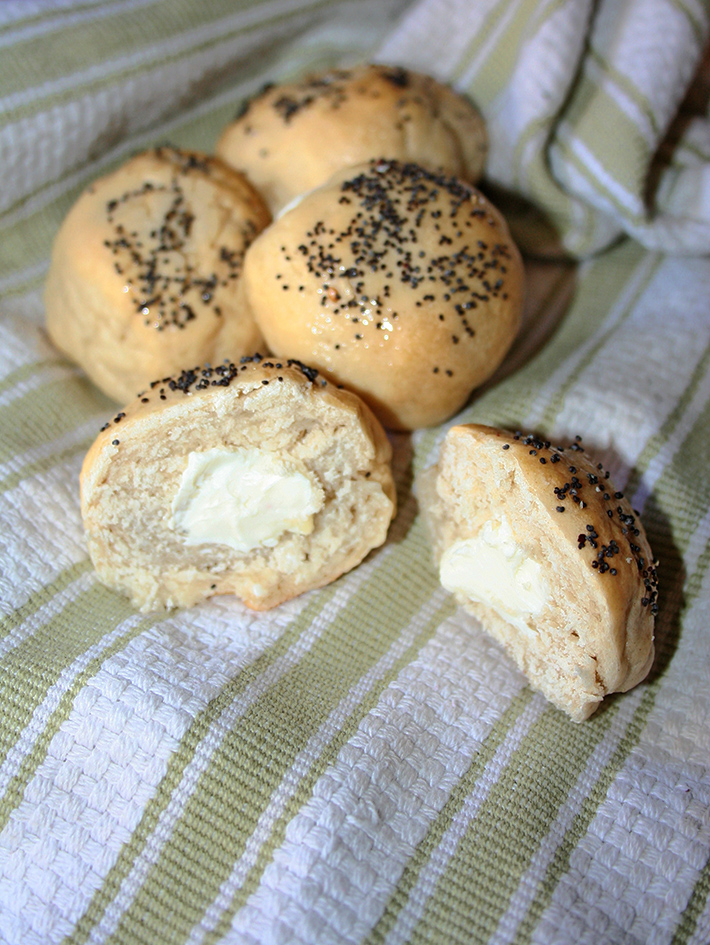 Your bagel balls are done, and boy, are they cute! Enjoy. 
Have you ever tried a bagel ball?