Pancakes. Bacon. Some things are just better together.
While these two practically perfect foods have been sharing real estate on breakfast plates for years, they're typically prepared separately.
Declare an end to this division by bringing them together in one delicious dish with this recipe for bacon pancakes.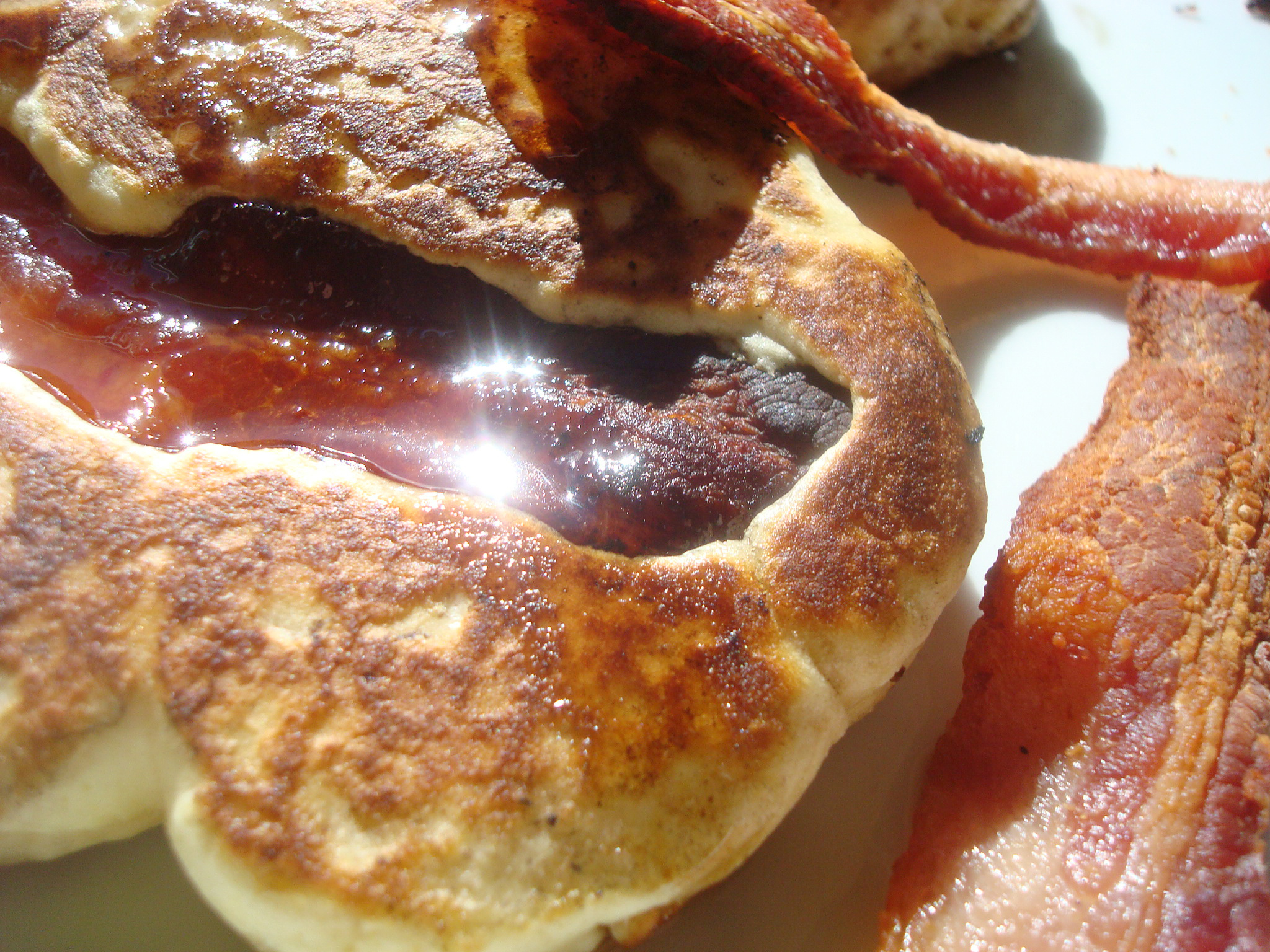 Photos via CakeSpy
This recipe actually enjoyed a moment in the sun in the 1960s, when it was featured as a back-of-the-box recipe on a popular pancake mix. Given bacon's vogue in recent years, it's the perfect time to revisit this awesome breakfast idea.
The concept is simple: Place cooked bacon strips on a griddle or pan, and pour a slightly thick pancake batter on top, so as to mostly enrobe the bacon. Cook and flip as normal, and then enjoy a sweet and salty breakfast delight.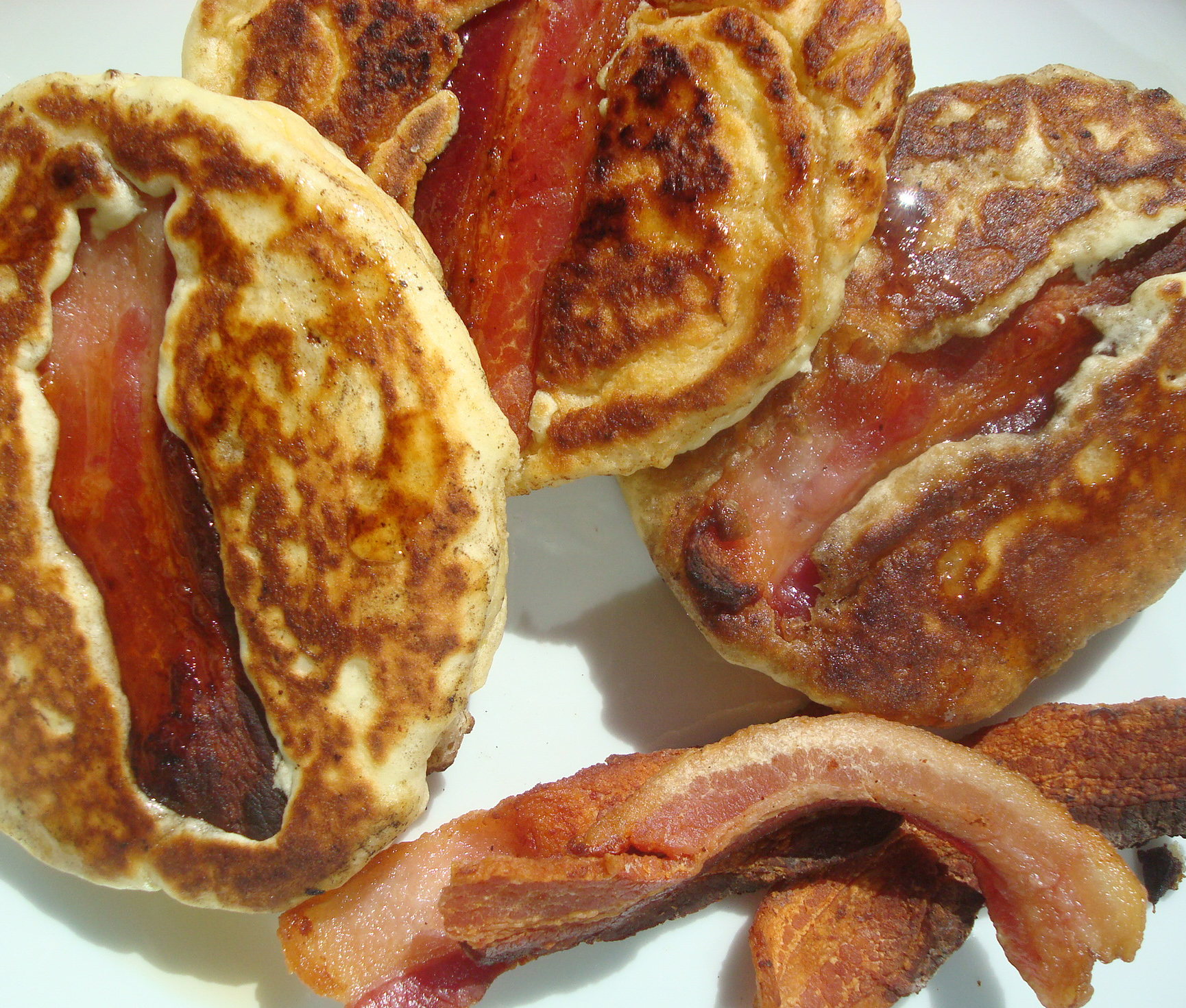 Note: the below recipe features buttermilk pancakes. While the buttermilk works well, taste-wise, with the bacon, it is not necessary for success. You can use your favorite pancake recipe, but make it slightly thicker. Do this by adding half of the milk or liquid at first, and gradually adding only as much of the remainder necessary to form a workable batter which can be spooned and spread in the cooking pan. This will encourage the pancakes to puff up around the bacon in a most delightful way.
Recipe for bacon-filled pancakes
Adapted from allrecipes.com
Total time: approximately 25 minutes
Yield: approximately 12 pancakes
Ingredients:
3 cups all-purpose flour
3 tablespoons granulated sugar
3 teaspoons baking powder
1 1/2 teaspoons baking soda
3/4 teaspoon salt
2 cups buttermilk, plus 3/4 cup
1/4 cup milk
3 eggs
1/3 cup butter, melted
12 slices cooked bacon, cooled and drained of fat (or, if your slices are quite long, use 6 slices and cut them in half for 12 pieces total)
Note:International readers may enjoy our handy metric conversion guide.
Step 1:
In a large bowl, combine the flour, sugar, baking powder, baking soda and salt.
Step 2:
In a separate bowl, mix together the 2 cups buttermilk, milk, eggs and melted butter. Reserve the remaining buttermilk; keep the two bowls separate for the moment.
Step 3:
Heat up your pan, with a generous pat of butter or shortening.
Step 4:
Pour the wet mixture into the dry mixture, stirring until just blended. A few lumps are inevitable. If your mixture seems way too thick, add the remaining buttermilk a little at a time until you have a thick, yet workable batter. You want it be thick enough so that it won't spread too much when added to the pan, yet not so thick that it can't easily be spooned.
Step 5:
Lay a slice of bacon on the pan, and pour batter over it so that it covers all sides.
Continue to cook until the sides begin to puff and it feels ready to flip. You'll see something like this once you flip it: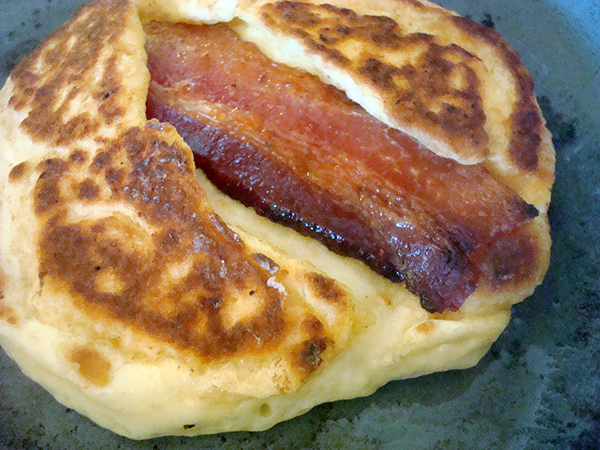 If you desire, you can also pour the batter on to the pan in a slightly oblong way and place the bacon on top, pressing it to ensure it adheres.
Now that you've gotten the hang of it, you can do more than one pancake at once. Just make sure to space each slice appropriately, so that the batter won't stick together (unless, that is, you want a double-header of delicious bacon pancake). Continue with the rest of the bacon, until you've used it all.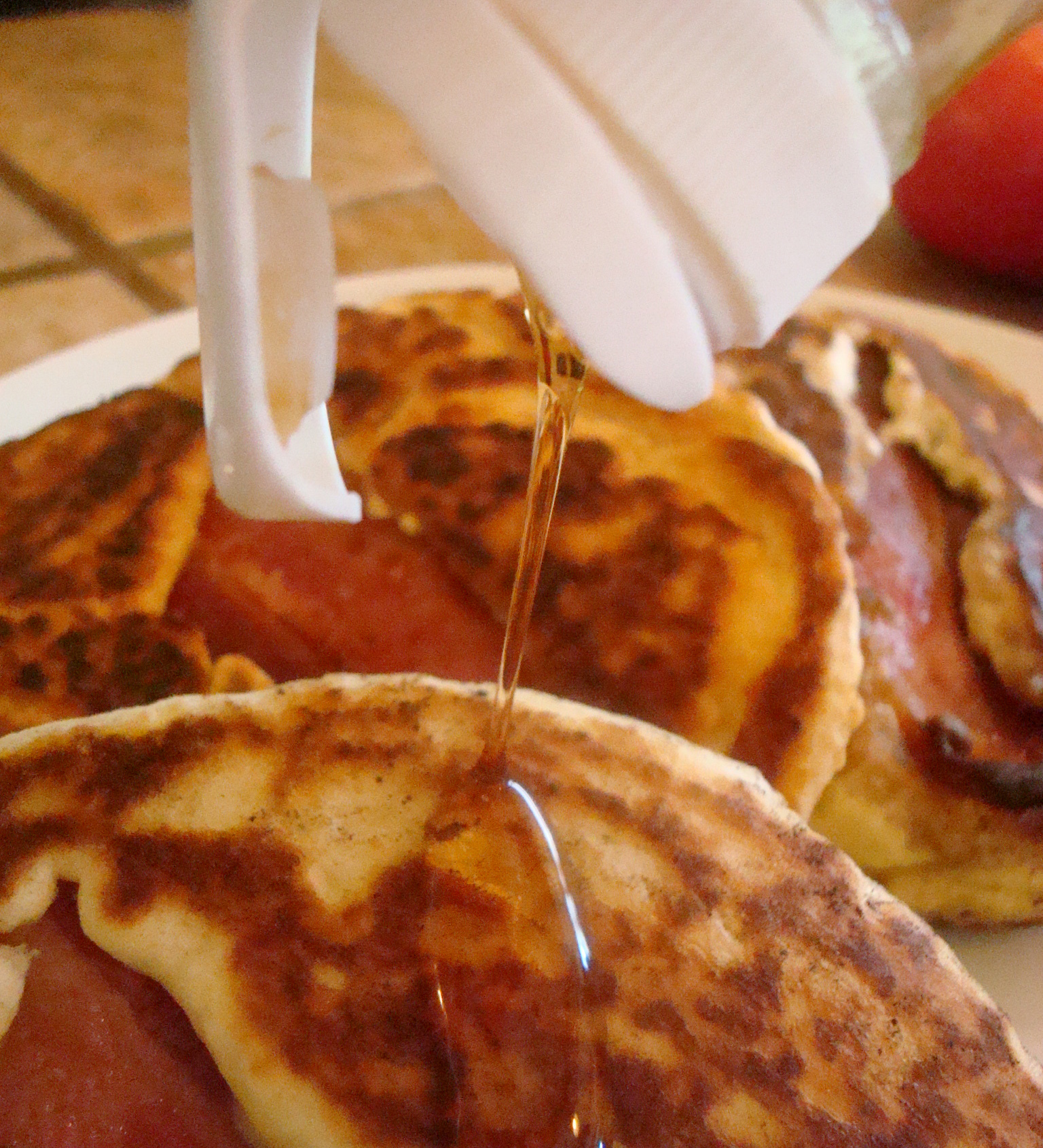 Let the pancakes cool slightly before serving.