There is nothing like preparing a student for another school year with a new quilt. It can be a new bedspread for their room, a blanket to snuggle during reading time or even a quilted backpack to carry books. Quilts are a fantastic source of comfort and reassurance to anyone starting a new adventure, and school certainly is a  big one.
Use your imagination when making a quilt. Think of their hobbies. Do they participate on any sports teams? Do they have a subject they really enjoy? Once you have it narrowed down, it will be easy to create a quilt for them.
So, whether they are heading to kindergarten or college, here are back to school quilt projects to inspire the gift you make for that special student in your life.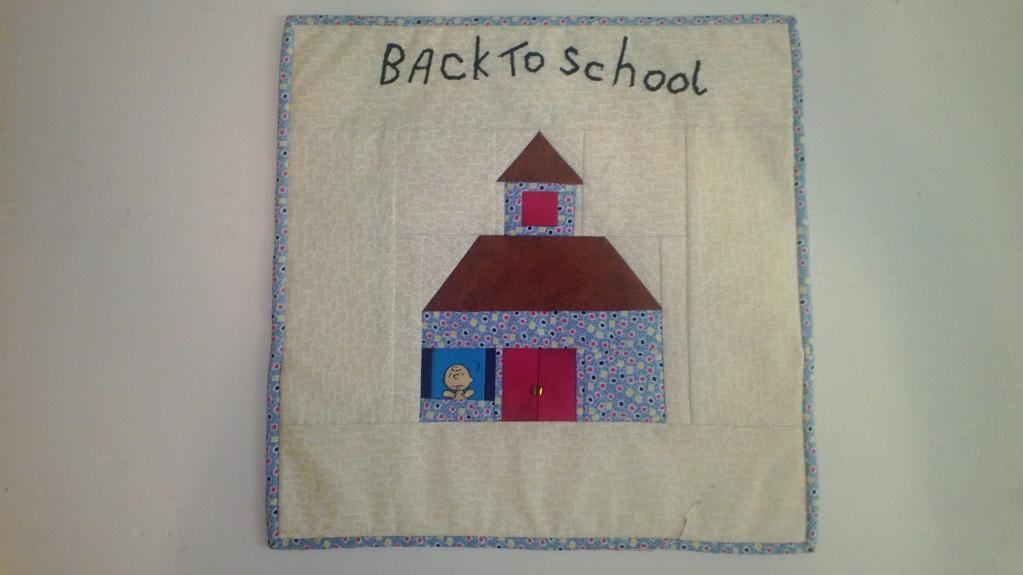 Back to School Quilt via Bluprint member Cristol
Take a look at this adorable little quilt. This back to school treasure can be used when your child wants to snuggle in bed or curl up and do some reading. By using simple paper piecing and hand embroidery for the words, a sweet quilt is created. To try something even faster, why not fuse a school building onto the background and grab a fabric marker and write the words on the quilt?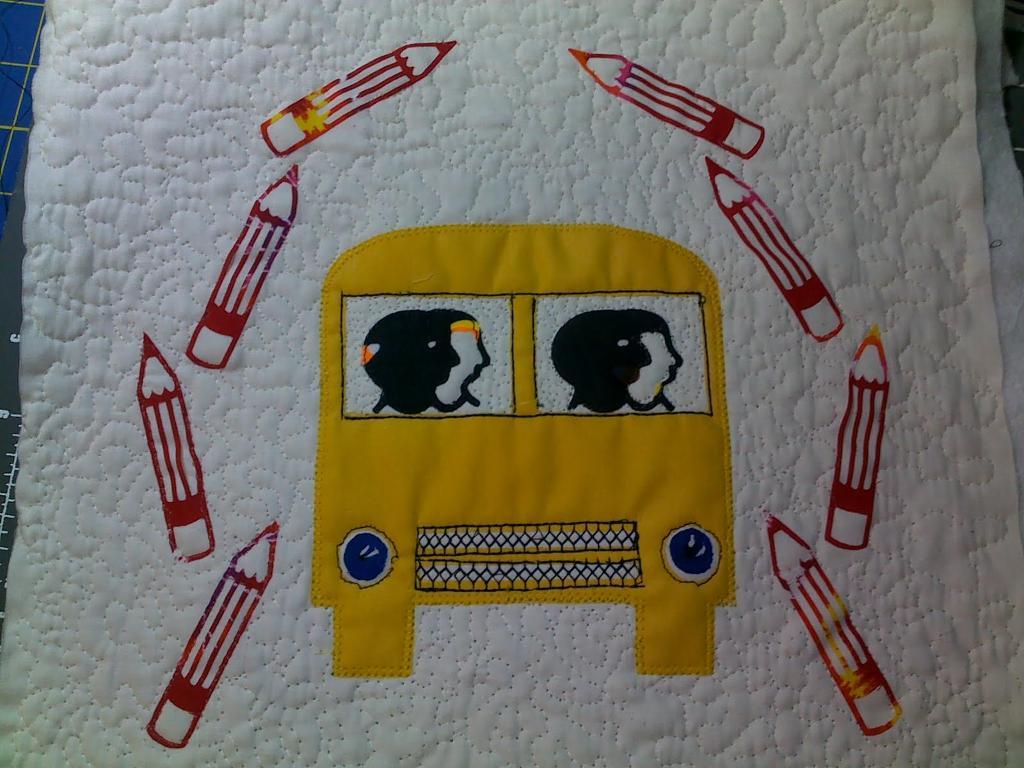 School Bus Quilt via Bluprint member Team Craftwell
Kids love the bus ride! How much fun would it be to go riding off with this quilt tucked into your backpack ready to be pulled out at quiet time? Your child will be the envy of every student in the class! By using fabric paint and markers, this quilt is bright and colorful without a lot of piecing to it. The free-motion quilting in the background adds that extra detail to make the pencils and bus stand out.
Get creative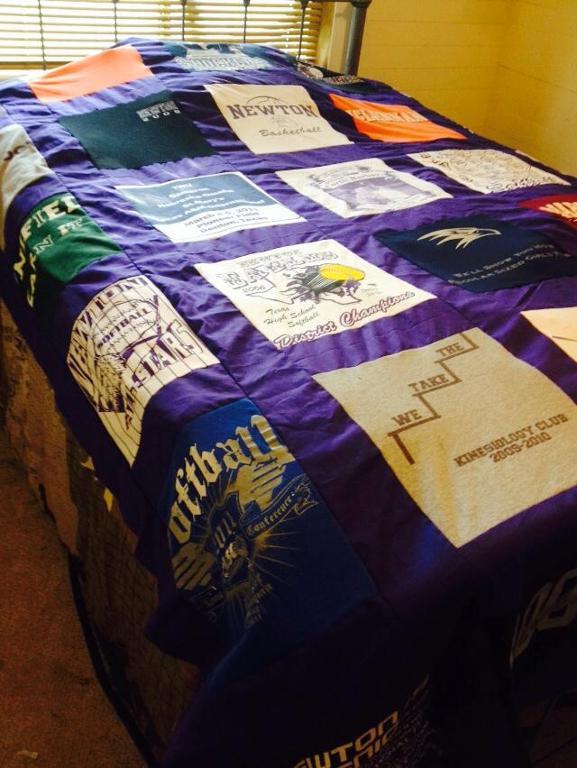 T-shirt quilt via Bluprint member Carla Frazier
Have they been going to the same school for a few years? Consider making them a T-shirt quilt using their school shirts or some of their favorite clothing they wore while attending school. Everyone loves a quilt filled with memories!
Quilts made from clothing are not hard to make, as long as you remember to back that stretchy knit fabric with a stabilizer of some sort to hold it in place so your squares are nice and even when assembling the quilt.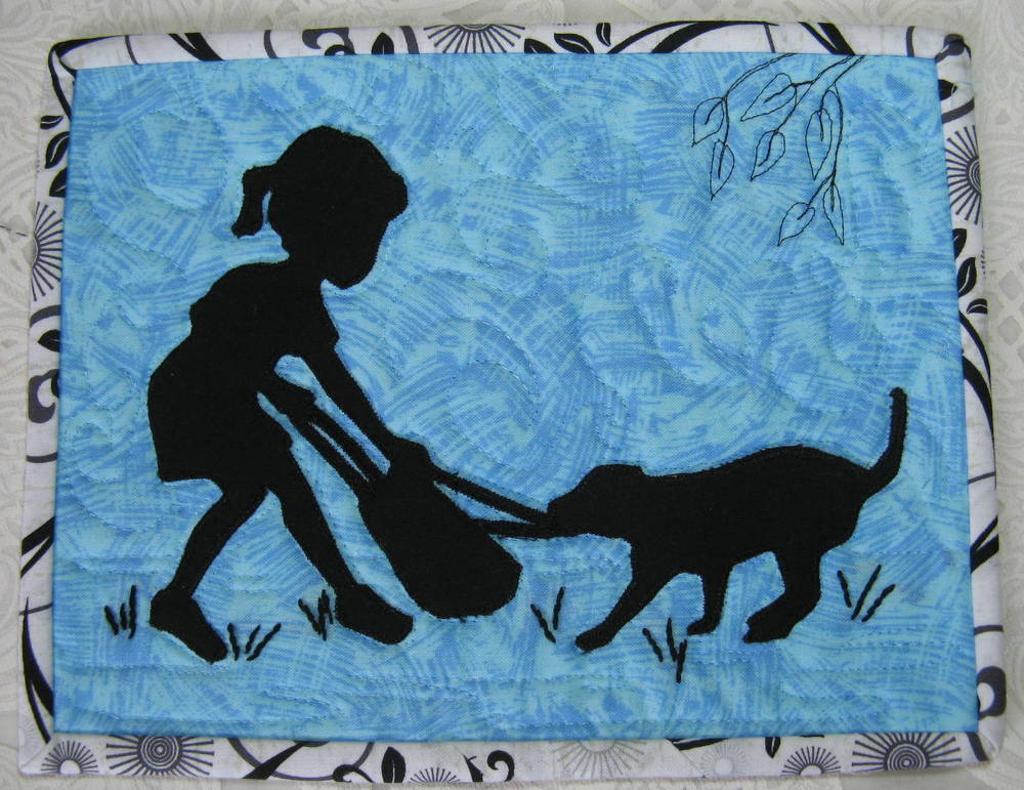 School Days mug rug via Bluprint member 2string
Mug rugs are a fun and cute way to welcome your student back to school. Imagine the smiles having a little snack on an adorable place mat to perk up a child on their first day back to school. Better yet, make small mug rugs and send to school so they have a place to rest their sandwich on at lunch time.
Quilts such as mug rugs or place mats allow you to stretch your imagination on a small scale. Why not try some hand work such as embroidery on such a project? Shadow work demonstrated below is a fun way to emphasize a character without having to worry about too many details.
Involve others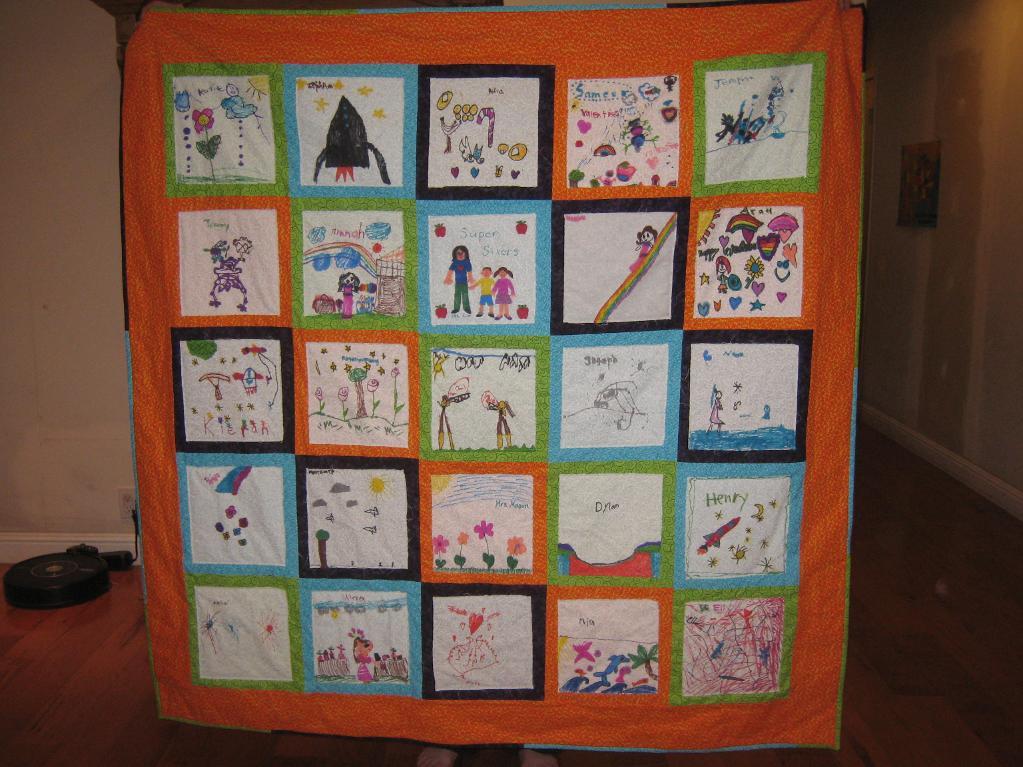 1st Grad Class Quilt via Bluprint member xstitchingirl
Nothing makes quilting more fun than involving others. Why not make a quilt with a class of students? They can be as young as 4, or as old as 14. Check out our tutorial on quilting with young children. Get together with your quilting friends and each make a quilt for the favorite student in your life.
Try a fun back to school quilting pattern!
Take a look at these great back to school quilt patterns! They are perfect for that special student heading to school.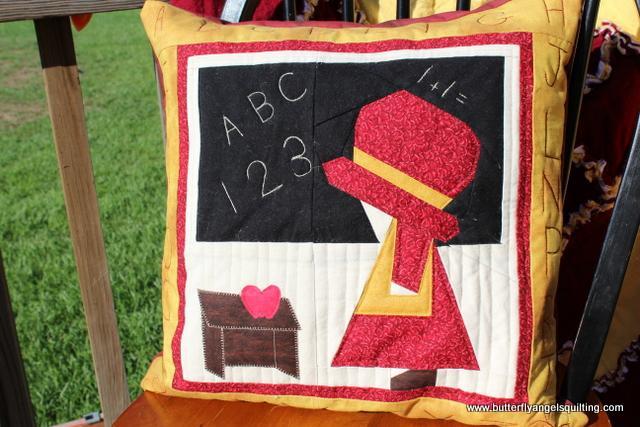 Quilted pillow pattern via Bluprint member ButterflyAngel
An adorable pillow using paper piecing is pictured above. Complete with chalk board, apple and desk!
Get the Back to School Sue pillow pattern here.
Pattern via Bluprint member Quilt Art Designs
This paper pieced pencil school house is too cute for words. Measuring 12″ x 12″ you could use it for a pillowcase or as a center panel on a larger quilt.
Get the Pencil School House paper-pieced pattern here.
Why not sign up for a Bluprint online quilting class and learn a new quilting skill while making a back to school quilt? Guaranteed you will have fun and create something memorable for the student in your life!
Have you ever quilted a back to school gift? What did you make?