It's unbelievable that summer vacation is coming to a close and students are preparing to start a brand new school year. As back-to-school shopping and planning is taking place, so is brainstorming of the perfect teacher gift. Why not get on the teacher's good side right from the start by gifting him or her with some celebratory back to school cupcakes?
Forget an apple! Pass a sweet and sugary note even teachers will love with this tutorial for back to school cupcakes!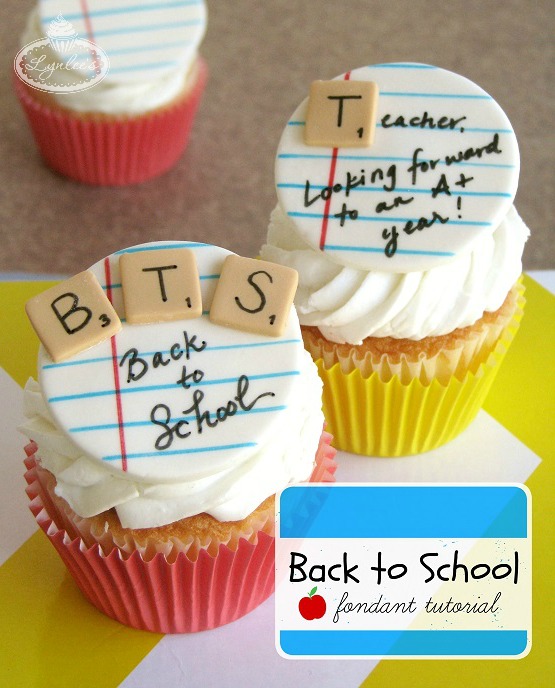 Materials needed:
Fondant (white and tan)
Fondant rolling pin with 1/8″ guide rings
1 wooden dowel
Water/edible glue and brush
2¼" round cutters
Small square cutter
Edible markers (black, red and light blue)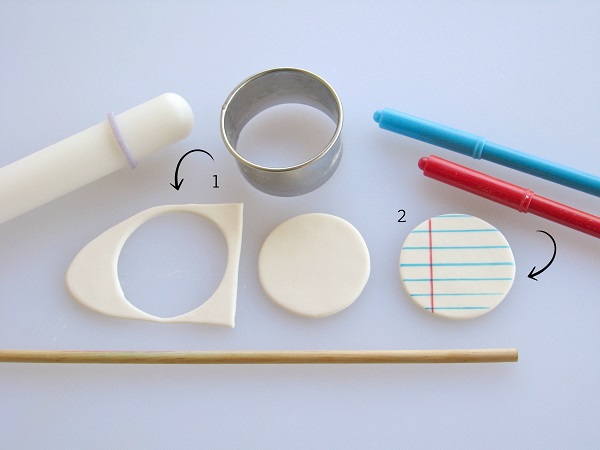 Step 1: Make a white fondant circle
Roll out white fondant with the rolling pin and 1/8″ guide rings. With the 2¼" round cutter, punch out a circle and set it aside to dry a little.
Step 2: Draw the notebook paper detail
Once the white circle has dried and hardened a bit, use the wooden dowel as a ruler to draw horizontal lines across the entirety of the fondant. Space the lines equally.
Do not press the markers down too hard, as the moisture of the marker tip can soften or make holes in the fondant. The harder the fondant is, the better — let is dry as long as possible, even overnight!
Finish it off by adding one vertical line to the left side of the fondant circle with the red marker to resemble the traditional notebook paper.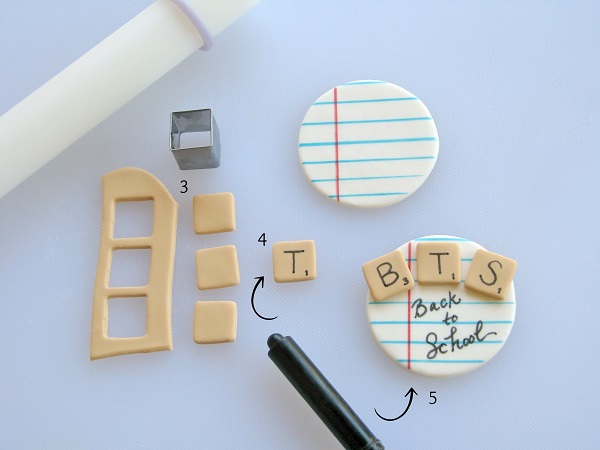 Step 3: Cut out tan fondant squares
Roll out tan fondant with the rolling pin and 1/8″ guide rings. With the small square cutter, punch out three squares to create Scrabble tiles.
Step 4: Write letters on the Scrabble tiles
Again, allow the tan fondant tiles to dry as long as possible so that you can write on them with ease. When ready, write the letters "B," "T" and "S" (standing for "Back To School") — or whatever letters make sense for you! Don't forget the write the number of points each letter is worth! You can reference this page for exact values.
Step 5: Glue the tiles on
Glue the Scrabble tiles in order on the round notebook paper fondant topper, leaving room at the bottom to write out "Back to School" with the black edible marker. Again, remember not to press too hard as you write on the fondant. Plan out your designs beforehand to avoid mistakes and spacing issues.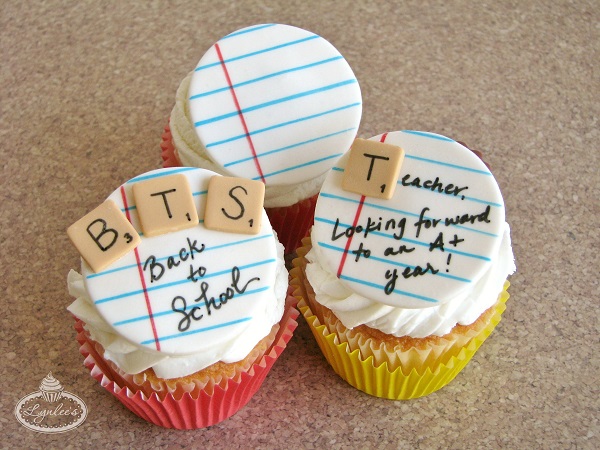 More back to school cupcake ideas
Now, get creative with the Scrabble letters and notes you add to the fondant toppers! Add a "T" for "Teacher" and write short sentiments and wishes for the new school year. Or let your little students write their own back-to-school messages to make it an extra special gift for their new teachers, who will be sure to remember their sweet gesture!
Photos via Crissy's Crafts
If you are looking to throw an entire back-to-school party, be sure to check out all the creative ideas from this celebration styled by Crissy's Crafts, with printables from Amanda's Party To Go!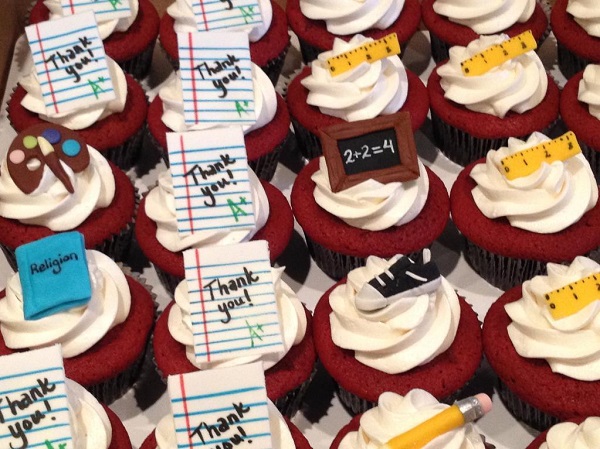 yours truly (they're sitting atop crayon-wrapped cupcake stands). Plus, there are apple cake pops and sugar cookies by Sugar on Top.
For more school-themed cupcake ideas, check out Sweetly Aimee's charming Teacher Appreciation Day toppers made in the course Tiny Cupcake Toppers with Sheryl Bito. In addition to the similar fondant notebook paper, designs such as pencils, rulers, books and sneakers decorate the cute cupcakes.