Schools supplies have never looked so good! These cake pop pencils are fun, cute, delicious and sure to impress all ages — from preschoolers to principals!
The first day of school is right around the corner, so start the year off right with this sweet back to school cake pop pencil tutorial. Show them the baking and decorating skills you've learned and mastered during summer break!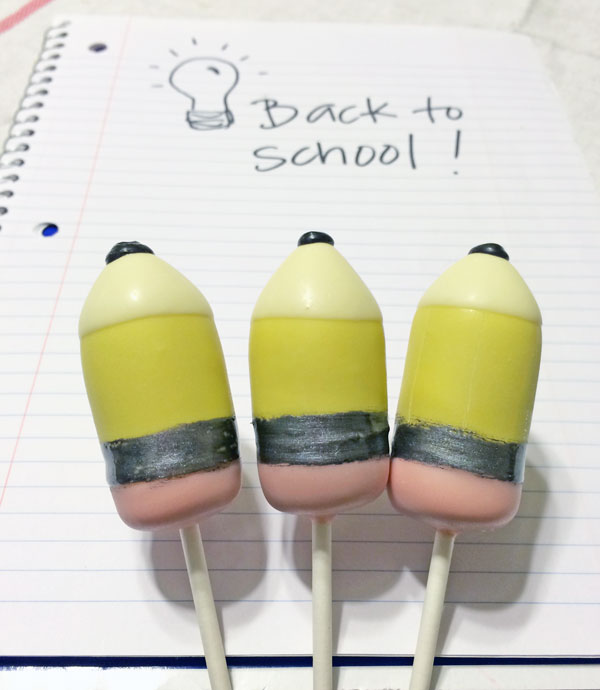 Class, are you ready? How to make cake pop pencils
In this "number chew" pencil cake pop tutorial, we will be dipping each cake pop three separate times. It might sound complicated, but trust me it's not! There is one thing to keep in mind — we'll be using corn syrup and luster dust to create the silver metal area that binds the eraser to the pencil, so they will need extra drying time for the corn syrup to set.
You'll need:
Cake pop dough
Lollipop Sticks
Candy wafers in yellow
Candy wafers in pink
Candy wafers in white (approx. 20 wafers)
Candy wafers in black or dark brown (approx. 10 wafers)
3 microwave safe plastic bowls or cups
Paramount crystals
Silver luster dust
Corn syrup
Paint brush
Toothpicks
Wax paper
Ziplock bag
Styrofoam block
Cake pop tip: Always line your work surface with wax paper. This creates a sanitary surface, plus it also makes for a super easy and quick clean up.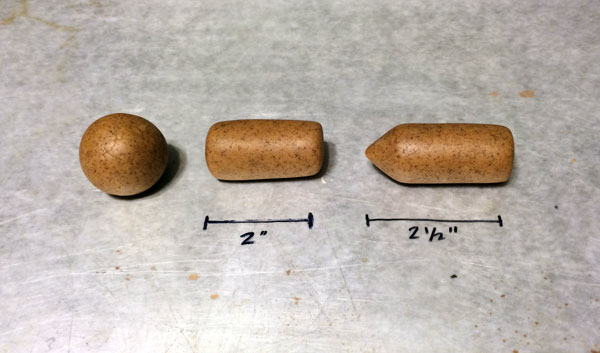 Shaping
To start, use a cookie scoop to portion the cake pop dough. Roll the dough into a ball then into a log, about 2- inches long. Using the surface of your work area, gently push and roll at an angle to form one end into a pointed end, then use your fingertips to define the point. Push the opposite end down on your work surface to flatten the back end. Do this for all the cake dough portions and refrigerate.
Not familiar with the dough making and shaping process? Refer to the cake pop dough tutorial to learn how.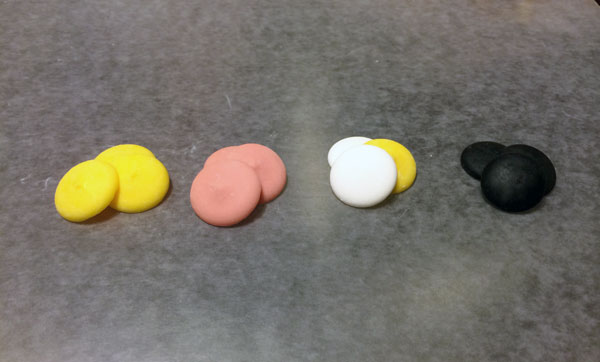 Prepping candy color
Lets prepare our candy coating. If you need pointers on how to properly melt and thin candy coating, please refer to the candy coating tutorial. Please note that there will be time between each set of dipping and the candy coating in the bowls will likely need to be reheated (keep this in mind). Doing the melting all at once saves time in the long run. Keep unused melted colors in the microwave, so they don't dry as fast. Also, remember to only use paramount crystals to thin the coating, never oil.
Melt yellow candy coating in a narrow microwave safe plastic bowl or cup that will allow you to submerge the pencil vertically.
Melt pink candy coating in another narrow microwave safe plastic bowl or cup.
Melt white candy coating in another narrow microwave safe plastic bowl or cup and pour a little  of the yellow candy into it, about 3 parts white to 1 part yellow. This is for the sharpened area of the pencil.
Melt about 10 black or dark brown candy wafers in a ziplock bag. We will use this for the lead tip. Once you're done melting and thinning all of the candy coating mentioned above, remove the pencils from the fridge and let stand in room temperature for at least 5 minutes to take the chill off.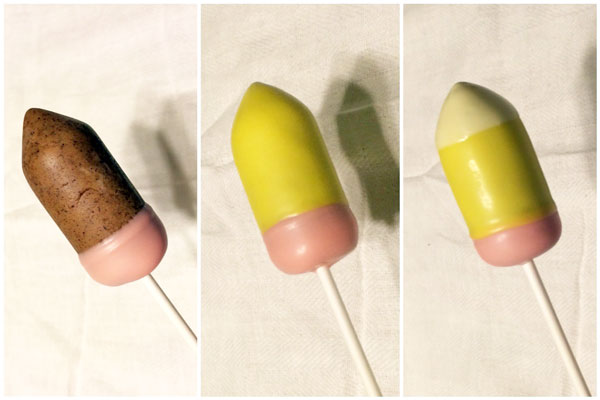 Dipping and decorating
1. Gather you or sticks and get both hands ready to work. Dip ⅓-inch of the stick with one hand, with the other hand, dip about ½-inch of the back end of the pencil, then insert the stick into the dipped back end. Let the excess drip off if needed. Repeat for all portions; place in styrofoam block and let dry.
2. Next, we'll use the yellow coating. Dip each pencil vertically into the yellow candy coating until it meets the pink. Pull out and carefully wiggle side to side to shake off excess. Place on styrofoam block and let dry completely.
3. Grab the white/yellow candy coating mixture and give it a good stir. Dip the pointed end, up to the neck, into the candy coating. Let dry completely.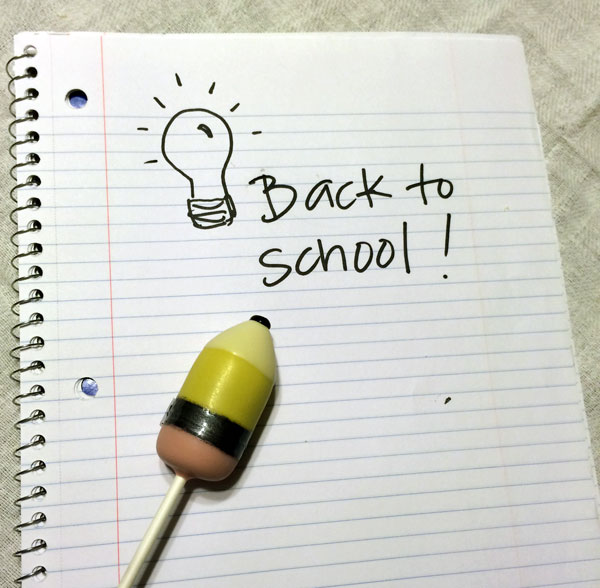 4. Next, snip the corner of the ziplock bag contain the black candy coating and carefully pipe the black onto the  tips of the pencils.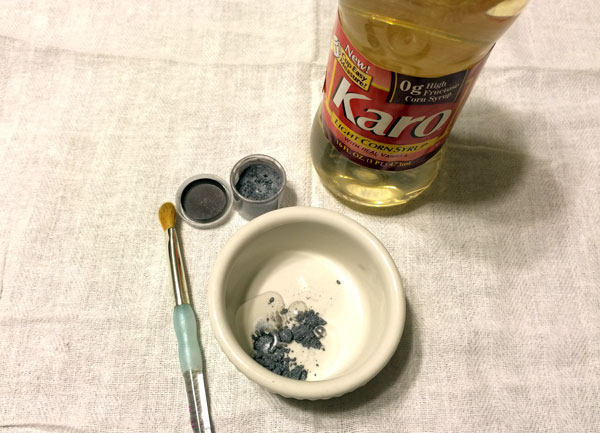 5. Mix ⅛ tsp silver luster dust (the color pictured above is Moonstone) and ½ tsp of corn syrup together. A little bit goes a long way! This small amount is enough for a few dozen.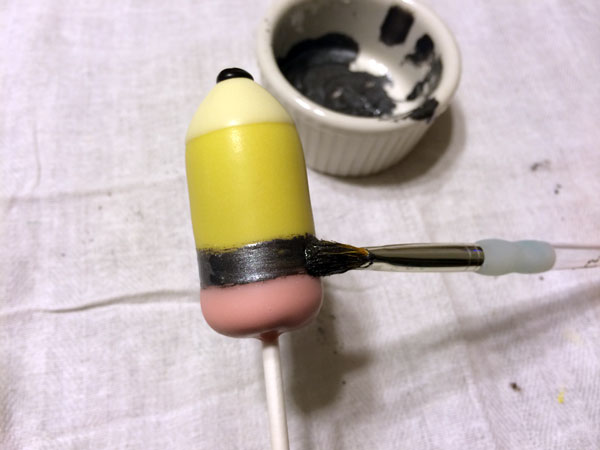 6. Use a paintbrush to paint a line around where the yellow and pink meet. I like to hold the brush still with one hand and rotate the cake pop carefully with my other hand to get a perfectly even line.
You may notice that the silver mixture will begin to have gaps, just keep rotating/painting. As the corn syrup starts to dry, it will stick without forming gaps. Place on the styrofoam block and let dry completely. It may an hour or so until its no longer tacky.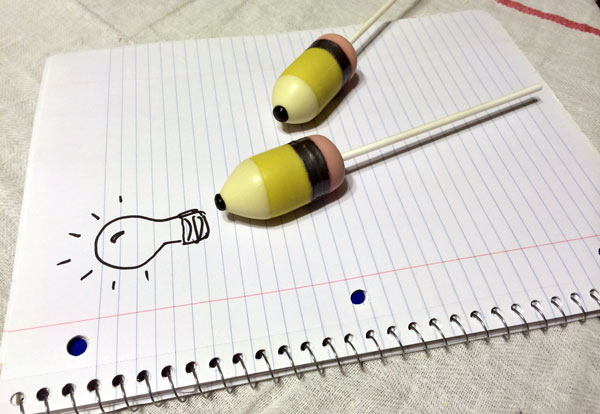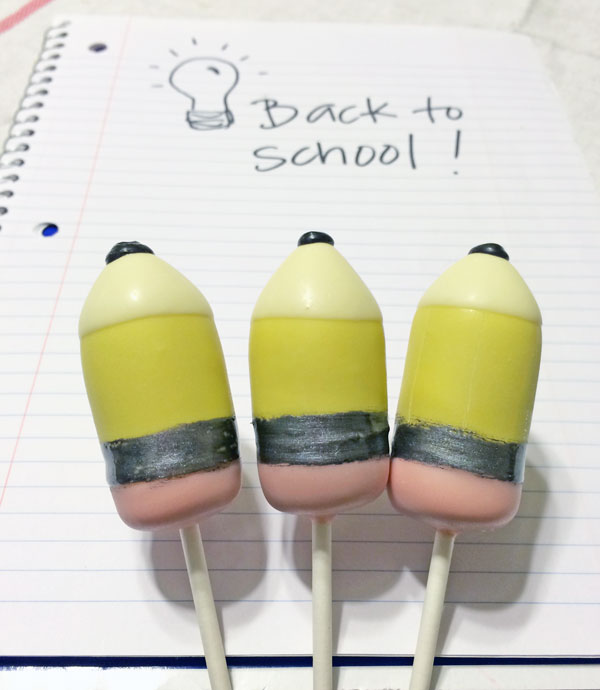 Enjoy and cheers to an amazing school year!
Any other school-related cake pops you'd like to see? Let me know in the comments section!